Top 7 Features a Restaurant Reservation Software Needs to Have
11 min.
Apr 27, 2023 4:59:28 PM
The restaurant industry is saturated and highly competitive.
In such challenging circumstances, it's essential to have a feature-rich and efficient reservation software solution that makes your operations more efficient, helps you earn more money, and elevates the guest experience.
But to determine which software is best for your business, you first need to know which features it needs to have.
This article will provide you with valuable insights into the essential features a restaurant reservation software must possess to streamline your business.
After reading it, you'll have a deeper understanding of the top seven features you should look for when choosing the reservation system for your establishment.
First, let's look at one integral feature—allowing guests to make online reservations.
Multi-Option Online Table Reservations
In today's digital era, any modern restaurant reservation system should have a straightforward way for guests to book a table online.
Currently, a quarter of restaurant reservations are made online, with an increasing number of eateries embracing this booking method.
An online booking solution enables potential guests to reserve a table without having to navigate multiple websites and apps or call your staff.
To be effective, a reservation system should provide a widget that can be integrated with various platforms, some of which are illustrated below.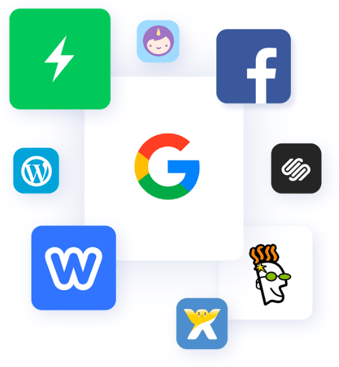 Source: Tablein
The platforms include popular website-building platforms like Wix, Squarespace, and GoDaddy and social media sites like Facebook, Instagram, and Google Business.
Besides offering these integrations, a great reservation tool can go a step further and allow restaurant owners to create a custom website through which guests can make reservations.
Our own restaurant reservation system, Tablein, offers this feature, allowing you to build a website with little technical expertise needed.
This website can include a description and photos of your restaurant, links to your social channels, special offers, and guest testimonials.
Take a look at this demo website to view the website-building capabilities of Tablein.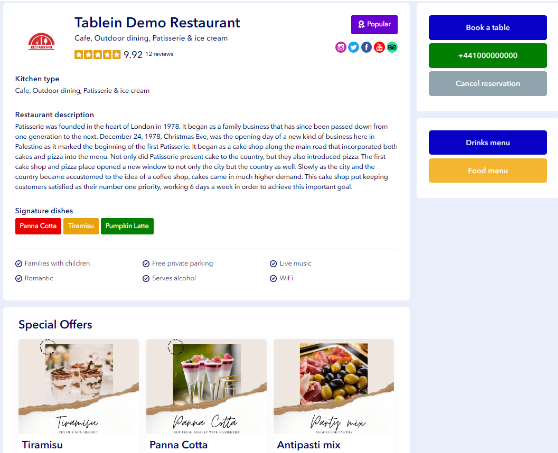 Source: Tablein
Your website will be hosted on Tablein's restaurants page, like this page showing all UK restaurants using our tool.
There, visitors can browse through different establishments and potentially discover your business.
Your goal is to provide an intuitive and easy way for your guests to book a table.
Tablein's booking widget, shown in the next image, is especially user-friendly, enabling guests to make a reservation in just a few clicks.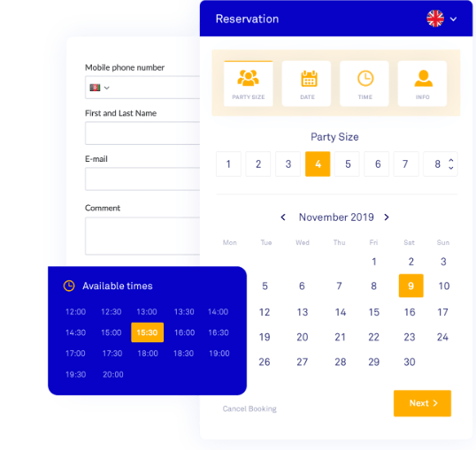 Source: Tablein
Utilizing a booking widget like the one shown above will help improve the reservation experience for both you and your guests, making it more convenient and efficient.
So, try out Tablein, and see how a great reservation software solution can enhance your business.
Reservations Deposits
Within the online reservation feature, one addition you should look for is the option to take deposits.
Here's why.
Late cancellations and missed reservations are all too common in the restaurant industry.
In fact, statistics reveal that a certain percentage of diners fail to notify the restaurant that they won't be honoring their reservation.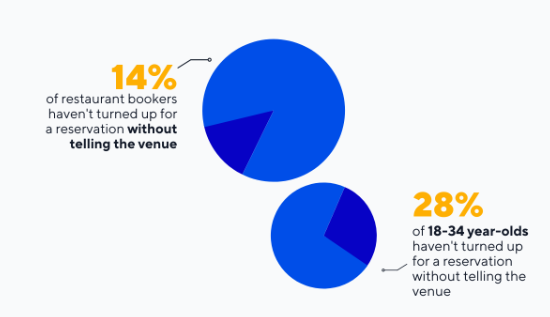 Illustration: Tablein / Data: Zonal
As shown above, approximately 1 in 7 people have failed to show up without telling the venue at some point, and this number rises to almost one-third for guests aged 18 to 34.
Each no-show is an empty table that would have brought your establishment some revenue, so preventing these from occurring can ultimately benefit your bottom line.
To address this problem, using a reservation system which allows you to take reservation deposits is extremely important.
For example, take a look at Tablein's reservation calendar below.
Source: Tablein
If you make the reservation dates requiring deposits clearly visible, guests will think twice before booking a table if they are unsure whether they will make it.
And if diners fully commit to booking a table, the deposit feature should securely collect payment card information from guests and automatically deduct funds in case of no-shows.
For illustration, look at how Tablein's reservation deposit feature is used by the UK-based eatery Dark Horse Mumbles below.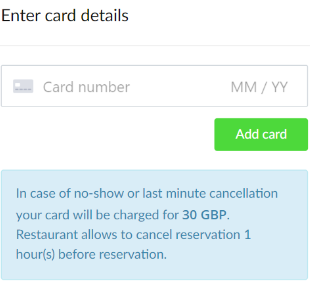 Source: Tablein
Following their example, you should allow guests to read up on the booking and no-show policies directly on the reservation screen.
Hence, they will have sufficient information before entering their card details and completing their reservation.
In the end, these features will help your restaurant secure reservations better and minimize no-shows.
Floor Plan Setup
Next on our list is a feature showing your floor plan setup, one that can significantly benefit you and your staff.
Having such a feature within your restaurant reservation tool is essential for smooth operations, allowing for better table management.
This feature should enable you to effortlessly recreate your restaurant's floor plan with intuitive actions such as dragging and dropping tables, assigning the number of empty chairs per table, and setting proper table names.
You can do all of that with Tablein reservation system.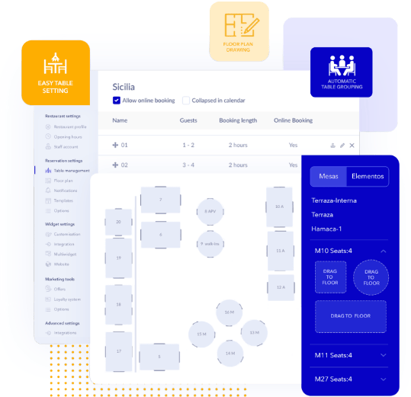 Source: Tablein
Once you have set up the floor plan, it will make table assignments and management more efficient for your staff.
And you'll have better table occupancy, earning more money.
A fantastic addition to the floor plan setup is using color codes, providing a visual representation of table statuses.
This additional option is represented in the following image.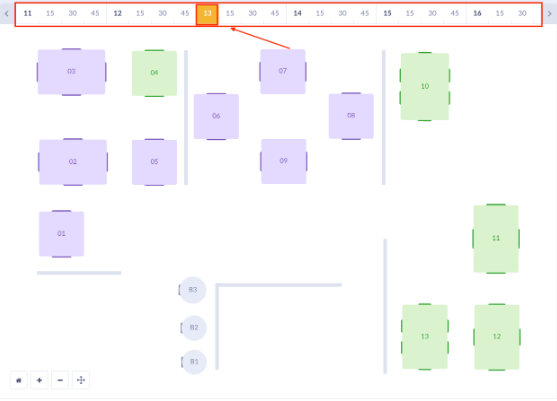 Source: Tablein
The illustration above depicts the table color options offered by Tablein. Those are the following:
Grey:

available
Blue/green:

booked
Violet:

reserved for walk-ins
Red:

blocked
With these color codes in place, the staff can effortlessly and rapidly identify the status of each table, making it a breeze to adjust table assignments and manage reservations more efficiently as needed.
Overall, a powerful floor plan feature can aid your restaurant in the long run, so you'd do well to look for one for the reservation tool of your choice.
Reservation Management
Another necessary component to look for in great reservation software is a practical and effective reservation management feature.
That includes a good overview of all of your reservations, along with options for quick updates and filtering.
Easy reservation management will help you improve your table turnover times and increase your earnings.
Let's look at what is considered the optimal table turnover time a restaurant should strive for.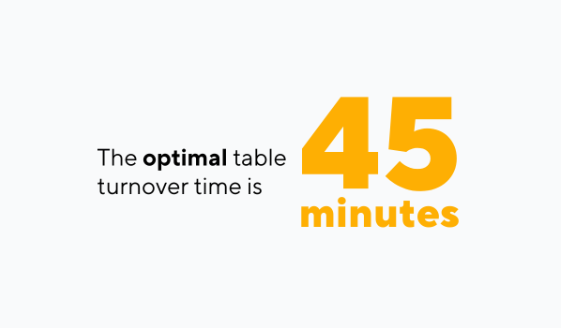 Illustrator: Tablein / Data: Restaurant Hospitality
Without efficient and organized reservation management, various delays can occur that can increase the turnover time.
Consider a no-show that has gone unnoticed, leaving the empty table unoccupied for an extended period.
Or, maybe some guests have already arrived but, due to miscommunication or lack of visibility in the reservation process, might be left waiting longer than necessary, causing dissatisfaction and inefficiencies.
All of this can be fixed through a straightforward reservation management feature.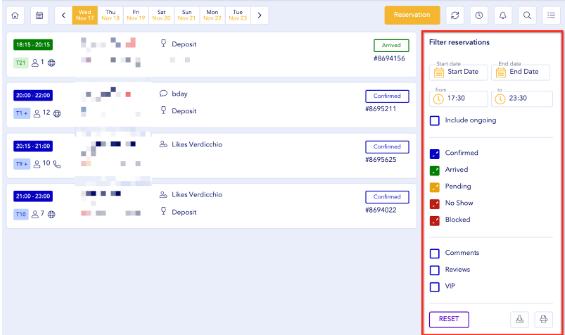 Source: Tablein
In the image above, you can see Tablein's reservation list view. In the section to the right, there are various filters that can help you quickly identify the status of each reservation.
You can, for instance, view all confirmed, arrived, pending, and no-show reservations.
A table where the guest has already arrived will be easily visible on the screen, allowing staff to attend to the table more efficiently, reducing the waiting times and the turnover rate as a result.
Or, let's look at how a clear calendar view for your reservations can help deal with no-shows.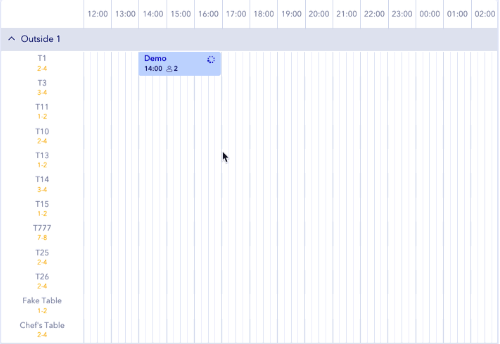 Source: Tablein
The calendar shown above shows the reservations for each table in your establishment, displayed hourly.
When a no-show occurs, your staff can quickly spot that a table that should be occupied according to the calendar is empty and either offer it to walk-ins or sit guests with a later reservation on the vacant table.
A well-made reservation management feature will give many more benefits, so we believe this feature is a necessary one for high-quality reservation software.
Waitlist Management
A good restaurant reservation software should not exist without options for waitlist management.
Let's see why and look at what a waitlist management feature offers.
Restaurants most often have two kinds of guests: those that reserved their table and those who spontaneously walked in the establishment, hoping for an empty seat.
That's why lots of restaurants leave a few tables available for walkins, and make them unavailable for online bookings.
A waitlist management feature can significantly help staff deal with the influx of such walk-in customers and place them at the right tables.
Without a digital waitlist management feature, restaurants often rely on simple spreadsheets that can be printed out and filled out by hand, depicted below.
| | | | | | | |
| --- | --- | --- | --- | --- | --- | --- |
| Customer Name | No. of People | Arrival Time | Est. Wait Time | Seating Area | Table No. | Comment |
| | | | | | | |
| | | | | | | |
| | | | | | | |
These paper waitlists have a number of disadvantages, including the following:
Limited space
Unclear entries
Difficult to modify
Simply put, a paper waitlist doesn't allow for detailed entries, messy handwriting or mistakes can lead to misinterpretations, and staff can't update these lists easily and may have to rewrite entries when making changes.
However, modern reservation software should have straightforward and efficient waitlist management features that can deal with most of the downsides of a paper waitlist.

Source: Tablein
When they aren't limited to spreadsheet cells, your staff members have unlimited space to add new entries to the waitlist, and each entry will be clear and legible as it's typed out.
Even if mistakes are made, changes to a digital waitlist entry are uncomplicated and quick.
So, a streamlined way to manage waitlists can help you maintain an organized and efficient way of handling guest reservations, ultimately optimizing your operations.
Automatic Notifications
An automatic notification system is indispensable for effective and timely communication with your guests.
Adding to the previous section on waitlist management, one way to use an automatic notification feature is to send SMS messages to guests who are added to the waitlist, as well as notify them when their table is ready.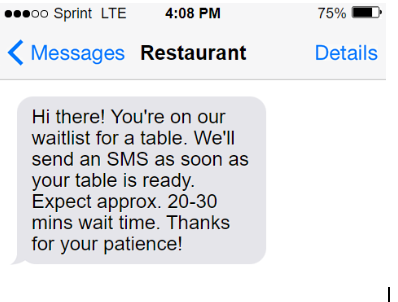 Source: Tablein
A simple message such as the one above showcases the power of this feature.
It helps efficiently inform guests about their situation as soon as possible, making their visit to a restaurant all the more convenient and enjoyable.
From waitlist changes to reservation confirmations, this streamlined communication can enhance the overall customer experience and boost customer satisfaction.
Aside from text messages, email is also widely used and offers an even broader range of use cases compared to SMS.
One basic use case is a booking confirmation, illustrated below.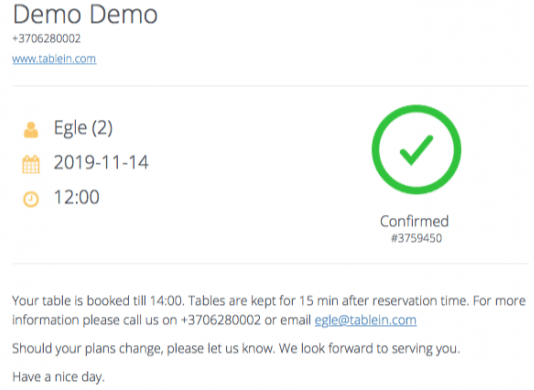 Source: Tablein
However, your options don't end here, as some other types of emails you can send include the following:
Reminders
Feedback requests
Cancellation emails
Prepayment emails
Pending and approval emails
You can even utilize emails in your marketing strategy, for example, by attaching promotional images to the email.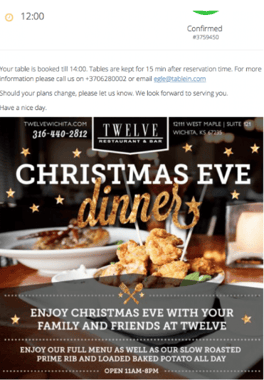 Source: Tablein
As the guests will most likely check their reservation confirmation, your email will be open.
And, an image like the one above can get them interested in a future event you're promoting, and they might just book that one too, turning one time customers into repeat ones.
With this versatility offered by automatic notifications, you can provide guests with relevant and timely information and enhance their overall experience while giving your business a powerful tool for effective marketing, feedback gathering, and engaging with diners.
Reporting Dashboard
Reporting might not be the most fancy feature, but it is a very beneficial one. What doesn't get measured can't be improved, right?
So, let's take a look at the value of a reporting dashboard feature.
A modern reservation system can be an effective tool for improving your reservation management process and help you make more informed strategic business decisions for the future of your establishment.A vital feature that facilitates this ability is a reporting dashboard, offering various analytics and reports which can be used to track several aspects of your business operations.
For example, let's focus on the next image to understand better what a reporting dashboard can offer.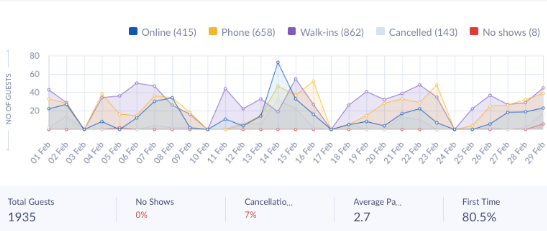 Source: Tablein
Shown above is Tablein's reporting dashboard, on which you can view daily data about the source of all reservations, the number of walk-ins, cancellations, and no-shows, along with useful data like the following:
Total guests
Average party size
First-time visitors
Having access to these statistics can help restaurants identify patterns, optimize operations, and better understand their customers.
For instance, analyzing no-show rates can prompt changes in booking policies, while tracking first-time visitors can help assess marketing effectiveness.
Or, consider a useful metric like most booked hours data.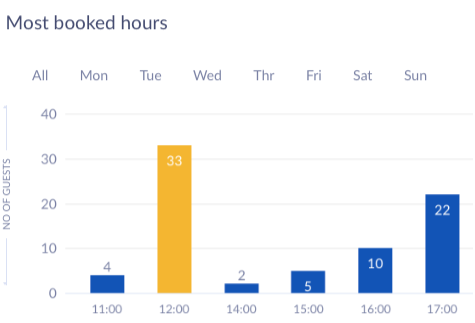 Source: Tablein
A simple way to use a restaurant's peak hours data is to allow restaurant owners to ensure sufficient staff coverage during busy times and avoid overstaffing during slower periods, ultimately maximizing productivity and reducing costs.
The above examples are just some of the many more uses of a detailed reporting dashboard.
This feature can help you gain many more essential insights into your establishment, empowering you to make informed decisions and drive business growth.
Conclusion
Throughout this article, we've discussed the top seven features reservation software should have to optimize and streamline your restaurant operations.
We hope you've gained valuable insights into why a reservation system that has these features can significantly improve your establishment's reservation management process and positively impact your business.
Equipped with this knowledge, you're now better prepared to select a tool that best accommodates your restaurant's needs and simplifies your and your team's workflow, ultimately elevating the dining experience for your guests.
So, choose your reservation software wisely, and see your restaurant thrive.
How Does an Online Restaurant Booking System Work?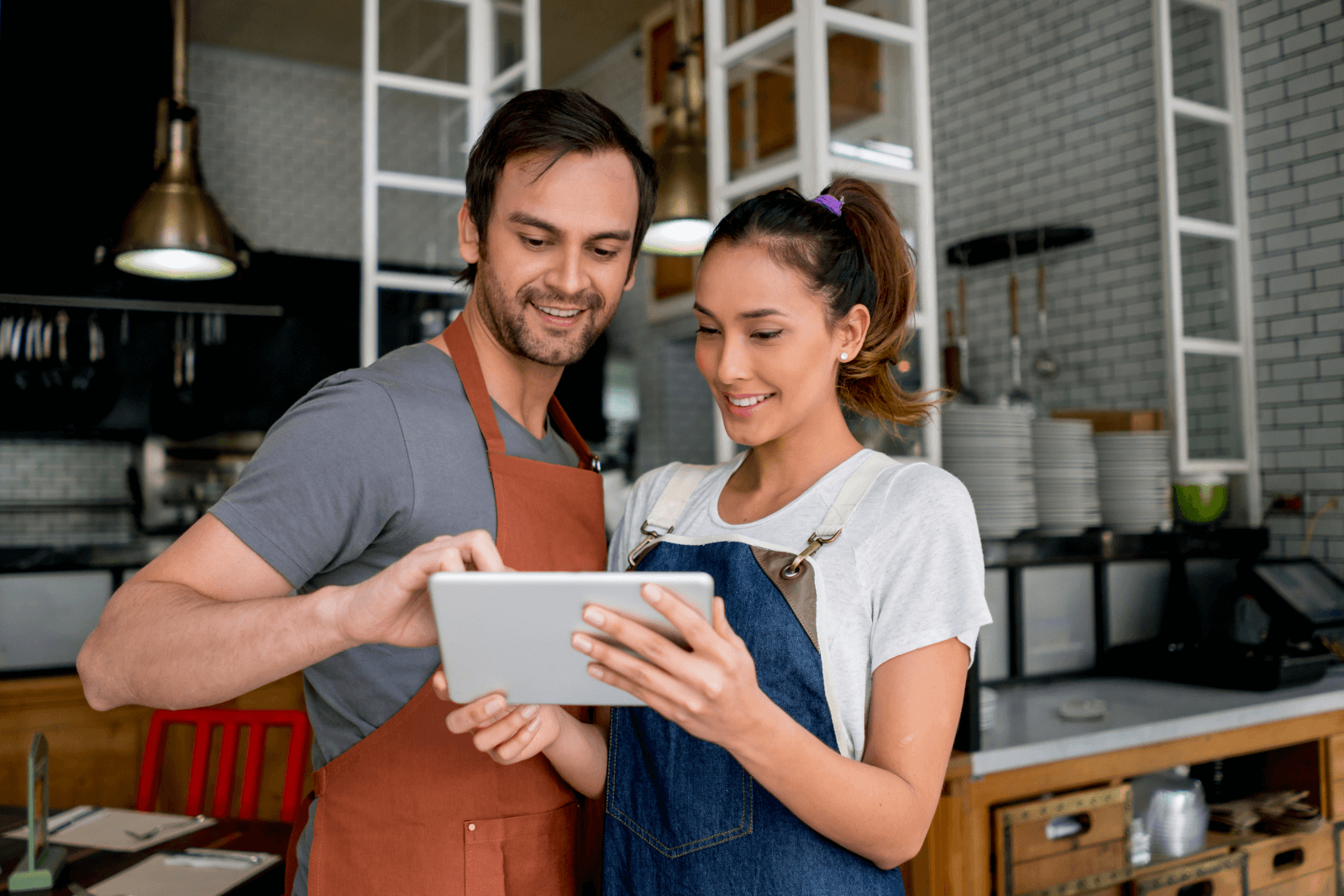 How Does an Online Restaurant Booking System Work?
May 25, 2023 12:03:01 PM
11 min.
The Ultimate Guide to Restaurant Booking Systems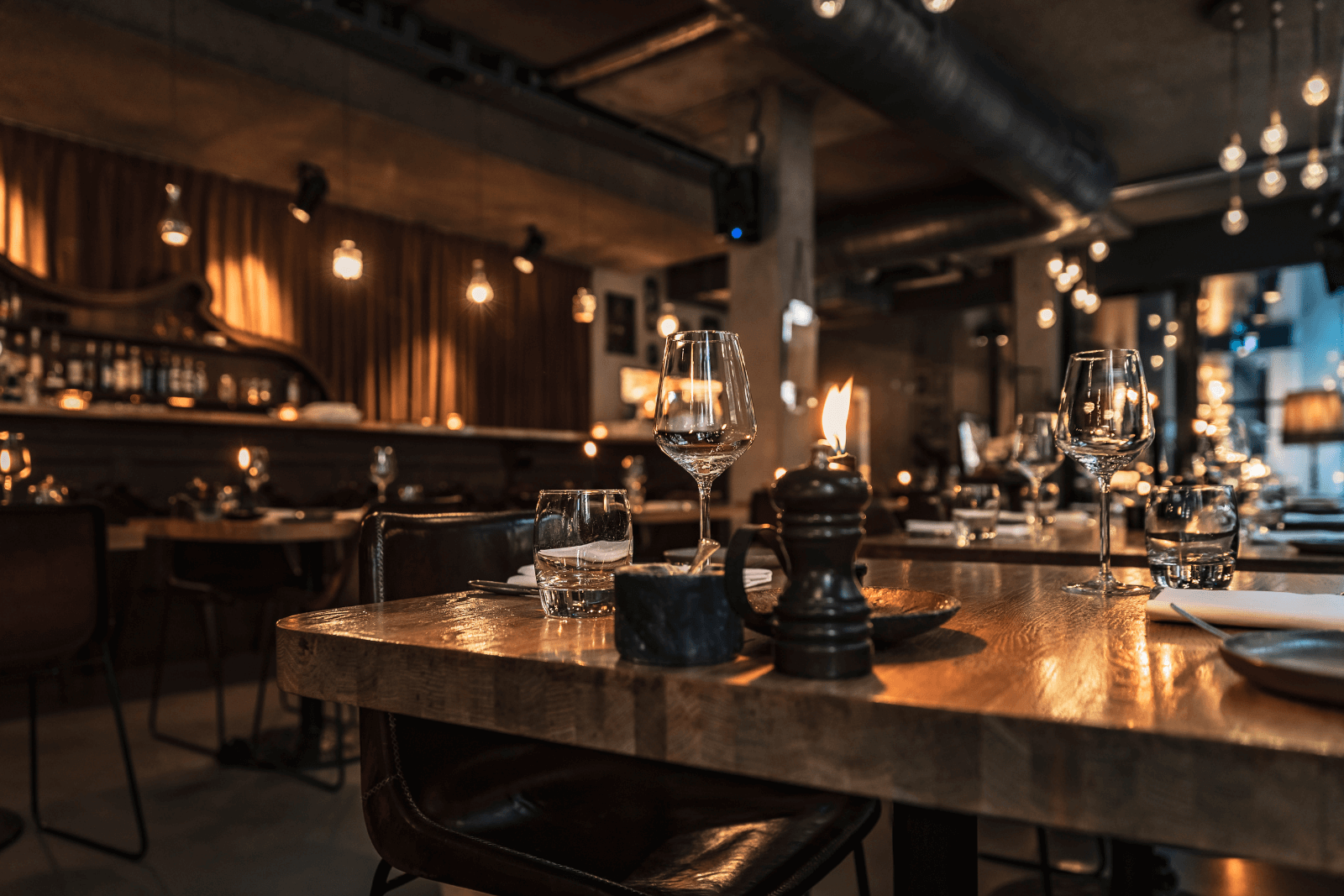 The Ultimate Guide to Restaurant Booking Systems
May 29, 2023 4:48:43 PM
11 min.
Best Practices for Creating a Seamless Restaurant Reservation Experience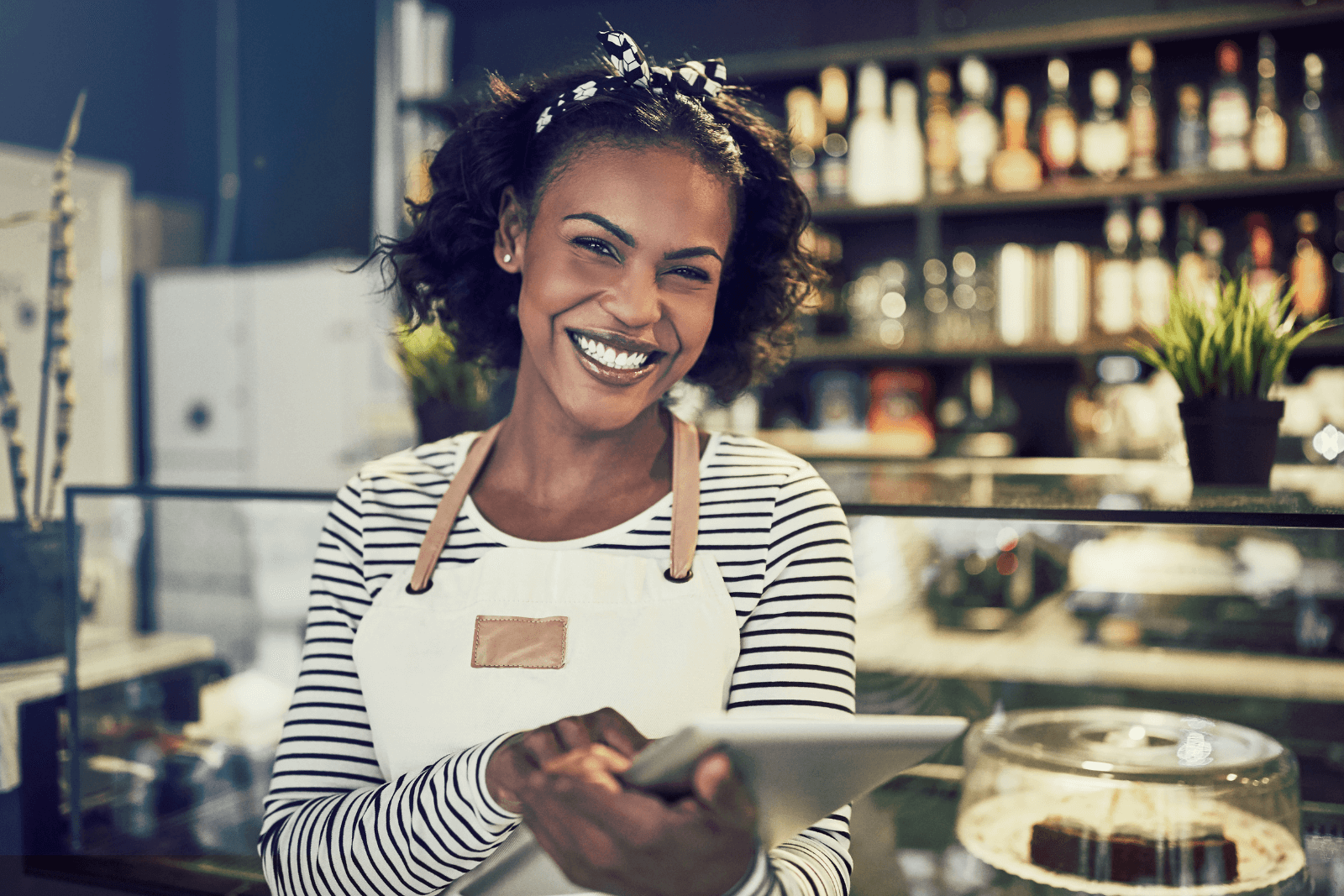 Best Practices for Creating a Seamless Restaurant Reservation Experience
Jun 27, 2023 12:28:51 PM
11 min.