Is the revenue you get from your restaurant waning despite many reservation requests? Are customers leaving lukewarm reviews even though you're offering exceptional food and service?
If your answer is yes, the problem might lie in your reservation management system.
That means you're missing out on revenue and leaving a poor impression on your guests.
Don't worry, though, because we're here to help.
In this article, we're bringing you five actionable tips to improve your reservation management practices and ensure you're getting the most out of every busy evening.
Let's dive right in.
Prepare for Your Peak Hours
Peak times are a daily challenge for restaurants, but they're also an excellent opportunity to generate sales and build a base of happy, returning customers.
According to recent research, these golden hours can bring in triple the average revenue to a business.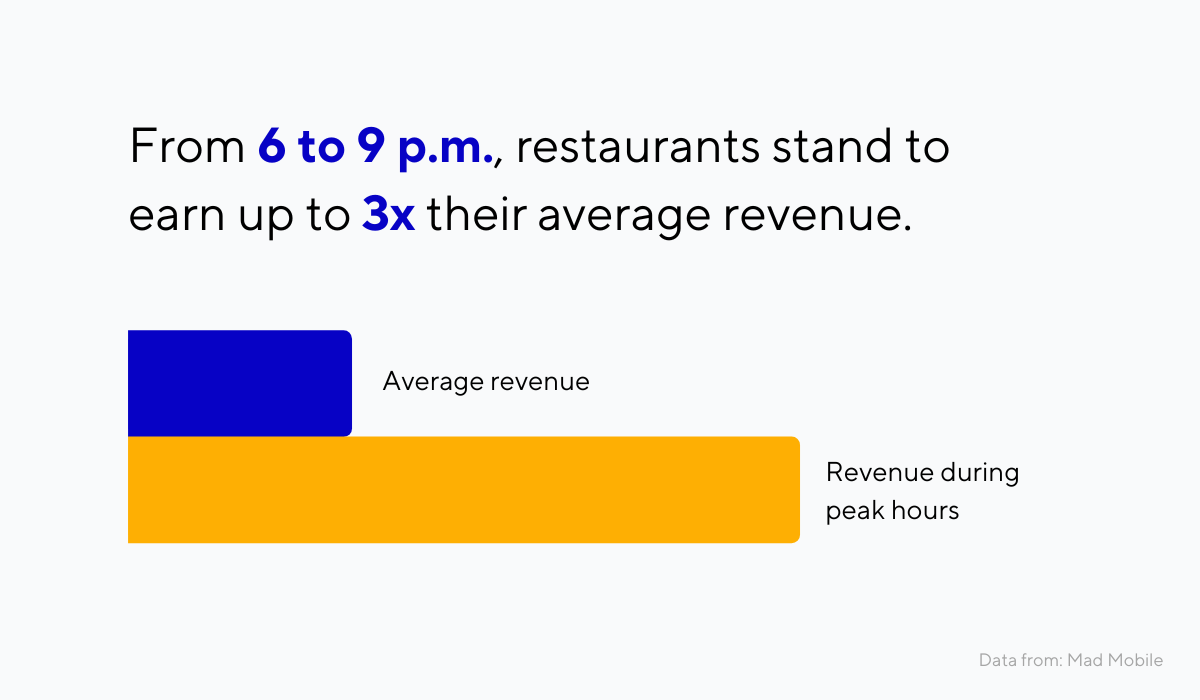 Source: Tablein
However, that's only the case when your reservation system works like clockwork: when customers who booked tables show up on time and no-shows are either minimized or efficiently mitigated.
Seeing how much depends on human behavior here, is it even possible to efficiently manage reservations at peak times?
With some smart rule-setting and a little bit of foresight, the answer is a resounding yes.
For example, Uoksas, a traditional-modern fusion restaurant in Lithuania, improved its reservation flow by gently warning customers that they should be seated no more than fifteen minutes after their reservation time.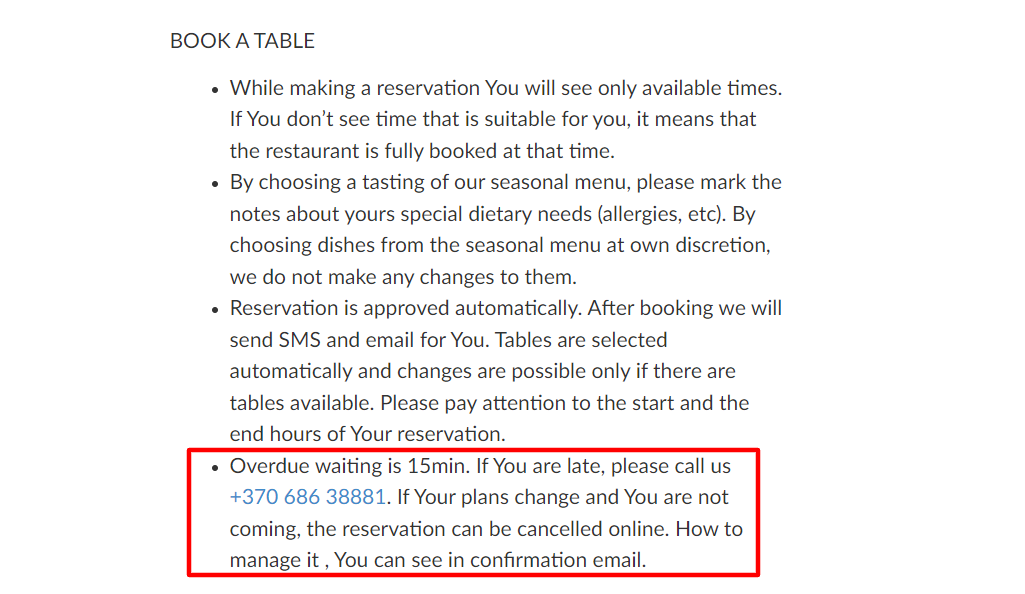 Source: Tablein
Customers who notice they are going to arrive later than that are supposed to make the front of house aware of the situation so that alternative arrangements can be made.
This practice should be enough to motivate guests to be punctual, as they'll now know there's a chance they might lose their table.
Another tactic that can keep you at optimal capacity during peak times is welcoming a certain number of walk-ins, instead of relying solely on reservations.
Here's why.
Even the best restaurants have to deal with no-shows.
And if only guests with reservations are allowed in, then having an occasional empty table or two during the dinner rush becomes inevitable.
Maintaining a walk-in policy will enable you to fill those tables at the last minute and avoid leaving revenue on the table, so to speak.
That's how the pros do it, anyway.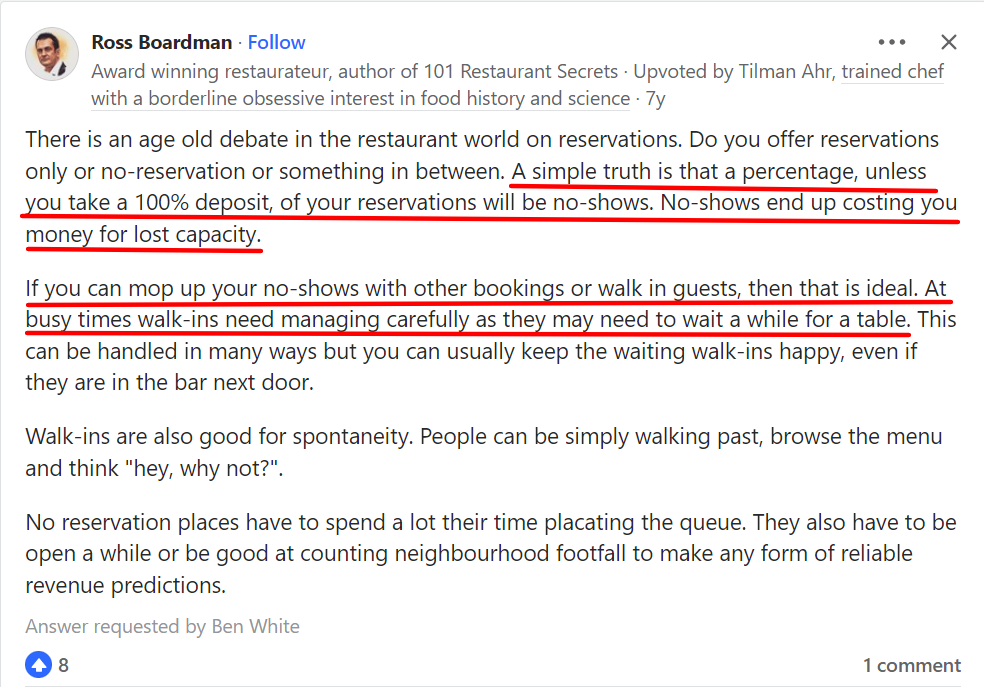 Source: Quora
If you welcome the walk-ins during rush hour, you might even block off a couple of tables that cannot be reserved. Those will be available for walk-ins only.
That way, you won't have to turn away guests (never a good idea), and regular customers will be able to count on getting a table at your restaurant, even if they don't have a reservation.
As you can see, there are ways to ensure that you capture maximum revenue when rush hour rolls around.
Follow these good practices, and you'll stop seeing empty tables during peak hours.
Reduce the Number of No-Show Guests
No-shows represent one of the greatest dangers to the optimal functioning of your restaurant.
If no-shows were an occasional occurrence, this wouldn't be such a big problem.
However, studies show that as many as one-fifth of reservation holders never actually show up at the restaurant at the agreed-upon time.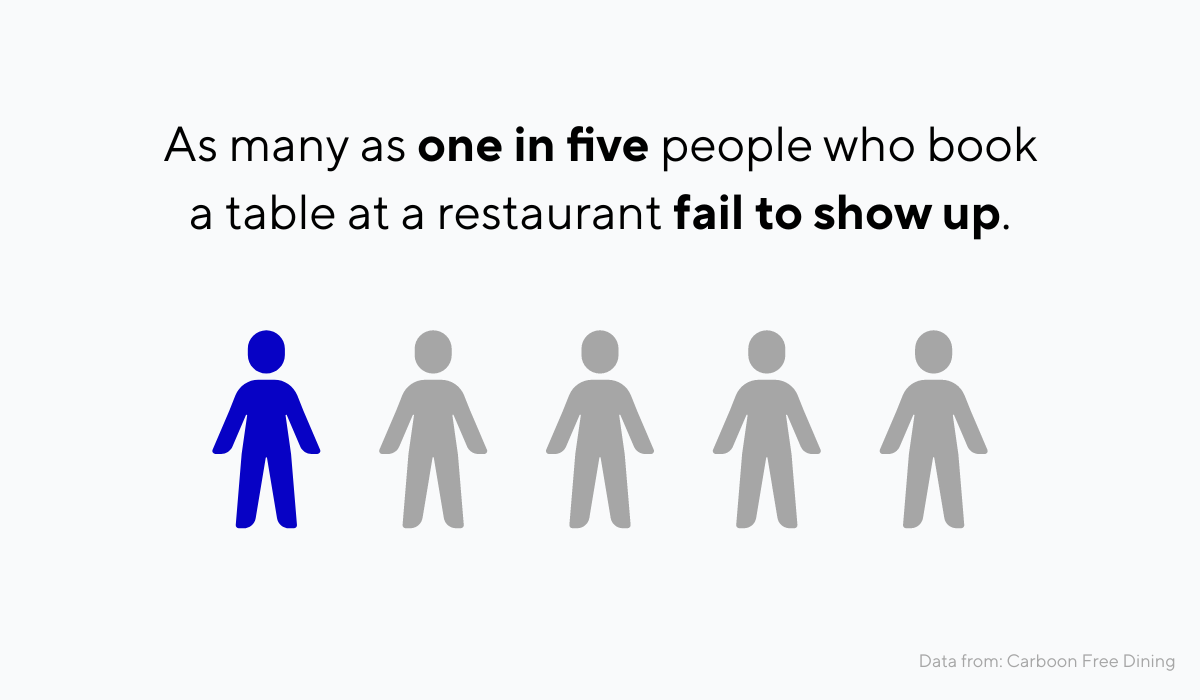 Source: Tablein
With profit margins in today's restaurants hovering around 10%, having this percentage of no-shows consistently throughout the year can mean that your potential earnings are going right out the window.
Therefore, any reservation management strategy should definitely include ways to combat this damaging habit.
A good place to start reducing the number of no-shows is to simply provide people an easy way to cancel their table.
If you're using an online reservation management system, such as Tablein, you can let guests cancel through the reservation confirmation email, as well as on the restaurant's dedicated Tablein webpage, where the reservation was initially made.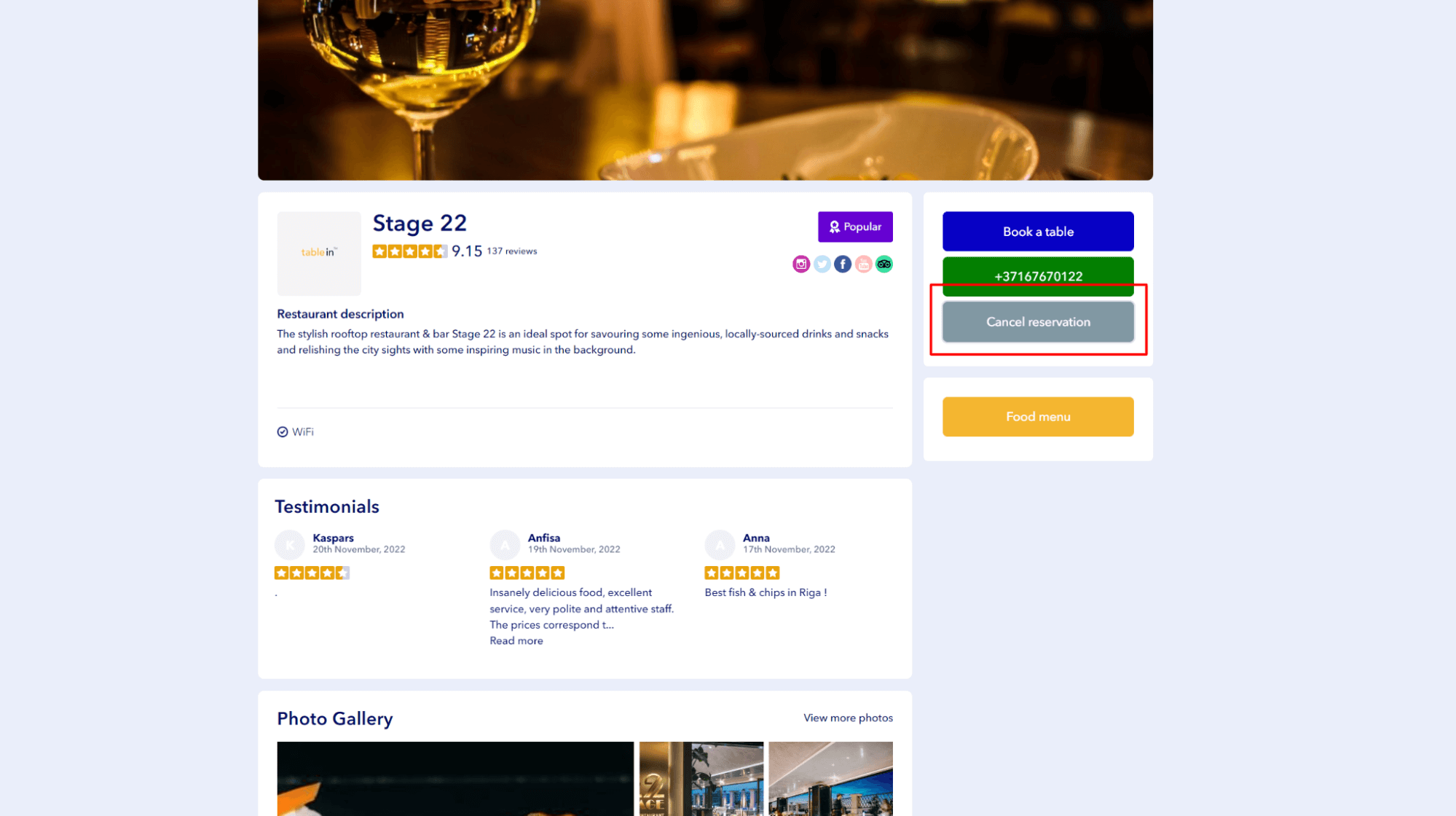 Source: Tablein
This is a step in the right direction, but it often isn't enough to guarantee that the guest will cancel in a timely manner instead of failing to show up.
Therefore, another method you can try is taking deposits for reservations to add a layer of certainty that the booking will be honored.
You might consider that to be impossible, seeing as you have no way of charging the guest, but smart table reservation systems offer a solution for that, too.
For example, Tablein's reservation system integrates with Stripe and PayPal, the internet's two preferred payment processing platforms, which means you can ask reservation makers for upfront payments and deposits as they book a table online.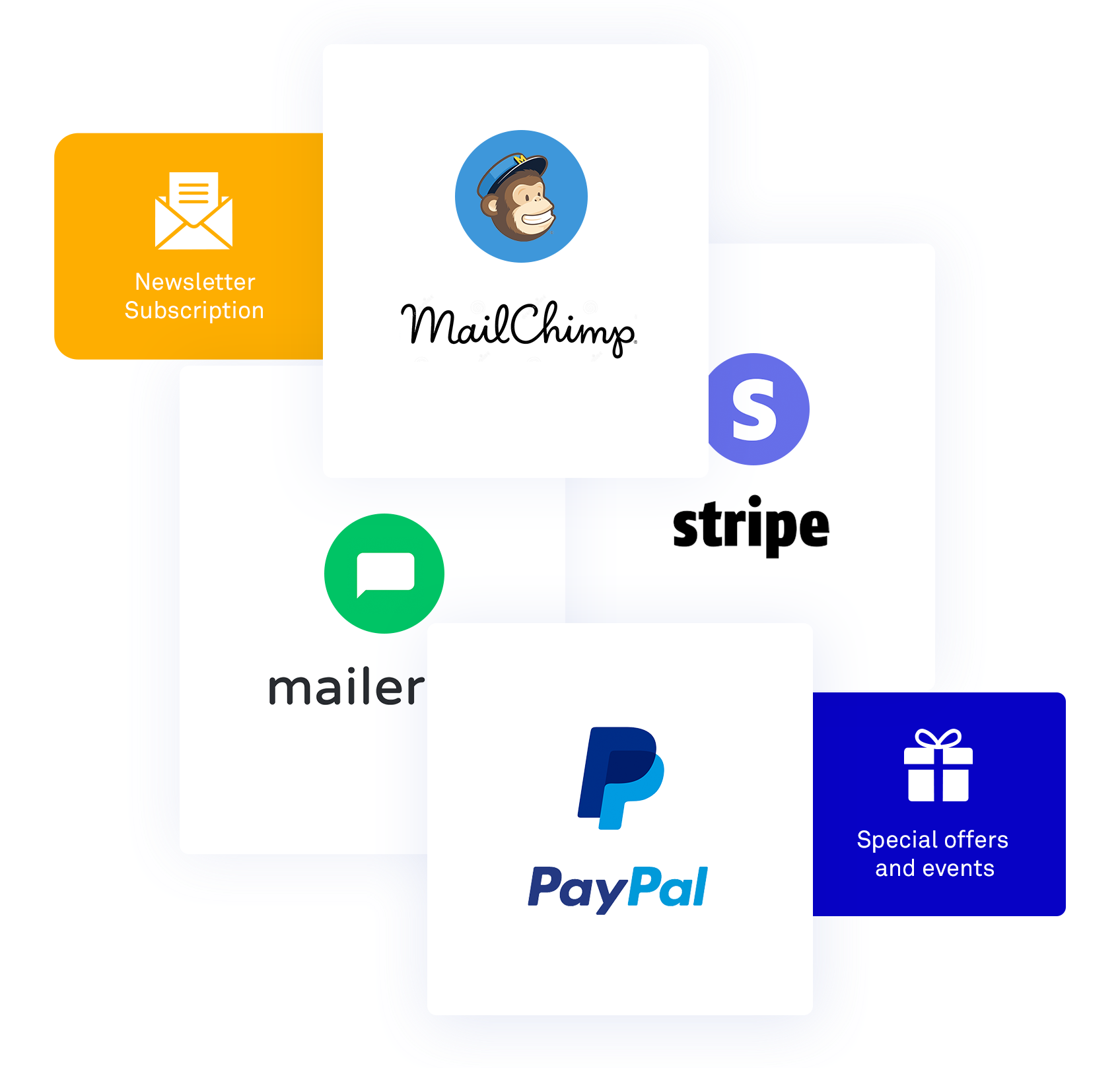 Source: Tablein
That way, failing to show up or cancel the table on time becomes much more difficult for the guest, and if it happens anyway, you can count on at least one part of the revenue you were going to make.
A word of caution, though.
Expecting a deposit might deter some guests from making a reservation in the first place, so you should be mindful of how you apply this option.
COSMO, a world cuisine restaurant in the UK, has a good policy for this.
They require a deposit, but only for groups larger than seven people.
If such a large group failed to show up, that would put a serious dent in the establishment's expected revenue for the evening—not to mention the amount of food that would potentially go to waste.

Source: COSMO
With clear and easy methods of cancellation and some extra insurance provided by upfront payments or deposits for bookings, you should be able to keep no-shows in check and prevent them from harming your business.
Train Your Staff to Manage Reservations
Reservation management isn't the sole responsibility of the owner.
Practically any employee at the restaurant can contribute to ensuring that every workday runs as smoothly as possible and that the guests are coming and going on time.
But does it make sense to make taking reservations a shared responsibility of everyone working the dining room?
Restaurants are busy places, so having everyone answer the phone, jot down bookings on loose pieces of paper and assign tables randomly would definitely result in lost reservations, double bookings, forgotten cancellations, and other problems.
This could easily spoil the otherwise excellent dining experience at your restaurant.

Source: Tripadvisor
A better way of doing things is to have a person whose entire job will revolve around restaurant organization and logistics (reservations included) and who will take no part in waiting tables and preparing food.
This is usually the host/hostess or maitre d', and here are some of their day-to-day responsibilities, as listed in the job ad below.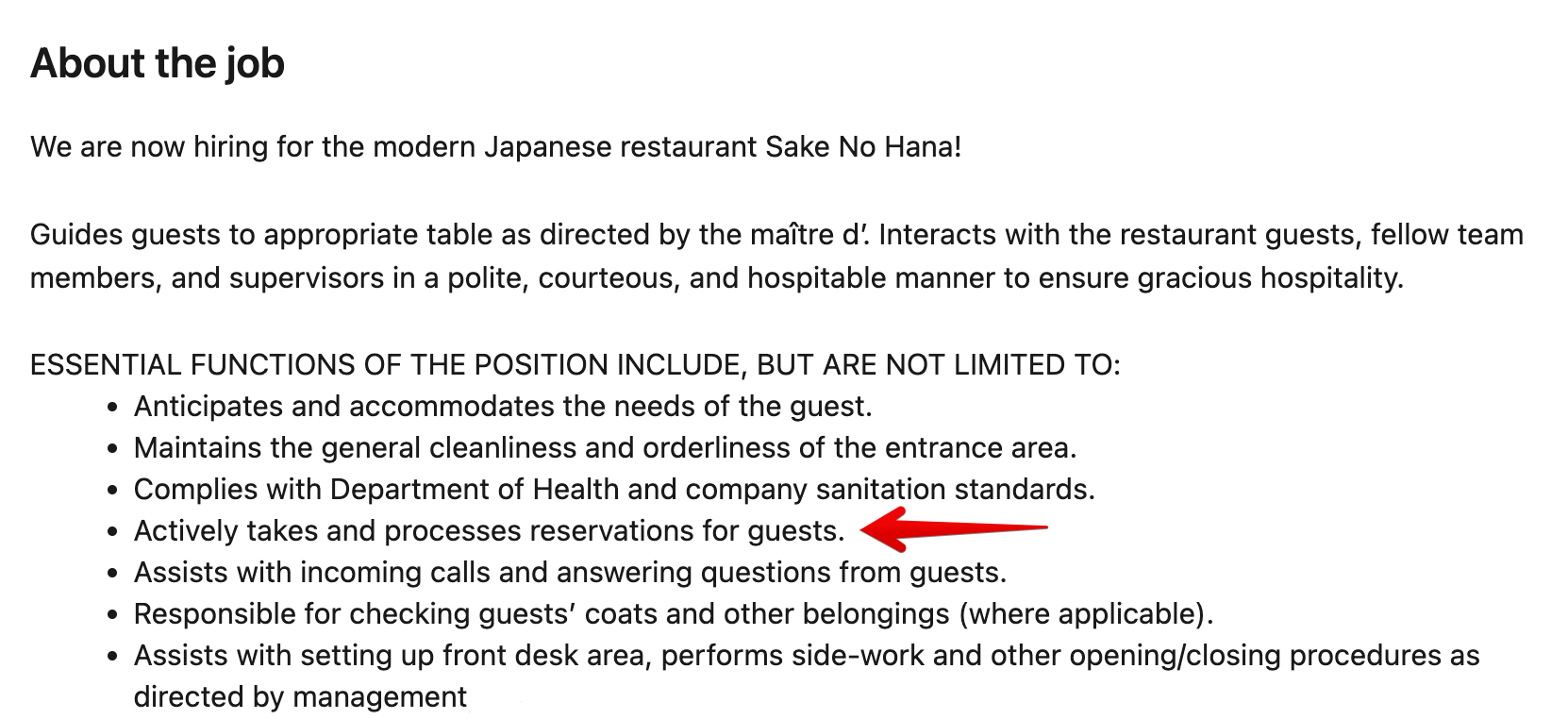 Source: LinkedIn
With the host handling the logistics, the waiting staff can focus on providing excellent service within the set parameters of the dining experience.
The waiting staff's contribution to optimal reservation management consists of understanding guest policies and working to keep the evening on schedule.
This can include:
Approaching guests as soon as they are seated
Providing information and advice so that guests don't take too long ordering
Working with the bar and kitchen staff to ensure speedy service
Preventing guests from occupying the table for too long after the bill has been paid
That last task can be rather tricky but is, nevertheless, crucial.
Guests who linger at the restaurant too much, even if it's just a short amount of time, can delay the entire line for the table that evening.
Still, asking guests to leave can be interpreted as rude and ruin their experience. Here's one idea of how to move things along smoothly from a diner's perspective.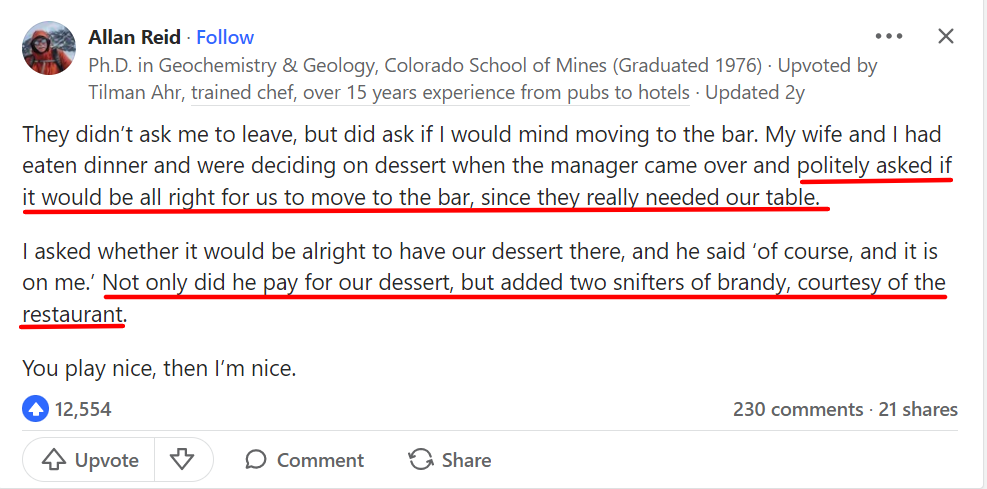 Source: Quora
Some great lessons here. The patrons weren't asked to leave but rather to relocate to the bar. They were also compensated for their trouble with some free dessert and brandy on the house.
In this case, the dining experience wasn't marred, but rather improved in the process of getting the guests to free up the table.
Our point here is that everyone on your staff can and should actively participate in reservation management. It's up to you to teach them the good practices that will allow them to take charge.
Use a Modern Table Reservation System
Besides the necessity of training your staff, nowadays it's almost impossible to achieve peak reservation management without some form of automation and software technology.
In fact, restaurant management systems are quickly becoming the norm, which means that if you don't have one, you might find yourself behind the curve.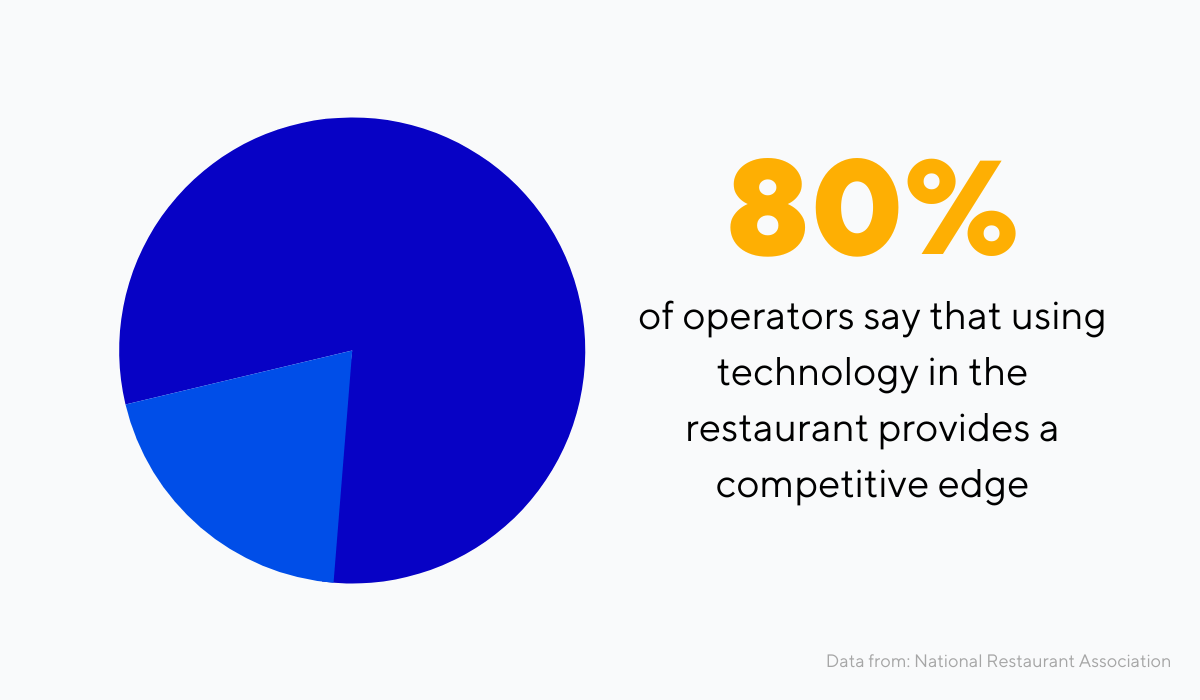 Source: Tablein
This comes as no surprise if you consider how much work modern technology can automate and optimize in a restaurant, making the lives of owners and staff much easier.
For example, modern reservation systems will enable guests to book their preferred table online independently, without the need for staff involvement, who can then focus on providing the best possible service.
On top of that, a cutting-edge reservation system like Tablein will also allow you to manage bookings, send reminders to incoming guests (great for reducing no-shows), and track reservation analytics to accurately predict busy times and take special care of your loyal guests.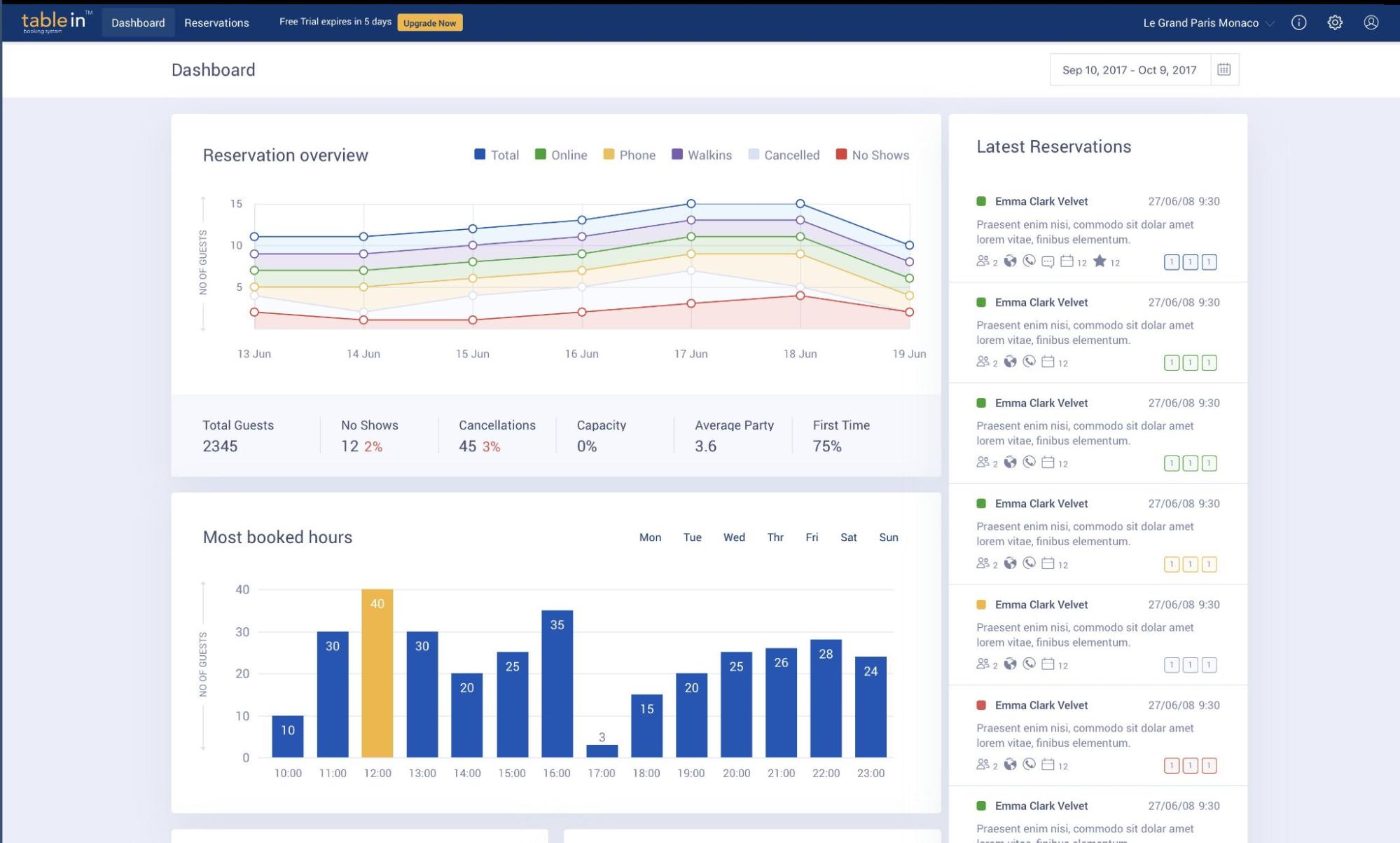 Source: Tablein
Pair that with feedback capabilities and integration with newsletter tools, and it's clear that the business benefits of such a system can be enormous.
Take the Tom Hut restaurant in Australia, for example. The owner decided to start using Tablein system after failing to keep up with the influx of reservations at their popular eatery.
Also, as Tom Hut had a pen-and-paper booking system that relied on the staff manning the phone, they missed out on a lot of revenue because bookings couldn't be accepted when the restaurant was closed (Mondays and mornings).
But Tablein changed all that, according to Tom Hut's owner:
Since changing from paper books to an online reservation system, our team's customer service and reservation management have improved. On average, about 63% of all table reservations in our restaurant are made online. In addition to this, we received two extremely important benefits that come automatically: constantly growing client email database and getting reviews from real guests.
Modern technology tools can pack a powerful punch when it comes to growing your business and ensuring smooth operations.
If you haven't already, consider investing in such a tool to instantly improve reservation management at your restaurant.
Seek Out Feedback on Your Reservation Process
From what we've discussed so far, it's evident that there's a lot you can do to improve reservation management.
However, it's going to be difficult to judge how effective your efforts are if you don't have a way to measure the results.
And since the hospitality business is so focused on people, there's no better metric than the feedback you get from your guests.
There are multiple ways you can seek it out.
For one, it's a good idea to instruct your staff to verbally ask for feedback after the guests have finished their meal and report it back to you.
However, guests might not be inclined to give a negative response in order not to appear rude, or they might focus solely on the meal experience.
To ensure honesty, you can supplement this on-the-spot interaction with an email survey—if you were able to get the customer's email address at the time of booking.
That way you can also ask more questions, and focus the survey more on their reservation experience.
Software tools like SurveyMonkey have some excellent templates that should enable you to create and send feedback surveys very easily.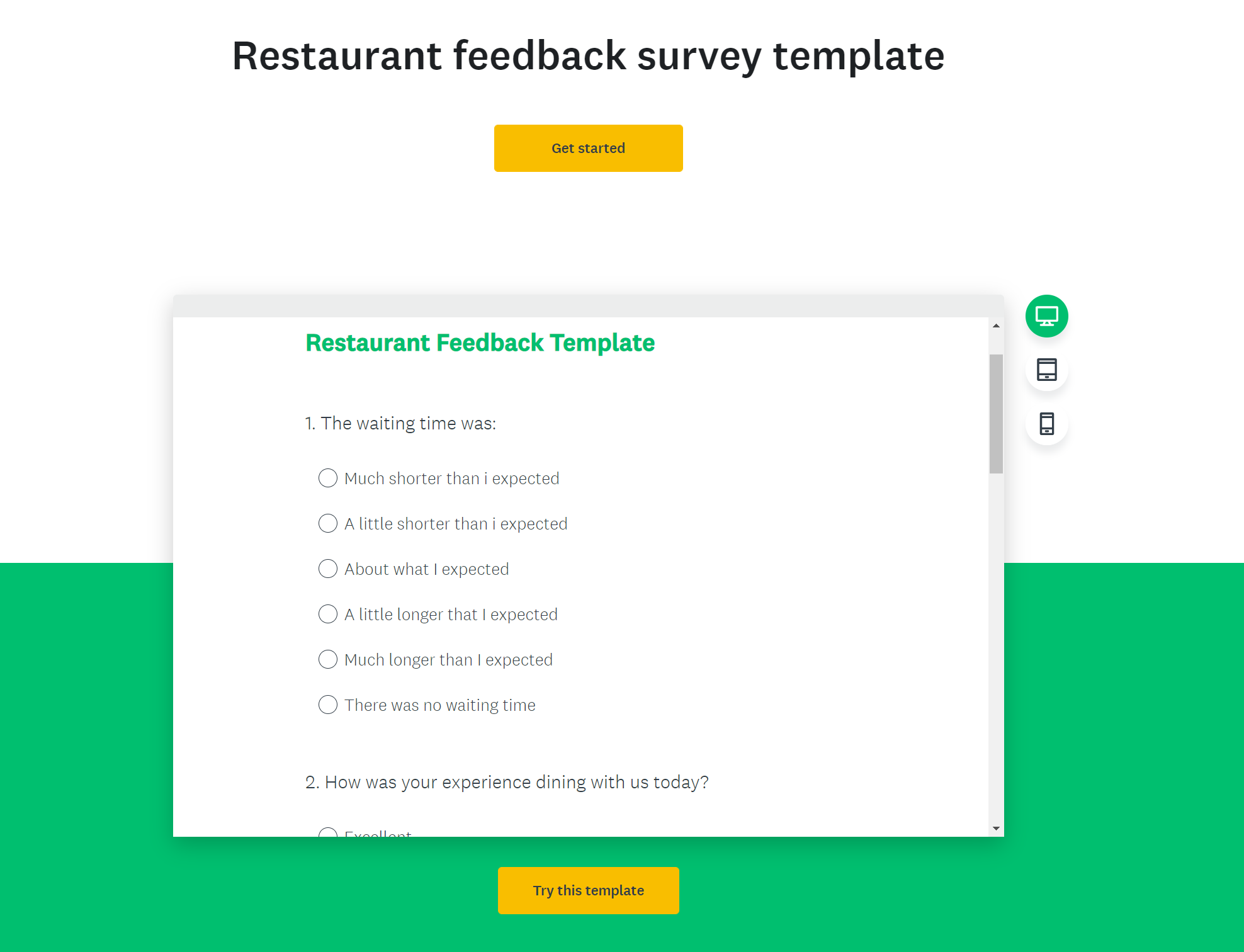 Source: SurveyMonkey
A more indirect, but just as effective method would be to look for feedback that already exists in the form of online reviews.
Reviews can give you some very clear insights into how your restaurant is performing in terms of food and service quality, as well as organizational characteristics, including the reservation process.
Some of the most popular resources in this regard include:
Google
Social media platforms, particularly Facebook
Tripadvisor
Foursquare
Let's look at a real example for some clues on how reservation management can be improved using guest feedback.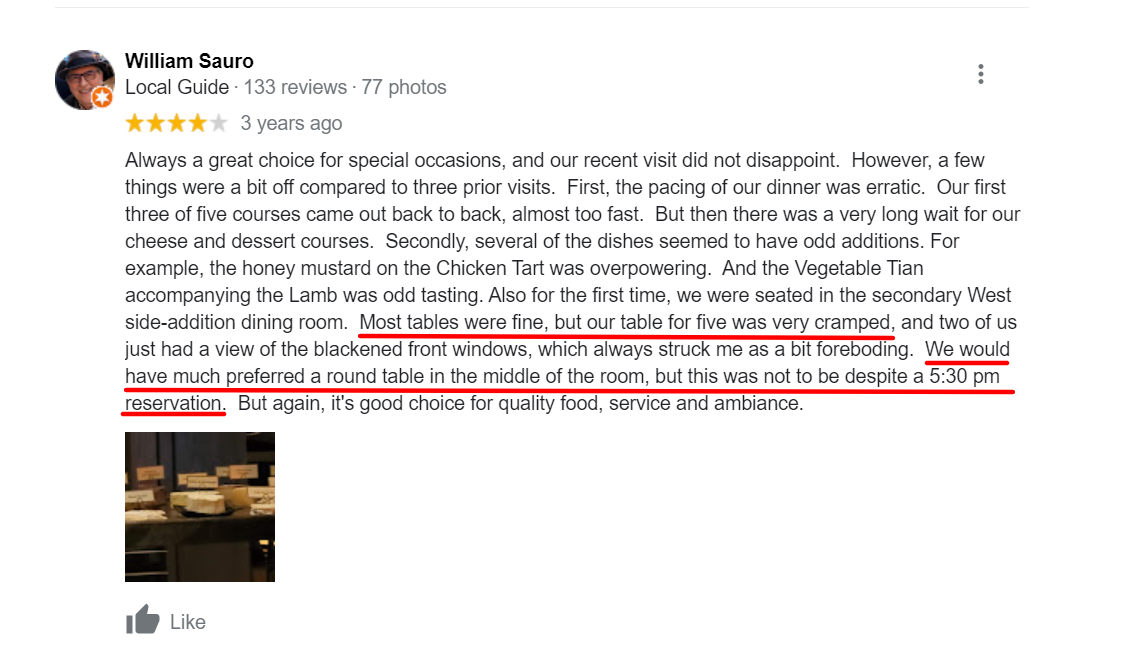 Source: Google
This guest had a very positive experience but was a bit annoyed at the table he was assigned at booking.
This could indicate that a little more attention could be given to how tables are assigned to guests.
To solve this problem, the reservations manager could be directed to ask guests if they have a seating preference, or your restaurant can use an online reservation system that allows guests to select their preferred dining area.
Tablein's system provides the latter option.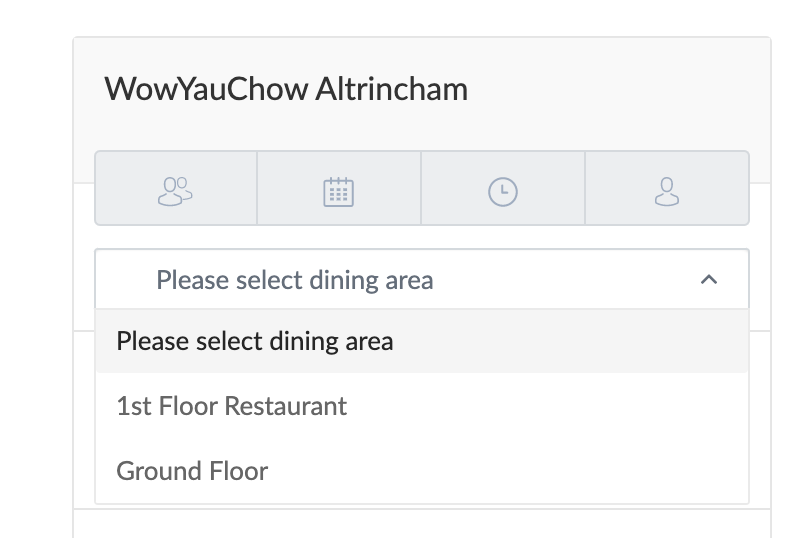 Source: Tablein
As you can see, actionable insights can be quite easy to extract from guest feedback.
Be sure to seek out feedback at every opportunity and start improving your reservation management according to your guests' wishes.
Conclusion
Reservation management is an extremely important element of your restaurant business.
Even if you offer top-tier cuisine and impeccable service, your profits won't be as high as they could be unless you're doing everything in your power to fill out your dining hall and maintain a healthy flow of guests.
The best practices we've outlined in this article should help you stay on top of bookings and continually improve the way you manage them with the help of your staff and modern technology.
Use them to your advantage and watch your business grow.
10 Social Media Tricks to Attract More Customers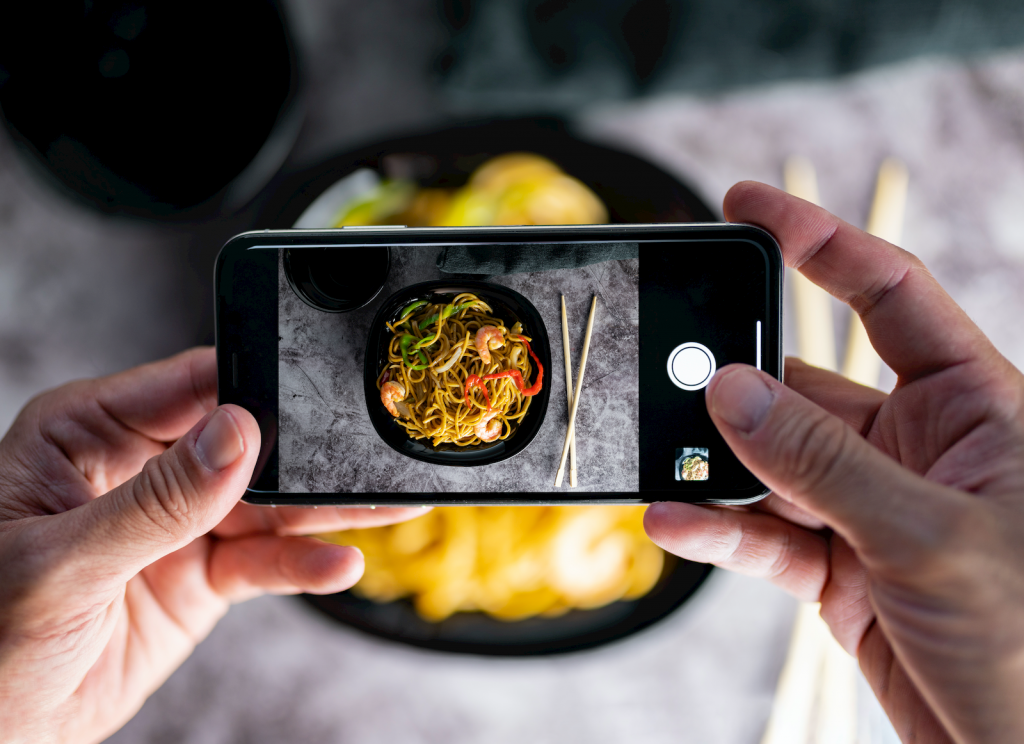 10 Social Media Tricks to Attract More Customers
Feb 4, 2020 5:55:49 PM
4 min.
Everything You Need to Know About Restaurant Capacity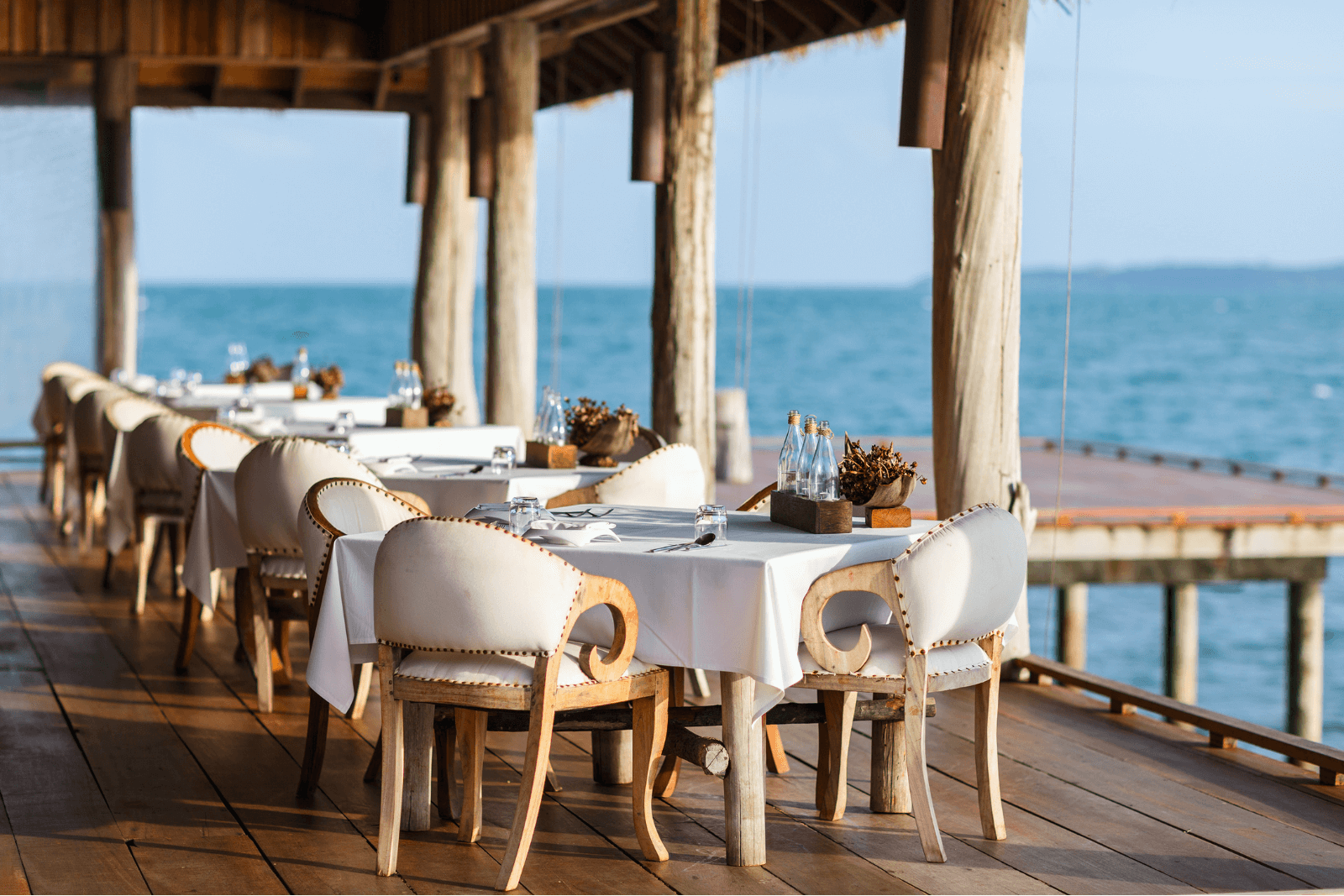 Everything You Need to Know About Restaurant Capacity
Feb 6, 2023 4:21:53 PM
8 min.
How to Get More Group Reservations at Your Restaurant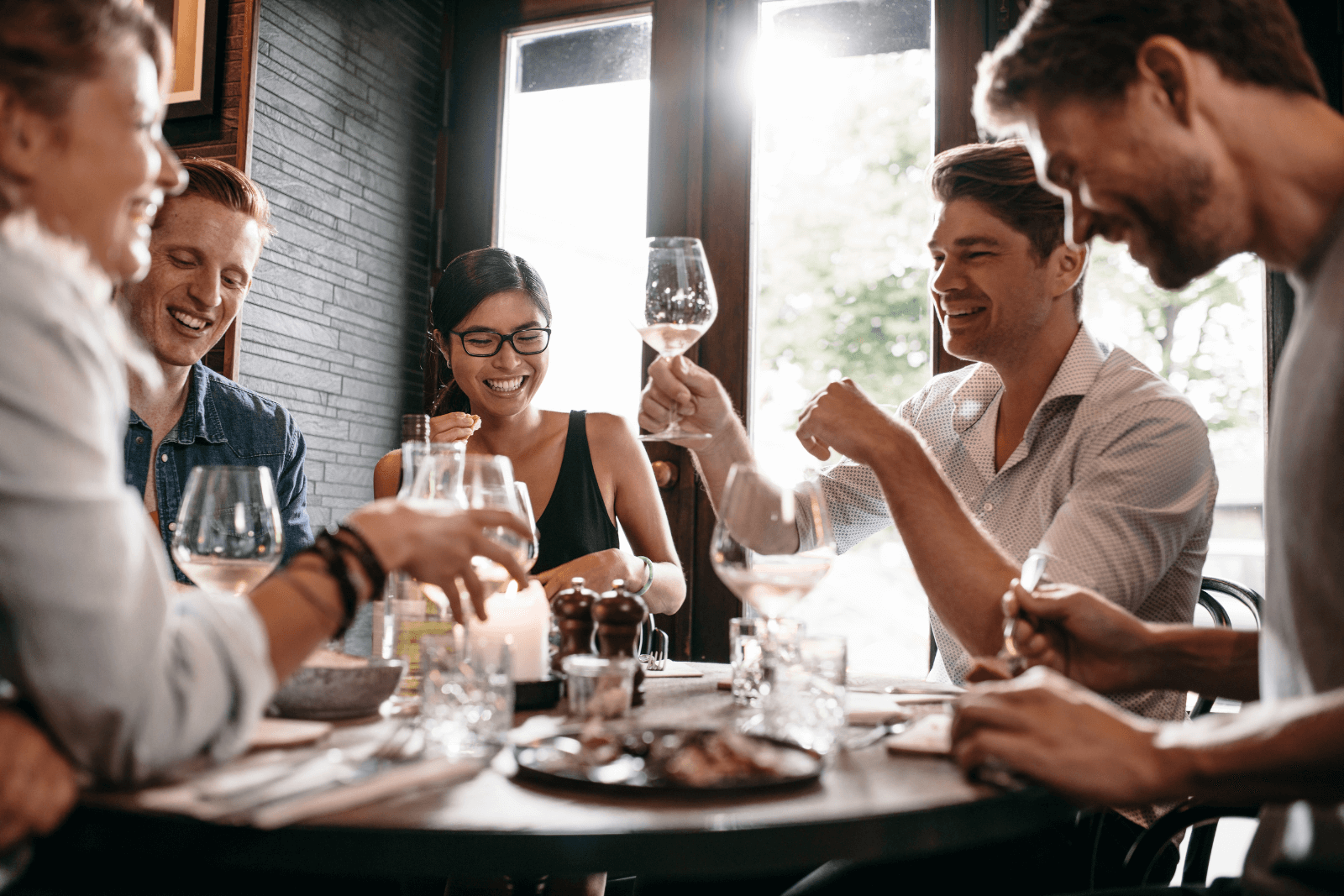 How to Get More Group Reservations at Your Restaurant
Apr 25, 2023 1:03:58 PM
8 min.