No-shows can be very harmful to your business because every reservation that falls through is revenue lost.
Of course, you can't force people to honor their agreement and show up for their booking, but there are some practices you can implement to minimize the damage.
In this article, we'll show you five tactics you can use to make it more likely guests will show up for their reservations or at least cancel on time, so you can accommodate someone else.
And it all starts with a clear booking policy, so everyone's on the same page.
Have a Clear Table Booking Policy
No-shows represent a big problem for restaurants because guests that don't turn up for their time slot prevent the business from collecting the revenue it needs to sustain its workforce and improve its offer.
However, it seems that diners don't realize what kind of damage they're inflicting on restaurants with this irresponsible behavior.
That becomes evident when you look at the studies that inquired into the reasons why guests decide not to show up for their reservation. Here's what one such study found: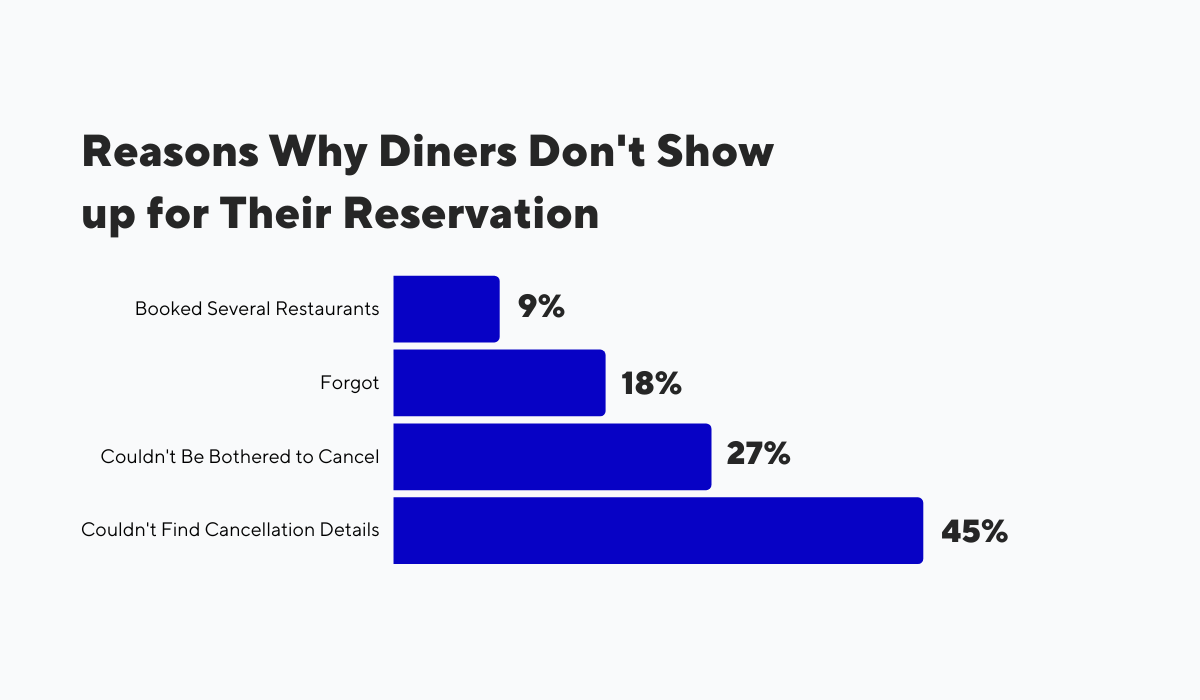 Illustration: Tablein / Data from: Carbon Free Dining
As you can see, more than half of the diners who fail to show up or cancel on time don't really have a good reason for their actions.
Chances are they simply don't know they're doing any harm.
A good way to communicate to your guests that showing up matters to your business is to have a booking policy and to display it in places your guests are likely to see it, such as your website.
Have a look at how the booking policy from Christie's Bistro in Manchester elegantly handles no-shows and guests who are late for their reservations.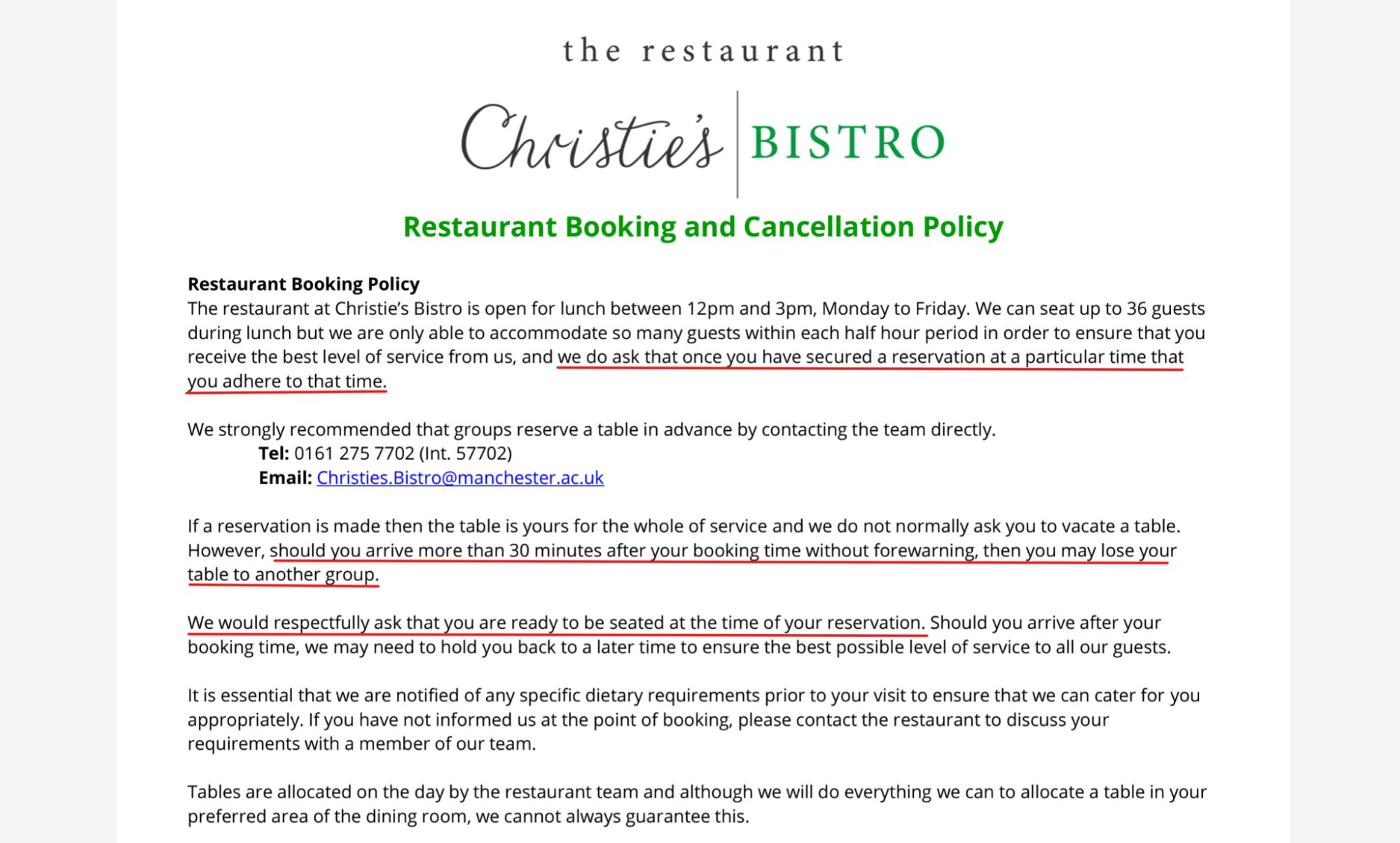 Source: Christie's Bistro
The guests are politely asked to adhere to the time they booked when coming to the restaurant.
It's also stated that their table will be held for thirty minutes before being released to another group.
Finally, the guests are asked to be seated at the time of their reservation so that dinner service isn't disrupted and the next diners can be served on time.
The message here is quite clear: no-shows cause problems for this restaurant, and guests should remember that they've agreed to arrive on time and hold up their end of the bargain.
Unless they decide to cancel, of course.
The point here is that restaurants appreciate their guests and are glad to serve them.
However, it's wise to keep in mind that a restaurant is a business, and not showing up without cancellation can cause financial damage.
A good way to make this point clear is by having a clear booking policy diners can adhere to.
Ask for a Reservation Deposit
An increasing number of restaurants (fine-dining establishments in particular) go a step further than simply asking diners to turn up for their reservation.
These places are aware of the fact that each no-show costs them in revenue, so they've decided not to let this matter go so easily.
Their tactic is to require a deposit for every booking made so that they can collect some compensation, even if the guest decides not to arrive at their allotted time.
These deposits range from a symbolic amount to motivate the guest to keep their end of the bargain to more serious measures, like in the case of Gordon Ramsey's restaurants, where no-shows are charged a fee of £150.

Source: Gordon Ramsay Restaurants
As effective as this method for dealing with no-shows is, many restaurant owners shy away from it.
That's because they don't want to insult their guests or cause them to change their minds about booking a table.
Nevertheless, recent data from the UK shows that this measure is becoming more and more popular among restaurants, with almost half of them now requiring a booking deposit.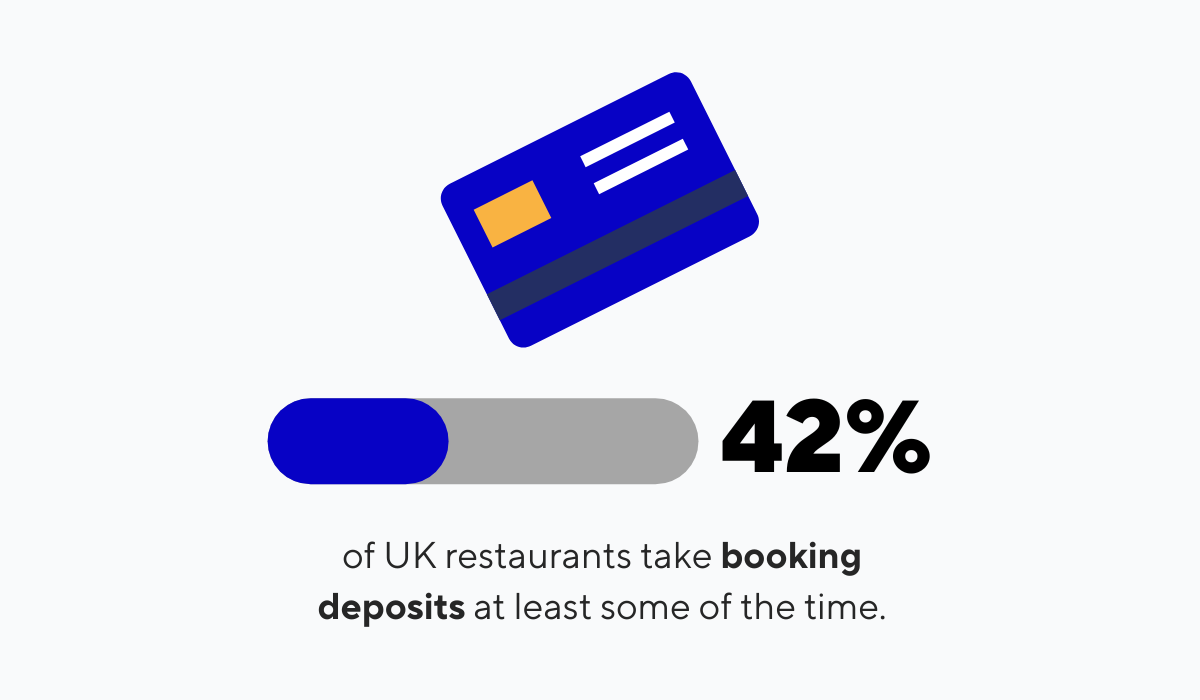 Illustration: Tablein / Data from: Zonal
Of course, taking a deposit isn't the best course of action in just any situation, and you should weigh the pros and cons before going this route.
A good rule of thumb is to require a deposit only if you stand to lose a lot of revenue if the guest turns out to be a no-show.
Examples of this include:
Having a large average check value at your restaurant
Taking a reservation from a large

group
Offering reservations during popular holidays such as Christmas, Valentine's Day, or Mother's Day
If you're considering adopting this strategy but aren't sure how to do it yet, the process is actually quite simple if you employ an online reservation system.
Some of these tools come with integrations for popular payment software, such as Stripe or PayPal, meaning guests can easily and safely enter their credit card information, and the system will hold the deposit until you release it.
Here's how that looks with Tablein's reservation system: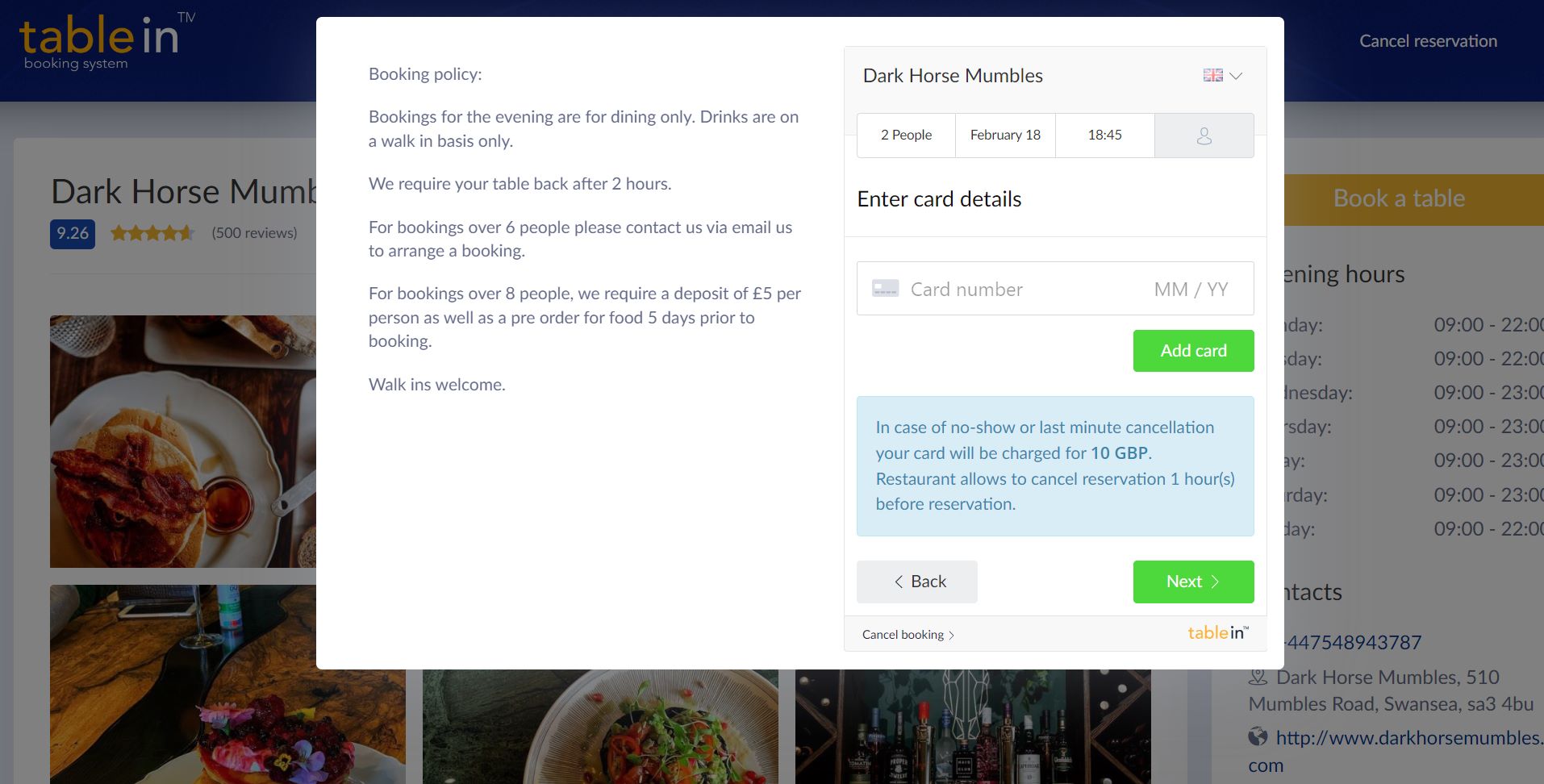 Source: Tablein
All in all, requiring a booking deposit is a very effective method of dealing with no-shows that carries a certain risk.
Use it wisely, and you should, at the very least, eliminate the costliest no-show situations.
Remind Guests of Their Reservations
It's an unfortunate fact that people sometimes simply forget that they've made plans and reserved a table at a restaurant.
In many cases, this isn't deliberate, and guests feel bad about it. Had they not forgotten, they might have come to the restaurant and had a great experience.
This way, their embarrassment might prevent them from visiting in the future.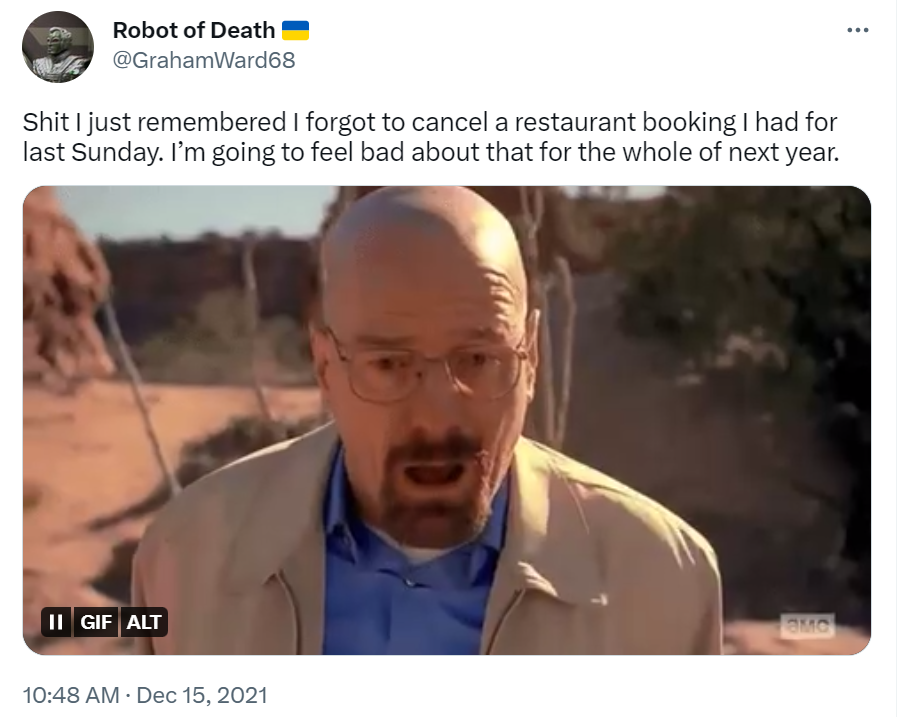 Source: Graham Ward on Twitter
So, in a way, forgotten reservations cause double damage. They prevent you from collecting revenue in the short term and may even cause you to lose a potential long-term customer.
All of this through no fault of your own.
This situation is all the more tragic when you consider how easily it can be fixed. All you need to do is come up with a system for reminding your customers that they have a reservation.
For example, some online reservation systems let you automatically send a confirmation email to the guest using the contact information they provided when they booked a table.
When this confirmation is created in Tablein, the email contains an option to add this appointment to the guest's calendar, making it much more difficult to forget.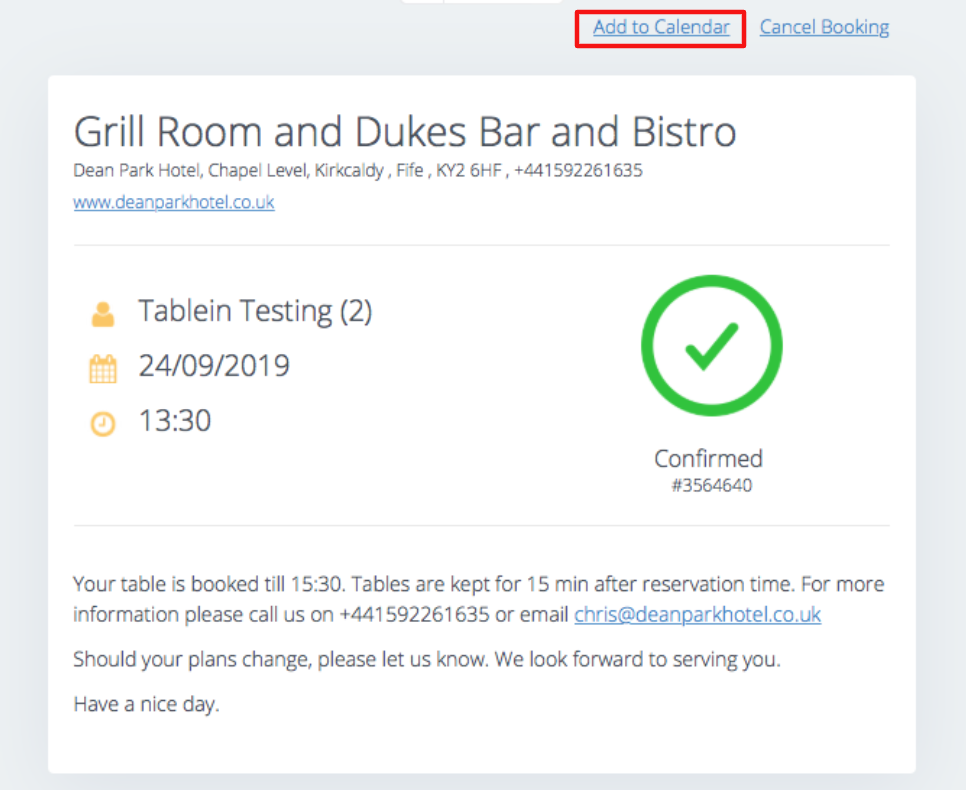 Source: Tablein
Tablein will also allow you to automatically send a reminder email 48 hours before the guest's booking to make it certain they show up or cancel if they've changed their mind.
This is especially useful for reservations made well in advance and therefore are most likely to be forgotten by the person who created the booking.
So, as you can see, forgotten reservations really don't have to be a nuisance for your business.
If you can remind your guests they've booked with you in advance of their arrival, you can ensure the guest will be there or cancel with enough time to accommodate another guest.
Make It Easy to Cancel a Reservation
At the beginning of this article, we talked about some of the reasons why your guests are not showing up for their reservations without letting you know.
If you take another look at our diagram from the section about booking policies, you'll see that most people miss their appointments without any notice simply because finding the cancellation details seemed like too much of a hassle.
Some situations here might include:
Not being able to find a phone number after the reservation was made
Lack of cancellation options in the online reservation form or confirmation
No clear policy on cancellation procedures or deadlines
Now, some restaurant owners might hesitate to make cancellations too easy on guests for fear they'd be giving them too many opportunities to change their minds.
But the truth is if you don't make canceling as easy as possible, all you'll be doing is increasing the number of no-shows at your establishment.
So let's review some ways to make canceling easier for your guests.
The first one is to have a cancellation policy that isn't difficult to find among your terms and conditions.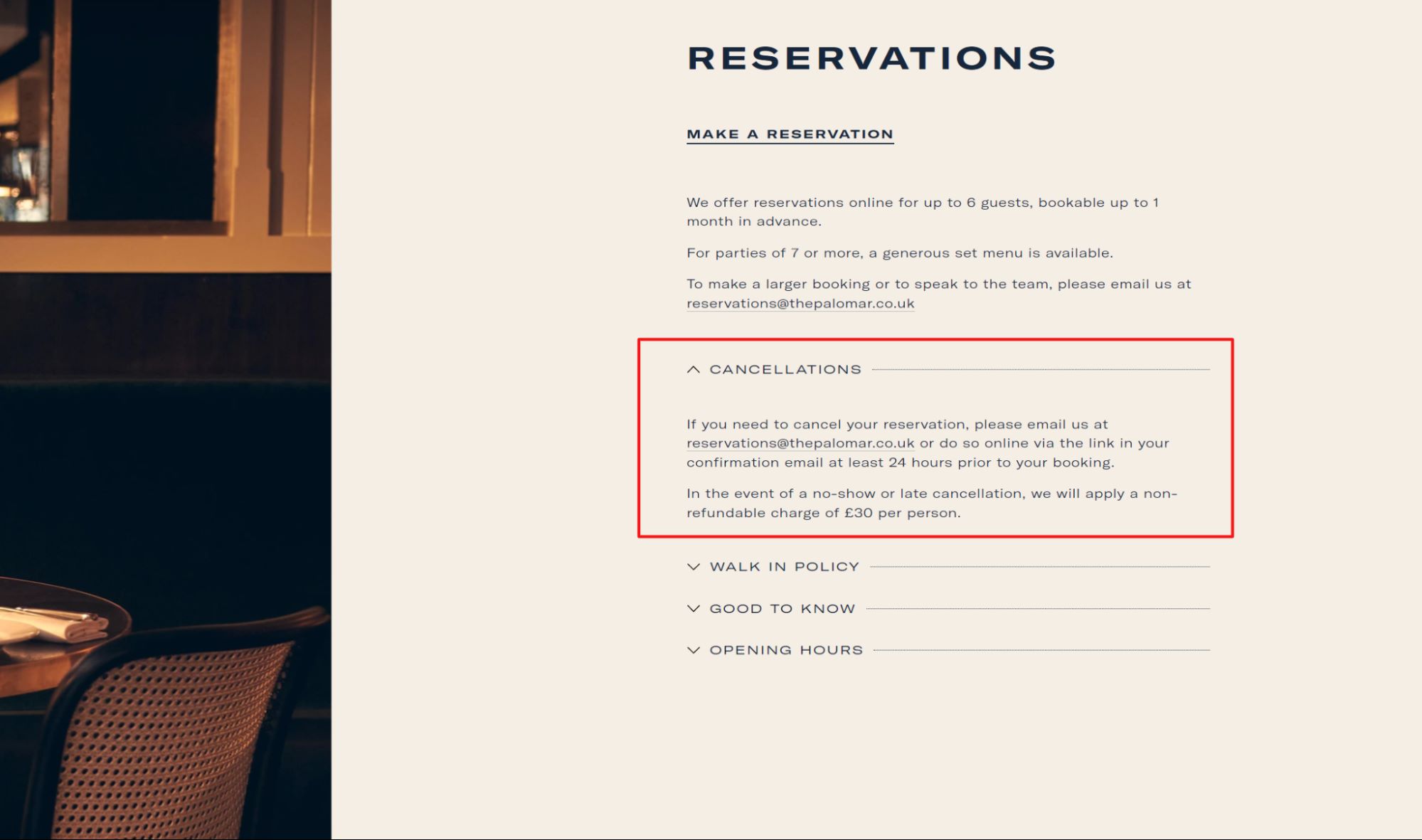 Source: The Palomar
This policy should contain your preferred cancellation methods (email and a link in the confirmation message, in this case) and a deadline (24 hours) that will leave you enough time to get the table rebooked.
Customers won't always look up your restaurant policies, so at the very least, provide contact information on your website, social media, and Google Business profile (if applicable) so that guests don't have a hard time getting in touch to cancel.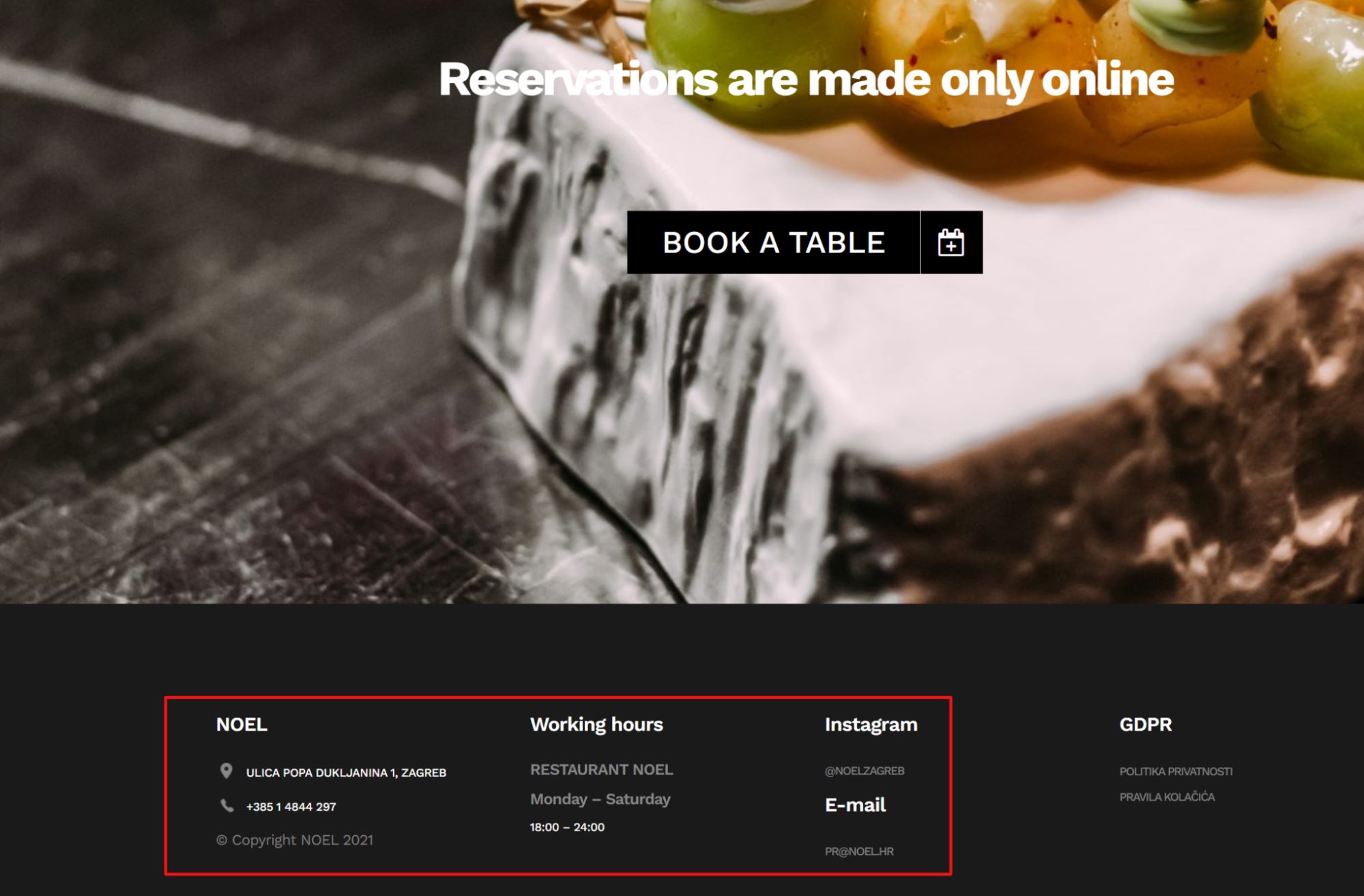 Source: Noel
Finally, if you offer an online reservation option, make sure you're working with software that makes it easy to cancel by providing cancellation links in the booking widget on your website, the confirmation email, reminders, and other communication.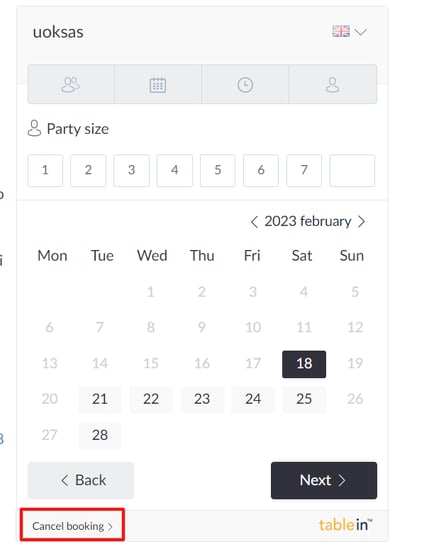 Source: Tablein
A lot can happen between the guest's reservation and the big evening, and that's alright.
With easy ways to cancel their bookings, guests should have no problem letting you know they won't be arriving and rescheduling their dinner for another time.
Have a Waitlist to Fill Empty Tables
When all else fails, having a waitlist can help you fill up your dining hall, even when a large portion of your guests cancels or turns out to be no-shows.
That's because a waitlist enables you to quickly and easily replace reservations with the next guest waiting in line for a table or release abandoned tables to walk-in guests who don't have a reservation.
So, for example, if a guest tries to reserve a table, but you're all booked out for the evening, you can offer to put them on your waitlist and contact them if a spot opens up.

Source: Tablein
Then, if a guest cancels, you can simply call up your waitlisted customer and tell them you can now accommodate them.
That way, you're much less likely to see empty tables during the dinner rush because you have a list of people who might be ready to step in should a table become available.
Another scenario where this works is when you have a walk-in guest whom you can't seat because you're holding a table for a guest that booked in advance but hasn't shown up yet.
In that case, you can take down that guest's contact information and recommend a bar nearby for a pre-dinner drink.
Should the booked guest not show up, you can notify them via email or SMS that the table is theirs.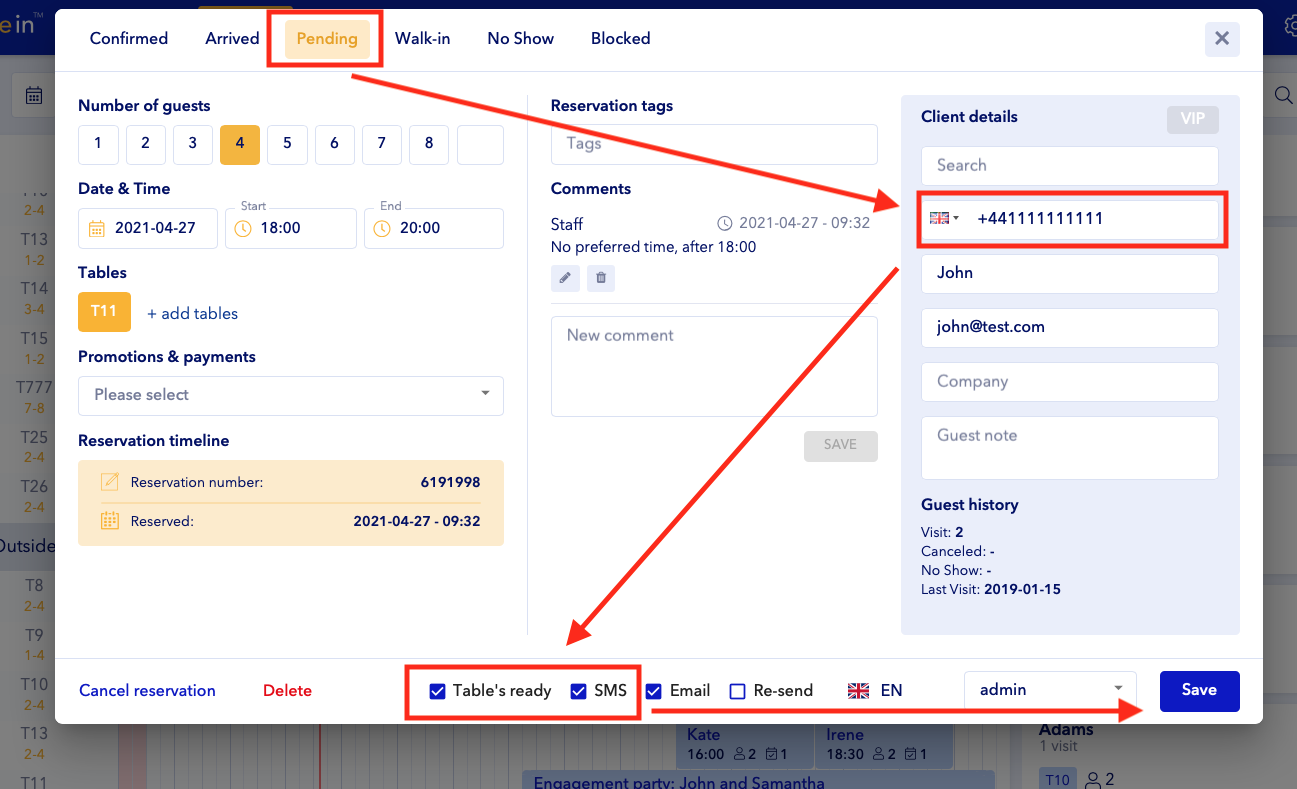 Source: Tablein
The point here is that no-shows aren't a force beyond your control.
You can take precautions to ensure somebody else will take the table in cases when reservations fall through for whatever reason.
One such precaution is having a waitlist where you can put guests who will be more than happy to step in if a guest with a reservation doesn't turn up.
Conclusion
When guests don't show up for their reservations, that can put a serious dent in your restaurant's revenue and cause financial troubles no matter how great your food and service are.
Luckily, there are ways to prevent most instances of no-shows from occurring.
In this article, we talked about five such tactics and how they can help secure visits, nudge guests to cancel on time if they can't attend, and ensure your dining hall stays full, even if some guests don't show up.
Implement the practices that make the most sense for your restaurant, and you should see the number of no-shows go down permanently.
5 Tips to Prevent No-Shows at Your Restaurant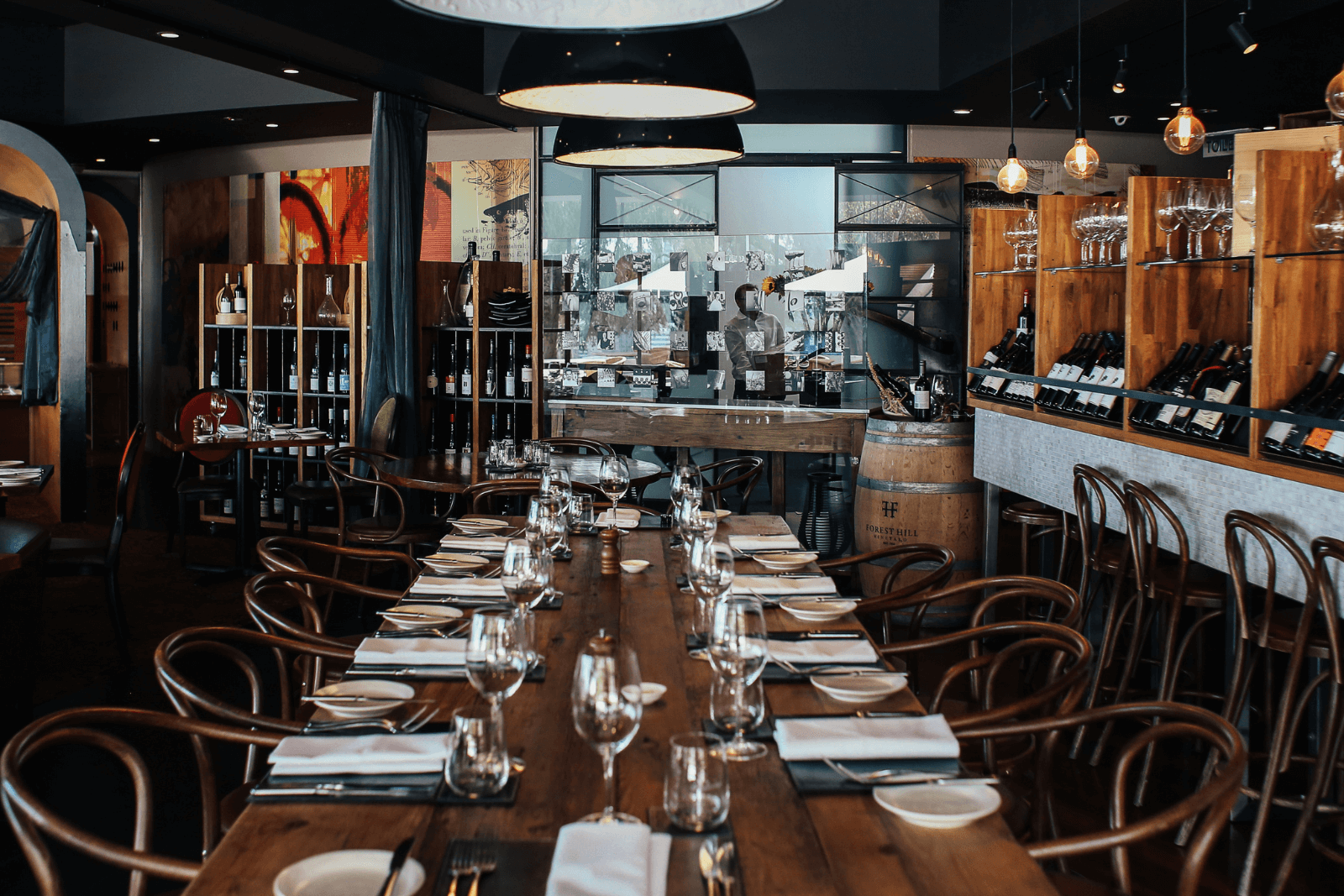 5 Tips to Prevent No-Shows at Your Restaurant
Jun 2, 2023 12:04:31 PM
10 min.
Pros & Cons of Taking Reservations at Your Restaurant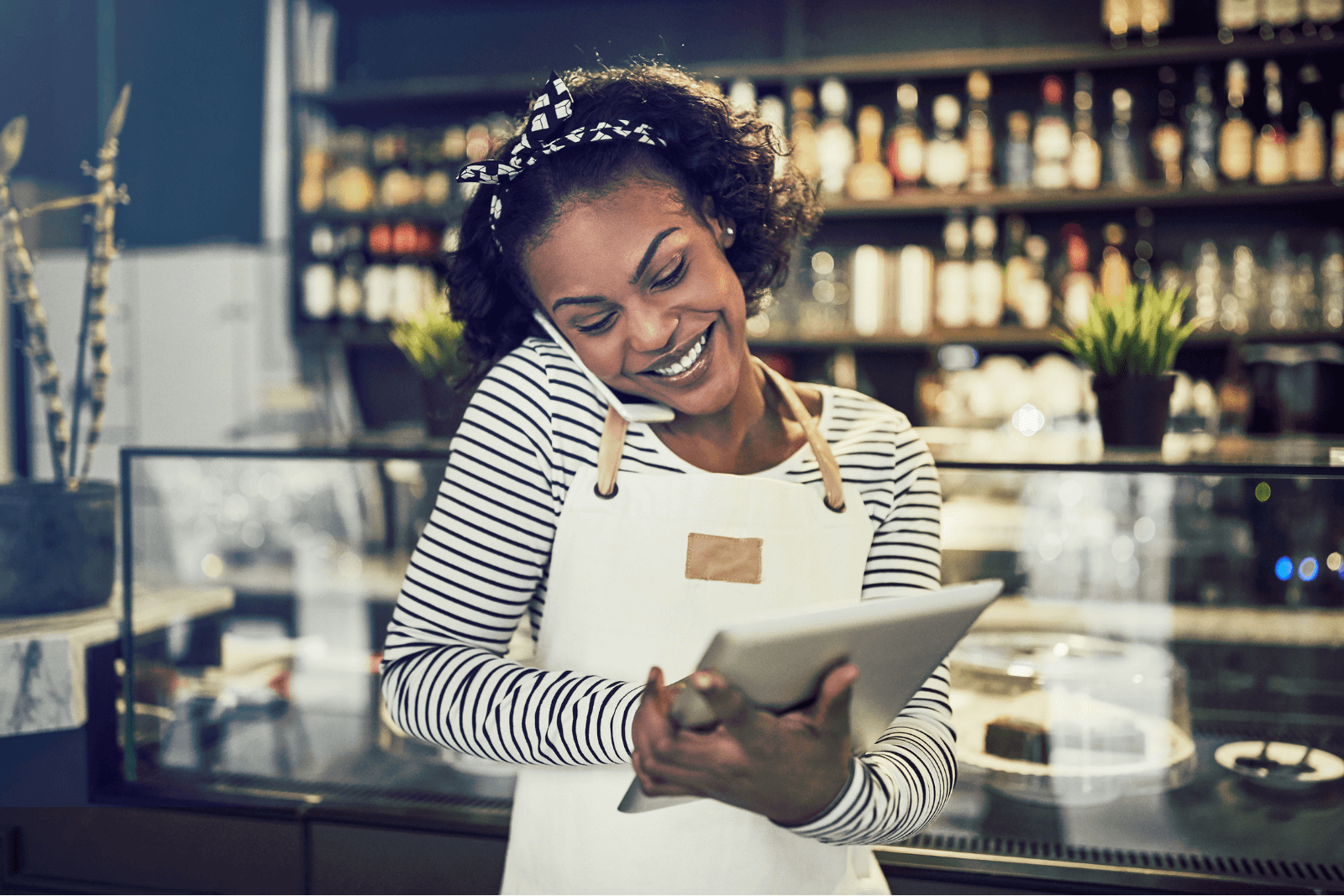 Pros & Cons of Taking Reservations at Your Restaurant
Mar 27, 2023 4:07:32 PM
10 min.
6 Reasons to Take Reservations at Your Restaurant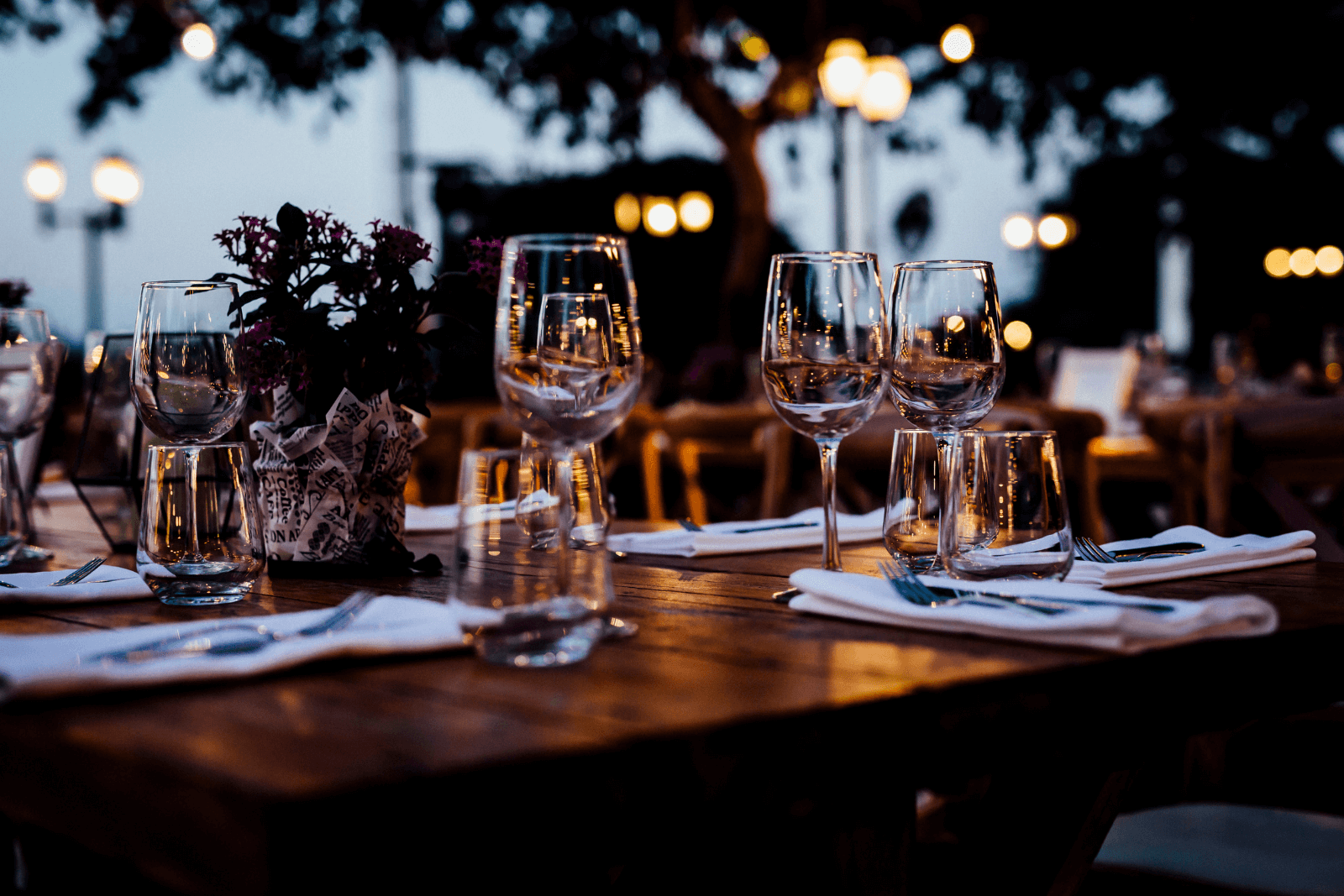 6 Reasons to Take Reservations at Your Restaurant
May 19, 2023 2:42:56 PM
9 min.