7 Tips for Increasing Event Reservations at Your Restaurant
11 min.
Jul 31, 2023 10:00:06 AM
In today's dynamic culinary scene, restaurants have become more than just places to eat—they're lively hubs for socializing and celebrating.
From small gatherings to grand occasions, hosting events is a fantastic way for eateries to create memorable experiences, connect with patrons, and boost sales.
Yet, getting those event reservations can be a tough challenge in this competitive industry.
That's why we have compiled seven fantastic tips to help your restaurant stand out and attract more event reservations.
With these strategies in your toolkit, your establishment will become the go-to destination for unforgettable moments of great food and camaraderie.
Let's dive in!
Have a Dedicated Event Page on Your Website
In today's competitive landscape, a strong online presence is essential for restaurants seeking to thrive.
And while your main website should cover all of the necessary information like contact details, menus, and ways to take reservations, having a separate, dedicated event page can significantly boost event reservations.
This event page can serve as an exclusive platform where you can promote and highlight upcoming events, enticing your audience with captivating visuals and details of what patrons can expect.
This can create a sense of anticipation and encourage potential guests to mark their calendars for your unique offerings.
Consider the example of FoxFire, a popular steakhouse in Geneva, Illinois.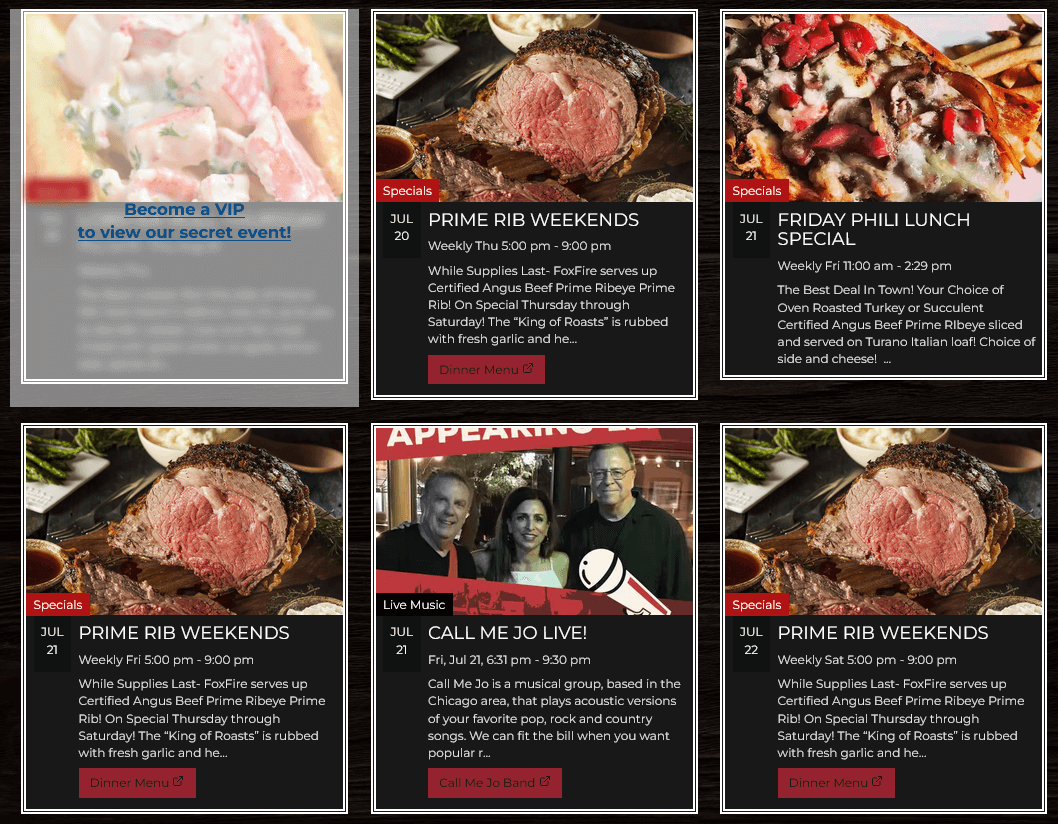 Source: FoxFire
Instead of overwhelming their homepage with event information, they wisely opted for a sleek, clutter-free event page.
This approach allowed them to showcase their diverse range of events in a focused manner, encouraging visitors to explore further.
A particularly effective tool on FoxFire's event page is the event calendar, which neatly organizes their upcoming events.

Source: FoxFire
This intuitive feature motivates potential guests to secure reservations promptly, whether it's for "Prime Ribs Weekends," "Surf and Turf Tuesdays," or delightful "Music Nights" paired with delectable dinners.
On the other hand, a dedicated event page can position your restaurant as a premier event venue.
On this page, you can showcase your capabilities in hosting events, such as the number of guests you can accommodate, whether seated or reception-style, what kind of events you can host, and more.
Trishna, an Indian restaurant in London, offers an excellent example of such a page.

Source: Trishna
They present information about their venue size and location next to a church, appealing to specific groups seeking spaces for events like small weddings.
In summary, having a dedicated event page on your restaurant's website can be a game-changer for your event reservations.
You can promote your own events or present yourself as an event venue, or both. In any case, a well-crafted event page can pique your audience's interest and increase your sales.
Target Specific Groups and Events
Trishna, the Indian restaurant we mentioned earlier, utilizes its location next to a church to position itself as the perfect wedding venue, targeting couples seeking convenience for their special day.
Similarly, targeting specific groups and events can boost reservations and appeal to a diverse clientele, especially when you identify your unique selling points.
For instance, if your restaurant is situated in a corporate area, you can promote it as an event venue for corporate gatherings like business meetings, office celebrations, or team-building events.
For example, Pergola on the Wharf, located in Canary Wharf, capitalizes on this advantage.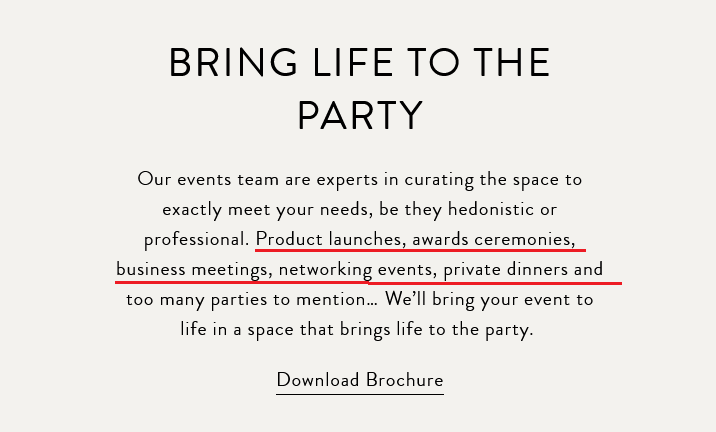 Source: Pergola on the Wharf
Its great location in London's financial district, among banks and business buildings, allows them to host various corporate events, from business meetings to full-scale company parties.
Naturally, because of its terrific location and the ability to host all these various events, this venue will often be the first and most convenient choice for businesses around Pergola.
Another great way to target specific people is by focusing on special occasions.
For example, if your restaurant features a beautiful terrace with city views or a charming garden with lush flowers, you can market it as an ideal venue for romantic proposals or engagement parties.
Palma, a New York City restaurant, found its unique selling point in an enchanting ambiance perfect for special events like proposals, and they make sure to emphasize it on their event page.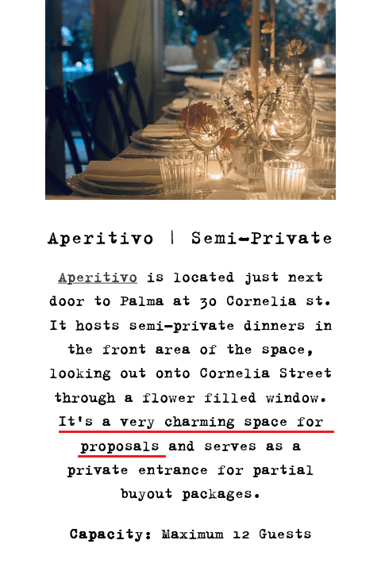 Source: Palma
You can find many more selling points and groups to target—from friends celebrating birthdays to bachelorette parties honoring an impending wedding or baby showers.
And if you create themed packages and unique offerings for these events, you can entice these groups to choose your venue for their celebrations.
In conclusion, increasing event reservations hinges on strategic targeting.
If you cater to specific groups and events, you can improve your event reservations and position your restaurant as a sought-after destination for memorable gatherings.
So, first, identify what sets your restaurant apart from local competition and tailor your offerings accordingly to attract specific groups and events.
Volunteer Your Space for Local Events
Your local community likely organizes various events throughout the year, from festivals and concerts to holiday celebrations and community gatherings.
Many of these events require suitable venues, and your restaurant could be just the right choice.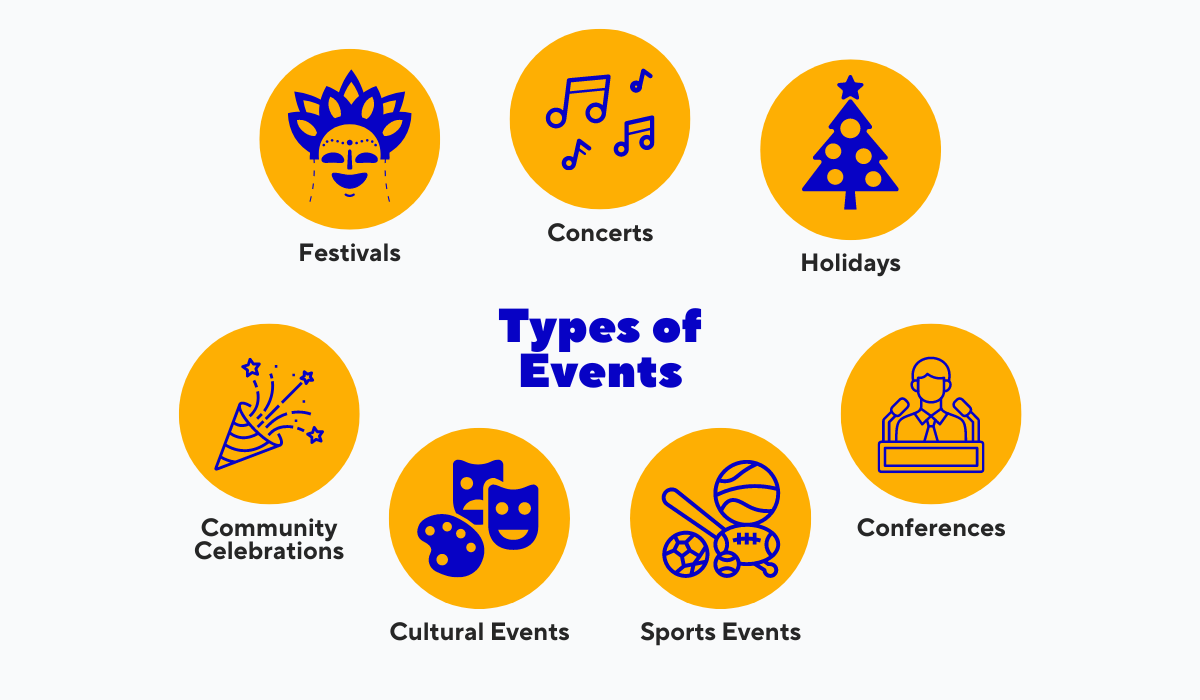 Source: Tablein
Volunteering your restaurant space for local events is a great way to actively engage with the community, build strong relationships, and create positive brand visibility.
Contributing to the community's well-being can also open doors to new opportunities and more potential customers.
So, take the initiative and contact your local community board to offer your space for hosting neighborhood meetings, charity events, or fundraisers.
You can even partner with a non-profit organization to host a charity gala or collaborate with a local school to hold a fundraising dinner.
When such an event goes well, it is highly likely that you will be top of mind when such organizations decide to hold another event.
Islands Restaurants in California, an establishment which actively supports local schools, community programs, and sports teams by hosting fundraisers on specified dates, is an excellent example of this approach.

Source: Islands Restaurants
Their strategic choice of quieter days, like Monday to Wednesday evenings, benefits both the community, as 20% of the proceeds from these events go directly to the cause being supported, and their restaurant, as they are getting more traffic on days that would otherwise be slow.
They are ready to give back to their community, which resonates with their audience. In turn, they get many event visitors, and that boosts their sales, too.
In summary, volunteering your restaurant for local events will benefit the community and position your restaurant as a beloved and socially responsible venue.
Moreover, you'll cultivate a positive reputation that extends beyond the dining experience, leading to increased overall reservations and continued success.
Host Your Own Special Events
Don't limit yourself to hosting events for others. Take the lead and organize your own unforgettable events that will draw in your patrons and leave a lasting impression.
This way, you can showcase your restaurant's unique identity, creativity, and culinary prowess.
Anything can serve as an occasion for hosting events, from themed dinner parties to live entertainment nights. All you need is a little bit of creativity and good ideas.
For example, consider organizing holiday-themed events that align with seasonal festivities, like an Easter brunch, Halloween-themed dinner, or Christmas party.
Alternatively, spice things up with a lively music night, inviting local bands or musicians to perform, as this New York restaurant does: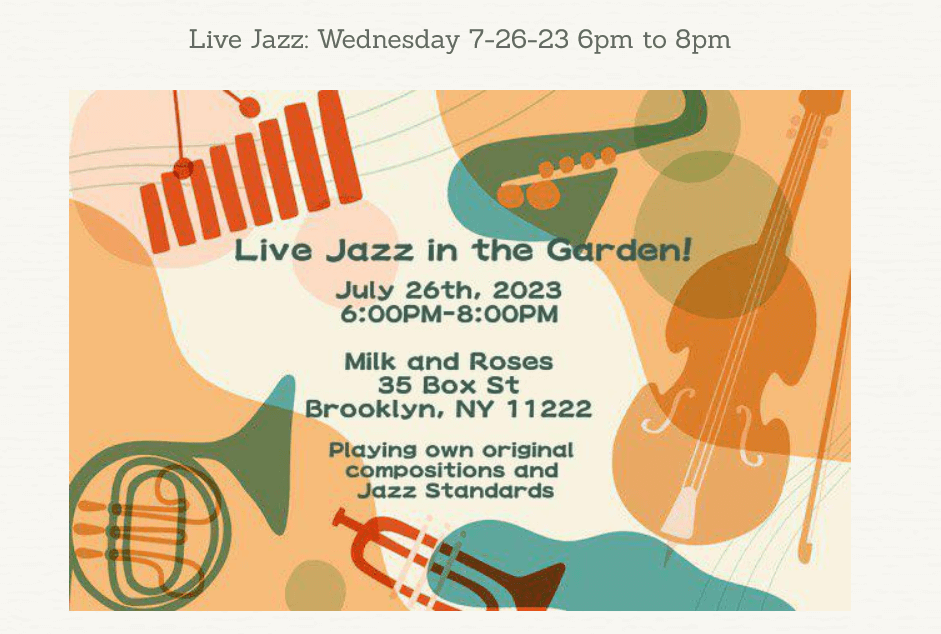 Source: Milk and Roses
To add a sense of urgency and exclusivity to these events, craft limited-time specials and take reservations.
By offering exclusive menu items or promotions available only during the event, you will encourage guests to secure their spots early not to miss them.
This tactic will not only boost event reservations but also cultivate a sense of anticipation and excitement among your patrons.
Additionally, consider collaborating with local businesses or artists to make your events even more unique, just like SquareOne restaurant in Zagreb did with their Barber & Brunch event.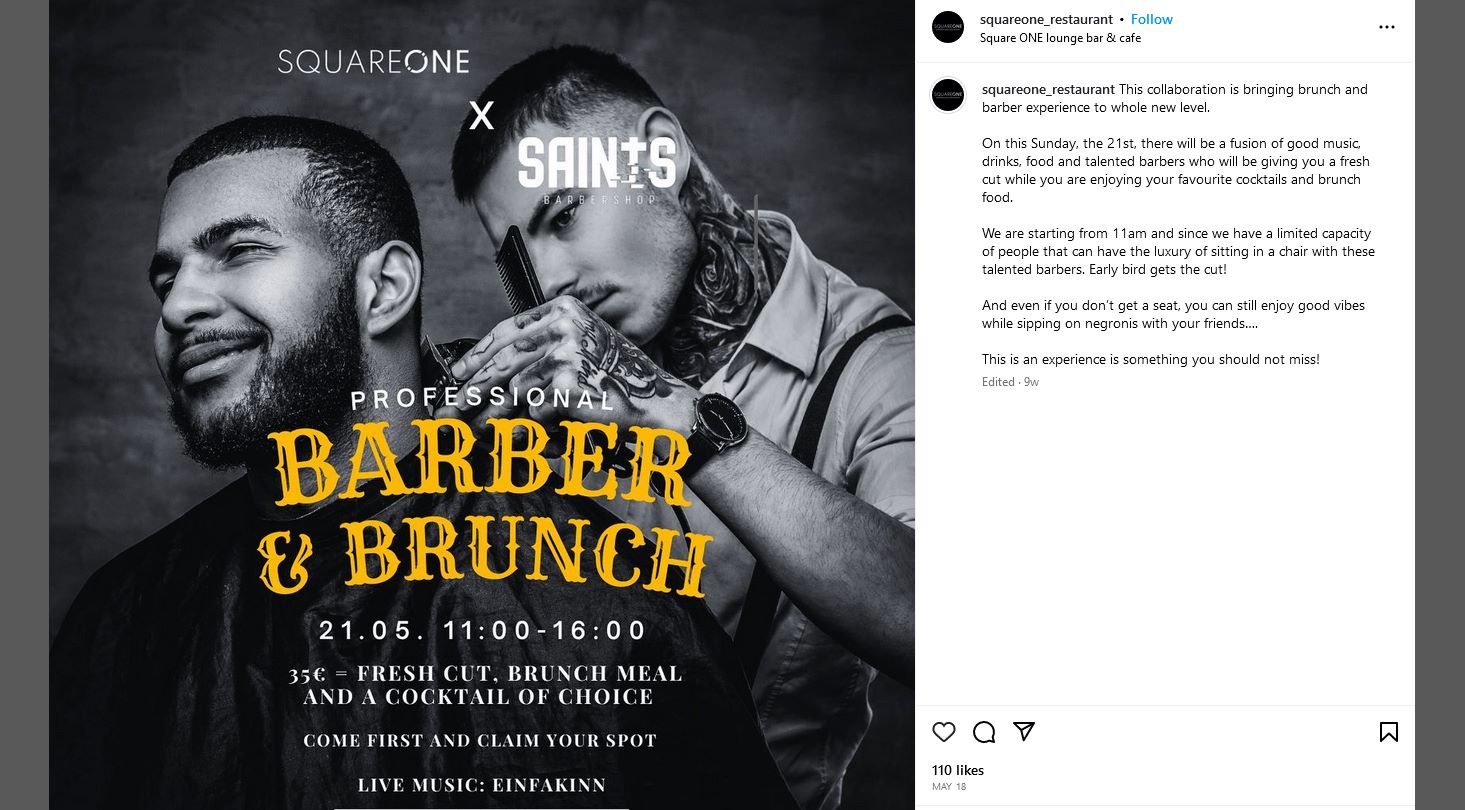 Source: SquareOne on Instagram
The combination of a haircut, delicious brunch with cocktails, and live music,—all of it at an attractive price—created a truly one-of-a-kind experience, setting this restaurant apart from the competition when it comes to special events.
To sum up, hosting your own special events allows you to be creative and offer unique experiences to your patrons.
So, take the lead, be inventive, host your events, and we guarantee your reservations will soar.
Create Special Event Offers
When it comes to attracting customers for your special events, offering enticing event packages and promotions can help immensely.
One effective way to do this is by crafting special event offers that combine your restaurant's signature dishes, beverages, or activities with attractive pricing.
For instance, take inspiration from Electric Shuffle, a trendy establishment that has venues in the US and the UK, where you can enjoy food and cocktails while competing in high-tech shuffleboard with friends.

Source: Electric Shuffle
To enhance the event experience for their guests, they offer special food packages that allow guests to play and dine at more affordable prices.
Having a good time playing games with friends and enjoying a delicious meal is what attracts bigger groups to this establishment.

Source: Electric Shuffle
Some other special offers, in addition to such food and drink packages, could be discounted group rates, an extra first drink, or a buy one get one free option.
Moreover, you can include seasonal offers with special set menus, themed cocktails, or complimentary extras.
In a nutshell, promoting appealing discounts and special event offers can attract more patrons to the events, elevate their experience, and encourage them to choose your restaurant repeatedly.
Promote Your Event Offerings on Social Media
Promoting your event offerings on social media can boost reservations and increase your venue's popularity.
With approximately 60% of the global population actively engaged on platforms like Instagram, Facebook, and TikTok, tapping into this vast audience is the key to successful event promotion.
And to entice potential customers, showcasing what your venue has to offer is crucial.
So, leverage the visual appeal of social media and share photos of your delectable dishes and promote your exclusive special offers on Instagram and Facebook, for example.
In addition to stunning food images, you can capture your audience's attention with unique and engaging content.
Consider creating captivating behind-the-scenes videos that offer a sneak peek into your venue's ambiance and the meticulous preparations for each event.
An excellent example of effective social media promotion comes from Milk and Roses Bistro in New York.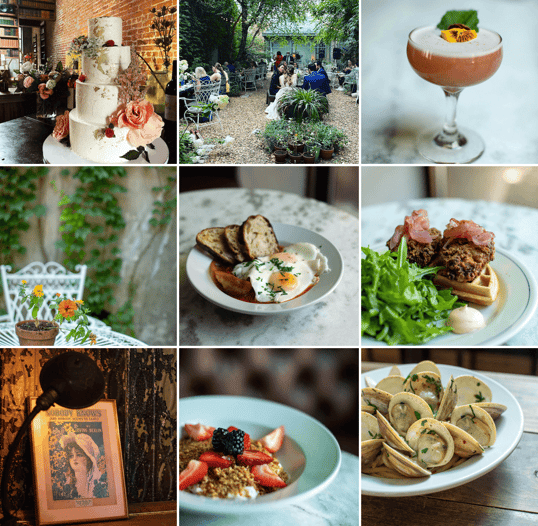 Source: Milk and Roses Bistro on Instagram
Their Instagram account features alluring images of mouthwatering dishes, their enchanting garden, and inviting event spaces.
Moreover, they skillfully encourage guests to host private events at their picturesque location and thoughtfully save stories and posts from weddings and other events they've hosted, allowing potential clients to envision their own special day at the venue.
The positive impact of their social media efforts is evident in the encouraging comments, particularly from soon-to-be brides yearning to get married in their beautiful garden, and the impressive number of followers they have amassed.
And remember, social media isn't just a one-way street for promotions—it's an interactive platform.
So, encourage potential customers to reach out via chat to inquire further about your venue and the events you host.
Responding promptly and attentively will foster a sense of connection and build a community of excited patrons eager to experience the magic your venue has to offer.
In summary, effectively utilizing social media's immense reach and engagement potential can create a buzz around your events, cultivate a positive atmosphere around your venue and ultimately generate more event reservations.
Reach Out to Your Past Clients
Building strong relationships with past clients and encouraging repeat business to boost your venue's success is the last tip we will address today.
Happy customers who have already experienced your restaurant's charm and excellent service are more inclined to choose your venue again for their special occasions.
So, to harness the power of repeat business, you should proactively reach out to your past clients, whether it's a group of friends that celebrated a birthday at your venue or a company nearby that had their office party in your restaurant.
A personal touch can work wonders in this endeavor.
For instance, you can send a thoughtful handwritten card expressing gratitude for their previous patronage and inviting them to consider your venue for their upcoming events.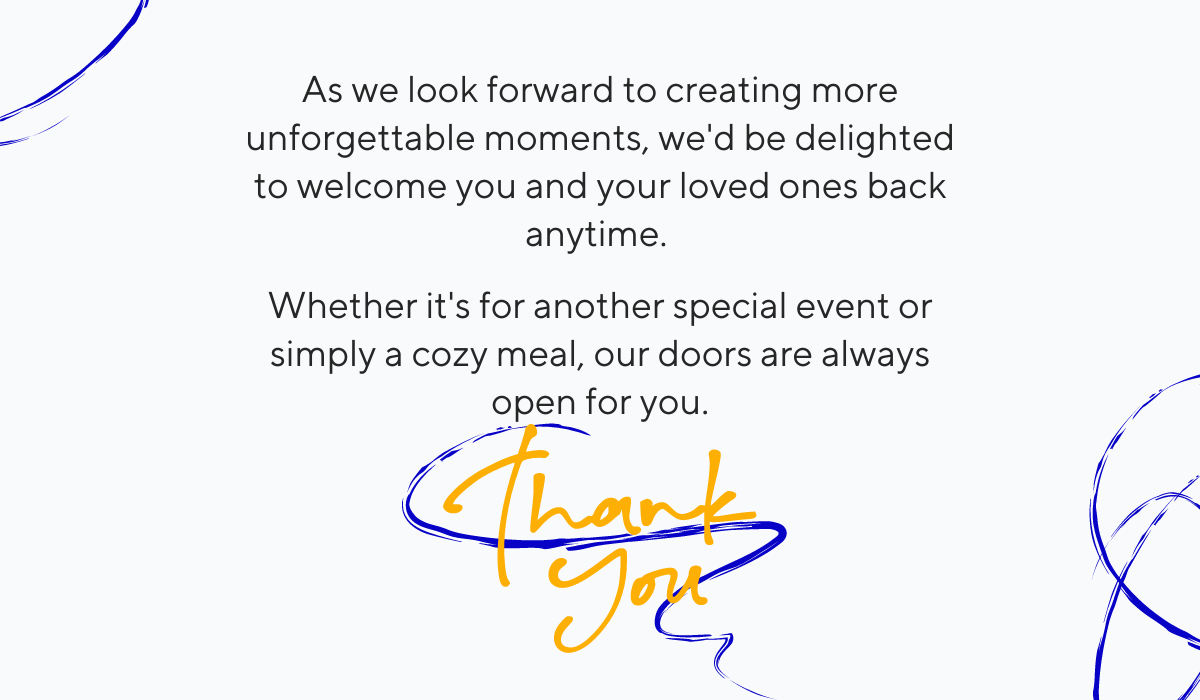 Source: Tablein
This simple yet sincere gesture demonstrates that you value their business and creates a warm, personalized connection that resonates with customers.
On the other hand, becoming a reliable choice for such events leads to a steady stream of business throughout the year, ensuring financial stability for your restaurant.
And finally, happy clients are more likely to spread positive word-of-mouth about your venue, acting as brand ambassadors who attract new customers.
They may recommend your restaurant to their friends, family, and colleagues, thus widening your customer base and cementing your position as a go-to venue for special gatherings.
In conclusion, reaching out to your past clients and cultivating a strong relationship with them is a powerful strategy to elevate your venue's standing in the competitive hospitality industry.
Conclusion
In this article, we have presented seven practical tips to significantly enhance your event reservations, from setting up a dedicated event page to reaching out to your past clients.
Implementing these tips will not only elevate your reservation numbers but also establish your restaurant as the go-to eatery in town.
So, take action on these insights, and watch your events take your establishment to new heights of success.
5 Ways to Use Social Media for Boosting Your Restaurant Sales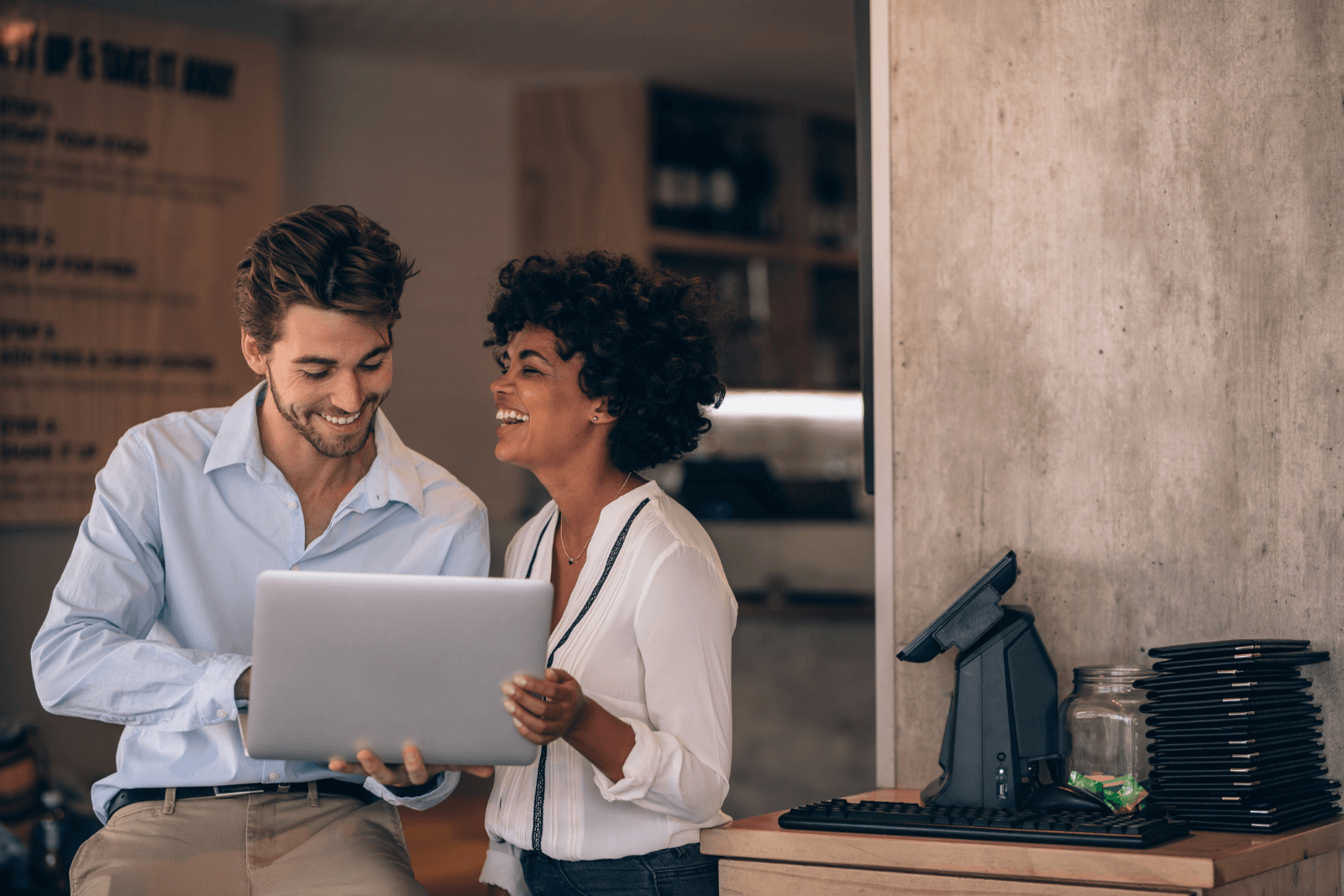 5 Ways to Use Social Media for Boosting Your Restaurant Sales
Apr 14, 2023 12:40:26 PM
10 min.
7 Best Restaurant Marketing Strategies to Know and Use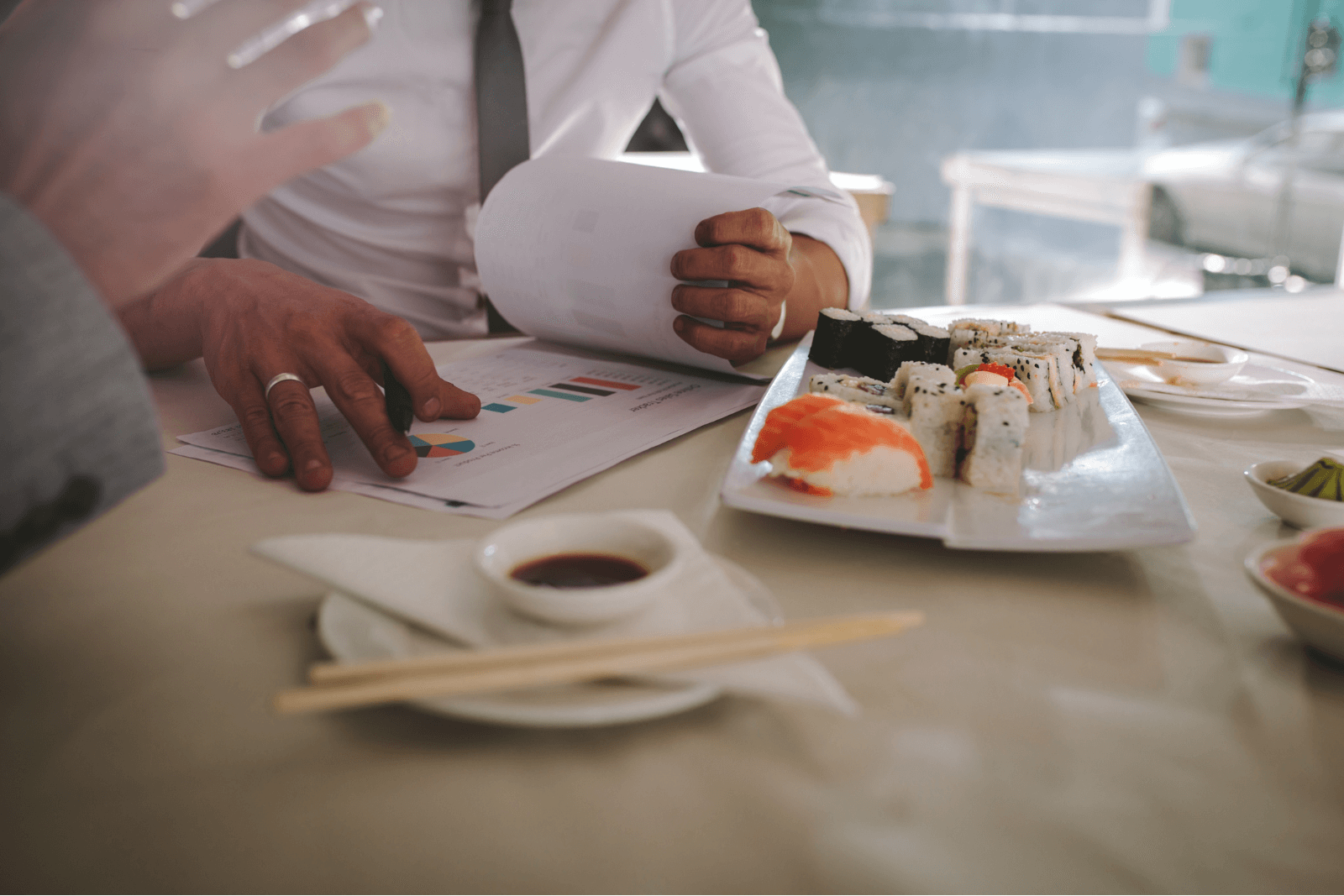 7 Best Restaurant Marketing Strategies to Know and Use
Mar 27, 2023 5:08:52 PM
11 min.
The Ultimate Guide to Restaurant Booking Systems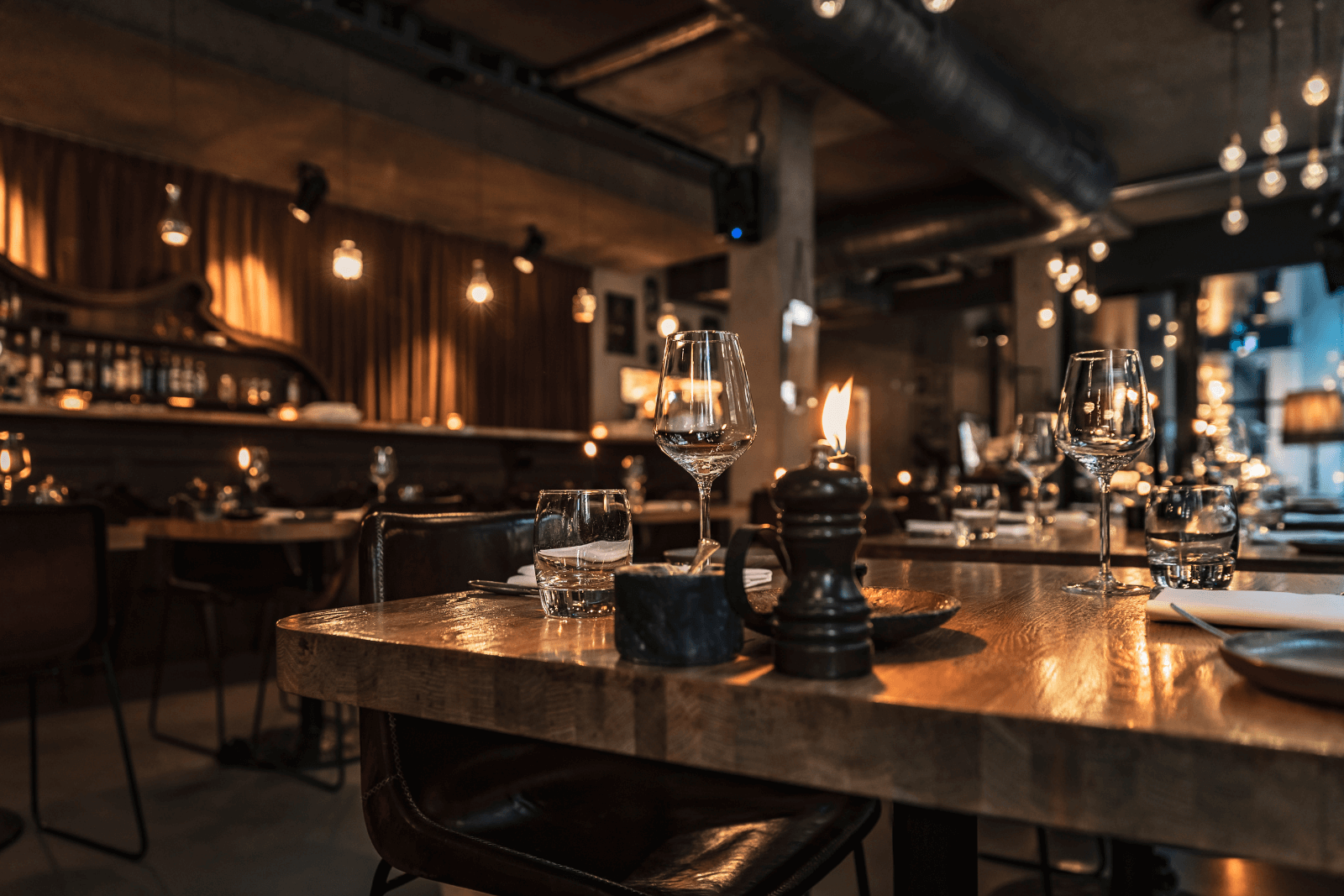 The Ultimate Guide to Restaurant Booking Systems
May 29, 2023 4:48:43 PM
11 min.