How to Get More Restaurant Reservations and Boost Your Sales
10 min.
May 29, 2023 3:37:03 PM
The need to consistently attract more reservations and drive up sales is one of the top concerns for restaurant owners, which makes running a restaurant as challenging as it is exciting.
As the hospitality industry evolves, standing out from the competition and filling your tables can feel like an uphill battle.
However, this article is here to guide you.
We will delve into effective strategies and proven tips to help you secure more restaurant reservations, ultimately boosting your sales and paving the way for sustained success.
Let's dive in.
Add a Table Booking Widget to Your Website
In today's digital age, your restaurant's website serves as the crucial first impression for a significant majority of potential customers—up to 79% of them, to be precise, according to a TouchBistro survey.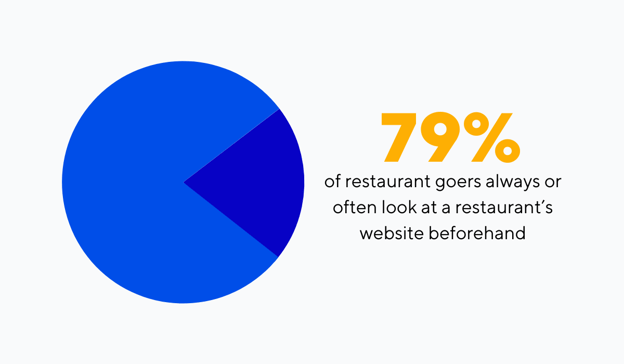 Illustration: Tablein / Data: TouchBistro
Therefore, ensuring your website stands out with its uniqueness, user-friendliness, and easy navigation is essential.
Keep in mind that a survey conducted by MGH, a marketing communications agency, revealed that nearly 70% of potential diners report having been discouraged from visiting a restaurant due to its website.
So, building a captivating website is paramount to getting customer attention and interest in order to boost your sales.
Consider the perspective of this Reddit user—a frequent restaurant-goer—who emphasizes the key elements of a good restaurant website.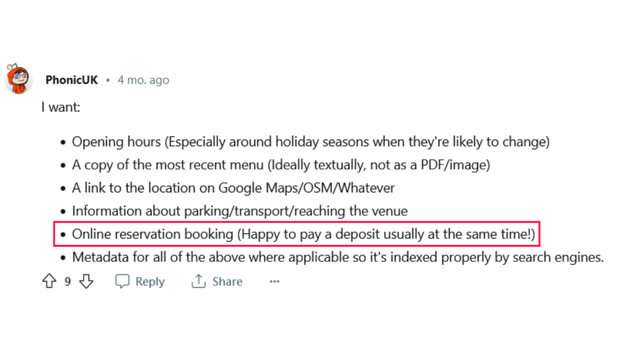 Source: Reddit
We wholeheartedly agree, particularly when it comes to the online reservation booking feature.
That's where incorporating a table booking widget onto your website becomes a powerful way to increase reservations and streamline the booking process.
How does it work?
If you have a table booking widget available, customers can navigate your site effortlessly, and make reservations in just a few clicks.
They don't have to search for your contact information, leave your website, or endure the hassle of making phone calls or waiting for email responses.
By doing so, you leave a lasting impression with a well-designed website, as well as provide a seamless booking experience that encourages customers to book a table instantly.
This is convenient for busy individuals who seek efficiency. Also, it aligns perfectly with the growing preference for online interactions.To achieve this seamless experience, we recommend utilizing a reputable restaurant reservation system like our own solution, Tablein.
Tablein's comprehensive solution offers an HTML code-based reservation widget that seamlessly integrates with your website.
Symondsbury Kitchen, located in Bridport, UK, provides an excellent example of effectively integrating a table booking widget into your website.
Their website stands out for its simplicity, clarity, and compelling call to action (CTA).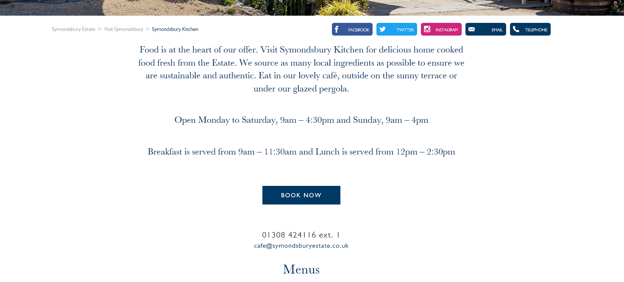 Source: Symondsbury Kitchen
When visiting their website, potential diners are greeted with an easy-to-navigate layout that offers essential information such as a brief cuisine description, menus, opening hours, contact details, and links to social media platforms.
Notably, the Book Now button is strategically positioned in the center of the page, ensuring it catches the eye and is easily accessible.
Clicking on the Book Now button seamlessly directs customers to the booking site, where they are presented with a user-friendly interface, as seen in the photo below.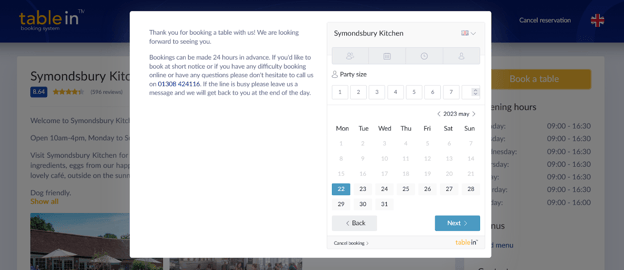 Source: Tablein
Here, they can effortlessly browse available time slots, select their desired date, and confidently secure their reservation in just a few clicks.
This intuitive design ensures a hassle-free booking experience, allowing customers to make reservations quickly and easily.
The process is streamlined and efficient, increasing the likelihood of converting website visitors into satisfied diners.
To summarize, implementing a table booking widget on your website is a simple yet effective way to attract new customers, increase reservations, and ultimately boost sales, as seen in the example of Symondsbury Kitchen.
Set Up Your Restaurant's Google Business Profile
Did you know that over 80% of diners use search engines like Google to discover and select dining options?
Therefore, by establishing a solid presence on Google, you tap into a vast pool of hungry individuals actively seeking their next culinary experience.
And what better way to achieve that than by ensuring your restaurant is prominently visible on the top right corner of Google's search results?
This is possible with Google My Business, a free tool provided by Google.
By setting up your profile, you can provide all the essential details that hungry diners crave—your restaurant's name, enticing description, location, opening and closing hours, and even your mouth-watering menu.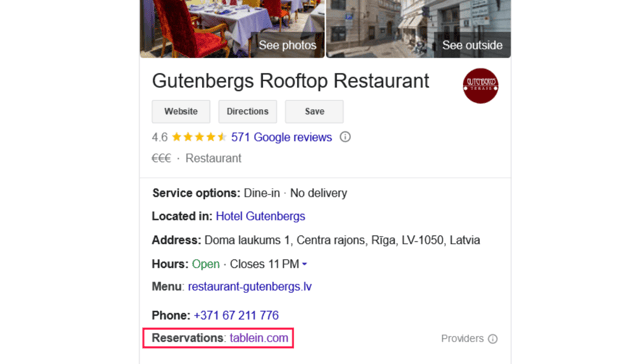 Source: Gutenbergs Rooftop Restaurant on Google
These tantalizing details will leave potential customers eager to experience your culinary delights firsthand.
But more than just an online presence is needed.
Integrating a reservation link with your Google Business profile makes decision-making easier for potential customers.
The process is straightforward—as seen in the photo below, you must paste the widget link to the highlighted space.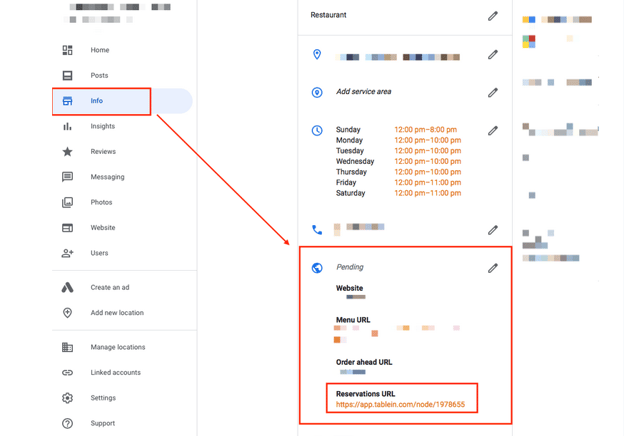 Source: Tablein
This allows customers to book a table directly from their search results with just a few clicks. No more hassle of navigating through multiple websites or making phone calls.
By offering this convenience, you're boosting your chances of securing reservations and standing out from the competition.
In conclusion, with your Google Business profile, you can establish your restaurant as the top choice for hungry diners searching for their next gastronomic adventure.
This comprehensive online presence elevates your establishment to new heights, increasing sales and attracting a wave of new customers.
Take Advantage of Your Social Media Profiles
Social media has become essential for reaching a broad audience of potential customers.
With countless individuals actively engaging on platforms like Facebook and Instagram, maintaining an active presence can attract and engage hungry patrons.
Each post presents an opportunity to entice customers and encourage them to make reservations with just a click.
Statistics show this happens frequently, so why not make something of it?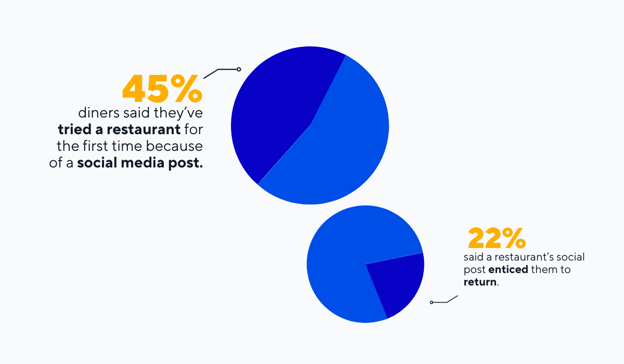 Illustration: Tablein / Data: MGH
But more than just having social media profiles is required.
The key lies in consistent posting.
Regularly posting content aligns with platform algorithms, ensuring a more vast audience sees your posts and increasing your chances of attracting customers.
So, share mouthwatering dishes, promote special offers, and provide behind-the-scenes glimpses to captivate your audience.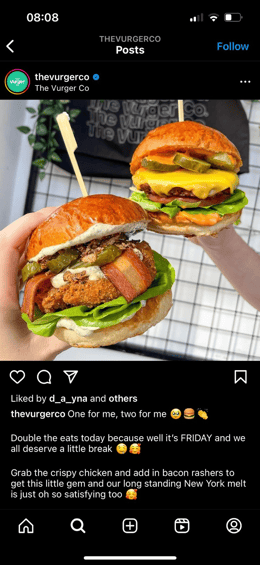 Source: The Vurger Co on Instagram
But here's the real game-changer: integrate reservation widgets with your Facebook and Instagram profiles.
Why not enable potential customers to book a table directly from these platforms, eliminating the need to search for your webpage or phone number?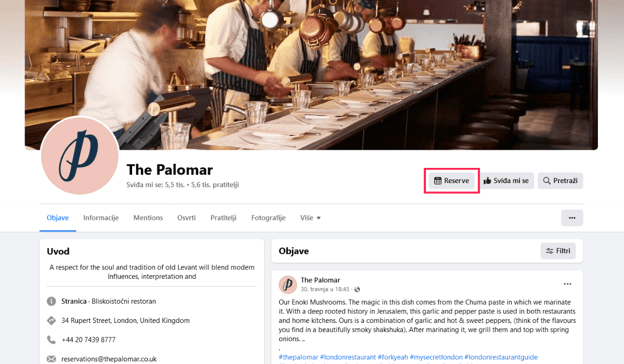 Source: The Palomar on Facebook
Imagine a potential customer scrolling through their social media feed, coming across your enticing post, and being able to book a table with a single tap on your page.
We say hooray for the opportunity to convert social media engagement into actual reservations with just a simple tap!
It's time to elevate your social media game.
Embrace the power of platforms like Facebook and Instagram to connect with your audience, showcase your culinary delights, and make booking a table as easy as a single tap.
Prepare for a surge in reservations and watch your sales soar.
Attract More Customers With Special Offers
Special offers create a sense of urgency and excitement, enticing customers to take advantage of limited-time deals.
Implementing these offers can effectively boost your restaurant's reservations and sales.
However, know that you can't just offer a special offer for the sake of it—you should have a plan and do it strategically so it has the desired effect of boosting your sales.
Let's see how this works in practice.
Customers always look for exceptional value, and special offers deliver just that.
Providing enticing discounts or exclusive experiences creates a unique value proposition that sets your restaurant apart from the competition.
Special offers such as buy-one-and-get-one-free, combo, calendar, and time-based specials have proven their effectiveness in restaurants.
Italian restaurant La Piazza, for instance, offers a mouthwatering deal: buy a half-price pizza every Monday.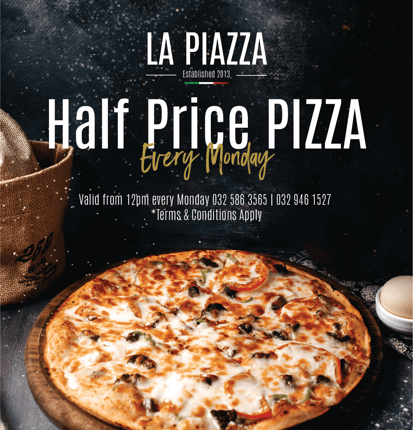 Source: La Piazza on Facebook
This offer encourages customers to visit and, in fact, return every Monday by allowing them to savor different flavors while enjoying excellent value for their money.
Sounds appealing!
Combo specials are another effective way to entice customers and increase sales.
Let's say you run a burger joint and introduce a mouthwatering combo deal that includes a delicious burger, crispy fries, and a refreshing drink at a discounted price.
This irresistible offer not only saves customers money but also provides a complete and satisfying dining experience.
By offering a well-curated combination of popular menu items, you make it convenient for customers to enjoy a satisfying meal while feeling like they've scored a great deal.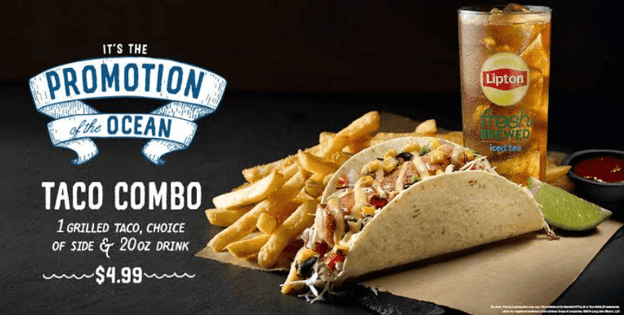 Source: The Restaurant Times
In conclusion, by implementing special offers, you can effectively attract more customers to your restaurant and boost your sales.
These offers provide a unique value proposition, create excitement, and entice customers to make reservations and explore your menu.
So, get creative, start planning your special offers, and watch your restaurant thrive with increased reservations and sales.
Organize Special Events to Bring in Customers
Hosting various events in your restaurant is a surefire way to get more reservations and grow your revenue.
By hosting live gigs, brunches, ladies' nights, karaoke nights, and holiday celebrations, you can create an engaging atmosphere that keeps guests returning for more.
These events will surely be memorable experiences for your diners, encouraging them to keep coming back.
To ensure maximum participation in such events, you should leverage the power of online reservations.
You should also create eye-catching flyers that inform your customers about upcoming events and let them know that booking a table online is the key to attending.
For example, check out Porterhouse Seafood & Steak, Hong Kong-based restaurant that is frequently hosting various events.
One such event was their, as they call it, Spectacular Brunch over the Easter holidays.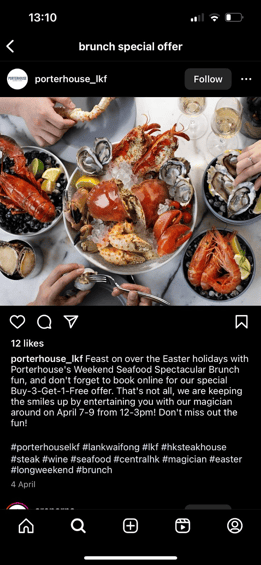 Source: Porterhouse on Instagram
By promoting this event through their social media channels, they encouraged customers to reserve their tables in advance. Additionally, they mentioned their special Buy-3-Get-1-Free offer.
Organizing and promoting such events on social media guarantees a full house and allows restaurants to personalize the customer experience and provide exceptional service.
In conclusion, incorporating events like live gigs, brunches, and themed nights is a powerful strategy to make your guests stick around and increase reservations.
Promoting these events through visually appealing flyers and emphasizing the need for online table bookings creates a sense of exclusivity and anticipation among your customers.
Create a Loyalty Program for Your Restaurant
Creating a loyalty program tailored specifically for your establishment can unlock a world of possibilities to increase reservations and boost sales.
Keeping loyal customers is difficult because of the broad competition, but it's not impossible.
Did you know that, according to the same TouchBistro study we quoted at the very beginning of this article, a staggering 86% of diners express interest in joining a loyalty program if it means gaining access to irresistible discounts and coupons?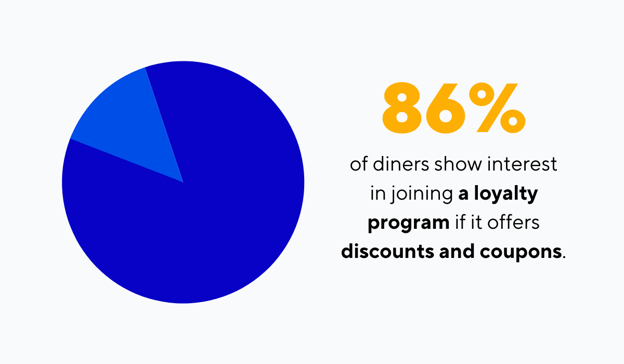 Illustration: Tablein / Data: TouchBistro
Imagine the impact that offering exclusive deals and savings can have on your customer base.
Not only that, but the same study shows that an impressive 85% of diners are intrigued by a rewards program that allows them to earn free items.
By implementing such a program, you can effortlessly transform occasional diners into loyal patrons.
Good online reservation software can significantly help create loyalty programs and track how often customers visit your restaurant.
These insights allow you to offer your loyal diners special prices, discounts, or gifts.
For instance, Ruth's Chris Steak House, an American restaurant, has a loyalty program called Ruth's Chris Prime.
Members of the program earn points for every dollar spent, which can be redeemed for rewards such as complimentary dining, gift cards, and exclusive invitations to events.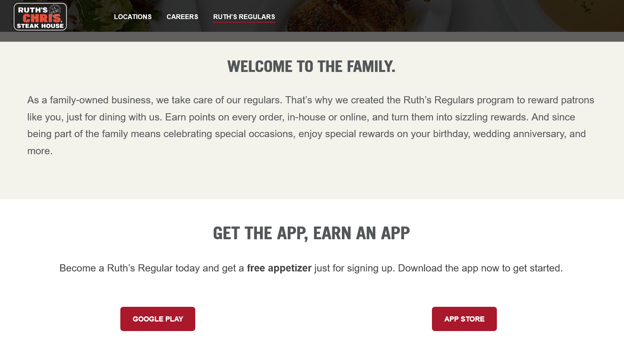 Source: Ruth's Chris Steak House
So, why wait? You, too, can take advantage of the opportunity to reward your cherished customers and watch your reservations soar while your sales reach new heights.
Your restaurant's success story might be just one loyalty program away.
Conclusion
In the dynamic and competitive world of the restaurant industry, securing more reservations and increasing sales is essential for long-term success.
By implementing the strategies we discussed today, such as allowing your customers to make reservations on your website and social media or providing them with special offers and loyalty programs, you can effectively drive more reservations and boost your sales.
With these powerful tools in your arsenal, you will be ready to make your restaurant thrive and leave a lasting impression on your guests.
6 Reasons to Take Reservations at Your Restaurant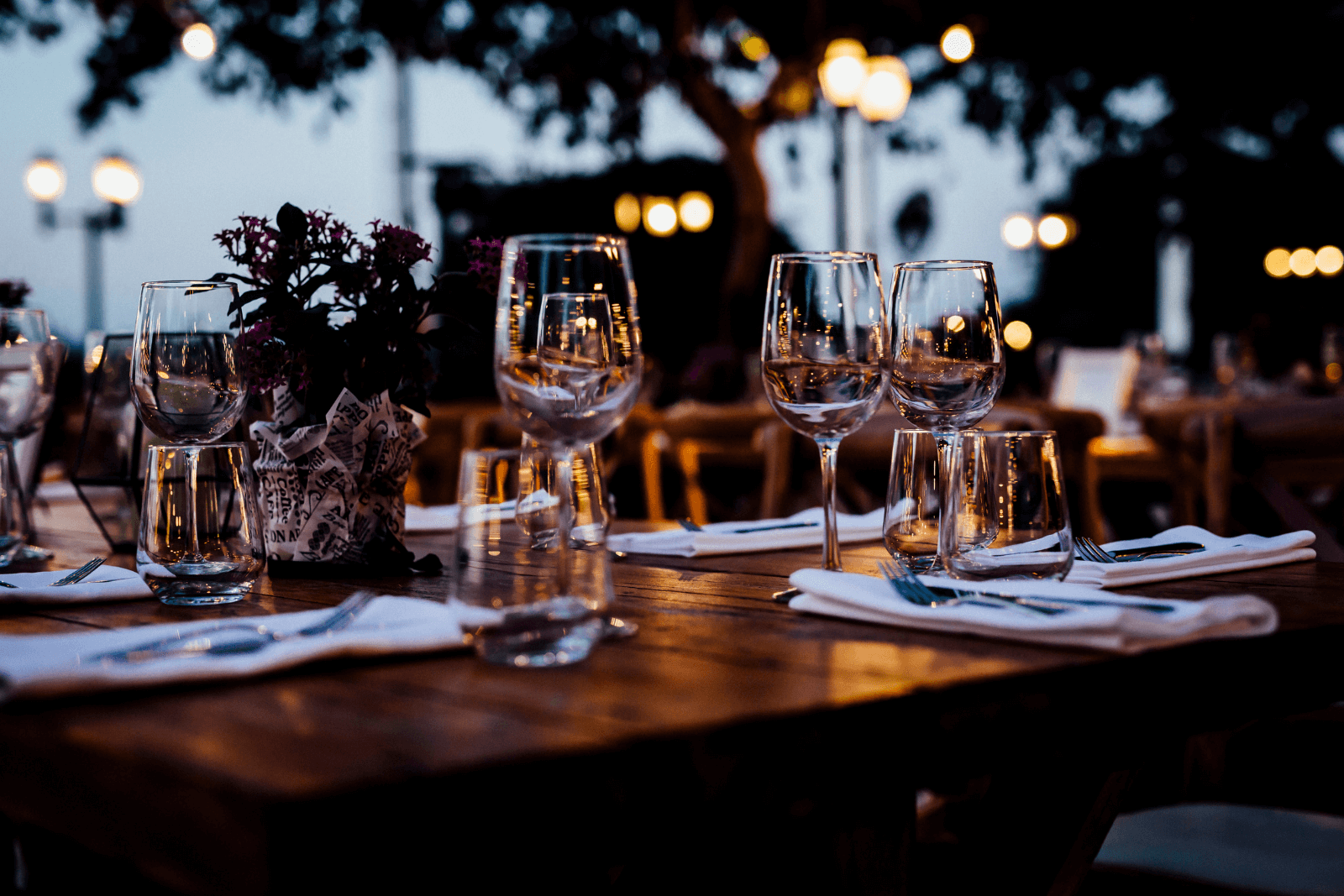 6 Reasons to Take Reservations at Your Restaurant
May 19, 2023 2:42:56 PM
9 min.
12 Great Ideas for Improving Restaurant Sales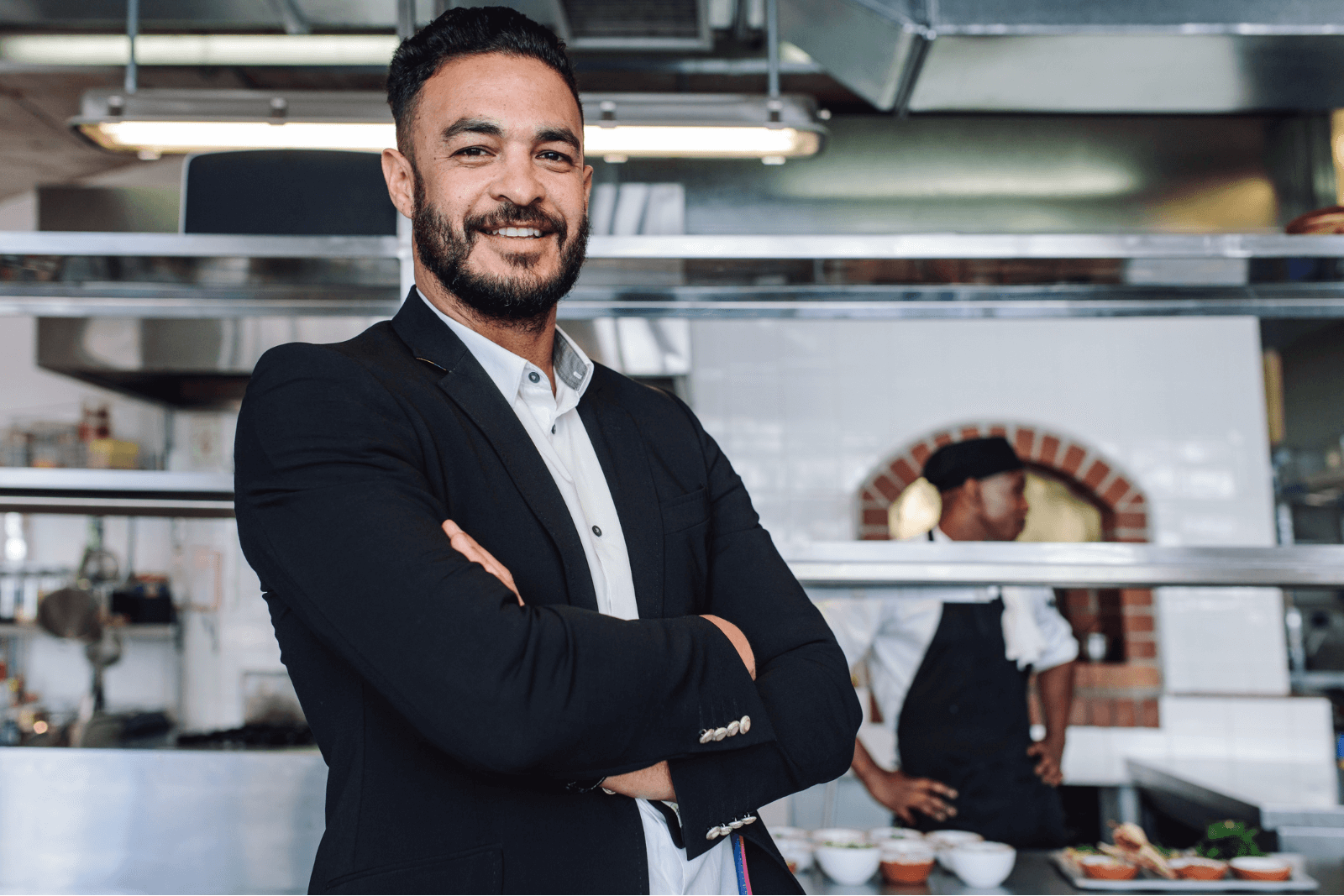 12 Great Ideas for Improving Restaurant Sales
Jun 27, 2023 10:06:53 AM
11 min.
How to Use Google to Boost Your Restaurant Reservations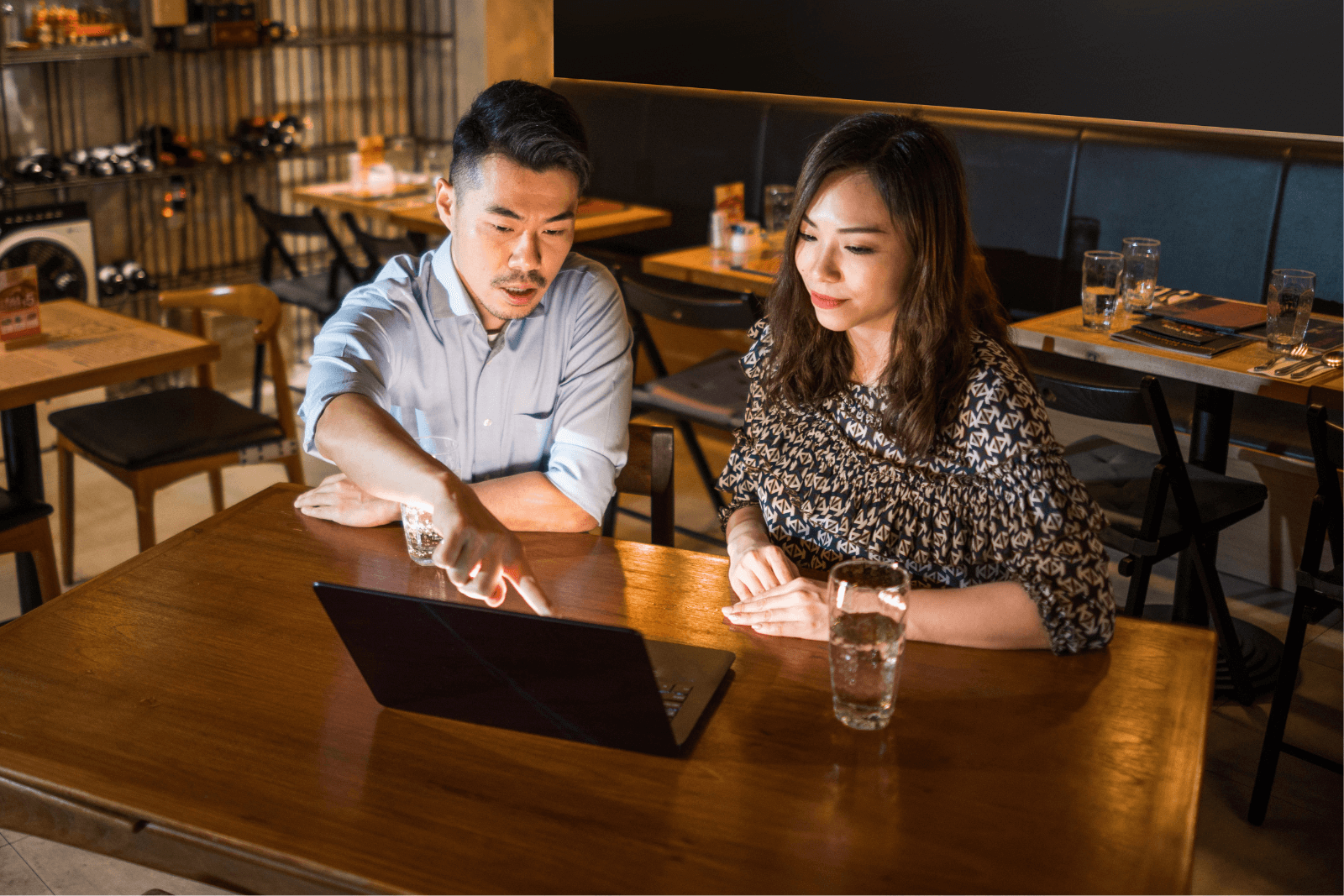 How to Use Google to Boost Your Restaurant Reservations
Aug 1, 2023 10:50:51 AM
11 min.