The proliferation of technology has touched every aspect of our lives, and the restaurant industry is no exception.
Guests demand convenience while they look to make online reservations, while owners and staff seek a way to simplify and optimize their workflows and reservation management practices.
A restaurant booking system solves both of these needs.
However, understanding how an online booking system operates can seem daunting to restaurant owners, causing them to miss out on its many benefits.
This article aims to demystify these booking systems, explaining their inner workings, advantages, and implementation.
So buckle up and join us on this journey into the world of online bookings and follow the entire process of using these booking systems effectively.
Makes It Easy to Set Up Your Floor Plan
An organized floor plan is the backbone of efficient restaurant operations, and a great online booking system will have features to simplify this task.
Managing the hustle and bustle of a restaurant requires a lot of logistical savvy.
Servers are zipping around, the kitchen staff is abuzz, and amidst it all, you're trying to figure out which table is available, which is booked, and where you can fit that party of four that just walked in.
That's where a well-thought-out floor plan feature can be quite beneficial.
With a virtual representation of the restaurant's floor plan at your fingertips, you can get a real-time view of your dining space, see how many tables are occupied, and make plans accordingly.
Now, not all booking systems are created equal. Well-designed reservation software should provide a straightforward way to set up the floor plan.
For example, a feature like a drag-and-drop function, as illustrated below, can be a game-changer.
Source: Tablein
As you can see, table sizes and the number of seats are all customizable, and the created tables can be easily dropped onto the floor plan.
This feature ensures that your digital floor plan accurately represents the physical layout of your restaurant, allowing for better coordination and organization.
Once your floor plan is made, a world of options opens up. Take a look at this next image, showcasing a fully set-up floor plan.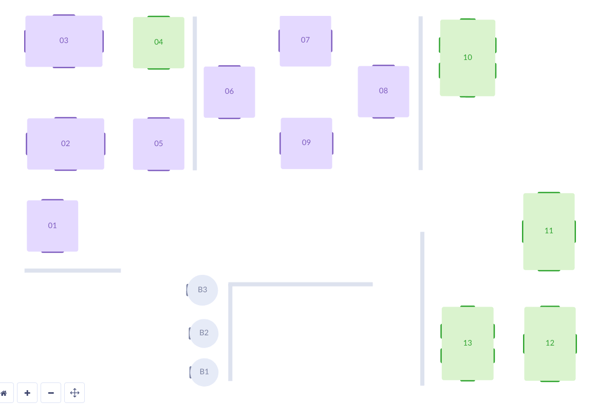 Source: Tablein
See those different table colors? Each one signifies the status of a table.
In this example, gray signals availability, green denotes a booked table, violet is for walk-in guests, and red marks a table as blocked.
The clear color-coded system can provide staff with an immediate overview of the restaurant's current situation, contributing to smoother operations.
Overall, by allowing for a straightforward floor plan setup, an online booking system can play an instrumental role in providing visibility of your restaurant's capacity and enhancing your staff's efficiency.
Allows You to Set up Reservation Times
A crucial aspect of the customer experience is ensuring guests have easy access to your business and reservation hours, so a reservation tool should allow for a simple setup of these hours.
After all, you don't want guests booking a table on days you're closed or during unavailable hours.
By setting up reservation times and defining your working hours in the online booking system, you ensure that the system only accepts bookings when your restaurant is open and available, preventing any scheduling conflicts and ensuring a smooth reservation process.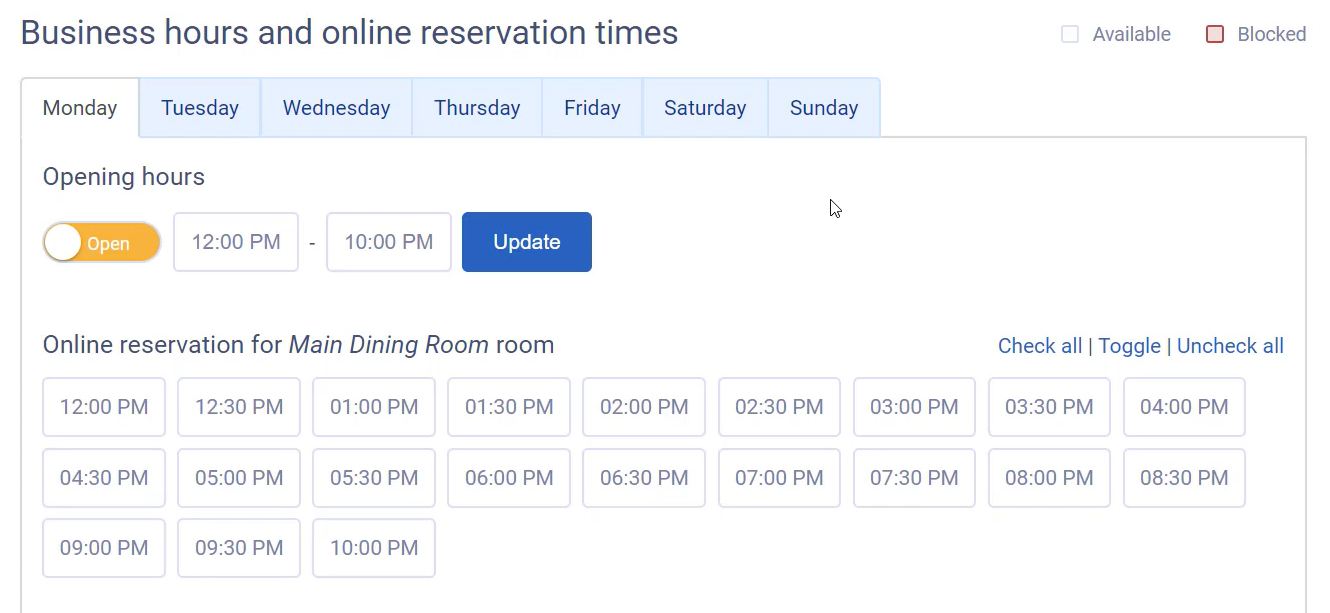 Source: Tablein
Take a look at the functionality shown above. Firstly, it enables you to set your opening hours and update them as needed without any hassle.
Moving down, you will find the online reservation setup, which guides the booking system on when to start taking reservations and when to stop.
You can customize these timings for each day of the week and the different dining areas of your eatery.
But what if your restaurant is always closed between lunch and dinner hours? You wouldn't want to mislead your guests into booking a table during that time, would you?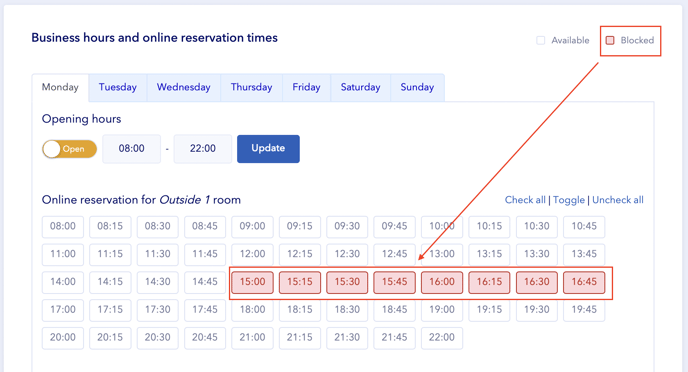 Source: Tablein
As you can see in the above image, your booking tool should allow you to block reservations during certain time slots, keeping guests informed about exactly when they can make a reservation.
What guests should encounter is a screen showing the available times only, which looks something like the next image.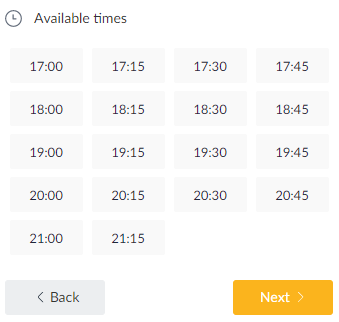 Source: Tablein
After a quick and customizable setup of reservation times on your end, your guests will be presented with a simple, clear interface where they can pick their preferred time with just one click.
So, streamlining reservation scheduling ultimately leads to a smooth reservation experience for your patrons and gives you full control over the working and reservation hours for your business.
Uses Widgets to Enable Online Bookings
Harnessing the power of a restaurant booking system's widgets can open a new world of seamless online reservations for your business.
Modern booking systems function by offering restaurants online reservation widgets that can be conveniently integrated with a multitude of platforms, creating an accessible way for customers to book a table from whichever platform they find your restaurant.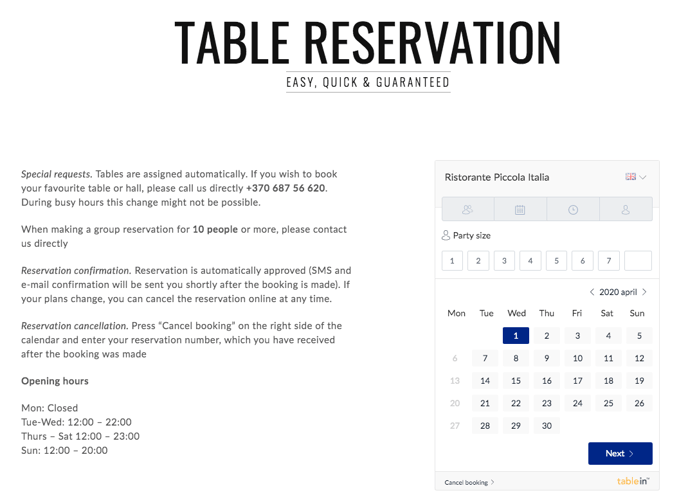 Source: Tablein
What you're viewing above is Tablein's booking widget, neatly integrated into an example website.
Tablein is our very own online restaurant booking system.
It's designed with ease of use and simplicity in mind, but don't be fooled— beneath its straightforward surface lies a powerful suite of features, one of which is the widget's compatibility with various platforms.
The widget can be integrated with the following platforms:
Let's consider one of these integrations to illustrate how straightforward this setup process is.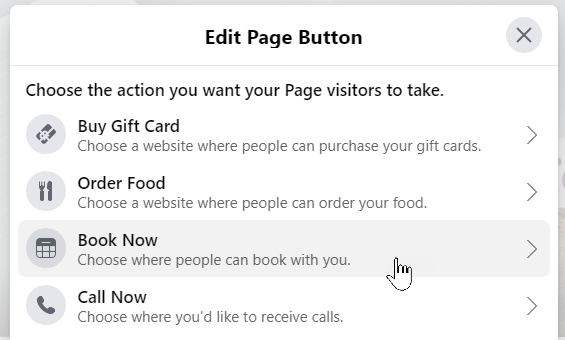 Source: Megan V. Walker
The above image displays the "Edit Page Button" feature on Facebook. These buttons can act as a direct way for users to access the Tablein widget.
Take a look at the single step shown in the next image, with which one of these buttons can be made to redirect users to your restaurant's Tablein widget.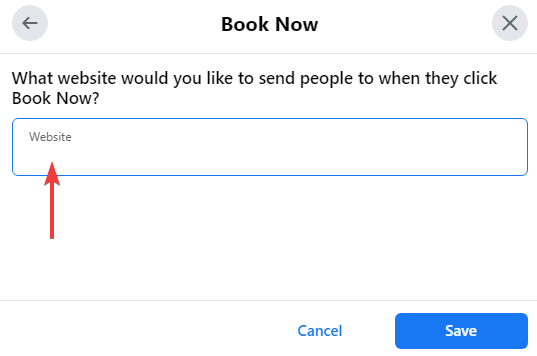 Source: Tablein
You'll need to pick a button, in this case, the "Book Now" button, and then add your unique Tablein widget link into the blank "Website" field. Click "Save," and there you have it!
Now, every time a user clicks this button, they will be seamlessly redirected to the Tablein reservation widget.
Let's look at a real-life example of how this process was used.
Source: Facebook
In the screenshot above, you can see how the WowYauChow restaurant used this feature.
They opted for the "Contact Us" button, which redirects guests to the restaurant's free Tablein website from where the booking widget is just one click away.
So, integrating these booking widgets into various platforms significantly simplifies the reservation process for your customers and broadens your restaurant's online presence.
Simplifies Your Reservation Management
Online booking systems serve as powerful tools to simplify and streamline reservation management, regardless of whether reservations are made through the widget or entered manually by your staff.
These systems, designed with effective restaurant operations in mind, offer robust tools to help you manage bookings under a single roof.
The tools allow you and your staff to view all daily reservations, effortlessly add new reservations and track them from when guests arrive until they leave.
Let's get right into an example so you can grasp how these features work.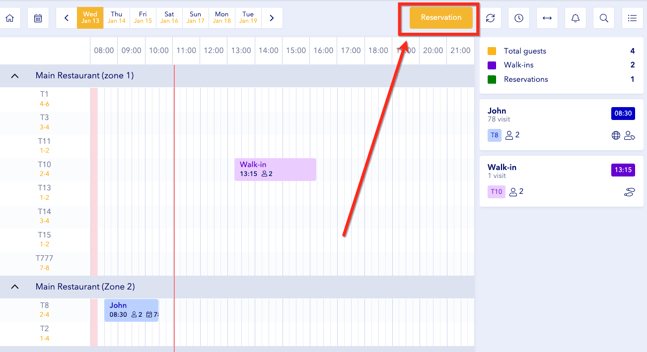 Source: Tablein
Consider the example above.
Any state-of-the-art reservation system will feature a reservation management screen where all reservations are visible and neatly organized according to their reservation time.
But the system doesn't stop at viewing reservations—it empowers staff to create new reservations at the click of a button.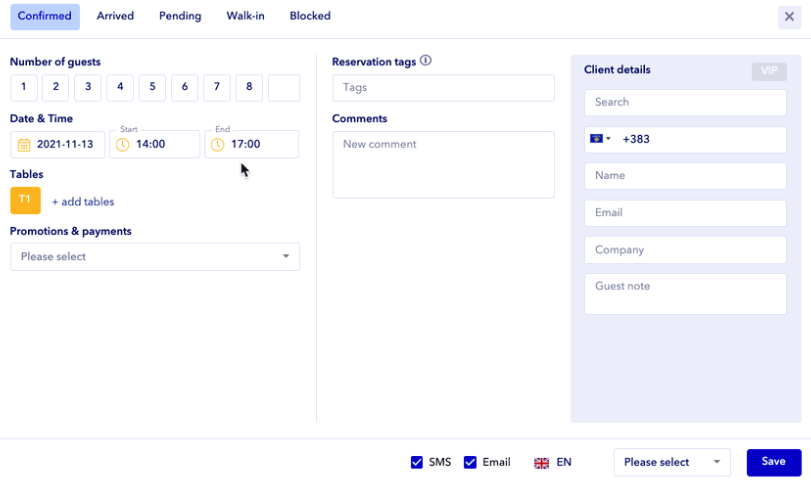 Source: Tablein
After the reservation button is clicked, your staff is taken to the screen shown above, where they can add crucial information about the booking, including the party size, date and time of the reservation, and table allocation.
Moreover, the booking system should also cater to the minutiae, allowing for details such as reservation tags, special comments, and client details to be added effortlessly.
Once a reservation is entered, it doesn't just sit there. The system actively monitors each reservation, allowing your team to check and update the status of each reservation.
Source: Tablein
Through these reservation status updates, your staff can see whether guests have arrived, if there are any no-shows or any other significant updates.
These powerful features aren't just bells and whistles. They simplify the reservation management process dramatically, making the once daunting task a smooth and manageable routine.
Automates Your Communication With Customers
Ever heard of the saying "Communication is key"?
In the hospitality industry, this rings true more than ever, from the moment a guest books a table to the time they leave your restaurant.
Thanks to automation, online booking systems make this continuous engagement possible and extremely efficient.
Upon booking, guests should instantly receive a confirmation email as a handy reference featuring all the vital details of their reservation.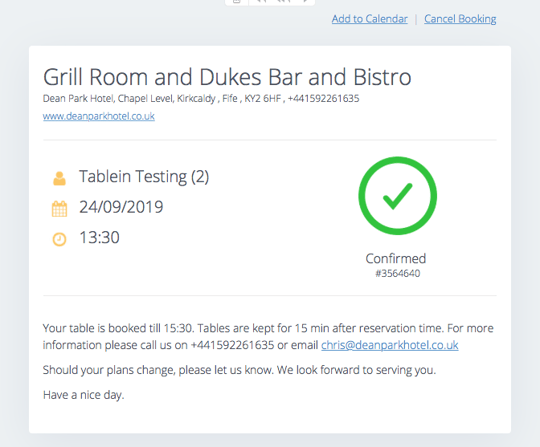 Source: Tablein
Automatic confirmation emails, like the one shown above, are a standard feature of a high-quality booking system.
They should contain key information such as the time limit a reservation is held for, the restaurant's contact details, and more.
Naturally, the option to customize these emails should be available, like changing the contents of the email and adding helpful links, such as ones for quick cancellations.
However, an email confirmation is often not enough to ensure guests don't accidentally miss their reservation, so a booking system can also send helpful reminder emails and texts at specific times.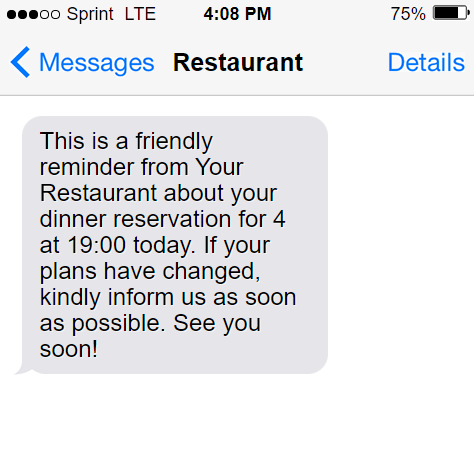 Source: Tablein
A well-timed reminder, perhaps an SMS a couple of hours before the booking, similar to the one shown above, can help reduce no-shows and allow timely cancellations if need be.
Finally, once your guests have enjoyed their dining experience, you can encourage them to leave you much-needed feedback with a follow-up email.

Source: Tablein
An approachable and straightforward email like the above can stimulate guests to review their experience at your establishment, providing you with valuable insights to elevate your service in the future.
Hopefully, we illustrated a few practical applications of effective automated communication through a reservation system.
There are many more useful applications that we encourage you to explore in your tool of choice.
Generates Detailed Reports for You
Finally, throughout all of the activities outlined in the previous sections, you gain vast amounts of data that a booking system can summarize and convert into valuable insights into your business.
In the hustle and bustle of the restaurant industry, having a keen understanding of your business's performance is paramount.
You need to know your busiest hours, the most favored dishes, the frequency of no-shows, and much more.
Gathering this information might seem like an impossible aim.
Still, a well-designed online booking system simplifies this task, capturing all these details and more, then presenting them in an easy-to-understand format.
To illustrate, look at the ease of generating a report through a reservation system shown below.

Source: Tablein
Imagine you've hosted a significant event at your restaurant and want to measure its impact.
An online booking system should provide an intuitive interface where you can select a specific date range to analyze the relevant data.
In moments, you will have at your disposal statistics such as the following:
Total number of guests
No-show rate
Cancellation rate
Average party size
Percentage of first-time visitors
This information not only gives you insights into that particular event but also helps you plan and make more informed decisions for future ones.
Or, you might want to have a more general overview of your restaurant operations, such as viewing a report that summarizes your most booked days and hours, which might look something like the following image.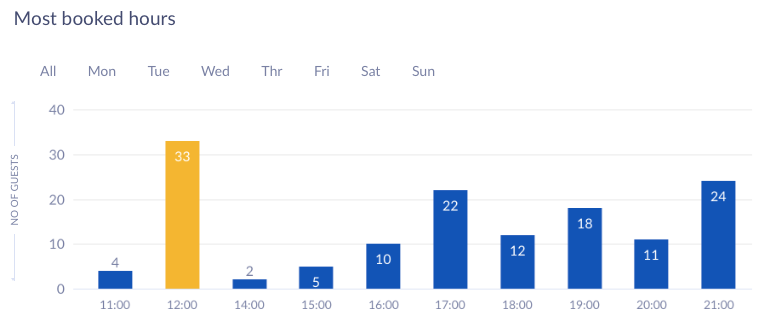 Source: Tablein
A robust reservation system will pull up these statistics immediately but open up a world of possibilities for using this data.
Say your data indicates a noticeable surge in bookings on Friday evenings.
This vital information allows you to adapt and potentially introduce special promotions or themed evenings to maximize revenue and provide a better experience for your patrons during these peak hours.
Knowledge is power, and the detailed reports generated by a great online booking system give you an insightful glimpse into your restaurant's operations.
Conclusion
Throughout this article, we've taken a deep dive into the inner workings of online restaurant booking systems.
We've uncovered their many features, how they function, and the process with which they can be implemented in your business.
It's our hope that you now possess a complete understanding of these systems and their potential to transform your restaurant operations.
Leveraging this knowledge, you can provide a seamless booking experience for your patrons, simplify your reservation management process, and gain numerous other benefits that may ultimately boost your bookings and increase revenue.
To wrap up, remember that embracing an online booking system isn't just about keeping up with the times. It's about unlocking a new level of efficiency and customer satisfaction.
Best Practices for Creating a Seamless Restaurant Reservation Experience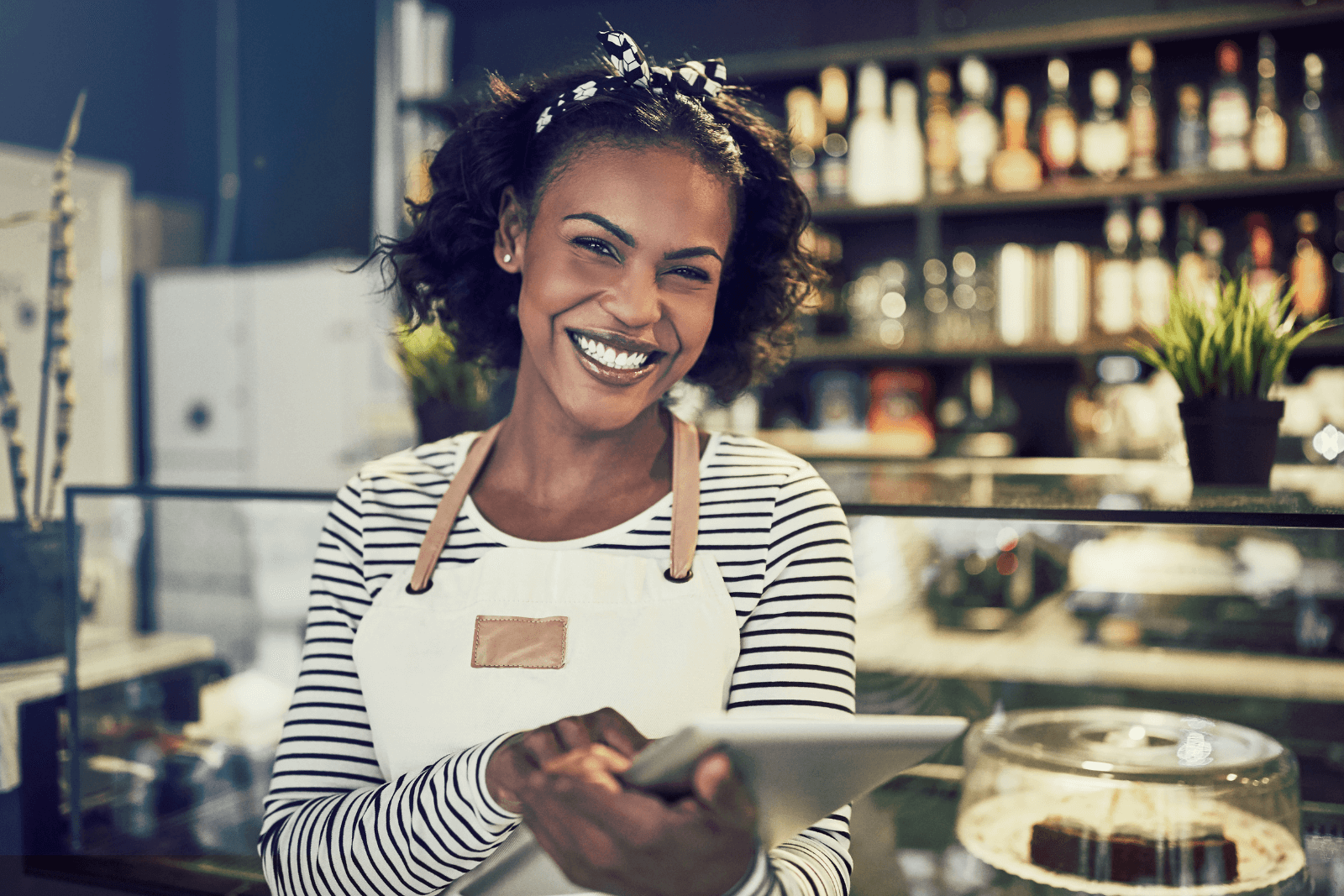 Best Practices for Creating a Seamless Restaurant Reservation Experience
Jun 27, 2023 12:28:51 PM
11 min.
How to Set Up Your Restaurant Booking System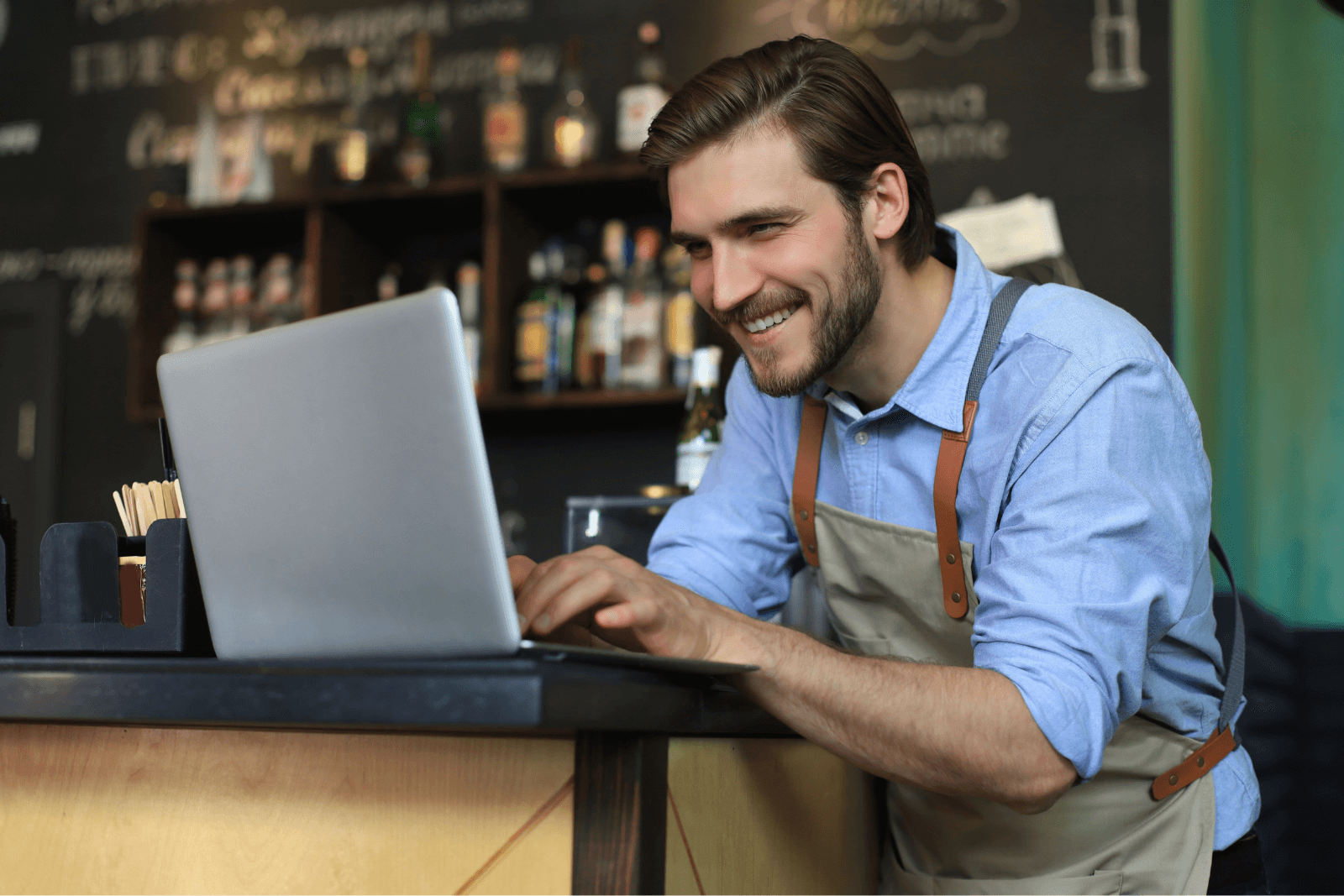 How to Set Up Your Restaurant Booking System
Jul 21, 2023 11:45:17 AM
11 min.
5 Reasons Why You Need a Restaurant Booking System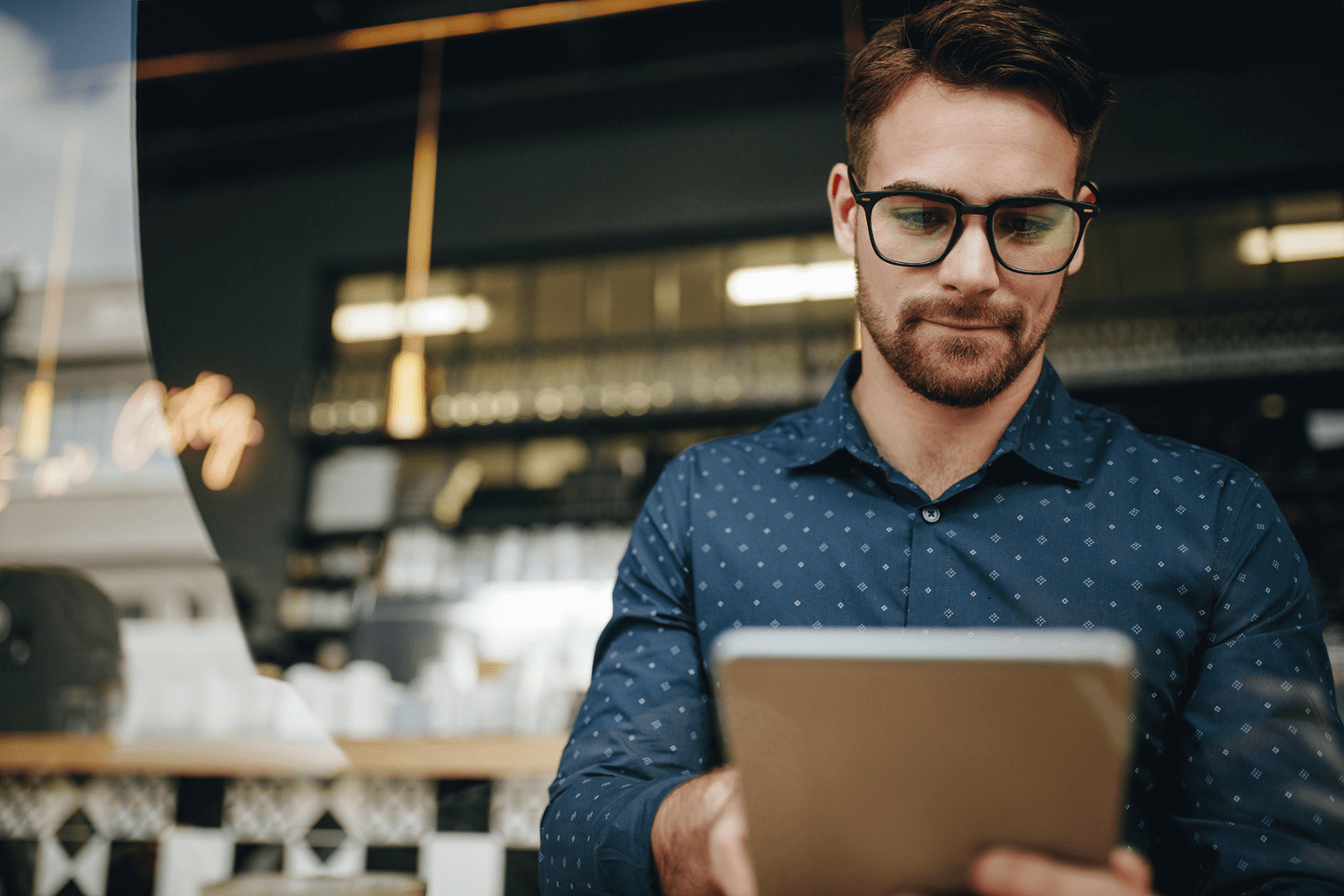 5 Reasons Why You Need a Restaurant Booking System
Jun 21, 2023 2:12:23 PM
11 min.