How to Improve the Speed of Service in Your Restaurant
10 min.
Feb 24, 2023 11:00:31 AM
Providing quick service at your restaurant is an excellent way to increase your revenue and improve your guests' dining experience at the same time.
Since these are some of the most important business goals for any restaurant owner, it's clear that the speed of service is an area worthy of your attention.
In this article, we're bringing you five tactics for improving the speed of service in your restaurant, and it all starts with a smooth flow of table reservations.
Table of contents
Invest in a Table Reservation System
Managing a restaurant presents an interesting challenge. You want to keep your dining hall full while also ensuring a healthy influx of new guests throughout the evening.
To uphold this equilibrium, you must find ways to avoid problems such as:
Guests overstaying and not releasing their table
Gaps between reservations because guests don't book on the hour
Guests being late for their reservation
An advanced online table reservation system with features that help provide faster service is a cure for all these problems.
This kind of tool lets customers book a table according to the parameters and policies you set, allowing you to take back control of your reservations.
This includes displaying an overview of the available times in the form of time templates (as in the below example), which helps eliminate gaps between reservations.
With paper books, restaurants sometimes accept bookings just one hour in advance, which creates schedule gaps and leaves empty tables come dinnertime, so time templates give you both more structure and flexibility.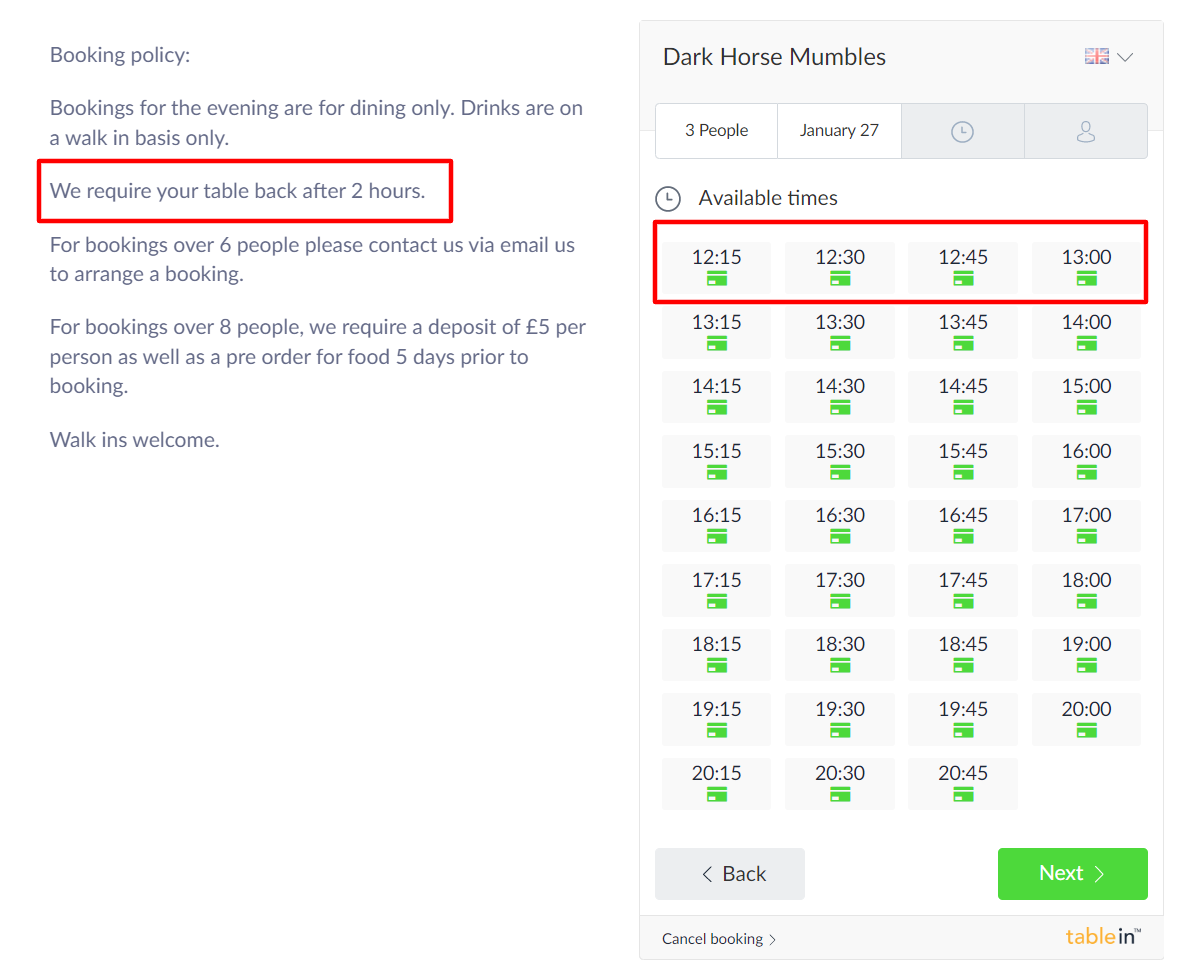 Source: Tablein
You can also display your reservation policy with the booking form to manage guest expectations.
In our above example, the guest is made aware that they shouldn't linger at the table for more than two hours, saving your waiting staff an awkward conversation.
These may seem like small interventions, but the potential they have to speed up your service can be immense.
For instance, the Piccola Italia restaurant uses the Tablein table reservation system, which has all of these features.
After implementing it, they happily reported that they were able to boost their table turn rate by 50%, from 1-1.5 to 2-2.5 per night, because the system allowed them to eliminate gaps during dinner times.
This also brought an increase in revenue, which grew by €400-800 a night!
As an added benefit, some reservation systems (Tablein included) will also have a feature that automatically sends notifications to guests, confirming their booking and reminding them of upcoming reservations.
Here's an example: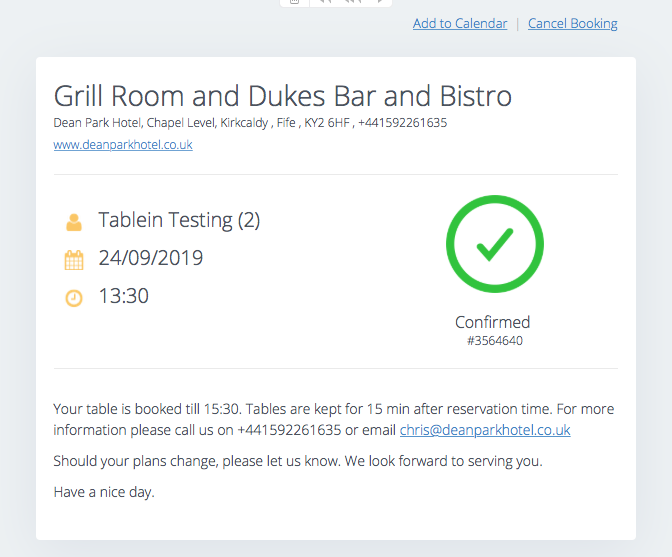 Source: Tablein
These reminder messages can help you reduce delays with latecomers who forgot they booked a table at your establishment or misremembered their reservation time.
With a confirmation and reminder message, they're much more likely to show up on time.
A reservation system can help you keep every evening on track and ensure unobstructed foot traffic in your restaurant.
That way, waiting times and lingering are reduced to a minimum, paving the way for a speedier service.
Make Accurate Sales Forecasts
Restaurants have their own rhythm and aren't equally crowded at all times of the day.
Therefore, the speed of your service will largely depend on your ability to predict busy times and ensure you're stocked and have enough staff present to handle the pressure.
Usually, restaurants are at their busiest in the period between 6 and 9 PM and quieter outside of those hours. However, things might not be as simple as that.
Many factors can influence busy times at a restaurant, such as its location, concept, and opening hours.
Let's analyze two cases to prove this point. Below, you'll find popular times for two restaurants in central Zagreb, Croatia.
The first one is Otto & Frank, a casual eatery on a street popular with tourists. It tends to be busy in the morning because of its proximity to the city market.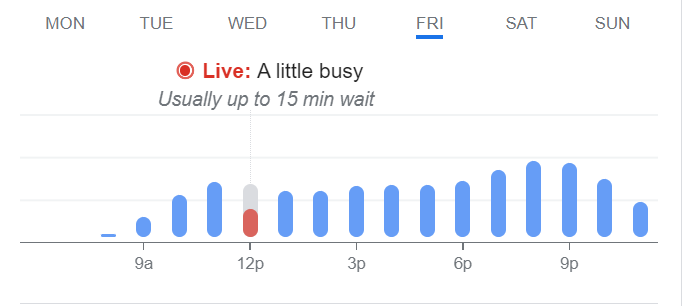 Source: Google
Once we have this piece of information, it makes sense that this restaurant is busy for brunch and mostly quiet for lunch.
It's also logical that traffic picks up again in the evening when people are out and about in the bustling city center.
On the other hand, Nomu, a quiet sushi and wine restaurant, located on a less busy street in the center, is perfect for taking a business lunch or having a romantic dinner.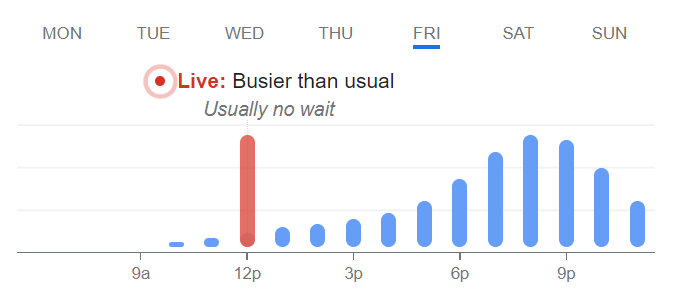 Source: Google
So it comes as no surprise that the traffic spikes at noon and later on in the evening.
Predicting trends like these can help you plan your business hours and do adequate prep work to handle the crowd.
That's the only way you can ensure speedy service for each one of your tables and a healthy table turn during busy times.
The tool we used to analyze our two examples above is Google Business.
Once you claim your space on this resource, you'll be able to track the foot traffic at your restaurant simply by googling your business.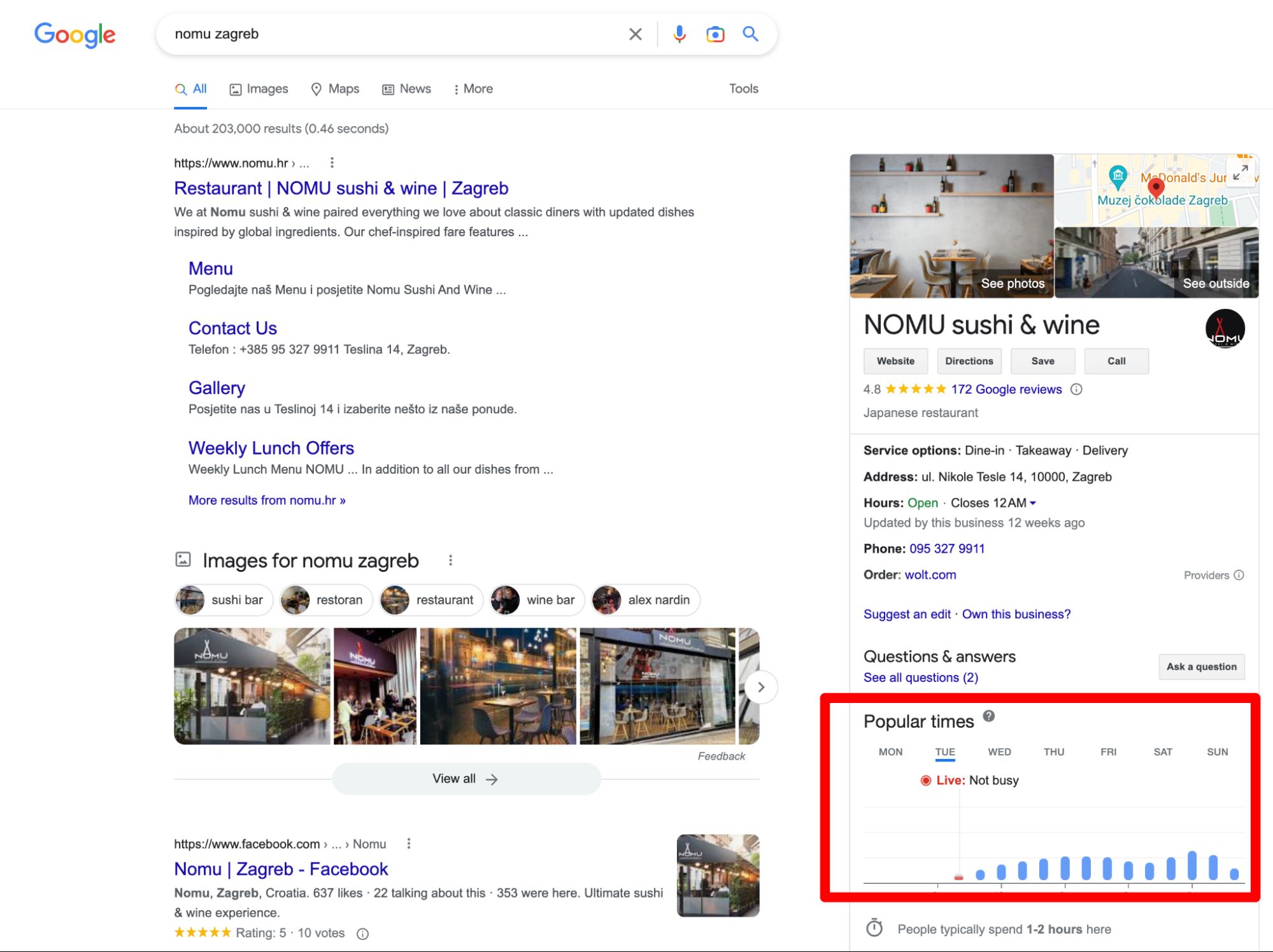 Source: Google
Another, even more accurate method, can again be found with your online table reservation system.
Some of these tools have analytics capabilities that automatically record data on reservations made and build easy-to-understand reports for you to base your forecasts on.
Here's what that looks like using Tablein: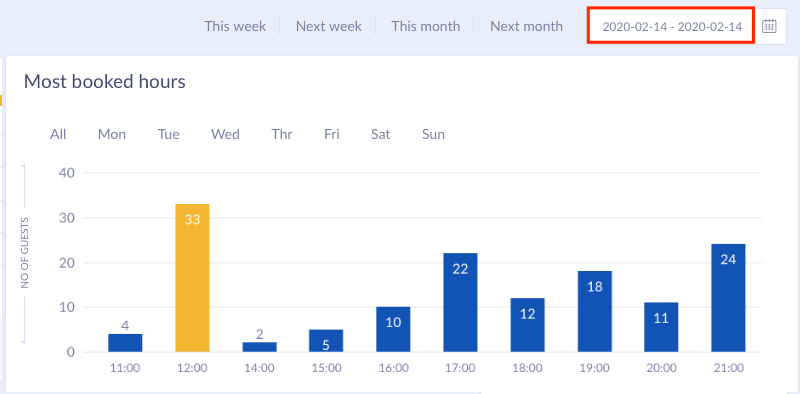 Source: Tablein
Sales forecasts enable you to adequately prepare for the day ahead.
Use Google or your reservation management system to collect data and accurately predict the resources you'll need for speedy service at all times of the day.
Adjust Your Staff's Schedules
Once you know when your busy times are, you'll be able to plan your staff's shifts to have more front and back-of-the-house employees present when there are more guests to be served.
That means patrons won't have to wait to be served, and food service can move along much faster.
Failing to adjust the staff's schedule according to the foot traffic in your restaurant will result in overworked staff who can't keep up with service needs, as well as unhappy, half-starved customers who will get a bad impression of your business.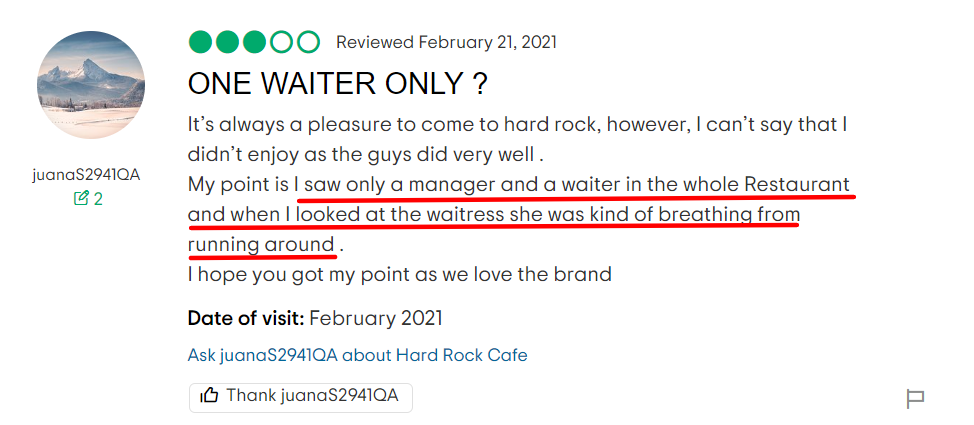 Source: Tripadvisor
But how do you know how many staff members to put on shift if all you have is the number of guests to go on?
Well, there are actually some industry standards you can adhere to in that regard, so let's look at what they are, taking into account the concept of your restaurant.
In casual restaurants, a higher table turn rate can be expected because guests often like to pop into these kinds of places for a quick bite.
This means that the dishes served here are usually less complex, meaning you'll need fewer kitchen staff members to prepare them.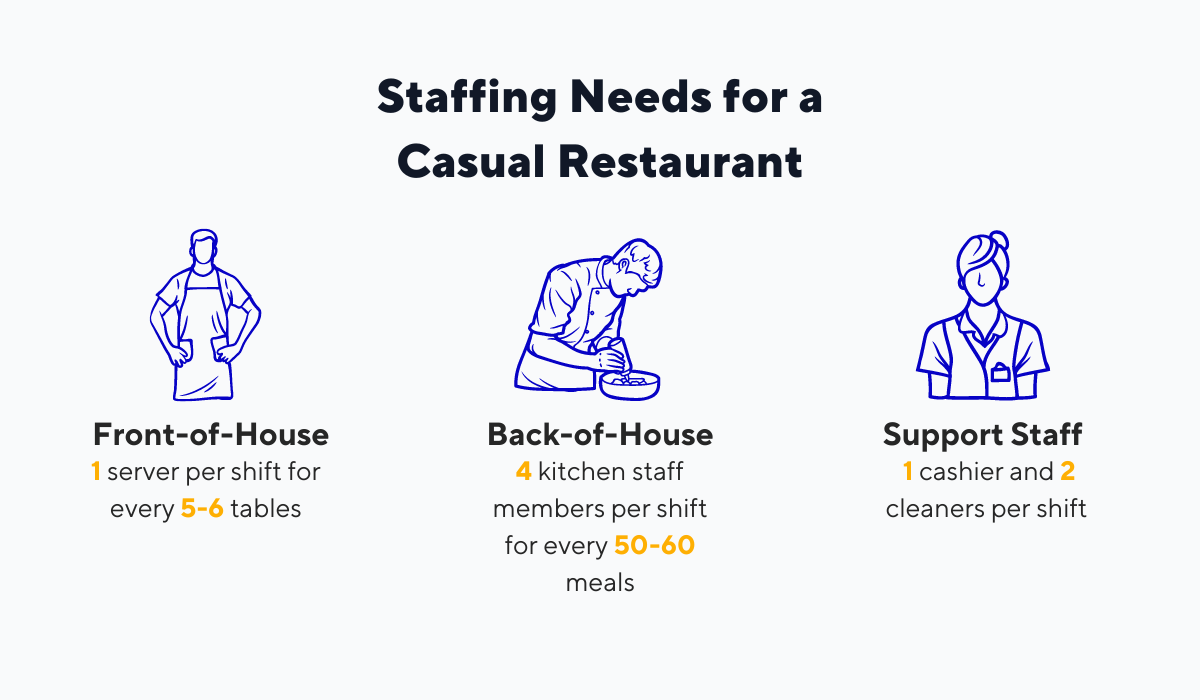 Illustration: Tablein / Data from: Eposnow
In a fine dining restaurant, the situation is slightly more intense.
You can count on guests to stay longer because they'll have a multi-course meal and will expect the waiting staff to be more attentive to them.
The meals will be more complex and require more advanced preparation and plating skills, so more people in the back-of-house will be appropriate.
Also, it might be a good idea to include a host, manager, or maître d' to handle greeting and seating the guests for a smoother operation and a more welcoming guest experience.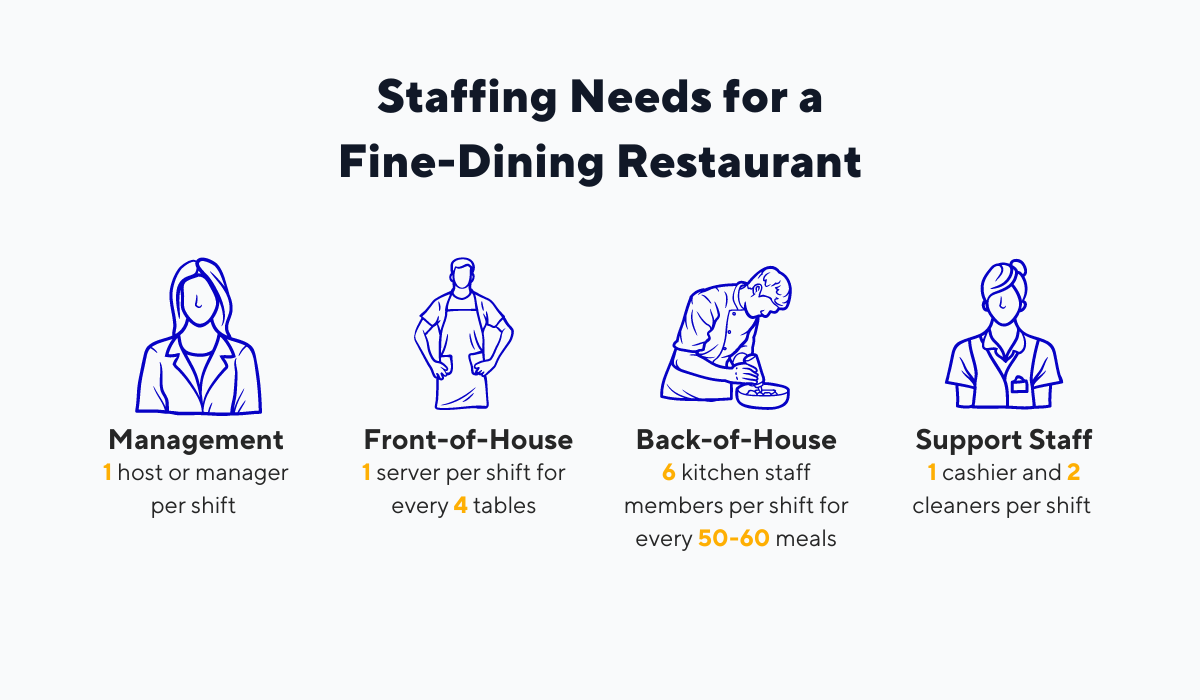 Illustration: Tablein / Data from: Eposnow
So, once you know how busy your restaurant is at different times of the day (i.e., table occupancy and number of meals per shift), you can use these industry standards for staffing needs to guide how you manage staff scheduling.
Train Your Restaurant Staff Well
You might have enough staff, but if they are not trained well, your speed of service might not be ideal.
Your staff's ability to turn tables quickly depends on a multitude of factors, such as their proficiency with restaurant technology and communications skills with guests and other staff members alike.
The good news is that these elements can be improved through proper training. For starters, you likely need to train your staff for using technology.
In terms of technology, your point of sale system (POS) is a key aspect here.
In a modern eatery, servers use a handheld POS device to take orders, relay those orders to the kitchen, create checks, and take payments.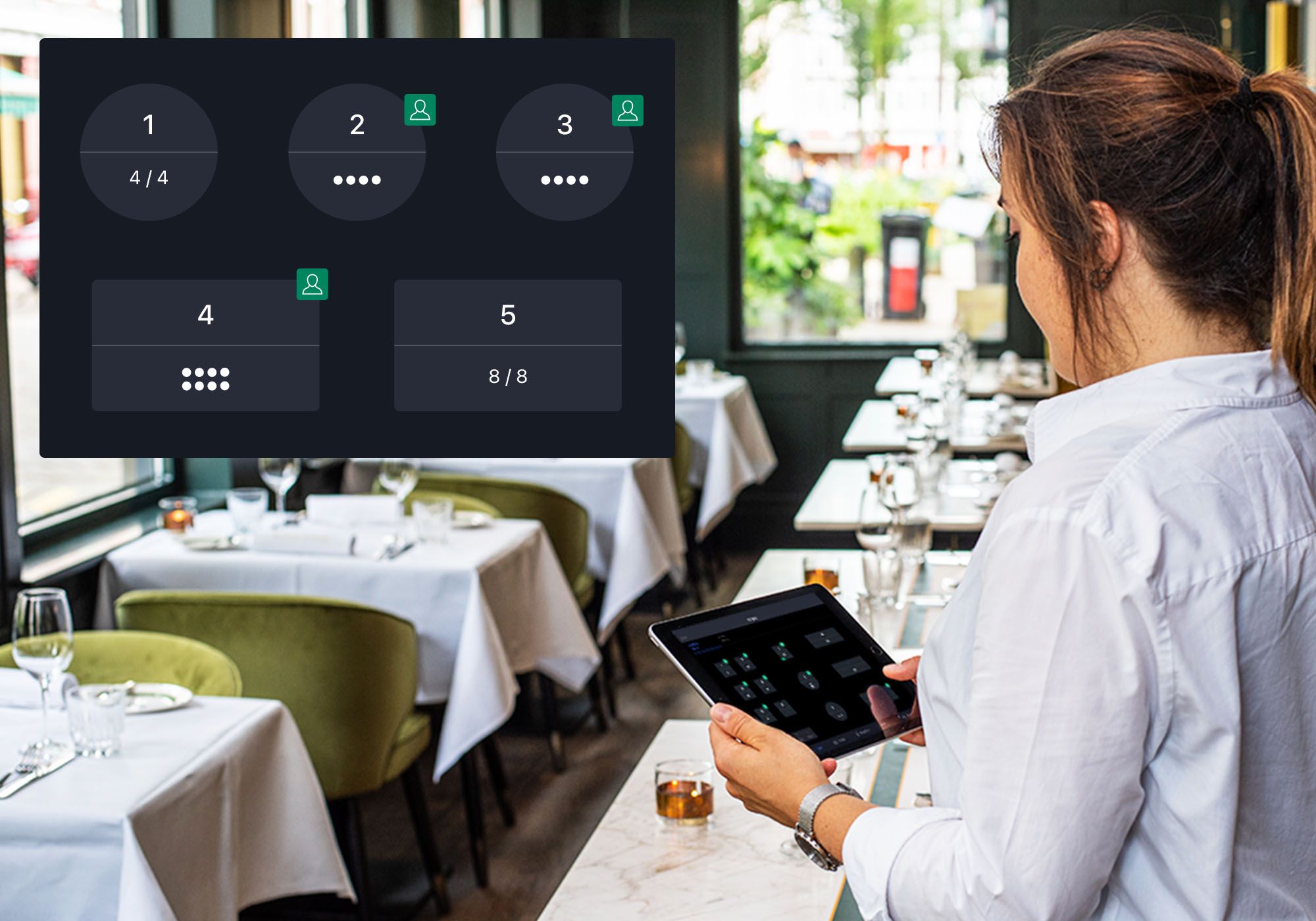 Source: Lightspeed
This is a good idea because such devices can accelerate service by pulling all the guest data (orders, modifications, payments, etc.) into a single space and sharing it with other employees (kitchen and cashier, for example).
However, as with any other piece of technology, some training is necessary for the user to become proficient.
Luckily, some POS system providers have servers in mind, so choose one with great training features.
Source: Lightspeed
For example, Lightspeed (formerly known as Upserve) offers a training mode where you can show a new member of the serving staff how their device works without risk, as actions taken in this mode won't be processed or shared externally.
But technology isn't the only thing your staff needs to be trained on. Guest communication is equally important.
And as for communication skills, it is advisable to come up with a detailed guest policy and then train every employee how to approach every situation outlined by it.
Let's use the booking policy example from our first section to see how this works.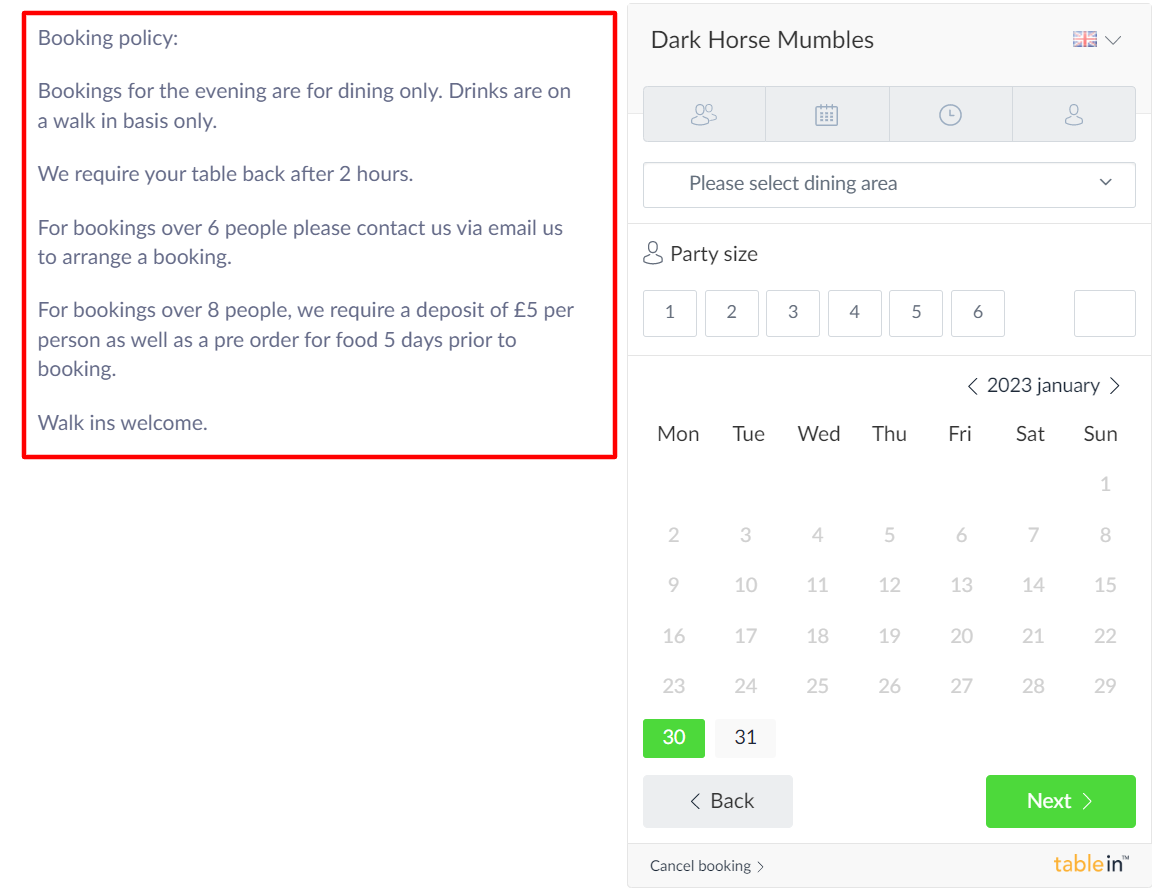 Source: Tablein
So, for instance, when a guest overstays and lingers for more than two hours, you can train your servers to act and resolve the issue by offering these guests a complimentary drink at the bar, for example.
That should motivate them to release the table without any resentment.
As you can see, there are a couple of ways your staff can influence the speed of service, and all of them require a bit of training.
So think of training as an investment that will ultimately make your service more efficient.
Take Advantage of QR Code Menus
We talked already about how you can schedule, train, and deploy your front-of-house staff to increase service speed.
But what if there was a way to do the same thing by reducing the involvement of servers in the dining experience?
Well, thanks to QR code menus, this has recently become a real possibility.
Today's restaurants are able to partner with software providers that offer online QR menu systems that allow guests to look at the menu, order, and even pay using their phones.
The setup is quite simple here. All you have to do is create an account for your restaurant and put in the relevant information.
If you're working with a tool like Menuflow, the company will send you a set of cards with a custom QR code that guests can tap or scan with their phone to access the menu.
Source: Menuflow on YouTube
Once there, they can select the items they want, and the order will be relayed to the bar and kitchen.
The server only needs to bring the order to the table, reducing their workload significantly.
And since this software integrates with POS software, the guest can also pay and leave a tip before exiting the restaurant.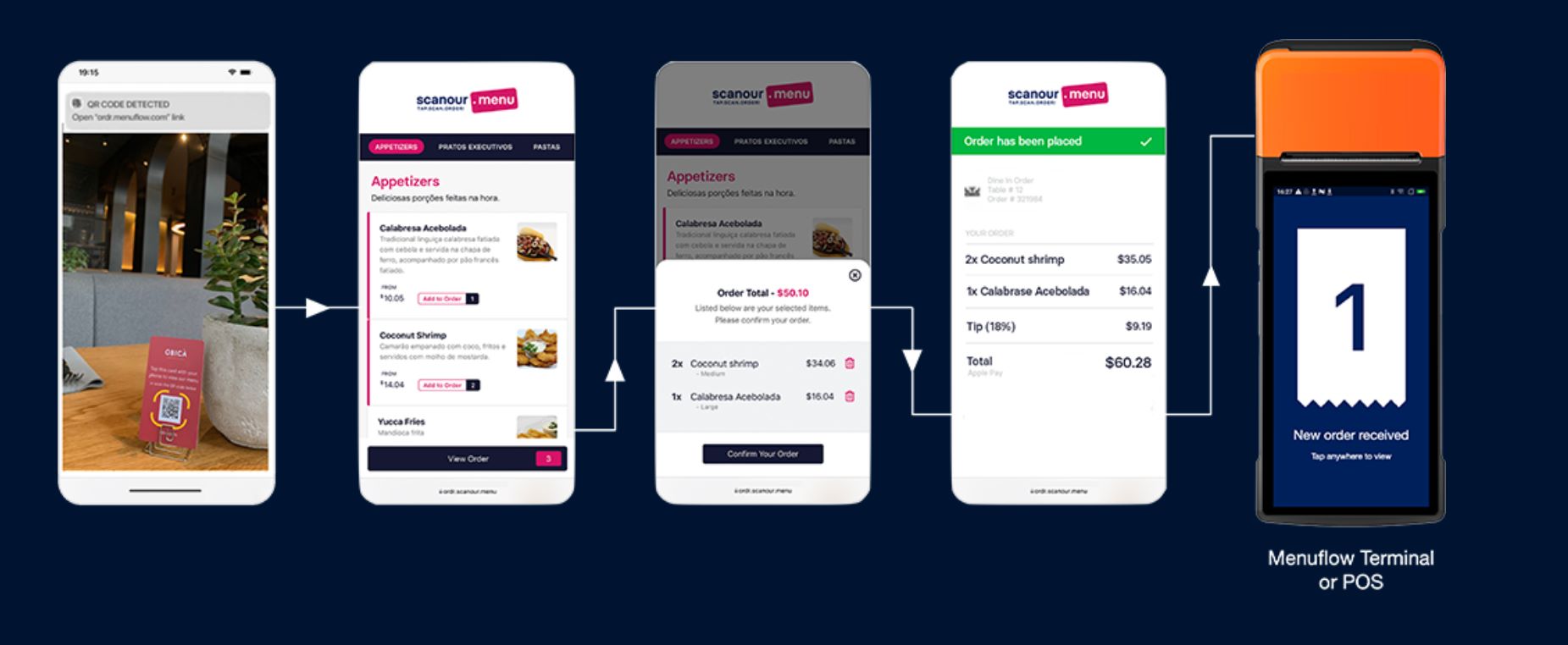 Source: Menuflow
That way, guests don't have to wait to be brought their menu, wait again for a server to take down their order and bring the items to their table, and then wait again to request and settle their bill.
A lot of time is saved because of this. Menuflow, specifically, claims restaurants can save 15 minutes on average, per cover because service is significantly sped up.
In a normal setting, guests need to wait for the server several times. With a multifunctional QR menu, these actions become instantaneous, which significantly increases the speed of service.
Conclusion
The speed of service at your restaurant mostly revolves around the efficiency of your staff, especially the front-of-house.
In order to speed it up, you'll have to enable them to do their best work by ensuring a smooth flow of guests, optimizing your staff schedule, and enhancing your service with excellent restaurant software.
Remember, your staff are the people responsible for the quality and speed of your service, but only you, as the owner, can set them up for success.
How to Set Up Your Restaurant Booking System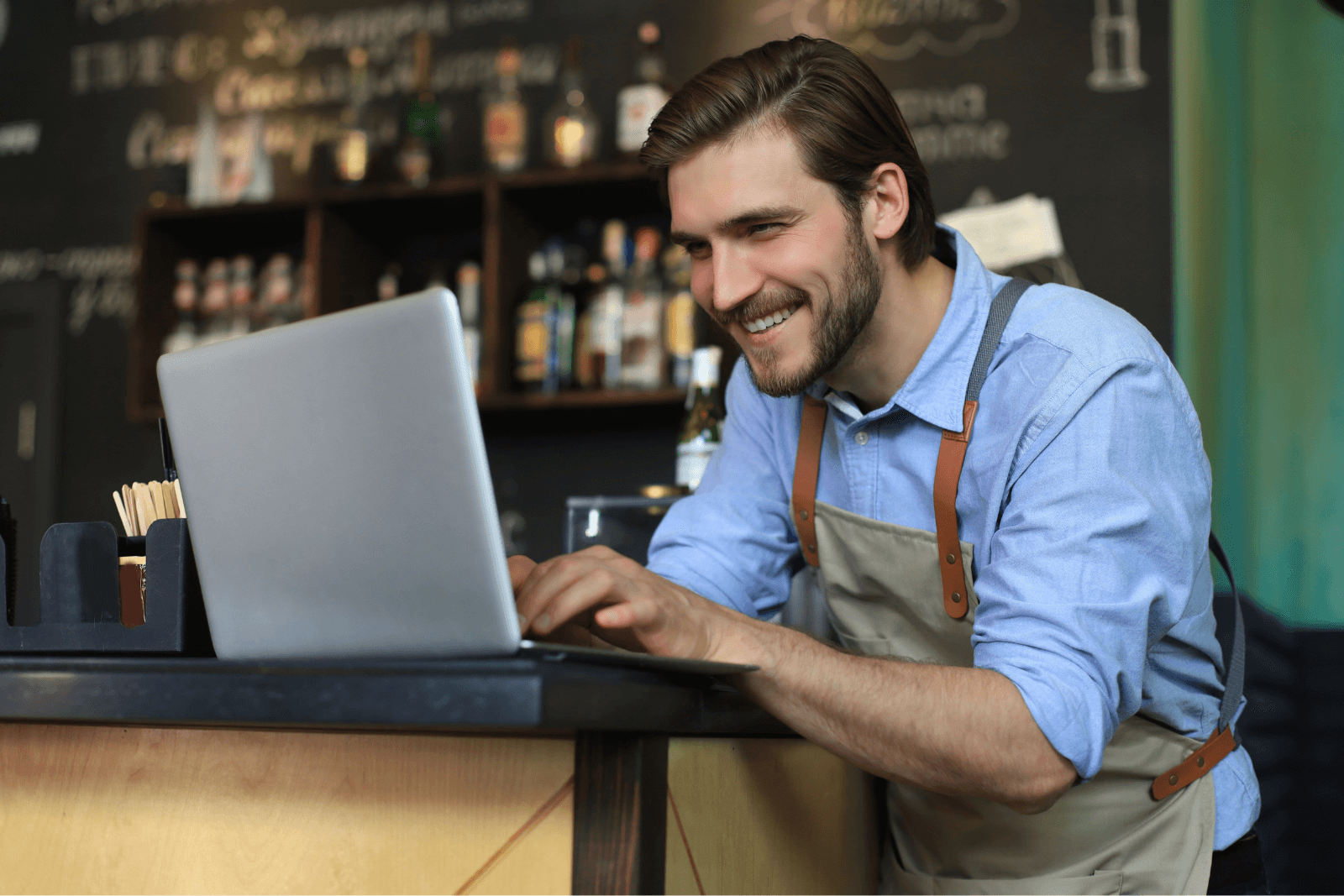 How to Set Up Your Restaurant Booking System
Jul 21, 2023 11:45:17 AM
11 min.
6 Reasons to Take Reservations at Your Restaurant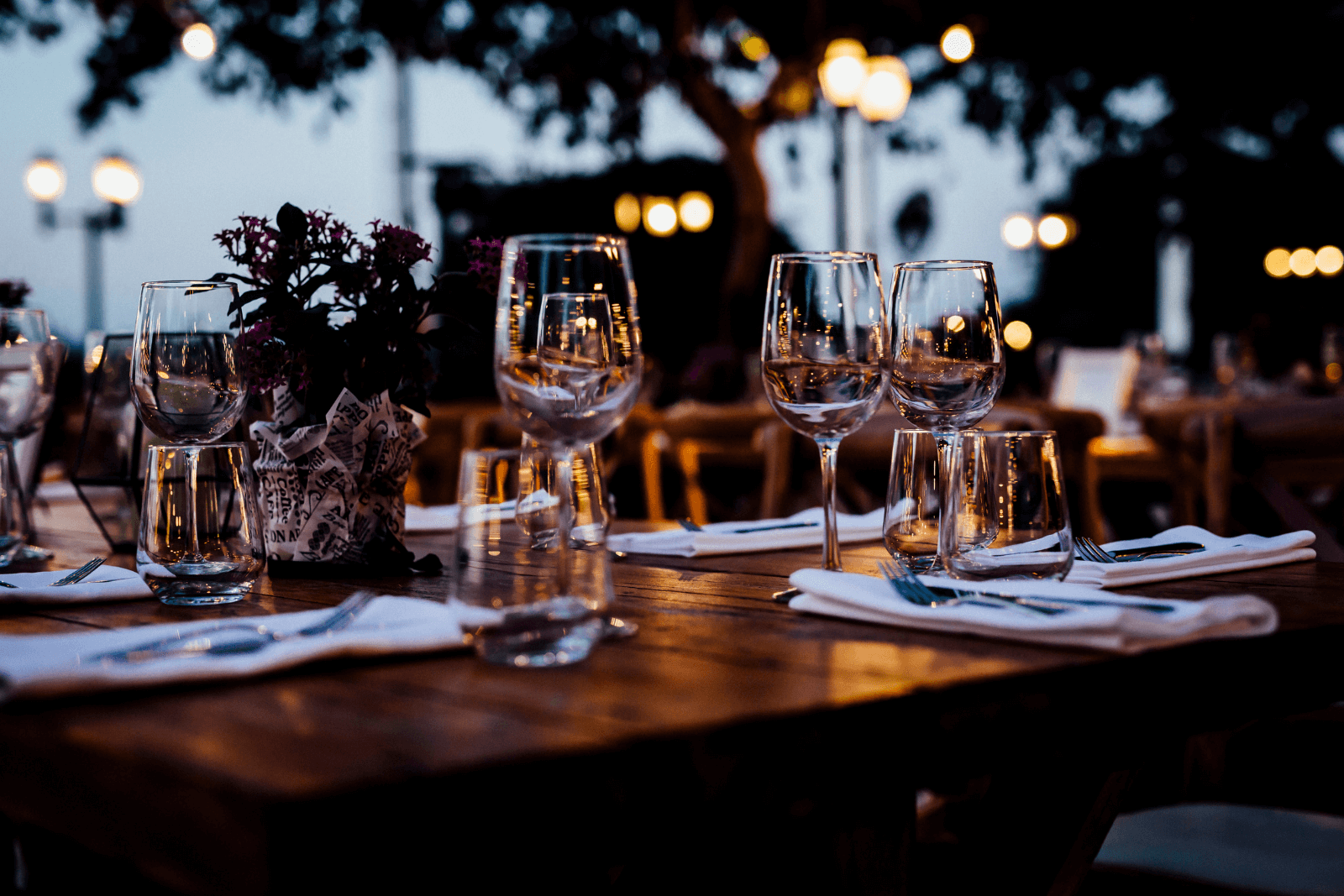 6 Reasons to Take Reservations at Your Restaurant
May 19, 2023 2:42:56 PM
9 min.
How Does an Online Restaurant Booking System Work?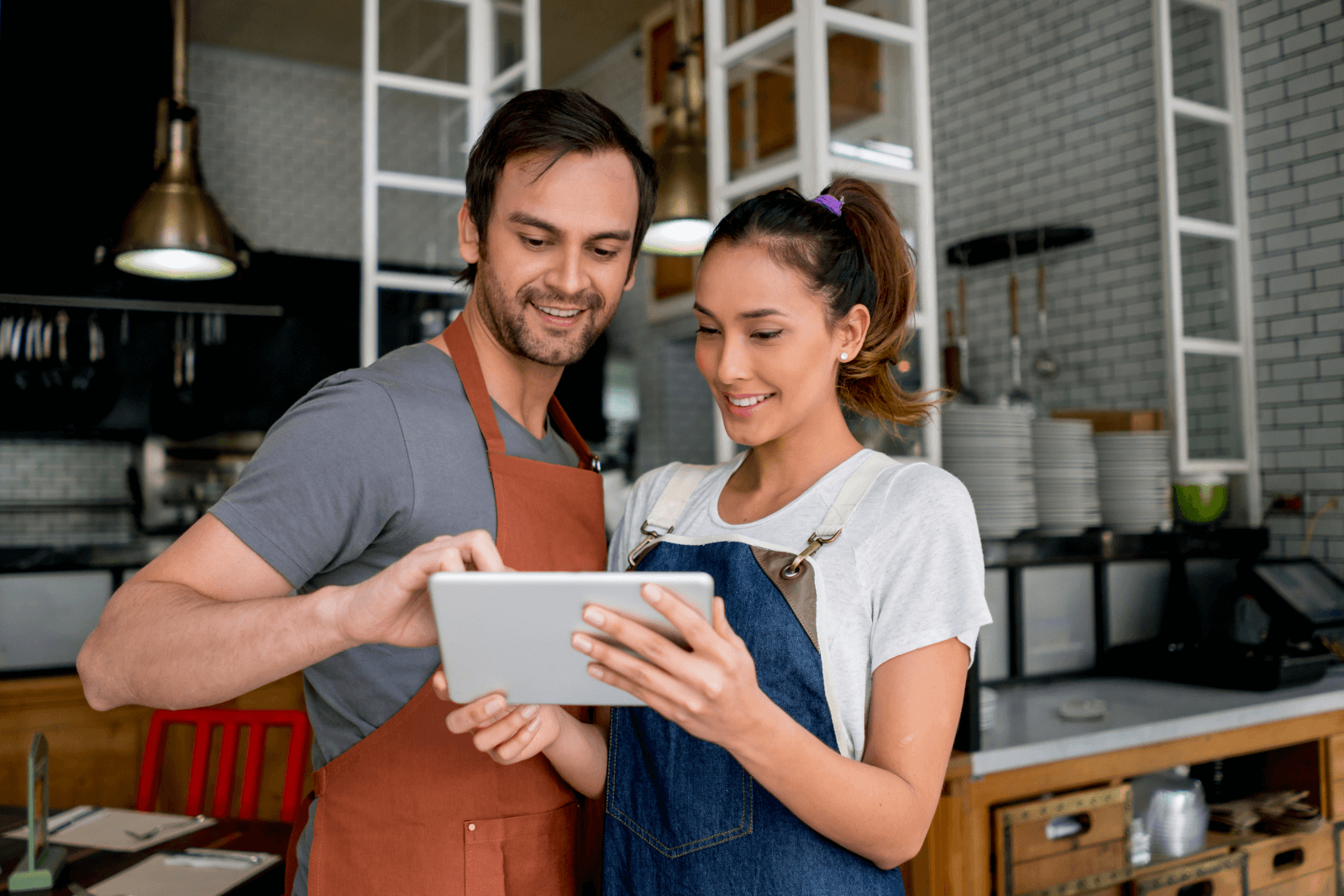 How Does an Online Restaurant Booking System Work?
May 25, 2023 12:03:01 PM
11 min.