Delicious food may be a prerequisite for good sales in restaurants, but it's far from being the only requirement.
In this article, we'll scratch below the surface of restaurant management and look at the underlying factors that affect sales.
After reading the article, you'll be able to make strategic decisions that will push your restaurant in a more lucrative direction.
So, let's see how your restaurant business can become more profitable.
Table of contents
Table Turnover
If you want to boost your restaurant's sales, the first factor to consider is the table turnover rate—a helpful metric that can help you see how well the restaurant's capacity is utilized.
The table turnover measures how many parties you can serve over a specific period of time. You want yours to be as high as possible while still maintaining the quality of service.
Keep in mind that the number of table turns depends on the time of the day and the restaurant type.
For instance, over the dinner period, in fine dining restaurants tables usually flip every two hours.
Of course, family restaurants and casual venues have different rates, as Performance Foodservice reports.
Here's an overview of the frequency of table turns in different restaurant types over dinner.
| | |
| --- | --- |
| Family restaurant | Every 1-1.5 hours |
| Fine dining | Every 2 hours |
| Casual venues | Every 1 hour and 15 minutes |
If your restaurant flips tables less frequently than this, you are losing money, likely due to inefficiencies in table booking management.
Luckily, that's a problem you can fix by implementing an online table reservation system, such as Tablein.
The Tablein software allows customers to book tables at specific time slots online, which helps you reduce wait times and ensure that there are no gaps in service.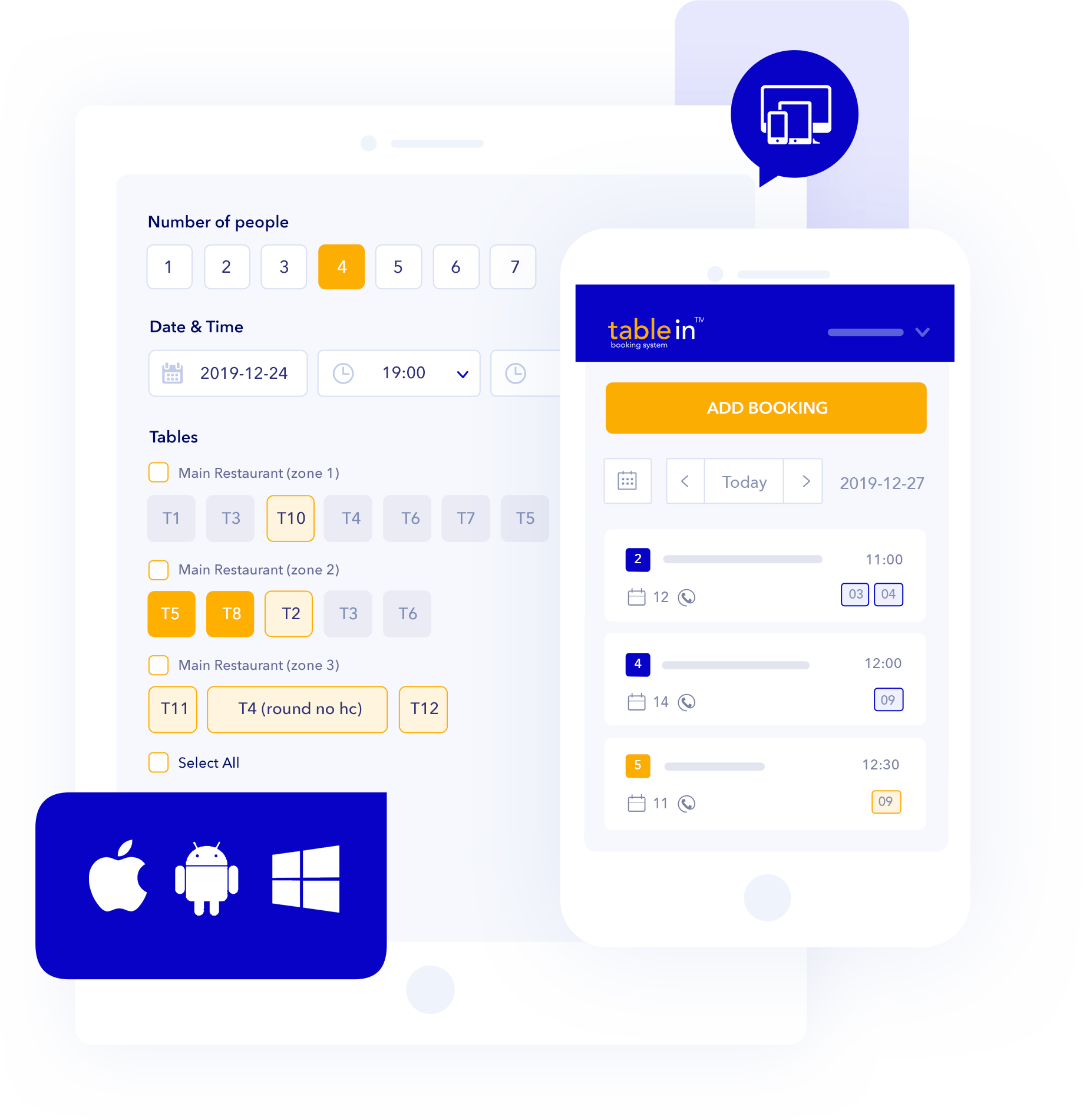 Source: Tablein
So, how could this help you with table turnover?
Let's say that 7 PM is the busiest time in your restaurant.
With an online table reservation system, you could spread out the arrival of groups of diners from 6:15 PM to 7:30 PM.
This reduces the sudden influx of guests at 7 PM, and consequently helps you squeeze in several additional table turns.
That's exactly the strategy that helped our client Seelenbrüder from Germany increase their capacity by 50%.
The increase in the table turnover wasn't the only benefit the restaurant has seen.
As the customers became better distributed around and during the peak hours, the kitchen no longer needed to hire additional staff, which has allowed the restaurant to cut extra costs.
As you can see, the more customers you serve in a day, the higher the sales you'll achieve, and that's why it's vital to work on optimizing the table turnovers.
Unique Menu
Your menu is the core of your restaurant—it's one of the reasons why customers choose you and not your competitors, and that's a factor you can leverage to increase sales.
Let's preface this by saying that you don't have to be a Noma-level restaurant to offer unique items.
Despite the size or the specialty of your restaurant, there's always a way to stand out on the market, even if you're one of three pizza shops on the same street.
Take 3 Little Figs, for example. This small Somerville bakery offers a limited selection of baked goods, but it's far more versatile than an average bake shop.
As you can see below from the section of the menu, 3 Little Figs sell sandwiches with ingredients such as harissa oil, fig jam, and arugula.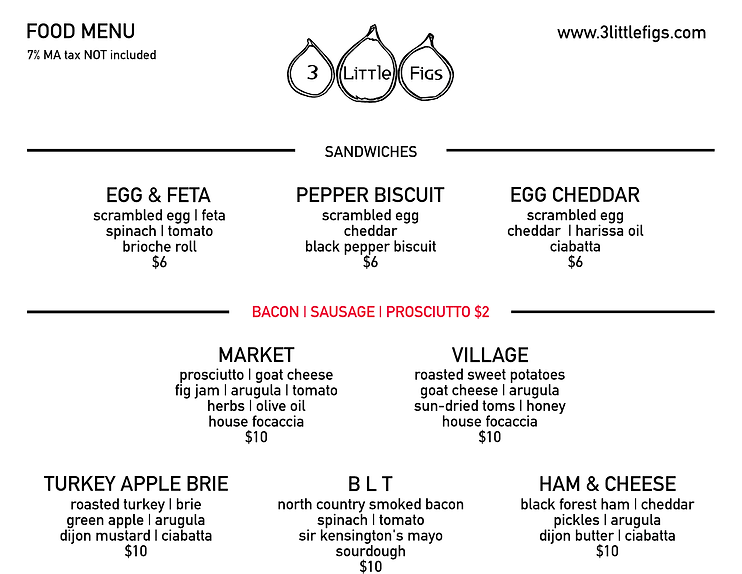 Source: 3 Little Figs
Customers could get a regular BLT anywhere, but it's the selection of ingredients that always draws them back to this one place, providing the bakery with a stream of customers who couldn't get a product like that at another bakery.
Additionally, the menu is more than an expression of your head chef's soul—it's also one of the most powerful marketing tools.
Dr. David Pavesic, a professor of Hospitality at Georgia State University, compares the menu to a restaurant's business card.
That's because the menu introduces the customer to the restaurant and gives you an opportunity to amaze the guests.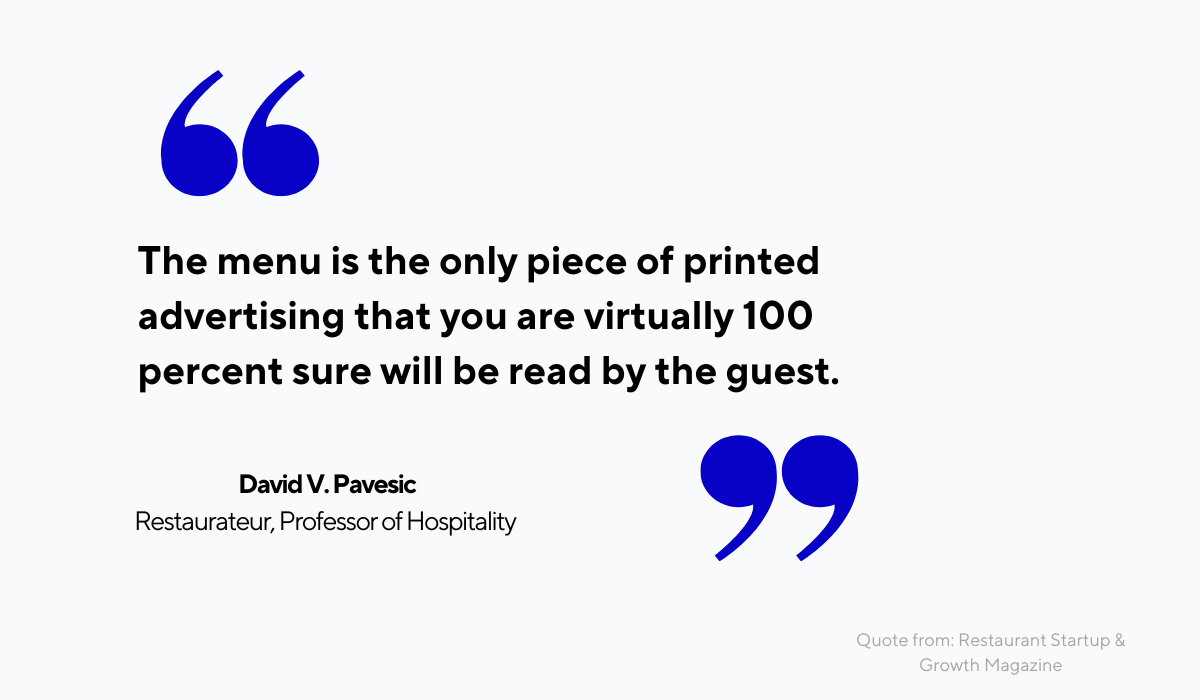 Source: Tablein
By attracting guests with items or ingredient combinations that they can't try at other restaurants, you'll stand a chance of winning them over and turning them into repeat customers, which is one of the best ways to increase your profits.
So, before you invest in other advertising strategies, don't forget that your menu can be an impactful factor in restaurant sales.
Plan a selection of creative and cohesive dishes, and watch the sales grow over time.
Menu Item Pricing
While you can design a great menu, the pricing of its items also needs to be carefully thought through, as pricing is another vital factor that influences your sales.
When it comes to pricing, you don't want to be on either end of the spectrum—it's all about finding the golden mean.
Defining the ideal pricing means more than just thinking about the actual cost of food and markup.
It's also important to see how different pricing makes diners feel about your restaurant, which is why restaurant owners also sometimes have to dabble in customer psychology.
For example, if you lowered your prices too much, you'd risk the customers perceiving the quality of your food and service as inferior, according to research in customer behavior.
In one experiment, the same food was charged $4 and 8$ to two groups of restaurant eaters.
Those who paid double the price reported enjoying the food more, associating the higher price with better quality.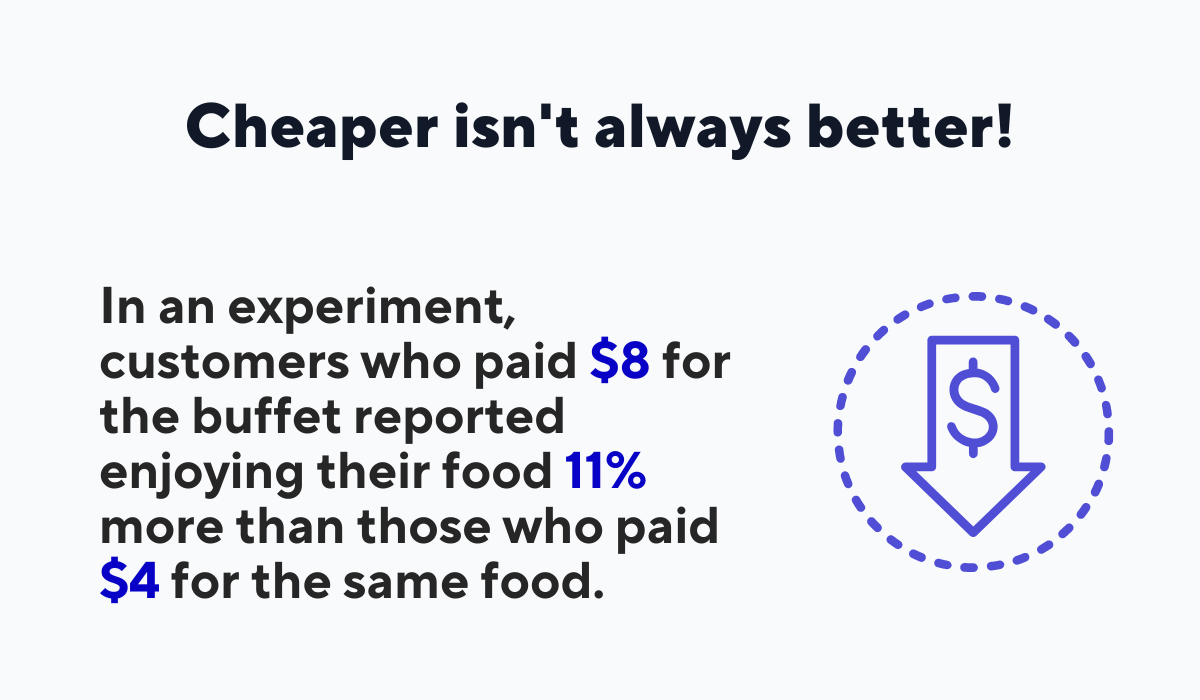 Illustration: Tablein / Data: Newswise
Of course, this doesn't mean that restaurants should automatically hike up the prices, as that would deter many people from trying the food out.
Just bear in mind that some customers want to feel they're getting more value for their money, which is a sentiment that you can leverage by making your prices accessible.
Still, you don't want the suspiciously low prices to make it seem like there's something wrong with your restaurant, as attested by Twitter users discussing underpriced and overpriced menus.

Source: Twitter
Now, there's no clear-cut rule about the right markup that you could use to decide on the menu prices.
Instead, you can examine the type of clientele that your restaurant attracts and compare it to the restaurant type you're aiming to be, whether it's a family place or an upscale establishment.
Only then will you be able to come up with the prices that allow you to earn profits while keeping the customers happy.
Food Quality
Simply put, the food is the core of every restaurant. So, if you're aiming to increase sales, it makes sense to invest in such a fundamental factor as food quality.
The diners' preferences and requirements have changed a lot over time.
Online booking, delivery options, and sustainable packaging are just some of today's demands that weren't here 15 years ago.
On the other hand, the quality of food served in restaurants has always been of paramount importance to customer satisfaction, and there is scientific evidence to confirm that.
Study after study confirms that if the food quality isn't the first customer priority, it's always among the top three.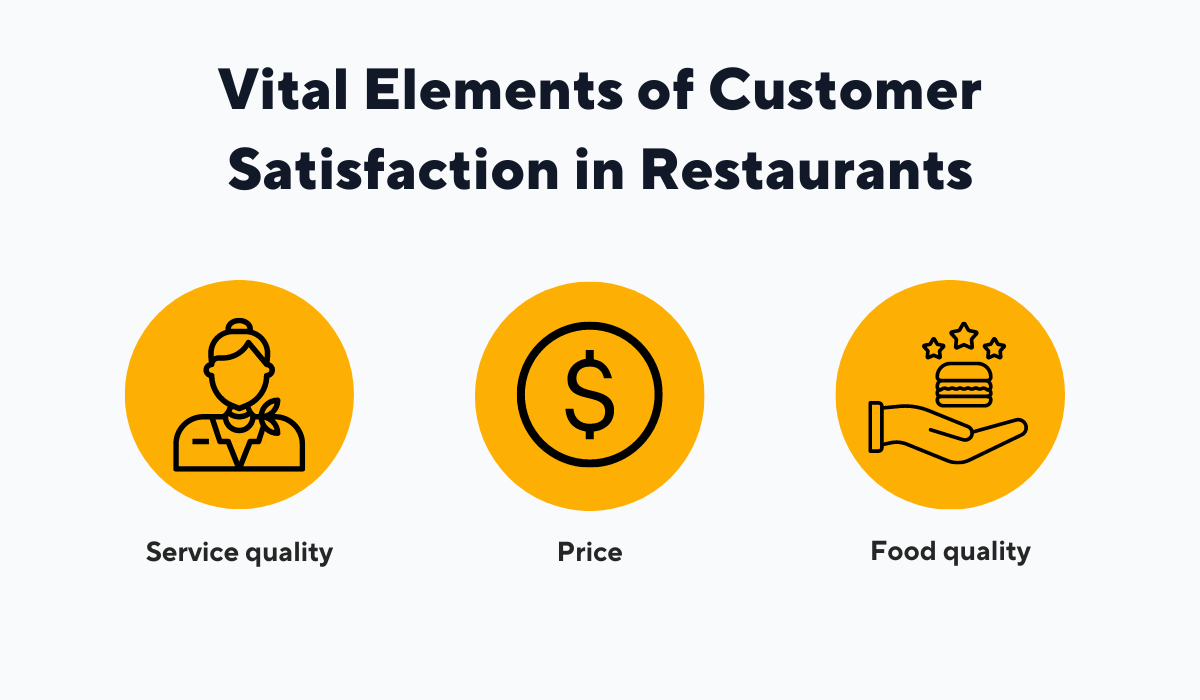 Illustration: Tablein / Data: ResearchGate
Ensuring that your restaurant uses high-quality food will not only help you provide your customers with a better dining experience. It can also become an additional marketing tool.
For instance, bartaco, an American upscale street-food chain, builds their dishes using only quality ingredients and heavily relies on that fact in their advertising.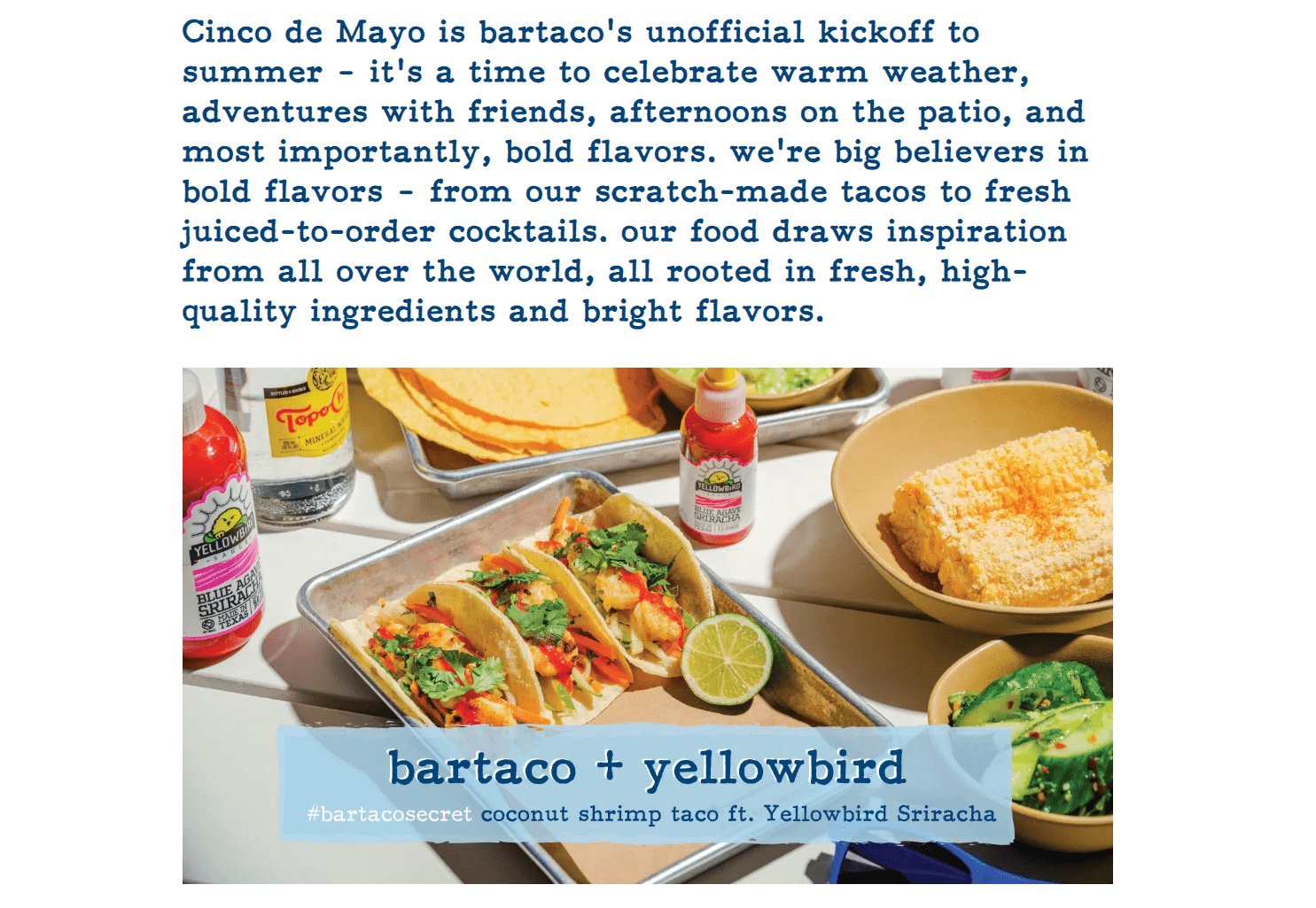 Source: bartaco
Anthony Valletta, the president of bartaco, makes it a priority to buy produce only from those vendors who can consistently deliver top-notch ingredients.
Valletta highlights the quality of the ingredients as the foundation of the restaurant and claims that sourcing ingredients by quality, not price, improves the experience that guests receive.
We create menu items that are considered 'street food classics' but also incorporate fresh, high-quality ingredients that are curated by our culinary team. The key to most of our menu items are these standout ingredients that have fresh and bold flavors.
All in all, food quality is a factor that can attract new guests, and then make them repeat customers, increasing your sales.
Because of that, it may be time to raise the standards and start looking for vendors with the highest-quality ingredients.
Quality of Service
All businesses, from accounting services to nail salons, have to maintain high standards of customer service if they want to increase their sales. Restaurants are no exception to this rule.
If you think that customer service matters, but aren't exactly sure how much, you could be surprised by how high the precise figure is.
According to a Salesforce survey, as many as 91% of people would become return customers in a business with high-quality customer service.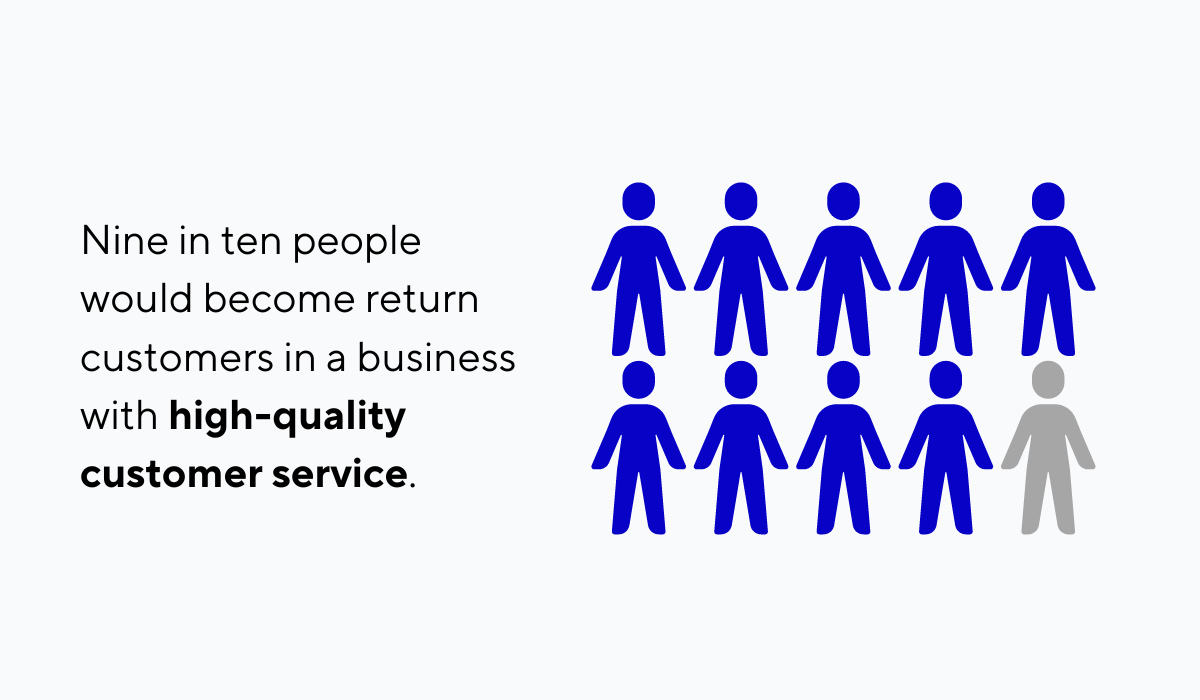 Illustration: Tablein / Data: Salesforce
So when your restaurant acquires return customers, you'll notice a growth in your profits caused not only by the number of your customers, but also by the increased volume of their purchases.
The reason for this lies in the fact that repeat customers tend to spend 67% more money than new ones.
Now that we've seen the statistics that point to the significance of quality service, we'll look at the practical pieces of advice that your staff can implement to ensure the best experience for your guests.
To do that, we'll turn to a forum discussion about the attributes of service quality in restaurants.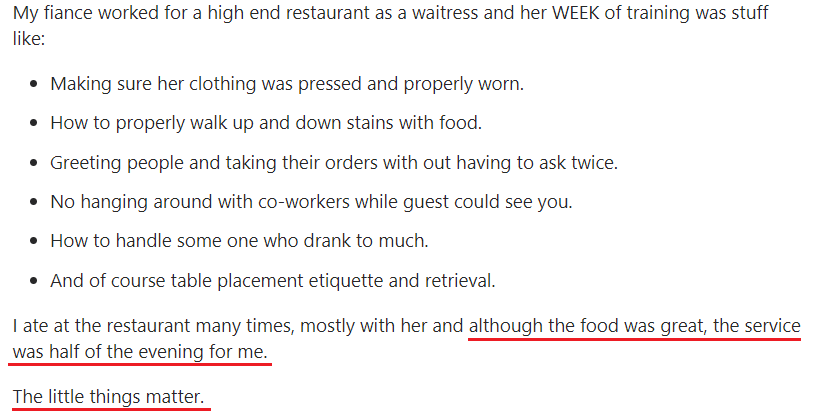 Source: Quora
As the author of the comment above suggests, the service can be as impactful as the food in creating an excellent dining experience.
The particular restaurant that the author has visited has achieved such high levels of service by training the staff about all aspects of the job.
The training even covered pressing the work clothes.
By taking an approach as detailed as that, you too could enhance the service that the guests receive in your restaurant.
And seeing as better service leads to higher sales, it's a good idea to make the quality of service a priority as soon as you can.
Atmosphere
The atmosphere is a restaurant element closely linked to the quality of service—the two go hand in hand.
Therefore, it's not surprising that you could take advantage of the special atmosphere of your restaurant as a selling point and use it to drive more sales.
Is your restaurant a family-oriented place with bright lights and large tables? Or a romantic, dimly-lit venue looking to accommodate guests interested in a more intimate setting?
Whichever it is, the atmosphere of your restaurant can contribute to the overall dining experience and attract more customers.
In fact, one survey has found that the atmosphere is the second most important factor that prompts people to recommend restaurants.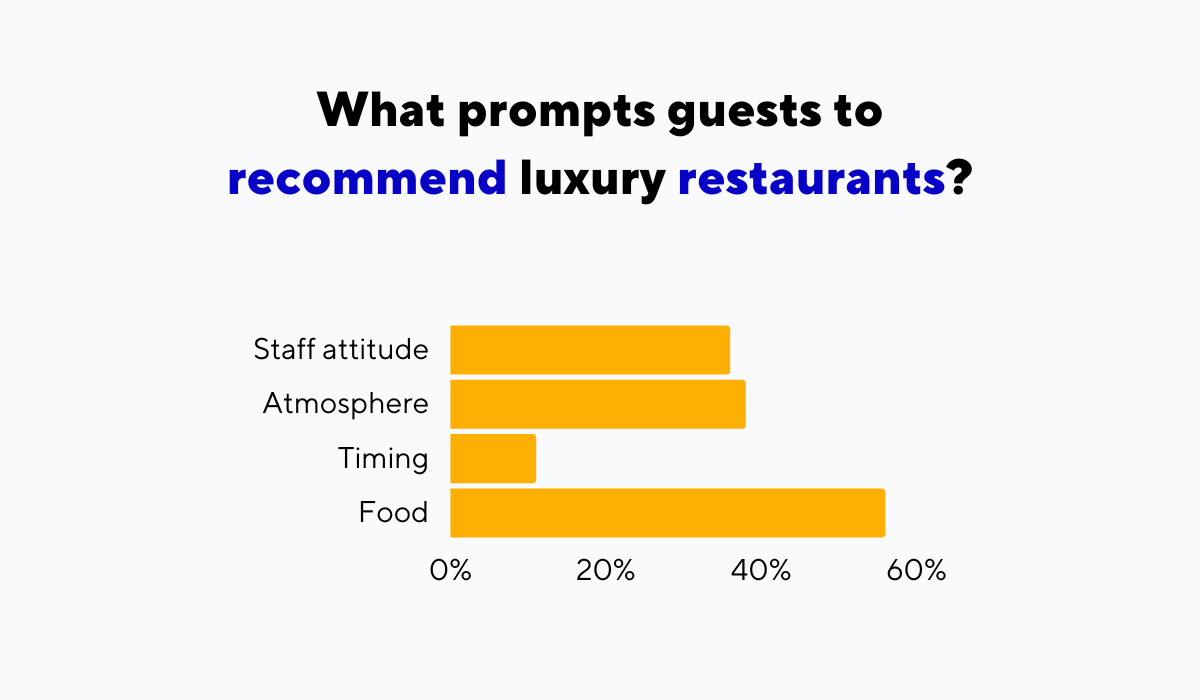 Illustration: Tablein / Source: Coyle Hospitality
While the finding was oriented towards the luxury setting, the point still stands that the atmosphere can enhance the experience you're creating regardless of your niche.
There are even restaurants whose reputation was built mostly on their ambiance, such as The Cheesecake Factory.
The chain, known for its extravagant interior across all locations, attracts customers with its whimsical ambiance.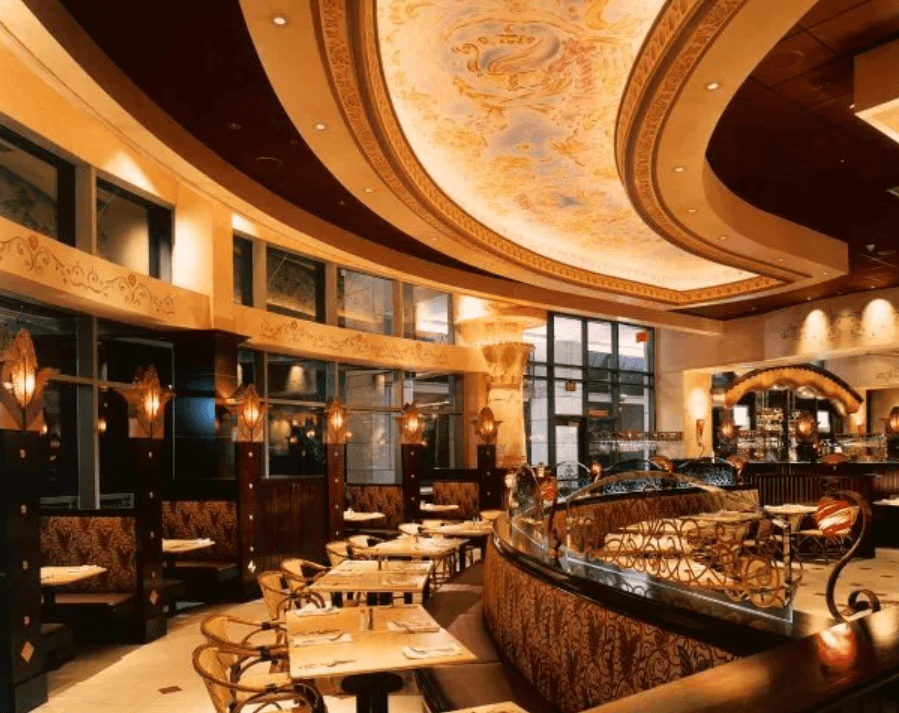 Source: Eater
As you can see in the photo of one of the locations above, the atmosphere is created by combining well-fitting colors, pieces of furniture, decorations, and lighting.
While you don't have to commission a sculptor to replicate Egyptian columns as The Cheesecake Factory does, you should still pay attention to the atmosphere where your guests get to enjoy their meals.
When you manage to create an inviting atmosphere that caters to the type of guests you typically serve, you'll provide your customers with more than tasty dishes—you'll give them an entire experience they'll want to repeat—and your sales will increase.
Location
Unlike the sales affecting factors we've listed so far, location is one you can't change after the fact.
Luckily, by carefully considering the location of your restaurant in advance, you can ensure that the target customers find their way to your kitchen.
Think about it: have you ever seen a fine dining restaurant in an industrial park?
Probably not, because workers need quicker food options, and those interested in full-course meals want a more attractive visual experience.
However, you've probably seen lots of sandwich or coffee shops near universities or other areas with high foot traffic.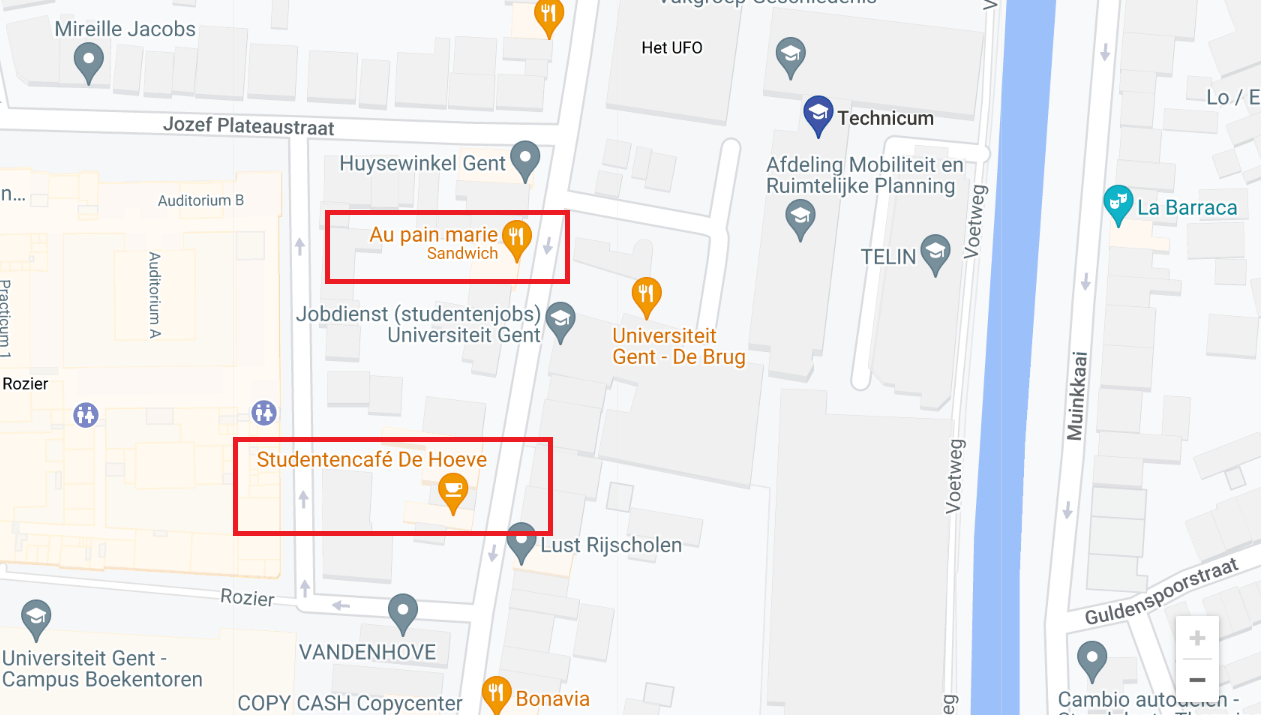 Source: Google Maps
In other words, if you want more sales, your target customers should be able to visit your restaurant with ease.
If you're running a high-end restaurant, chances are that your customers arrive in their own cars. Because of that, your location has to also have sufficient parking spaces.
On the other hand, if you have a fast-food shop, you might want to scout locations near populated areas and public transportation stations.
Either way, location matters to the customers, and they are likely to mention it in the reviews.
As you can see in the following Google Maps review of a sushi restaurant, the location can be as important as the food.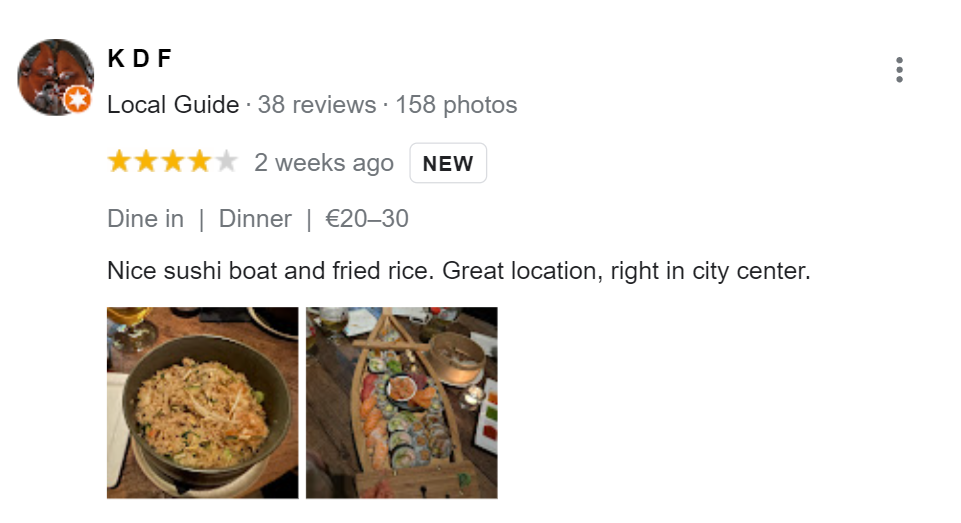 Source: Google Maps
Lastly, when choosing a location for your restaurant, don't forget to check out your neighbors—your competitors, and other, non-food businesses, as well.
For instance, a health-forward restaurant would probably do better next to a gym than next to a nightclub.
Similarly, there's no better place to open a late-night burger place than in an area known for its nightlife.
With that in mind, remember that choosing the location is something that you only get to do once.
So, take a good look at the type of food you want to serve and to whom you want to serve it, and you'll be able to narrow down the selection of venues to rent.
Conclusion
There's no need to throw away your existing kitchenware and splurge on an anti-griddle or a Pacojet to impress your customers—even small changes to your business can bring significant increases to your profits.
That's why you should analyze each aspect of your business and find where you can implement the sales-boosting improvements we've just listed.
So, comb your restaurant management practices over, ensure you're serving the best food you can, and soon you'll start noticing happier customers and higher earnings.
3 Things That Affect Your Restaurant Capacity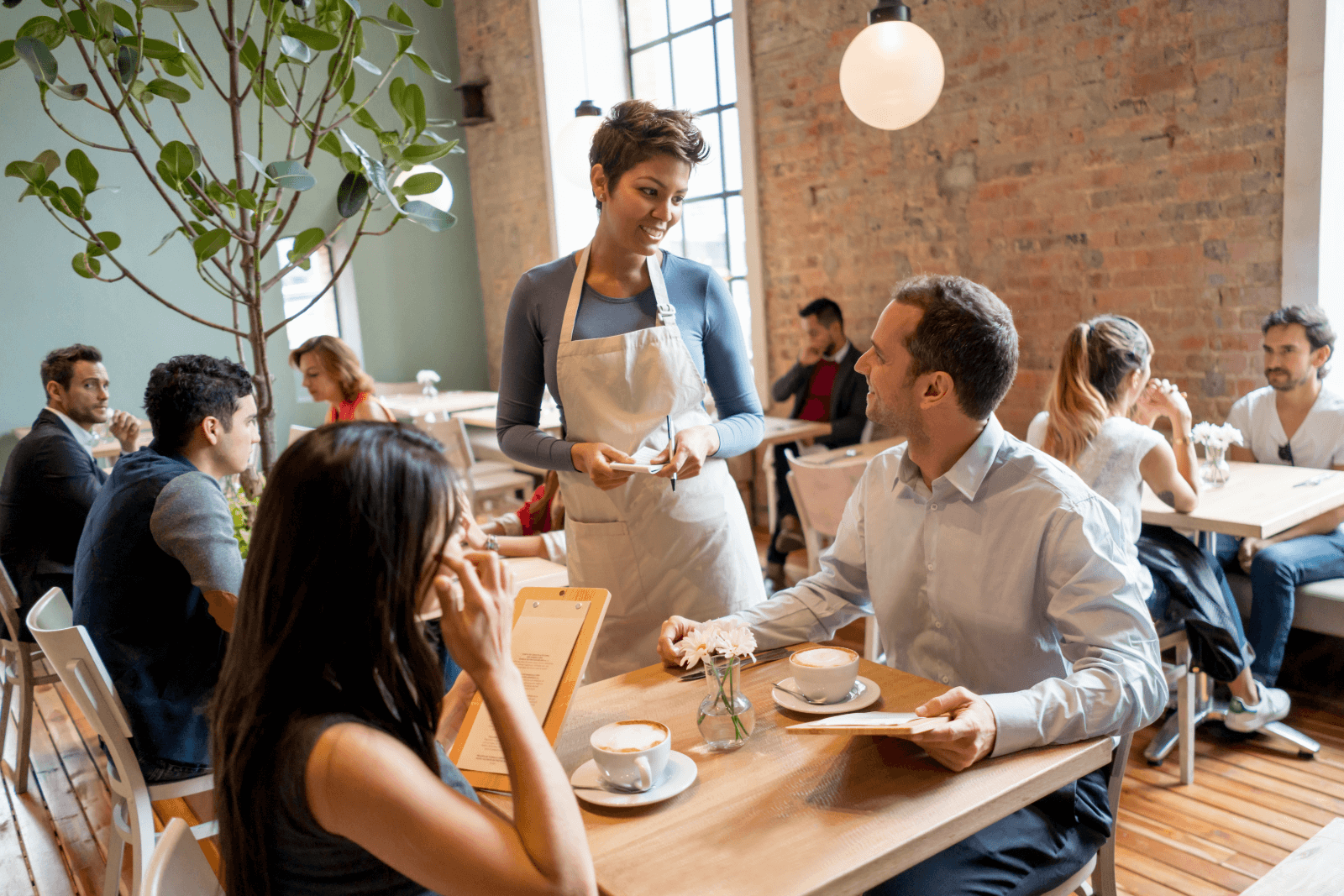 3 Things That Affect Your Restaurant Capacity
May 31, 2023 2:04:29 PM
6 min.
Top Restaurant Automation Tools for Streamlining Operations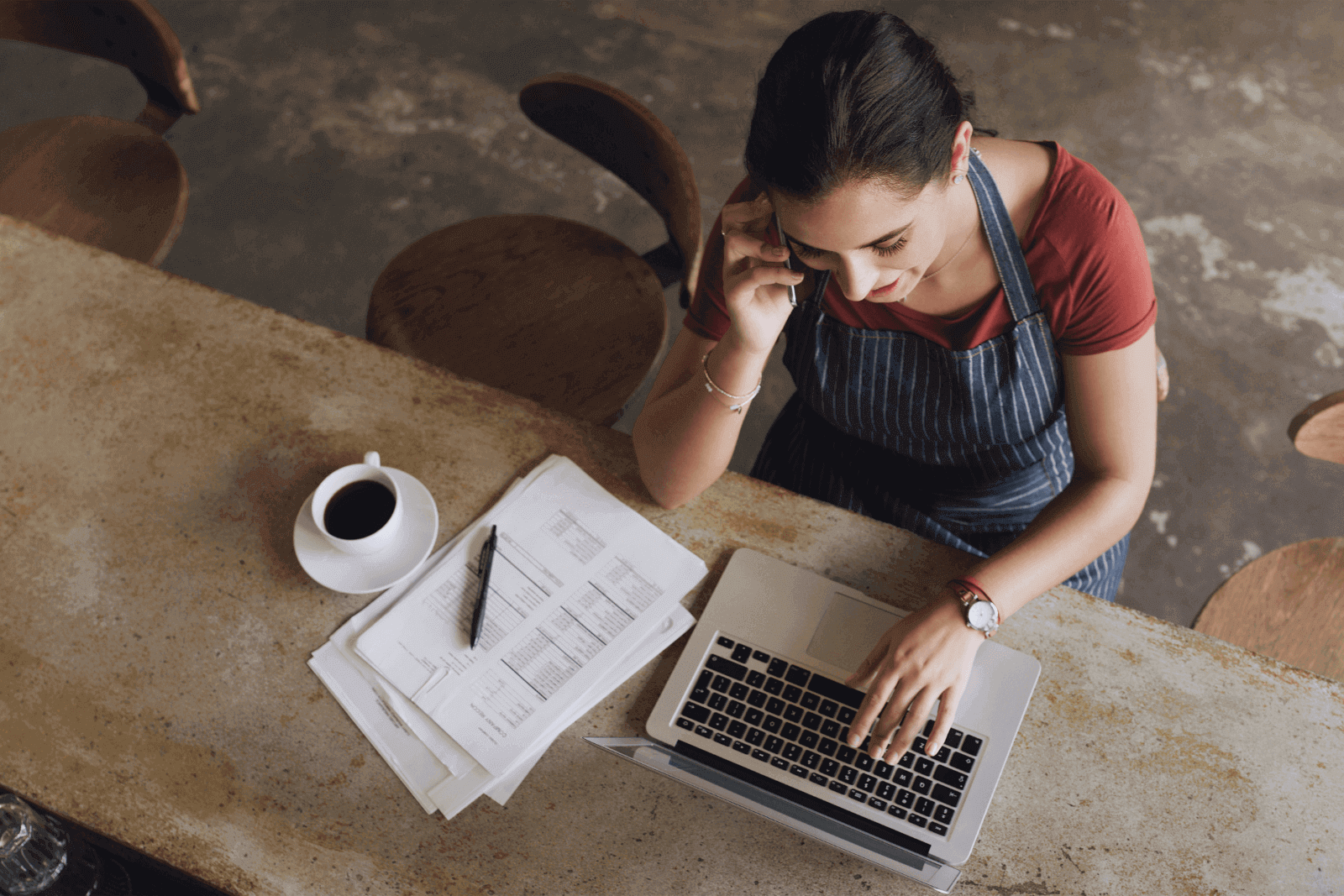 Top Restaurant Automation Tools for Streamlining Operations
Oct 12, 2023 12:25:29 PM
10 min.
How to Boost Your Restaurant Lunch Sales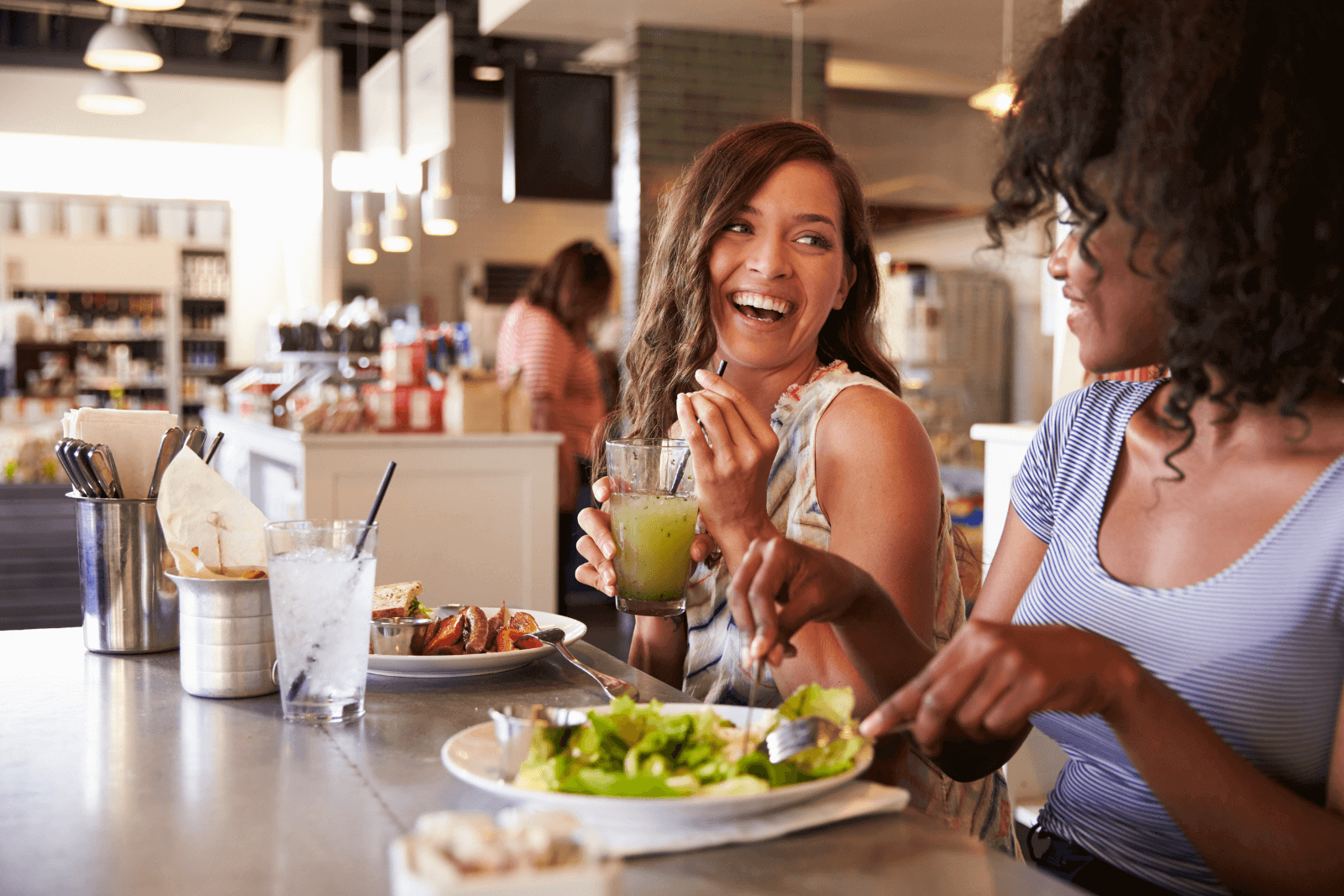 How to Boost Your Restaurant Lunch Sales
Jun 29, 2023 4:04:51 PM
9 min.