5 Ways to Use Social Media for Boosting Your Restaurant Sales
10 min.
Apr 14, 2023 12:40:26 PM
Social media represents a great opportunity for businesses to broadcast their offer, attract patrons, and enhance sales.
That's especially true for the restaurant industry, where owners can count on convenient reservation processes, appetizing food photos, special promotions, and reviews to bring more people through their doors.
But we're getting ahead of ourselves.
Let's take a look at five astonishingly effective ways social media can help you boost sales.
Enable Table Reservations Through Social Media
When people hear that a restaurant accepts online reservations, they automatically assume that means booking a table via the restaurant's website. But there's more to it than that.
Other online sources can also provide visitors with reservation options, and that includes social media sites.
The reason why clever restaurant owners opt to include this option is that they know that their consumers, especially the younger crowd, browse social media sites, and realize this is an opportunity to capture bookings.
In fact, a new study shows that more than half of these consumers would visit restaurants more if they could book a table right then and there, from the restaurant's social profile.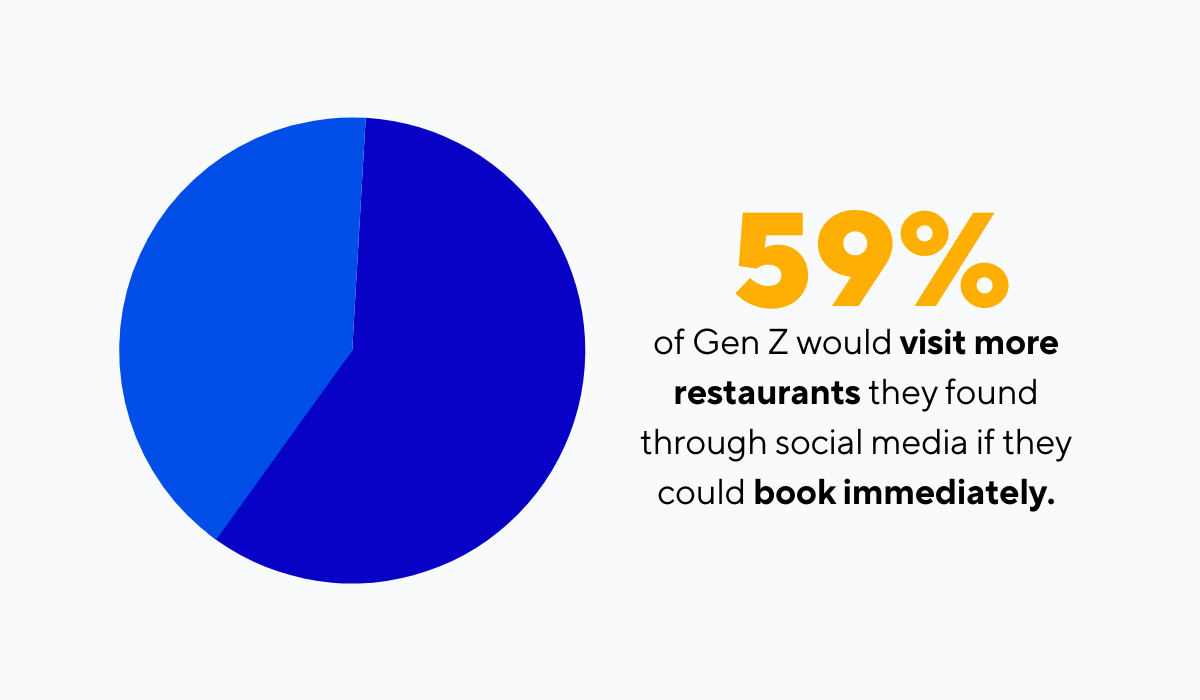 Illustration: Tablein / Data: Seven Rooms
Social media sites provide some very easy methods to accept reservations this way.
Facebook, the most popular social network and the go-to site for finding businesses, for example, allows page owners to place one of several buttons on their profile.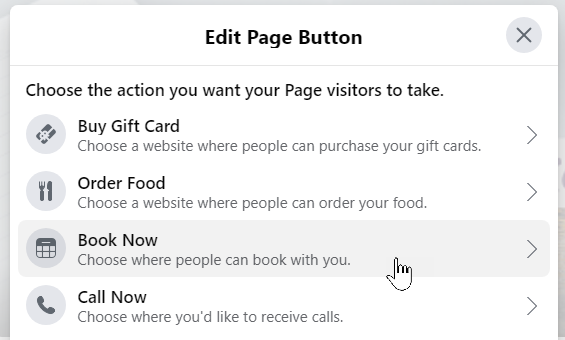 Source: Megan V. Walker
That way, visitors to your restaurant's page will have no problem creating a table reservation without ever having to leave Facebook.
Here's an example, just to show you how convenient this method is.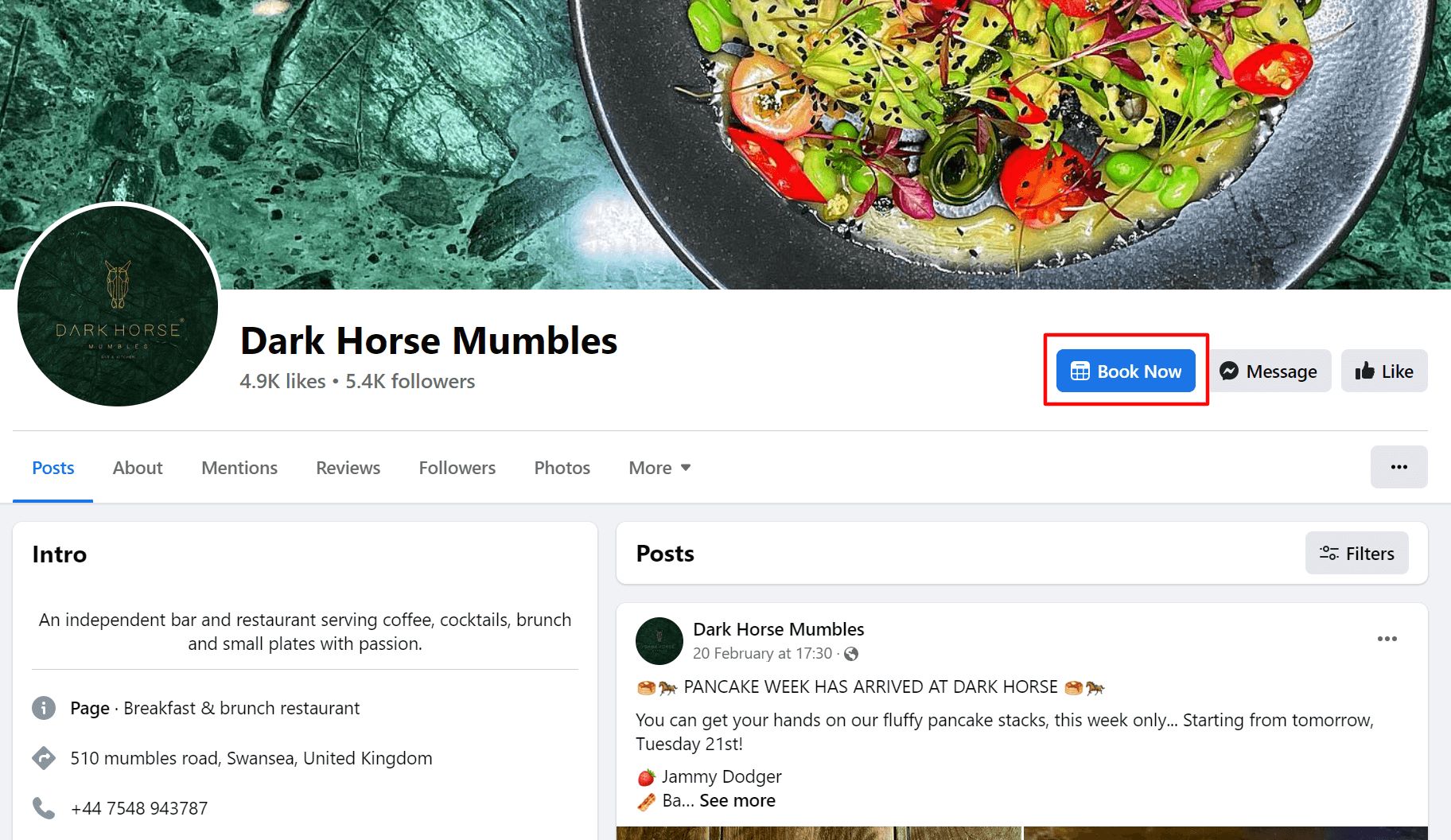 Source: Dark Horse Mumbles on Facebook
Instagram can be a little trickier because the platform doesn't have buttons like Facebook and only allows links in the profile bio.
But that just means potential guests will be looking for a booking option in just one place, so you better provide it.
The restaurant Dark Horse Mumbles has chosen an elegant solution here.
They've provided a link to their Linktree in their bio, enabling them to connect their Instagram account to their other online resources.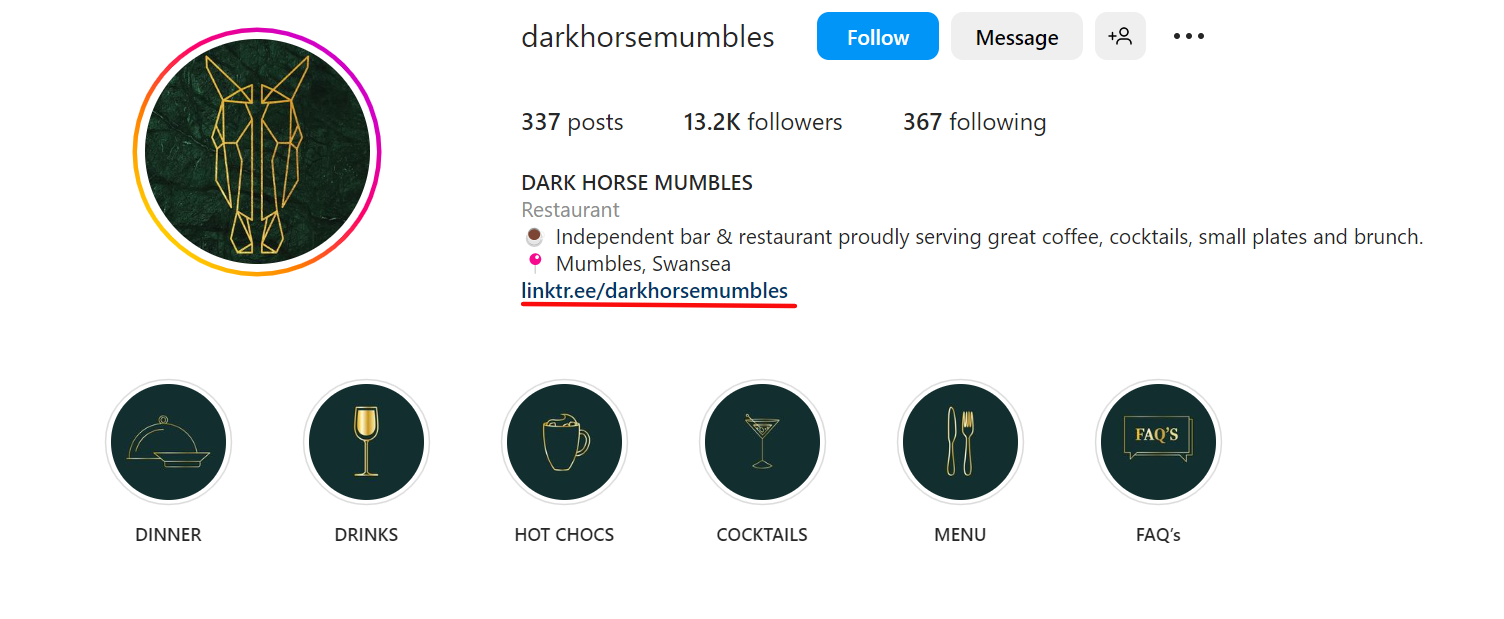 Source: Dark Horse Mumbles on Instagram
By following this link, the visitor can easily check out the restaurant's other sites, including their online reservation form.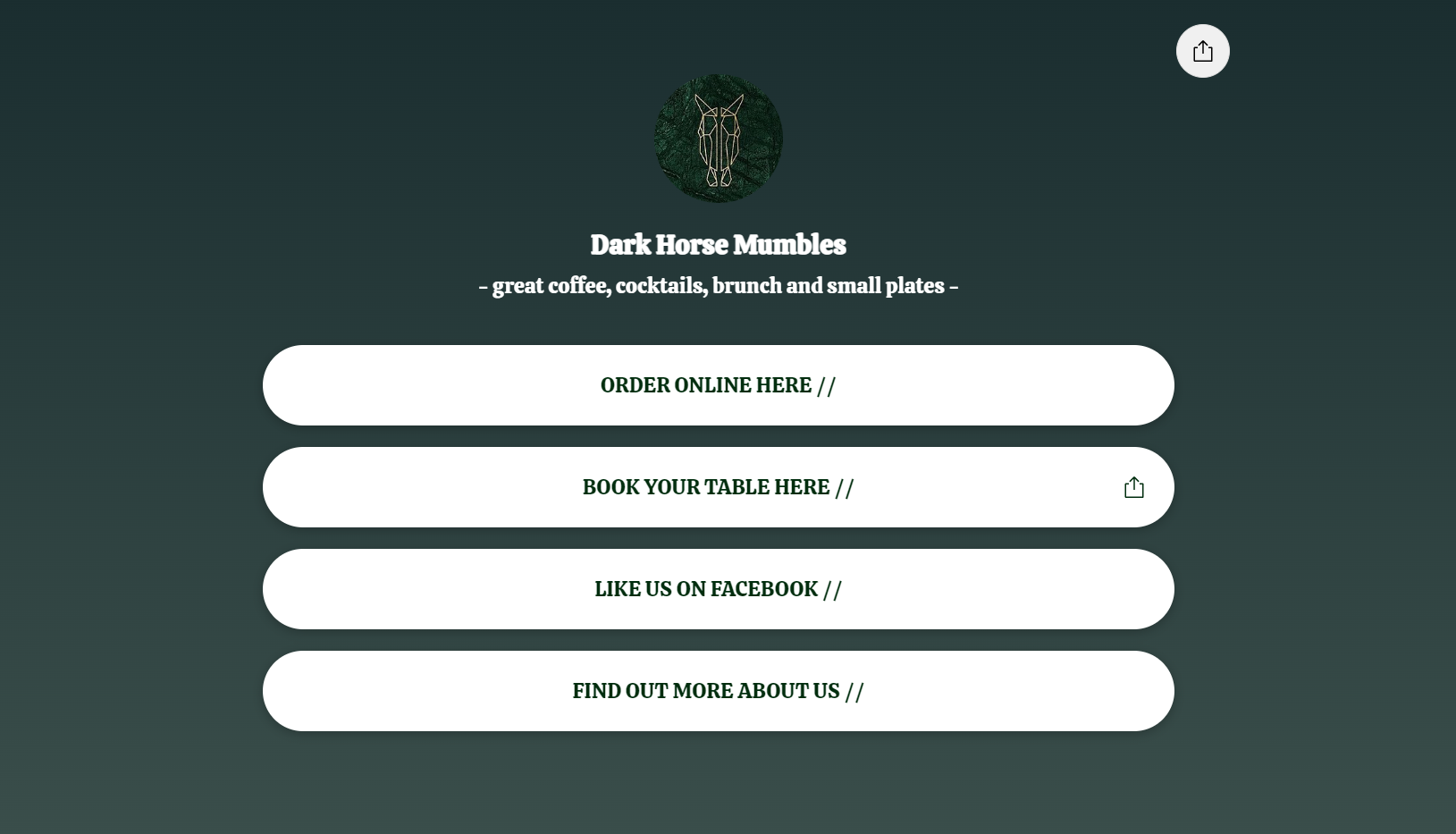 Source: Linktree
In this case, the "Book your table here" button leads to this restaurant's Tablein widget, where the guest can go ahead and choose their desired date, time, party size, and seating area, and complete their reservation with a click.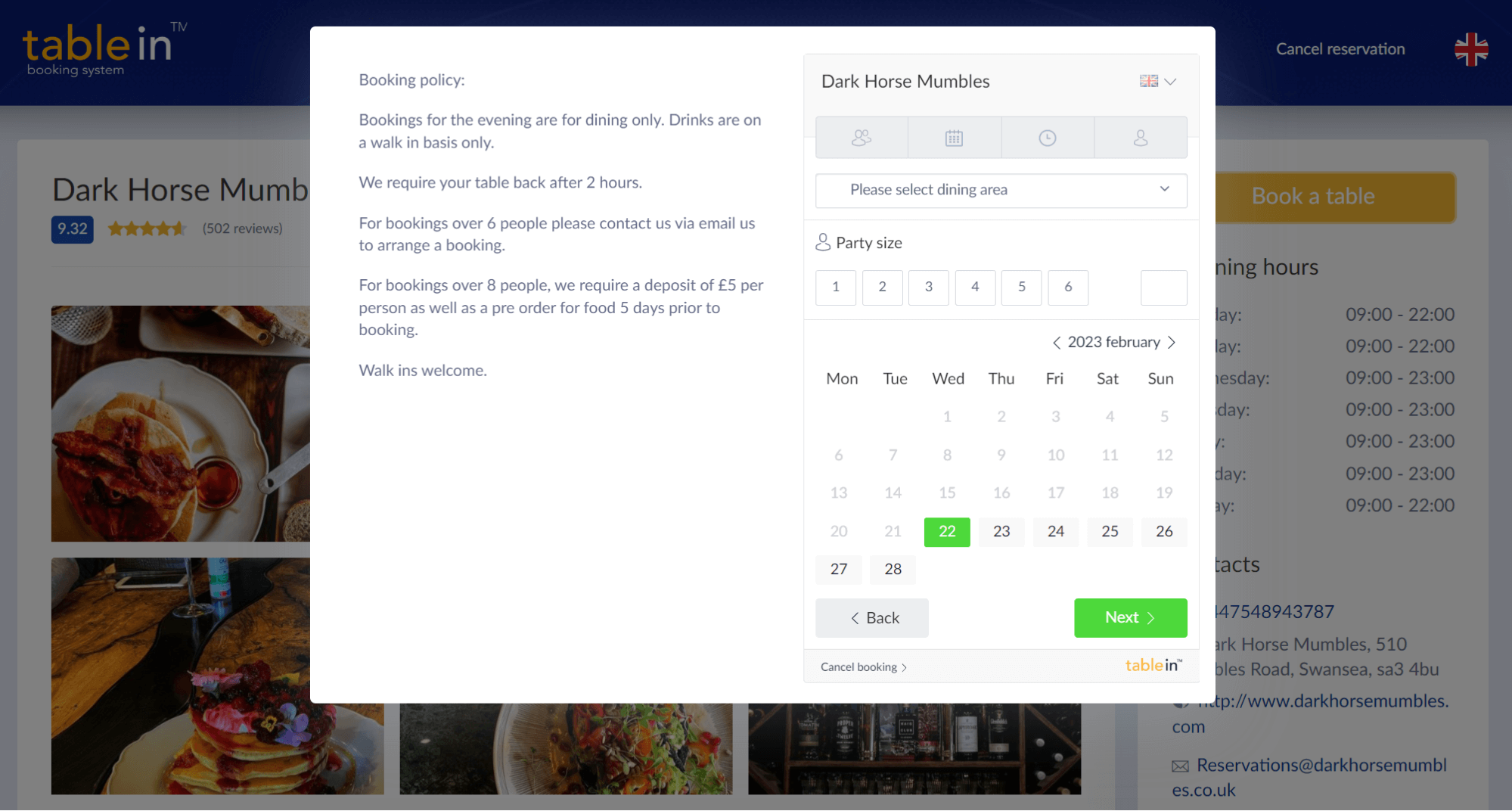 Source: Tablein
Where table reservations are concerned, convenience is the name of the game.
And since such a large portion of your guests will be looking up your establishment on social media, it only makes sense to provide a straightforward booking option on those sights.
That way, you'll be capturing bookings you may have missed otherwise and increasing your sales as a result.
Highlight Your Menu Items
An unspoken rule of the hospitality industry is that seeing is believing.
And the best way for you to get your offer in front of the eyes of your consumers and motivate them to come visit you is by showcasing your menu items on social media.
Content such as high-quality pictures and videos of your food has an immense triggering effect on social media users, and it might be just the thing you need to generate more visits and, therefore, more sales.
Research supports this claim and shows that diners are influenced by social media posts.
Many of them have made visits to restaurants simply because they saw an attractive post highlighting an attractive dish.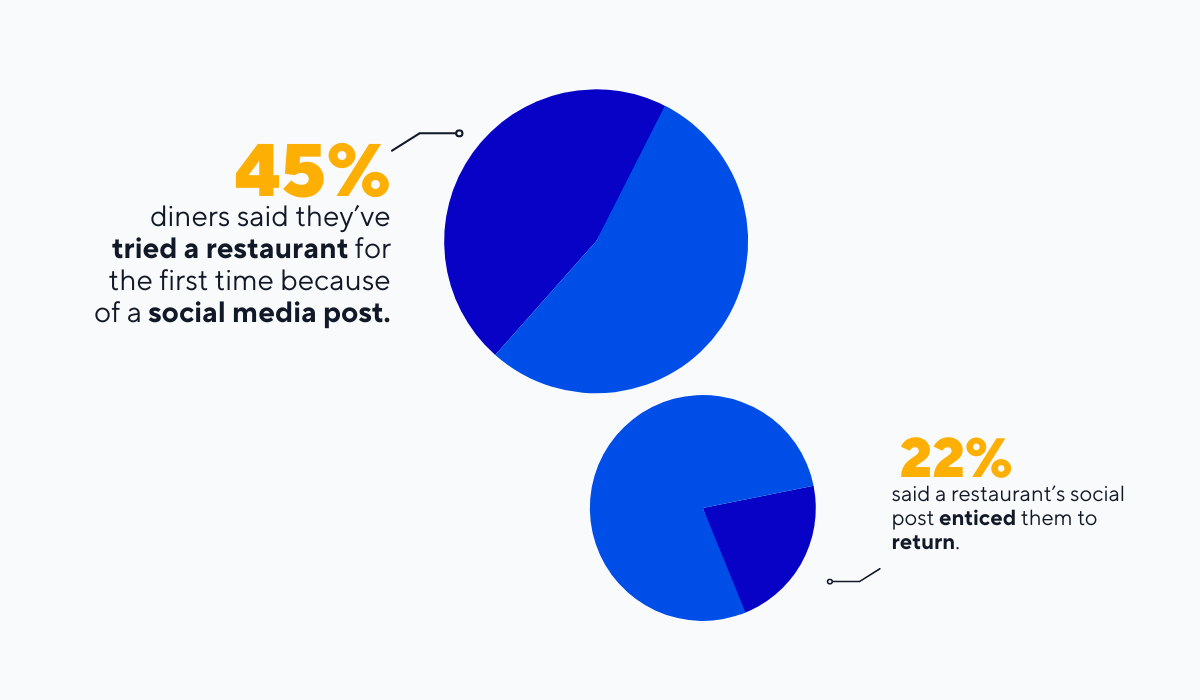 Illustration: Tablein / Data: MGH
Showcasing new items or triggering a pleasant memory from their last visit with a post also motivated many users to return.
Two social media sites stand out here because they're geared toward visual content, making them the perfect resources for highlighting your menu items. They are Instagram and TikTok.
Almost all restaurants of note have an Instagram account these days. And all of them rely heavily on food photography to attract their clientele and generate sales.
Here's a great example from Oxomoco, an NYC-based Mexican restaurant that obviously invests in producing high-quality pictures of their offer.
Source: Oxomoco on Instagram
TikTok provides some even more interesting options.
Restaurants on this video-based social network often post not only the finished dishes but also their cooking process to advertise their chefs' skills and unique culinary techniques.
For instance, have a look at how a traditional molcajete is made in this video from the COA Mexican Eatery in Mount Vernon, USA.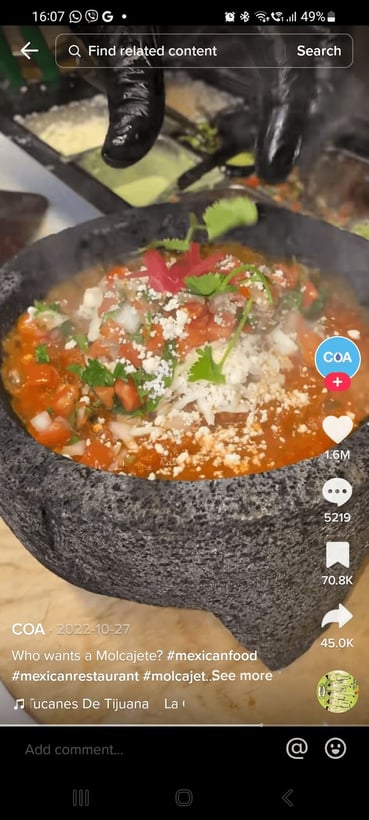 Source: COA on TikTok
Social media provides interesting opportunities for restaurants because it enables you to showcase your offer and entice your audience to try your signature dishes for themselves.
Don't let this opportunity pass you by, and invest in some high-quality content for your social networks.
Promote Special Offers
Since social media has the power to help you reach large audiences as often as you'd like, it's perfect for promoting special offers, events, and discounts.
From a community management perspective, advertising special promotions on social media isn't just good for your sales, it's also one of the best ways to attract more followers and make your audience grow.
That's because promotions are one of the top reasons why people follow brands on social media.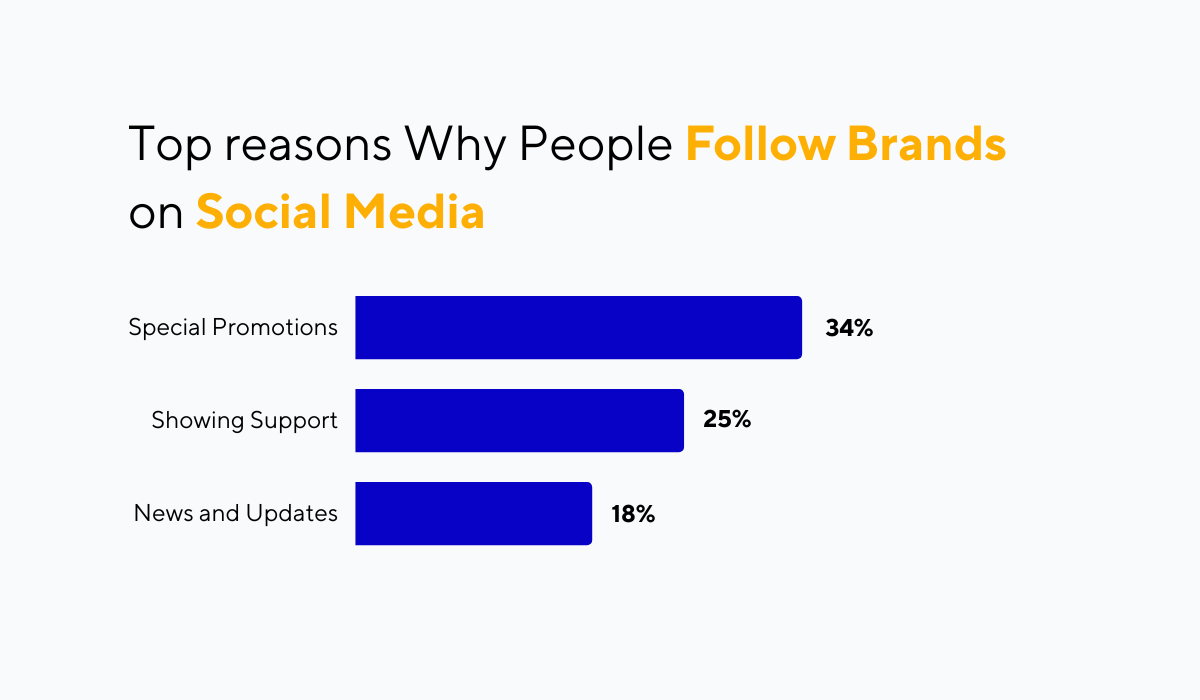 Illustration: Tablein / Data: iSenseLabs
So, in a nutshell, discounts, promotions, freebies, and events have a double benefit.
In the short term, they give your sales a boost because people flock to your restaurant to enjoy a discounted meal.
They also attract more followers to your social media who want to be alerted to such promotions, which also increases your sales in the long term.
The best thing about this is that you can be as creative as you want and post promotions whenever it suits your business.
For example, it's a great idea to plan a promotion as soon as your restaurant opens to spread the word and capture those first sales, like in this example from Crab Du Jour.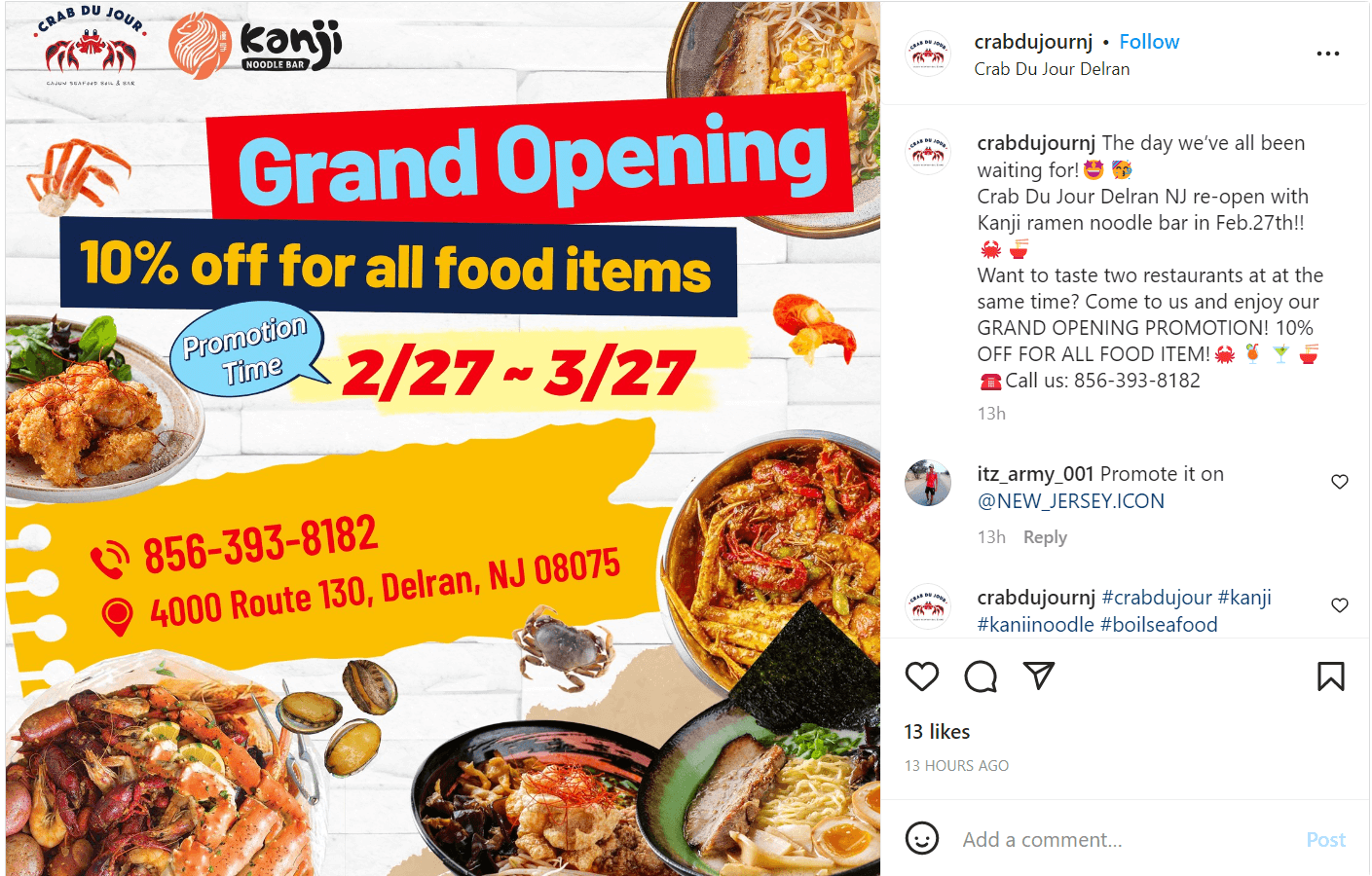 Source: Crab du Jour on Instagram
Another great practice to follow is to advertise discounts and deals, such as a happy hour for some of your menu items.
This is an excellent way to fill up your restaurant during those slower times of the day, outside of lunch and dinner service.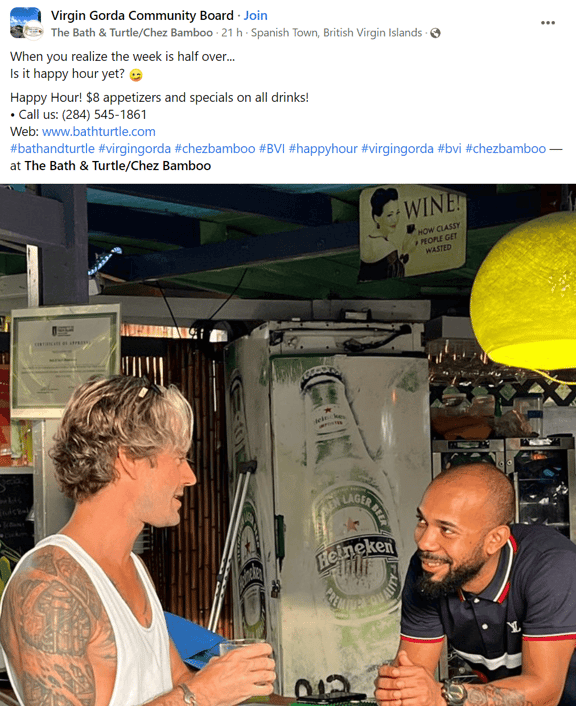 Source: Virgin Gorda Community Board on Facebook
Special promotions are a sales magnet and can help you boost foot traffic in your restaurant whenever you need to.
However, nobody will know about them unless you have a reliable, wide-reaching channel for communicating them.
Social media is exactly this kind of channel so use it to your advantage and get the word out about the deals you've prepared for your valued customers.
Hold Social Media Contests
To build on an important point from our last section, certain types of content can help you engage your audience and increase your following.
Besides special promotions, this also includes social media contests.
These kinds of activities require active participation from your followers, and people are usually happy to oblige.
In fact, marketing research tells us that user-generated content, the result of holding social media contests, gets almost 30% more engagement than standard posts from you as the page owner.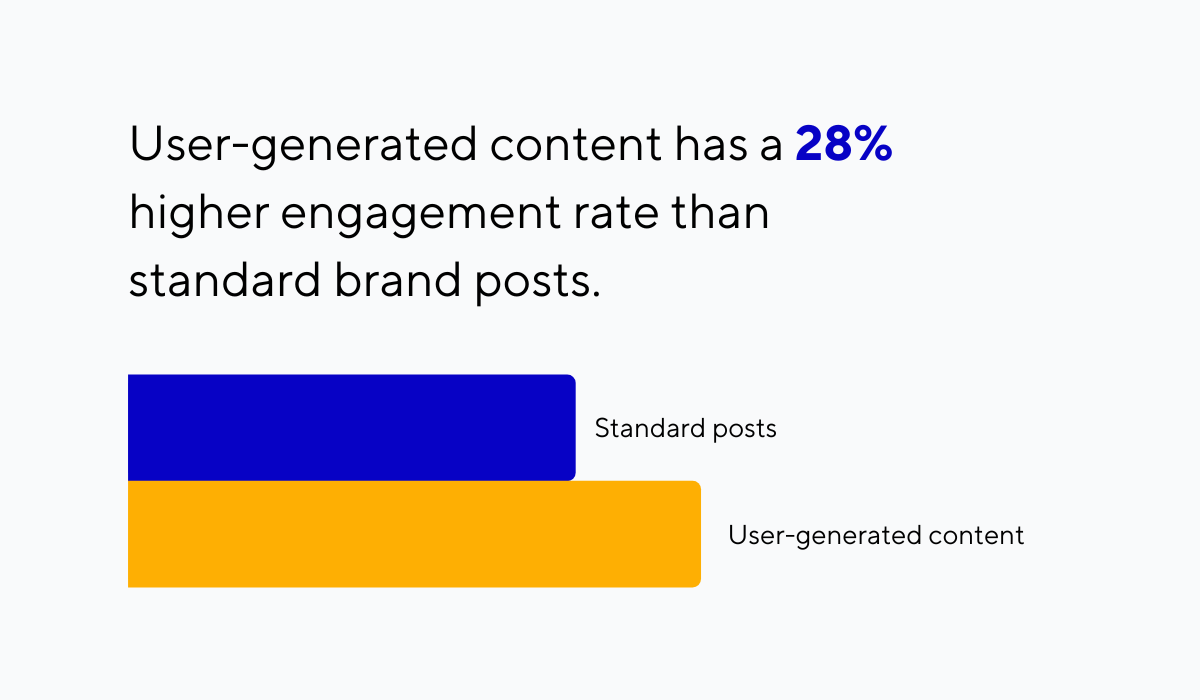 Illustration: Tablein / Data: Comscore
If you're not clear on how exactly this would work, let's explain further with an example.
Let's imagine that your restaurant has a stunning location or interior design.
In that case, you could hold a contest in which patrons would take selfies in your restaurant and post them to their own social profiles and tag you in the photos.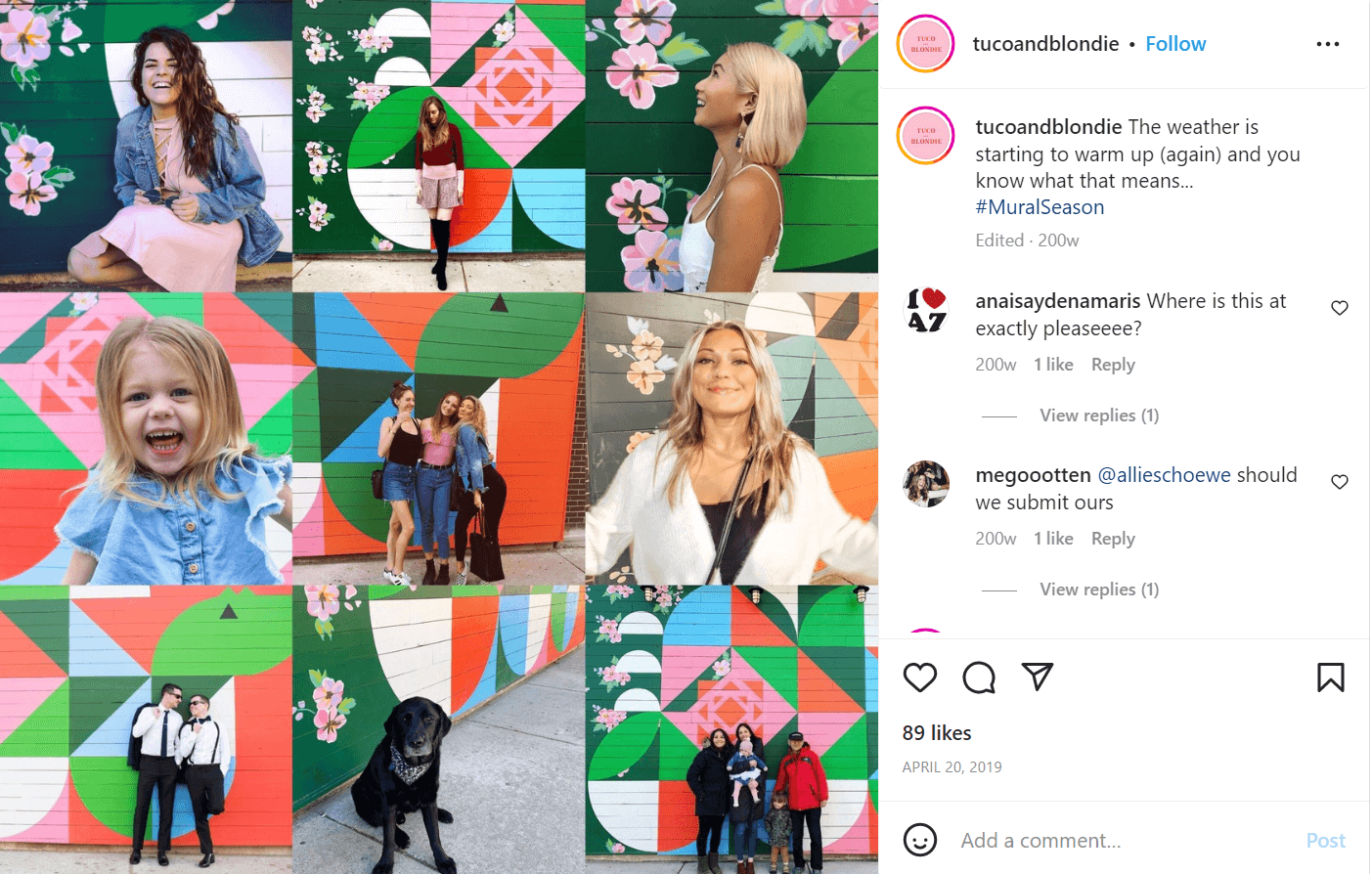 Source: Tuco and Blondie on Instagram
By entering the contest and creating content for you, your followers would be sharing your restaurant with people in their network, generating more visits to your social media (thanks to the tag), and, hopefully, your restaurant.
Of course, no contest is complete without a reward for the luckiest contestant. This can be a free meal for two at your restaurant or a gift card the winner can use whenever they like.
Once you've picked out a winner, you can make a special announcement on your own page to call out the winner and invite them to claim their prize.
And just like that, you've completed one of the most engaging marketing campaign types for the price of a meal at your restaurant!
Social media contests add a little bit of excitement to your community management strategy, and you can count on your followers to participate.
The buzz created this way is sure to spread the word about your restaurant and bring more people to your door.
Share the Good Reviews
Another type of user-generated content you should pay attention to are your reviews.
Some social media sites allow you to receive feedback directly on your page, where it's visible to others.
It's important to allow this feature on your page because consumers value reviews like these much more than any kind of advertising, meaning this resource can be a way to persuade visitors to come try out your offer for themselves.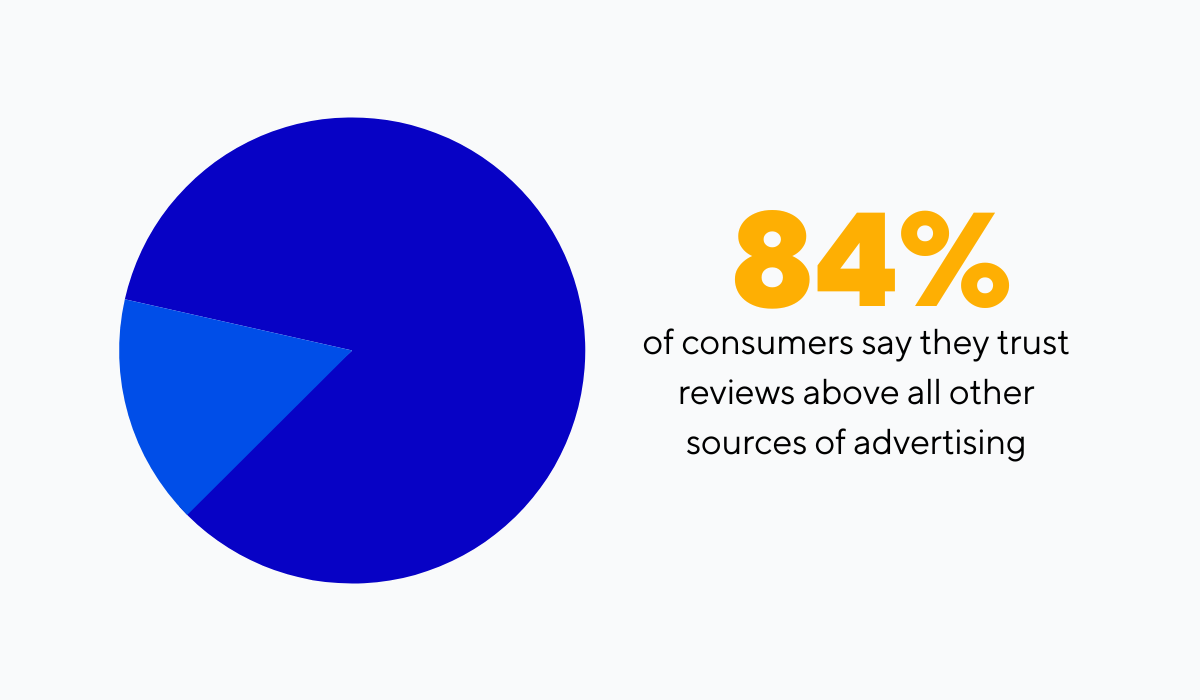 Illustration: Tablein / Data: Medium
Facebook's review section, for example, can be found under the "Community" section, where everyone is free to post and talk about their experience with you.
Here's a great example, where a guest compliments the excellent service they received on their visit: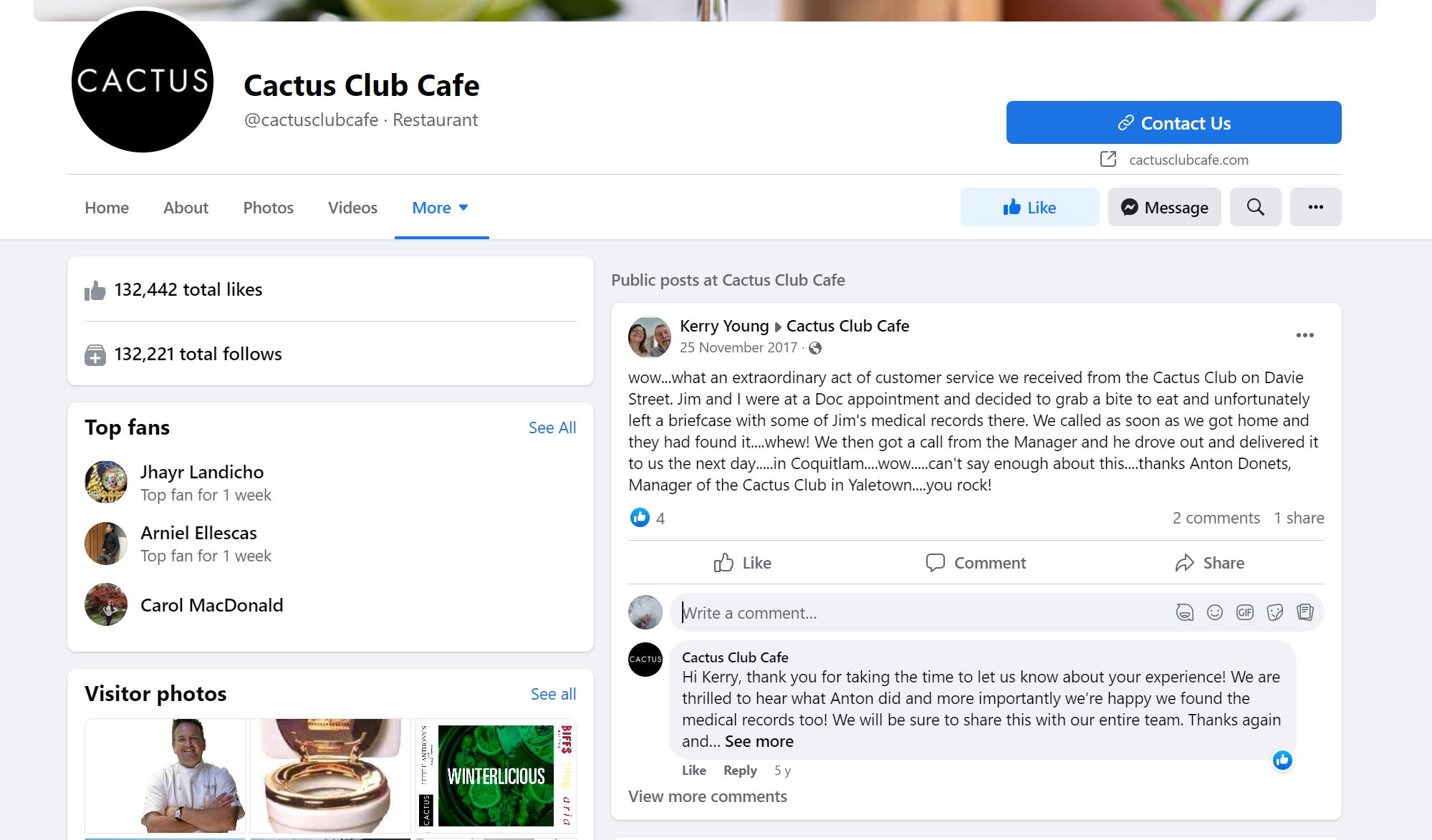 Source: Cactus Club Cafe on Facebook
The neat thing about Facebook's Community feature is that the restaurant can respond to the review and thank the poster, which allows for a nice opportunity to engage with your customer and build a relationship with them.
That's a great way to inspire loyalty and motivate customers to return, creating new sales opportunities.
This isn't the only way to share reviews, mind you.
You can also monitor what guests are saying on review platforms such as Google Business, Yelp, and Trip Advisor and create posts quoting your most favorable reviews.
Like in this example from Stella Artisan Italian: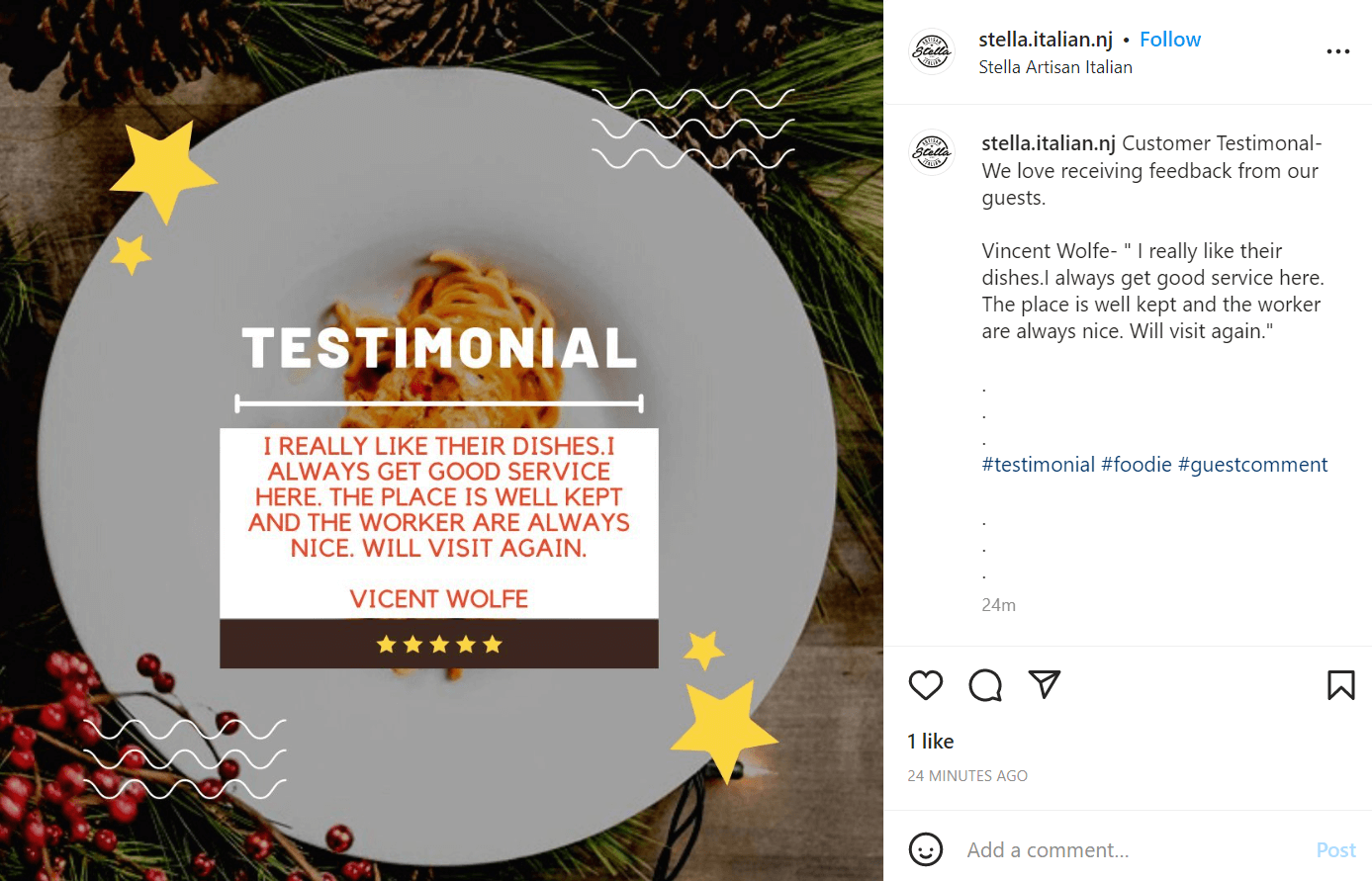 Source: Stella Artisan Italian on Instagram
Reviews like this are gold to restaurant owners because they enable them to advertise how good their offer is without tooting their own horn.
This convinces guests that they will have an equally good experience as the reviewer and motivates them to dine with you.
Remember, guest reviews are your most dependable way of attracting new customers because they're authentic and valued more than any type of advertising.
So share favorable reviews on your social media from time to time to show people you're operating a quality business.
Conclusion
A key takeaway from this article is that social media allows you to paint a clear picture of what makes your restaurant special and why guests keep coming back.
This is possible thanks to the ability of social media to reach large audiences using assets like links to your web, multimedia, and good community management practices.
Use the tips we outlined in this article to get the word out about your offer and see sales grow, as guests simply cannot resist coming to your restaurant to see what all the fuss is about.
10 Social Media Tricks to Attract More Customers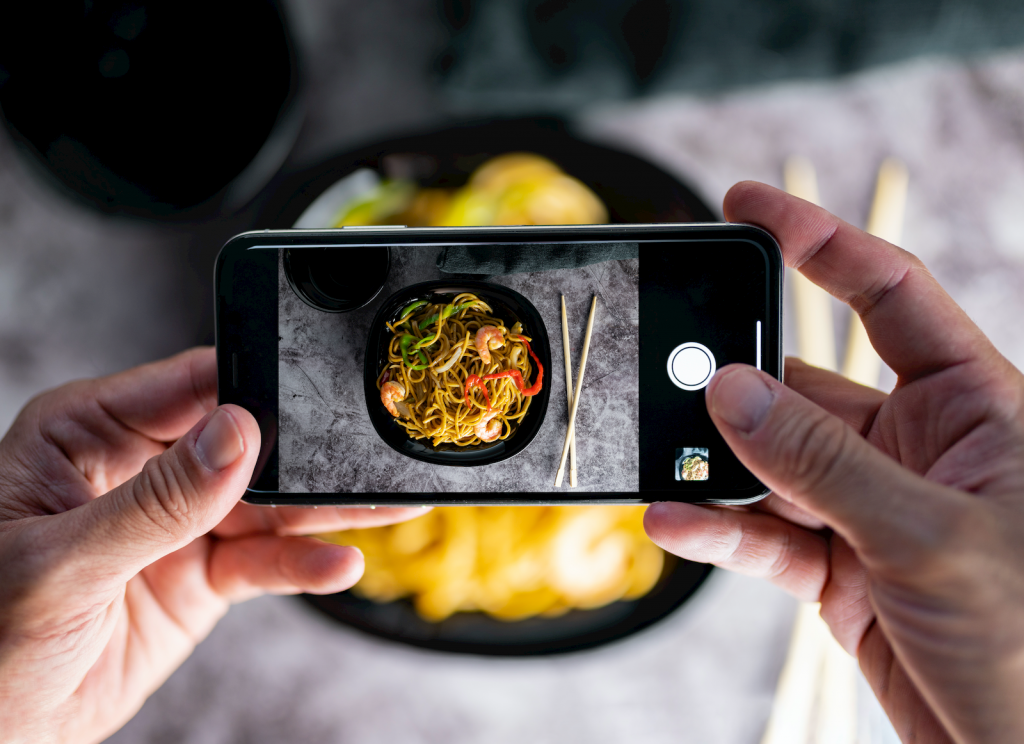 10 Social Media Tricks to Attract More Customers
Feb 4, 2020 5:55:49 PM
4 min.
How Does an Online Restaurant Booking System Work?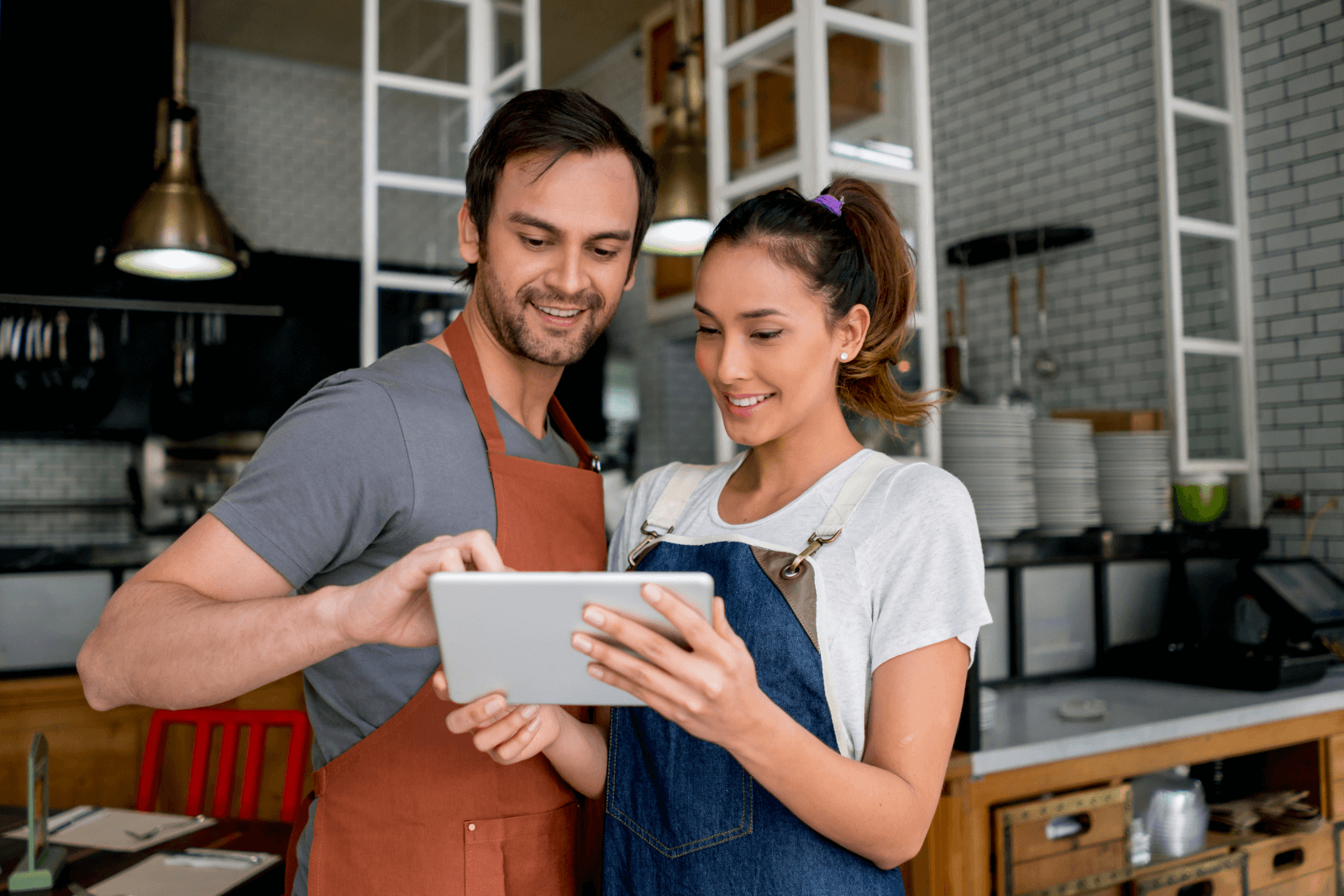 How Does an Online Restaurant Booking System Work?
May 25, 2023 12:03:01 PM
11 min.
How to Boost Your Restaurant Lunch Sales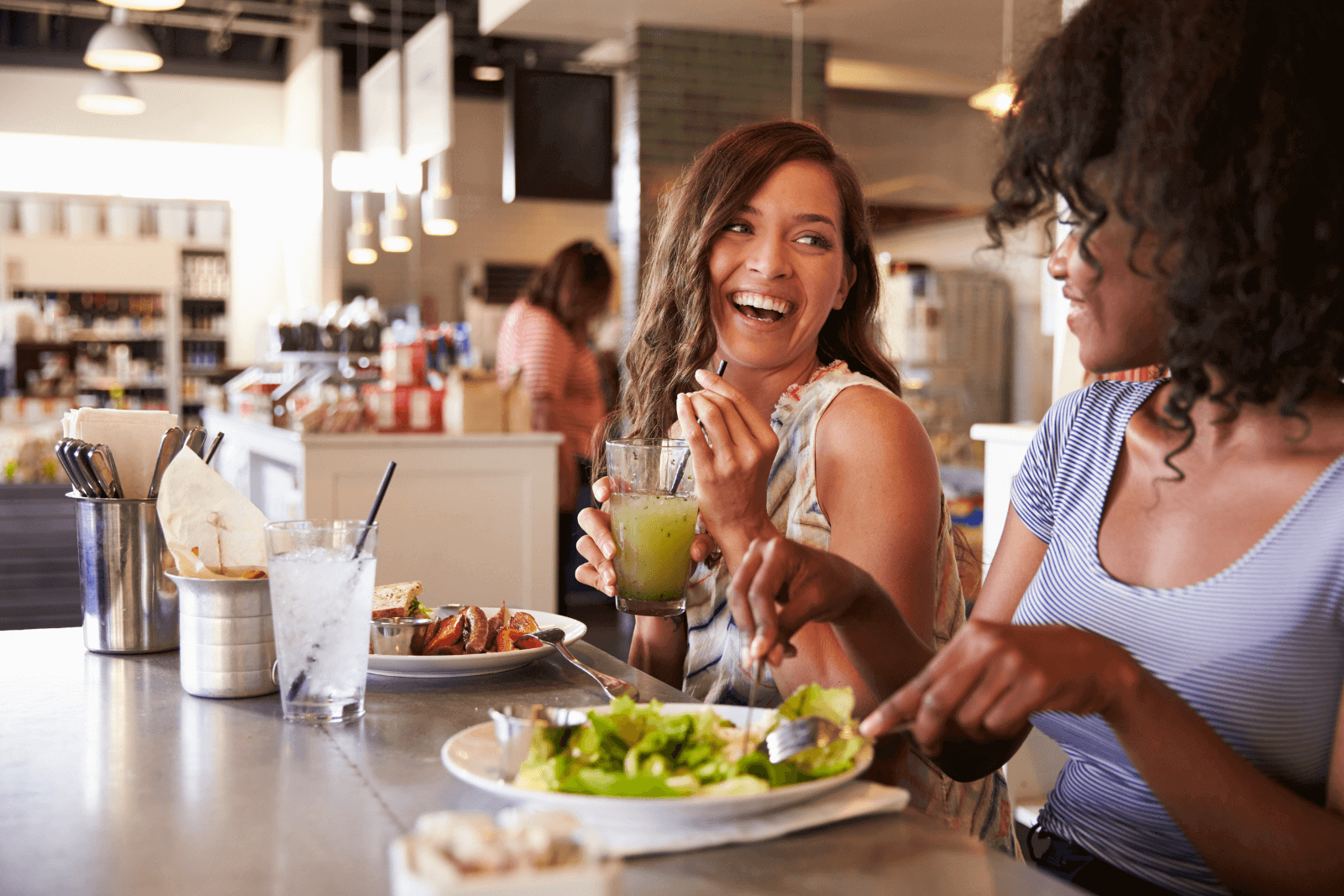 How to Boost Your Restaurant Lunch Sales
Jun 29, 2023 4:04:51 PM
9 min.