One of the crucial aspects of running a successful restaurant is getting enough reservations to fill your tables. A small number of reservations can drastically impact your revenue, while also creating challenges for your business.
However, with a proper strategy, it can be easier to keep up with the competition and attract diners to your establishment.
This article aims to give you seven practical tips to help you get more guests to book tables at your venue.
We will cover some essential aspects, from optimizing your online presence to creating different promotions and events.
Let's start with our first tip—optimizing your restaurant's website for mobile devices.
Make Your Website Mobile-Friendly
In an increasingly smartphone-driven world, optimizing websites for mobile devices is key to capturing the attention of potential customers.
There's been a seismic shift in web traffic sources over the last decade. Ten years ago, desktop computers held the lion's share of web traffic, amounting to 82.98%.
Today, the tables have turned, with mobile devices steadily gaining the upper hand year after year.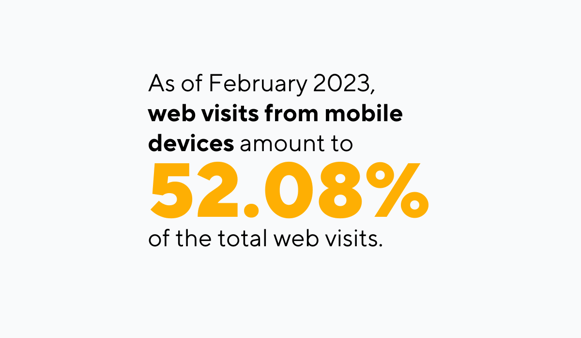 Source: Oberlo
What's the takeaway from this statistic?
Simply put, potential customers are more likely to stumble upon your restaurant while casually browsing the web on their smartphones.
This being the case, their first impression should be of a sleek, mobile-friendly website that's easy to navigate.
Let's put this into perspective. Consider the following images of two versions of the same restaurant's website.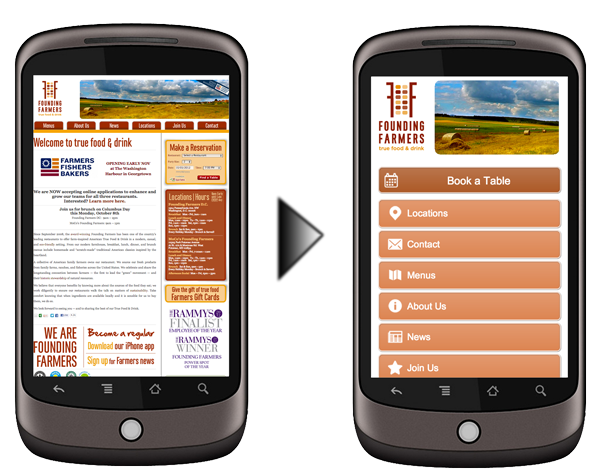 Source: EworksWSI
Notice the difference? One is not optimized for mobile, with tiny text fonts, illegible buttons, and poorly sized images.
Contrast this with the second version—a mobile-optimized site where every element is clear and easily accessible, making for a smooth and enjoyable user journey.
Now, ask yourself—which of these websites would make it easier for you to book a table? The answer is pretty clear, isn't it?
An optimized website is more inviting, and makes the reservation process a breeze.
So, with an optimized site for your business, you'll make it easier for diners to discover your restaurant and make it straightforward for them to book a table when they decide to do so.
Use a Clear Call to Action
Once you've got a top-notch website up and running, it's time to guide your visitors toward making a reservation with a clear call to action.
This statement is true for both desktop and mobile-optimized websites.
Why? Well, you can think of the call to action (CTA) as your digital maître d', ushering your website visitors towards the desired end goal—booking a table.
But here's the thing, many websites handle crafting their CTAs poorly, making several mistakes, some of which are illustrated below.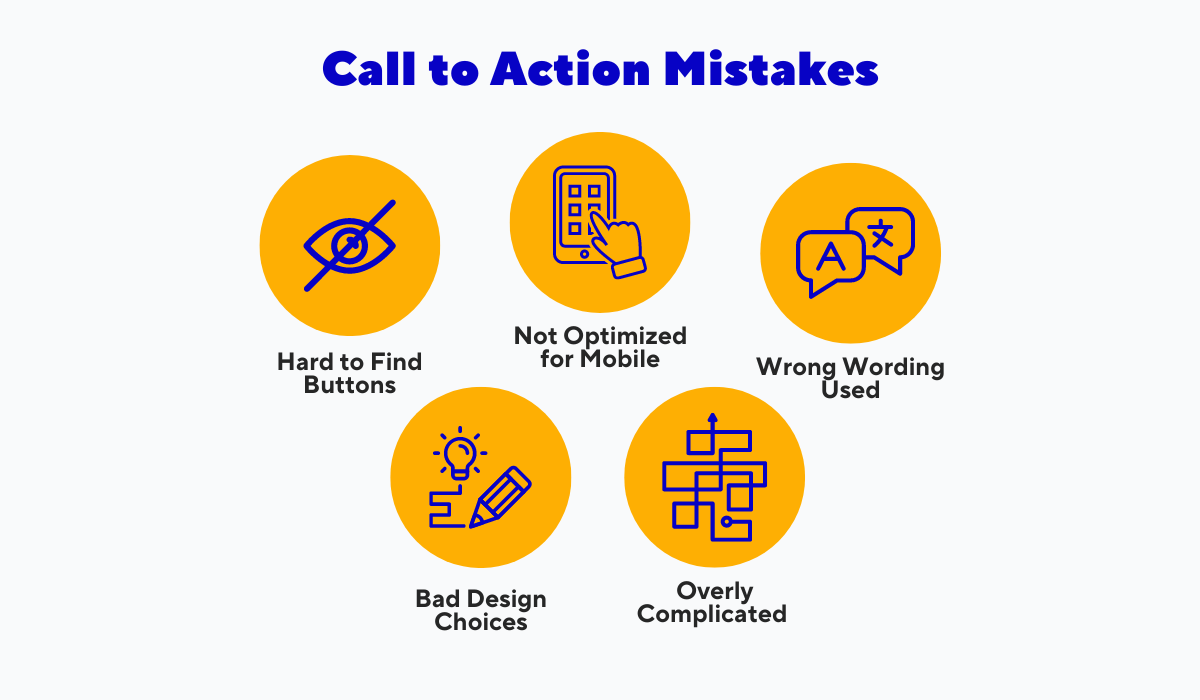 Illustration: Tablein / Data: Sumo
These mistakes can range from making it unnecessarily difficult for visitors to book a table to outright confusing users with obscure CTA messages and poor button design choices.
Imagine stumbling across a Book button hidden in a corner or a Reserve button in a shade so light it's almost invisible!
Or worse, being confronted with a Click Here message that leaves you wondering, "Click here for what?" It's enough to make any potential diner click away in frustration.
Now, contrast that with the following example of a simple, clear, and effective CTA.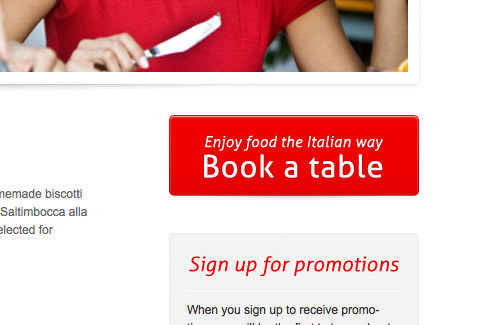 Source: Hongkiat
A potential diner that lands on this restaurant's page will immediately be drawn to this eye-catching CTA.
The red color leaps out, and the catchy promise of enjoying food the Italian way is simply too tempting to ignore.
They're more likely to click, and voila, they're on their way to booking a table.
By incorporating a persuasive and well-designed call to action, you'll make it more tempting for guests to click, driving them to book a table at your establishment.
Make Online Reservations Possible
What better way to streamline the reservation process after the guests click on a CTA button than by enabling them to book a table right then and there, online?
Online reservations are a must-have for food establishments as they make the booking process as effortless as possible.
Consider the alternative—guests calling your staff and encountering a busy line or trying to get in touch when your diner isn't working.
These inconveniences can quickly lose you a reservation.
People appreciate being able to book a table at any time with just a few simple steps.
And once they experience the benefits of online booking, they are more likely to stick with it for future reservations.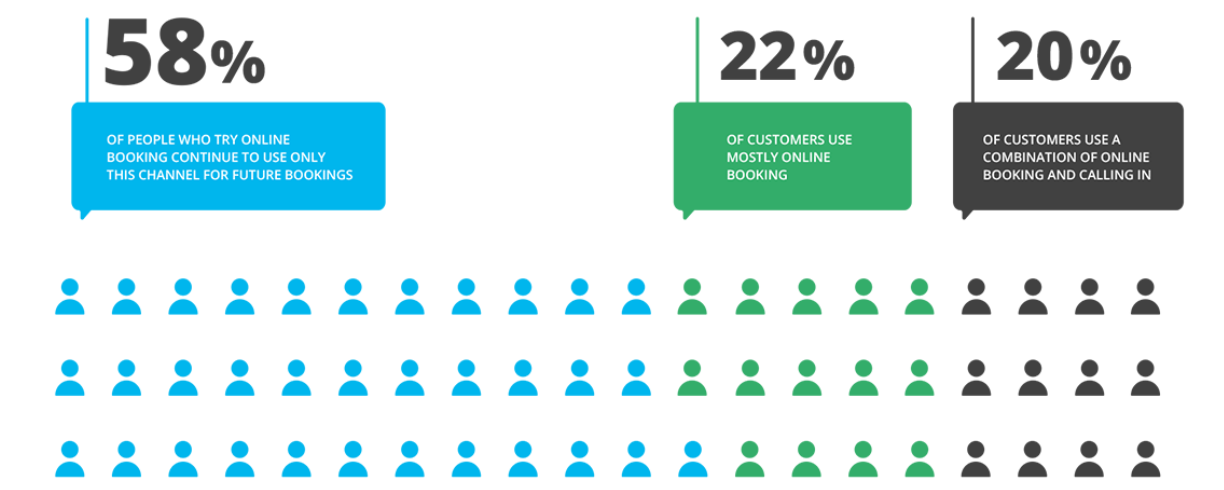 Source: Zenoti
Online booking works like a charm because it's straightforward.
No waiting for someone to pick up the phone, no need to conform to the restaurant's working hours. It's like having a reservation desk that's open 24/7.
However, the choice of an online booking tool is crucial.
Let's take a look at Tablein, our online table reservation system built with ease of use in mind, for both guests and restaurant staff.
Regarding bookings, Tablein is a solution that offers a sleek and streamlined way for guests to secure a table.
Just look at the intuitive and user-friendly interface of the booking widget depicted next.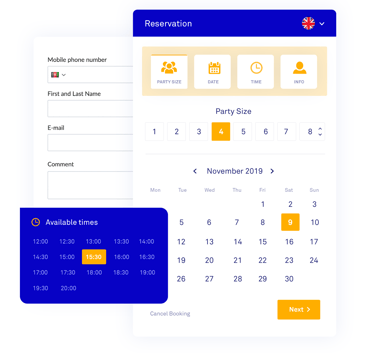 Source: Tablein
Tablein is designed with simplicity as a priority. Just a few clicks, and guests have their reservation locked in—no need to decode confusing layouts or navigate through endless pages.
The goal is to take the fuss out of the booking process and let guests look forward to their meal instead.
To summarize, convenience is king, and offering online reservations through a tool like Tablein can enhance the guest experience and streamline the booking process.
Promote Your Restaurant on Social Media
Harnessing the power of social media to promote your restaurant can significantly expand your reach and increase the number of those much-needed reservations.
But why are these platforms so essential?
These digital platforms are the right place to showcase your restaurant's personality, entice users with mouthwatering food images that show your menu in the best possible light, announce events, and engage with your community.
Also, social media platforms have a vast number of users that you can view as potential diners.
Instagram is one platform you should definitely consider using to promote your restaurant and attract bookings from its large user base.
Let's have a look at the Indian restaurant DhaMaKa, an establishment that truly knows how to make Instagram work in its favor.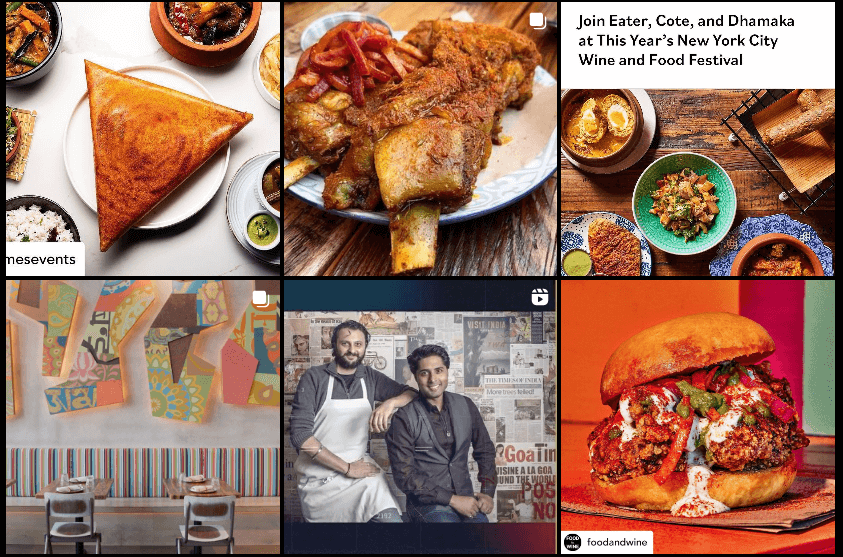 Source: Instagram
By showcasing their delectable meals, promoting events, and giving us a glimpse of their vibrant ambiance and friendly staff, they're enticing users that stumble upon their account to wish to experience their restaurant firsthand.
Once you captivate users with your profile, adding a booking button or link on your social media pages can convert them to guests.
Consider the restaurant Dark Horse Mumbles, which has a Linktree in its Instagram bio, taking you to the page shown in the next screenshot.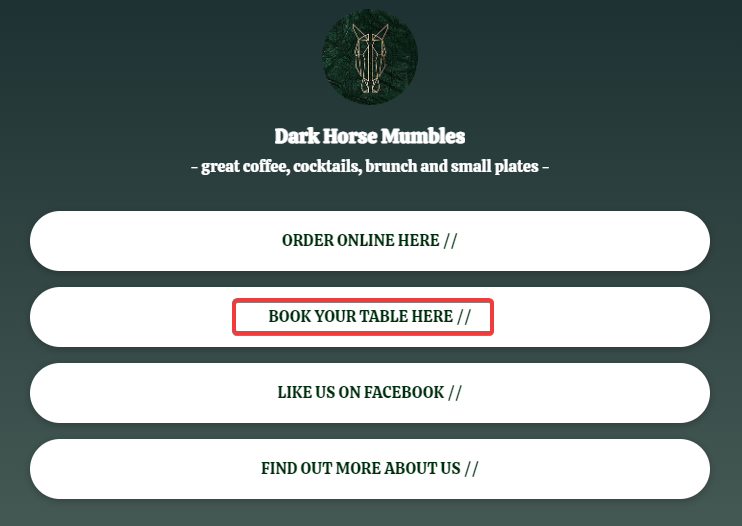 Source: Linktree
Clicking the Book Your Table Here button takes you to their Tablein widget, where guests can quickly make a reservation.
Remember, creating an engaging social media presence is not just about getting likes or shares. It's about turning those likes into reservations and those shares into diners.
Offer Appealing Discounts
One of the things you can do on social media is to use it to promote appealing discounts that can entice diners to your restaurant.
Discounts are a tried and true way to attract diners and boost reservations.
Everyone loves a good deal, and offering various promotions and discounts tailored to your guests can be an attractive enough option for them to reserve a table.
To start thinking of which promotions and discounts to implement, you can look at the following graph, showing the most enticing offers according to a survey of 1,000 consumers.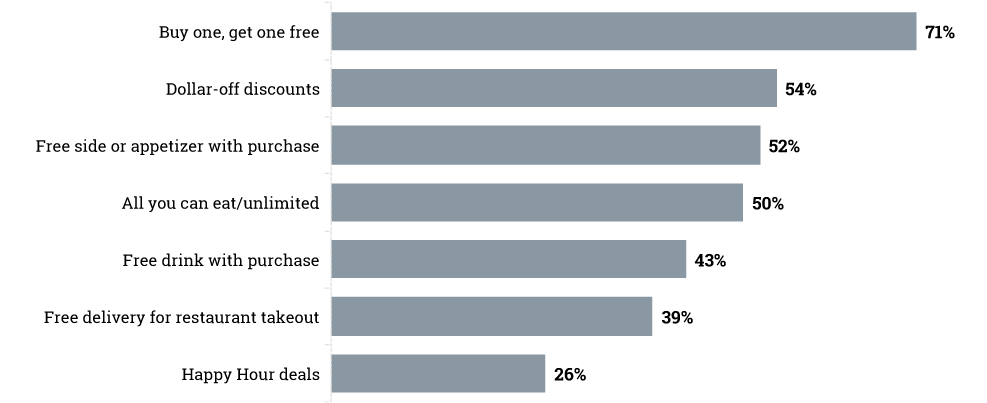 Source: MarketingCharts
As you can see, simple dollar-off discounts are the second most popular option on the list.
So, you may decide to make discount offers for large groups to attract reservations for larger group gatherings, parties, or even corporate events.
Or how about following the example of Santript, a restaurant which offers a 10% discount for guests who choose all-day dining at their establishment?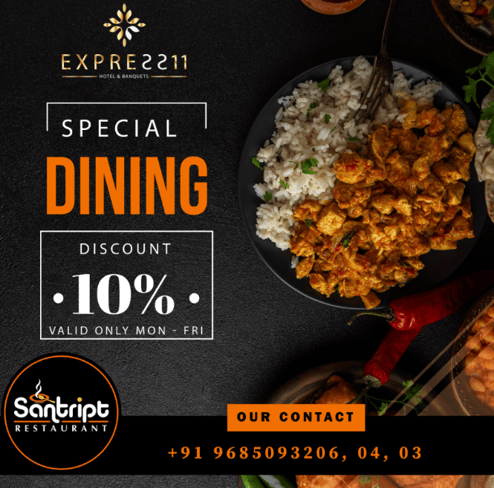 Source: Facebook
Imagine a potential diner scrolling through their Facebook feed and stumbling upon this offer.
At the very least, they may open Santript's profile and look at their breakfast, lunch, and dinner options. And if they like what they see, they may book a table.
Affordable and attractive offers are an excellent incentive for guests to come to your restaurant wanting to take advantage of a way to save money and have a pleasant dining experience.
Host Special Events
Our sixth piece of advice is to host special events at your eatery, as they can create a buzz around your restaurant and draw in new and existing customers.
Special events can be a magnet for reservations because they offer unique experiences that can't be replicated at home or at any other place.
These opportunities allow patrons to engage in an exclusive dining or learning experience that is not typically available, making it a sought-after occasion.
And, like with every desirable and unique experience, guests will be quick to make a reservation so they don't miss out.
Let's look at an example, considering the special event offered by the Denmark-based restaurant Barr.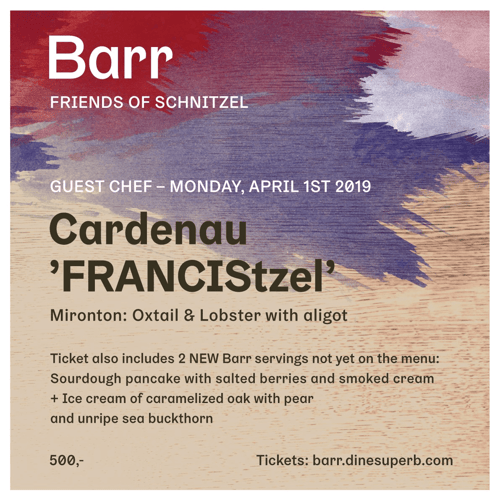 Source: Barr
As you can see, Barr has a creative event where they get guest chefs to come and prepare Barr's regular menu dishes as well as two unique meals.
A guest chef event like this one can attract curious foodies eager to taste innovative dishes and experience a different cooking style.
The event ideas you can think of are endless, and we will list out just a couple to get you inspired:
Holiday celebrations
Wine tastings
Live music events
Sports event view parties
Karaoke nights
Everyone wants a memorable dining experience once in a while, and hosting some of these events can be a great way to increase bookings.
Start a Newsletter
Keeping guests informed about your discounts, events, and other offers is key, and a great way to do so is through a newsletter.
In our digitally connected world, newsletters serve as a direct line of communication with your customers, and their appropriate usage can allow you to regularly reach out to your customers and keep them in the loop with frequent updates.
The email itself should be informative, short, and pleasant. Take a look at an email sent by Ask Italian to their new newsletter subscribers as an example.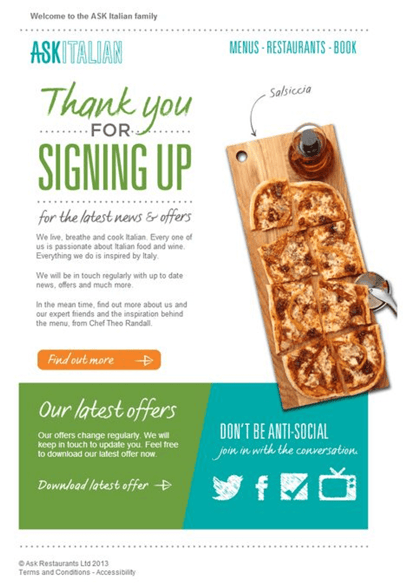 Source: Flodesk
As you can see, their approach involves sending a friendly, welcoming email thanking their new subscribers and informing them that they can expect regular news and offers about the family of Ask Italian restaurants sent to their inbox.
However, no matter the quality of an email, timing is everything when it comes to newsletters.
Look at the following image to get a general idea of the best days to send an email.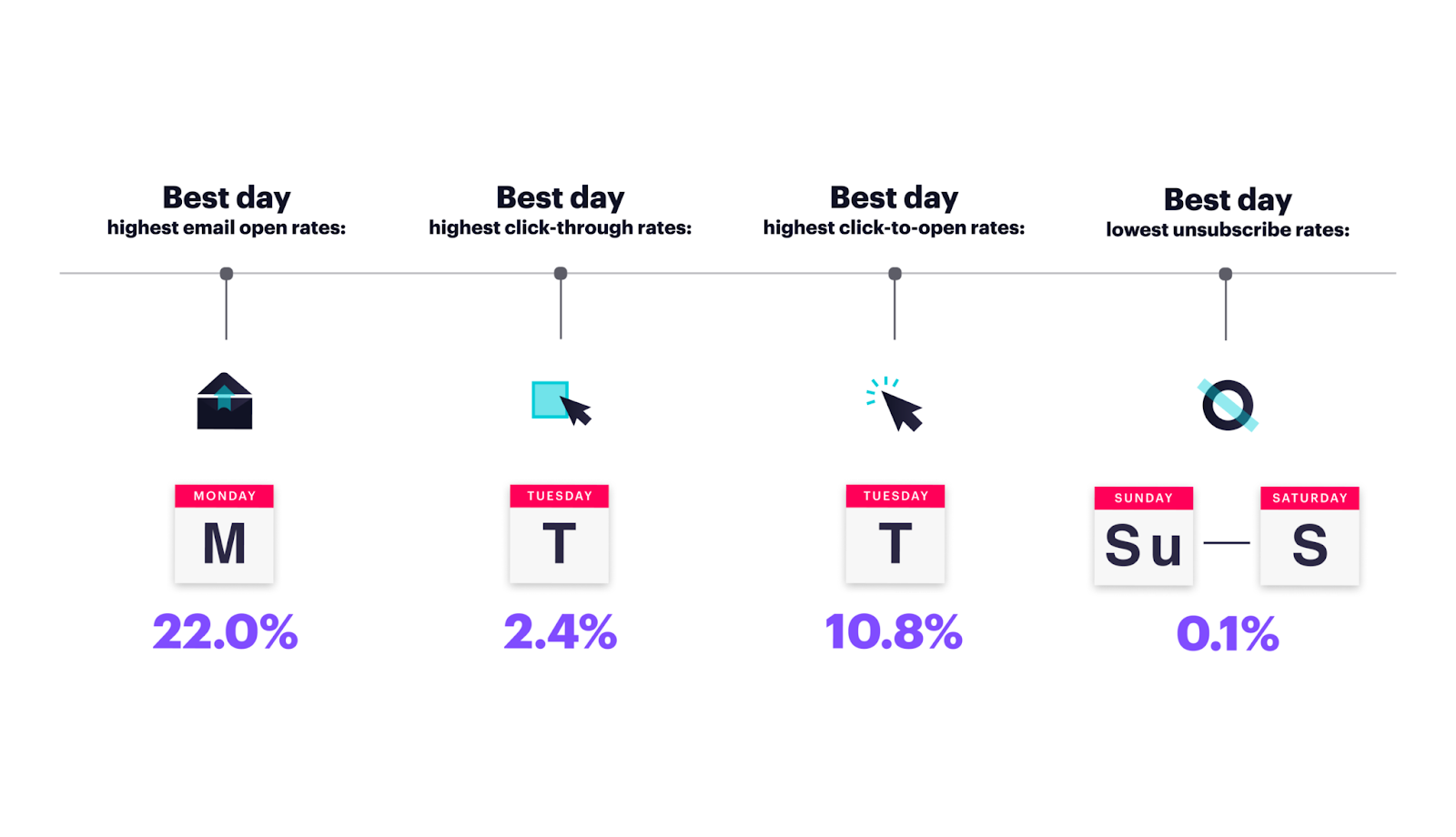 Source: CampaignMonitor
The image above reveals the days when your audience will most likely engage with your content, and taking these days into account can increase your open, click-through, and click-to-open rates, as well as prevent guests from unsubscribing.
Say you plan on putting a Book Now button in your email.
Then you might want to consider sending it on Tuesday, as guests will have a bigger chance of clicking it and booking a table.
Or, if you want to send an informative update about a new menu item and attract diners to try it out, you might want to send a mail on Monday and increase the chances of your audience opening it.
To conclude, a well-crafted and strategically timed newsletter can be a powerful tool in your reservation-boosting toolkit.
Conclusion
Throughout this article, we've explored seven essential tips that can help you attract more customers and boost your restaurant reservations.We hope that we have inspired you to try some of these practical suggestions yourself and use them to enhance your restaurant's appeal to potential guests.
By implementing these tips, we believe you will improve your establishment's visibility and streamline the customer reservation process.
In addition, the different ideas for promotions, discounts, and events we've provided can guide you to create tailor-made offers that will make your eatery stand out.
Now, armed with this knowledge, go forth and transform your restaurant into a bustling hub of satisfied diners and thriving reservations.
Best Practices for Creating a Seamless Restaurant Reservation Experience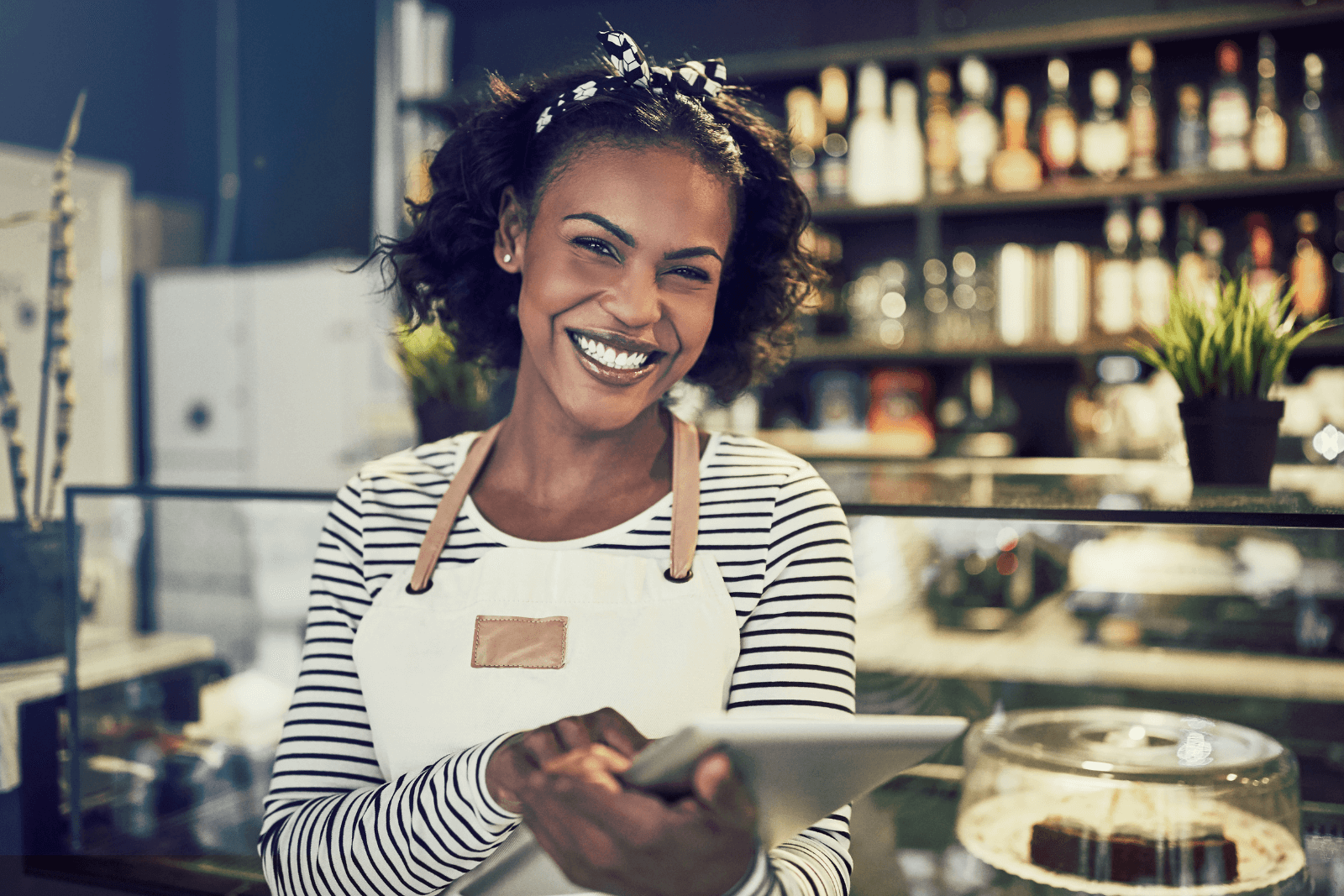 Best Practices for Creating a Seamless Restaurant Reservation Experience
Jun 27, 2023 12:28:51 PM
11 min.
Top 7 Features a Restaurant Reservation Software Needs to Have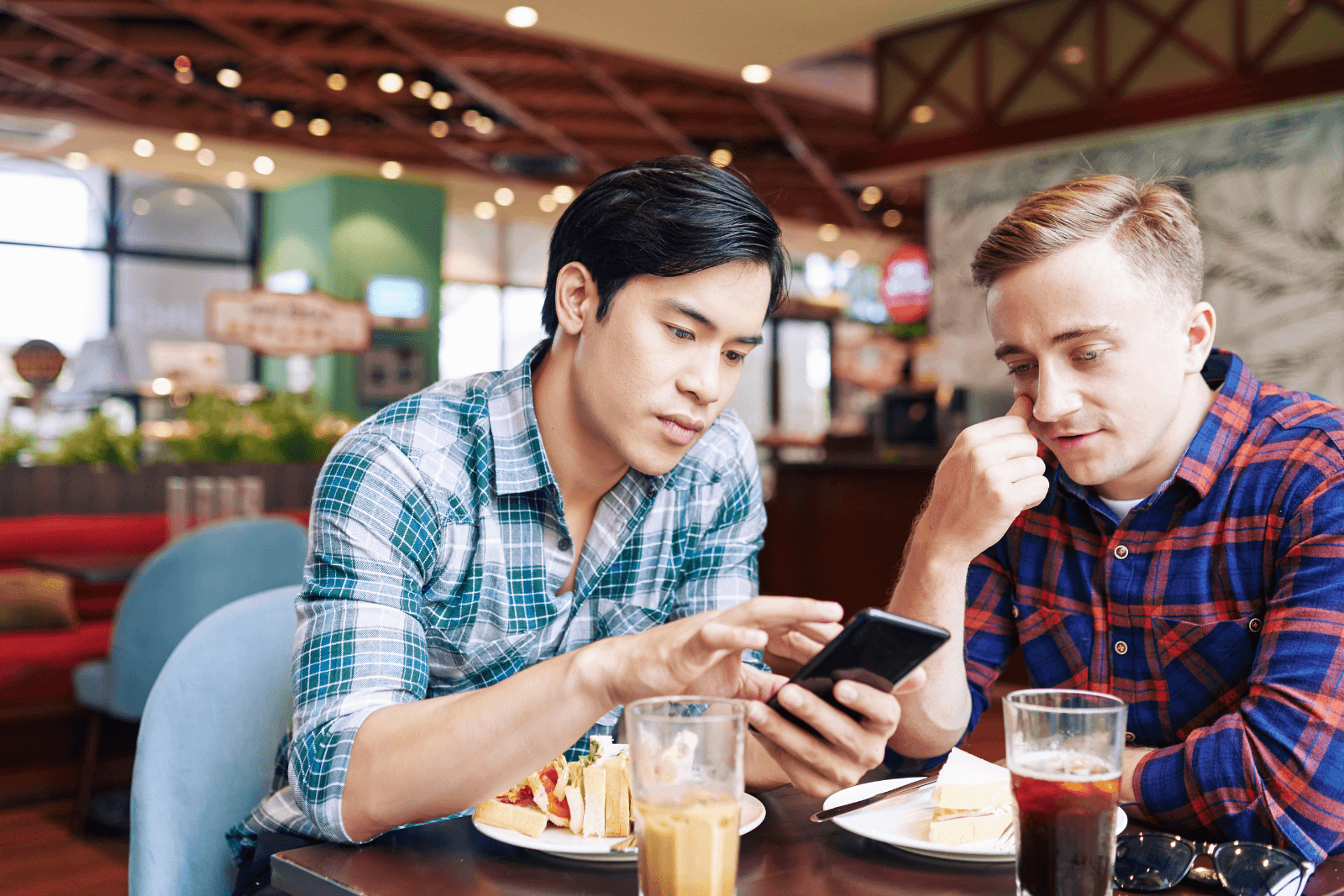 Top 7 Features a Restaurant Reservation Software Needs to Have
Apr 27, 2023 4:59:28 PM
11 min.
The 12 Best Online Restaurant Reservation Software Solutions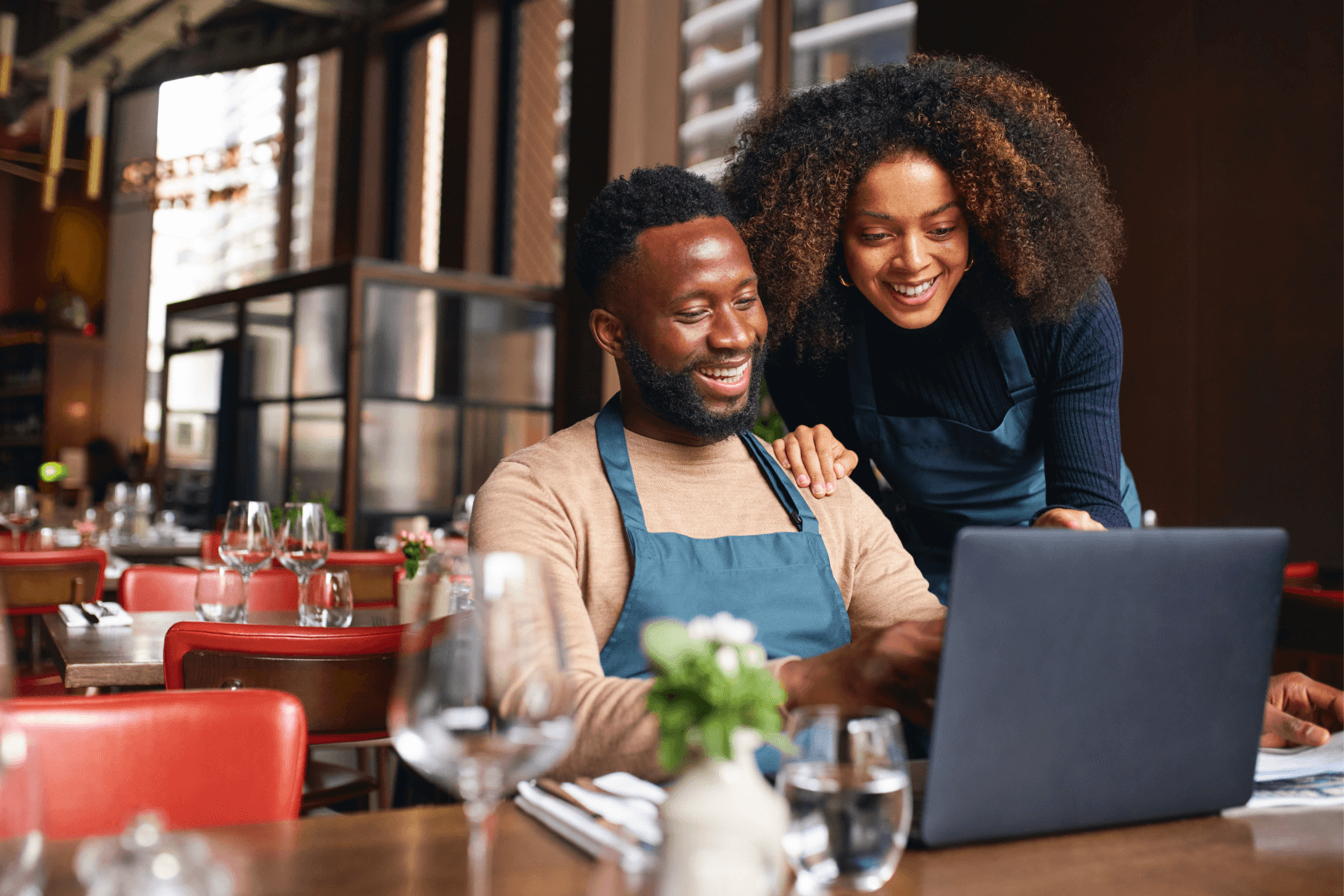 The 12 Best Online Restaurant Reservation Software Solutions
Apr 24, 2023 11:25:06 AM
14 min.