8 Tips to Help You Make the Most of Your Restaurant Capacity
11 min.
Jun 26, 2023 4:57:20 PM
Maximizing your restaurant's capacity is critical in an industry where profit margins are often thin.
Failing to utilize space efficiently could lead to suboptimal sales and customer dissatisfaction.
So, how do you use capacity most effectively?
We will take you through eight practical tips to help you make the most of your restaurant's capacity, ensuring a streamlined service and a more profitable business.
Covering tips running from optimizing your online presence and increasing table turnover to incentivizing guests through loyalty programs, we've got you covered from all fronts.
Ready to step up your restaurant game? Let's kick things off by showing you how to build an unstoppable online presence.
Build an Online Presence to Attract Customers
In the digital world we all live in, having a solid online presence is crucial for bringing diners through your doors.
Most of your customers are online and use various platforms to discover restaurants and make their decisions about where they should eat next.
And if you're not there, they are stuck choosing between your competitors.
Take Google, for example, a platform most people use to find restaurants. Setting up a detailed Google Business profile to get listed on Google is vital to boosting your discoverability.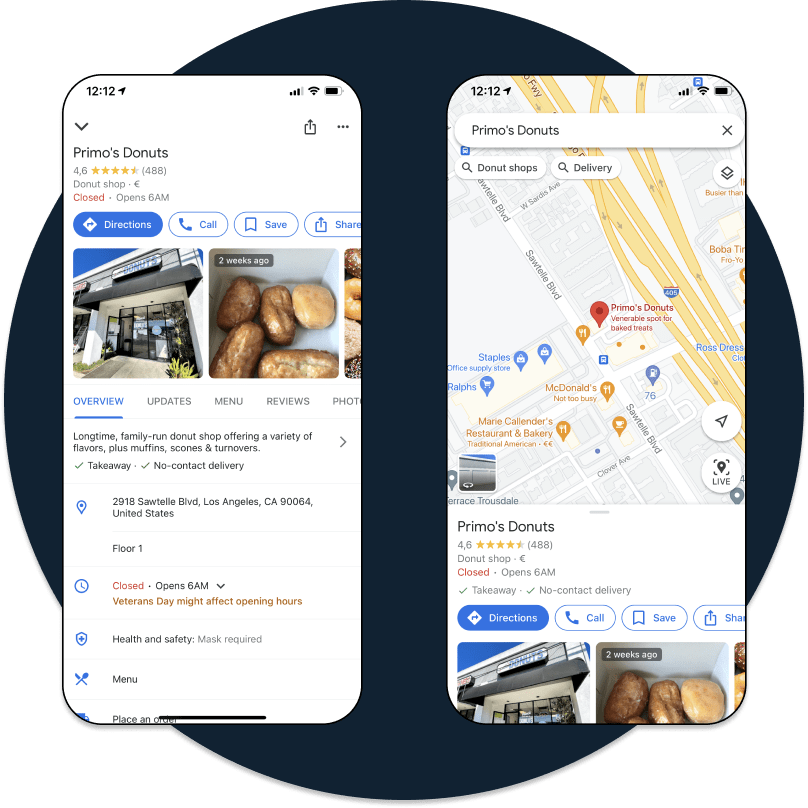 Source: Otter
As the image above shows, your Google profile should have essential information such as your name, address, contact details, and work hours.
To attract customers, you may want to add vivid pictures of your restaurant and meals and provide links to your menu.
One detail that you will undoubtedly want to add there is a link to your website.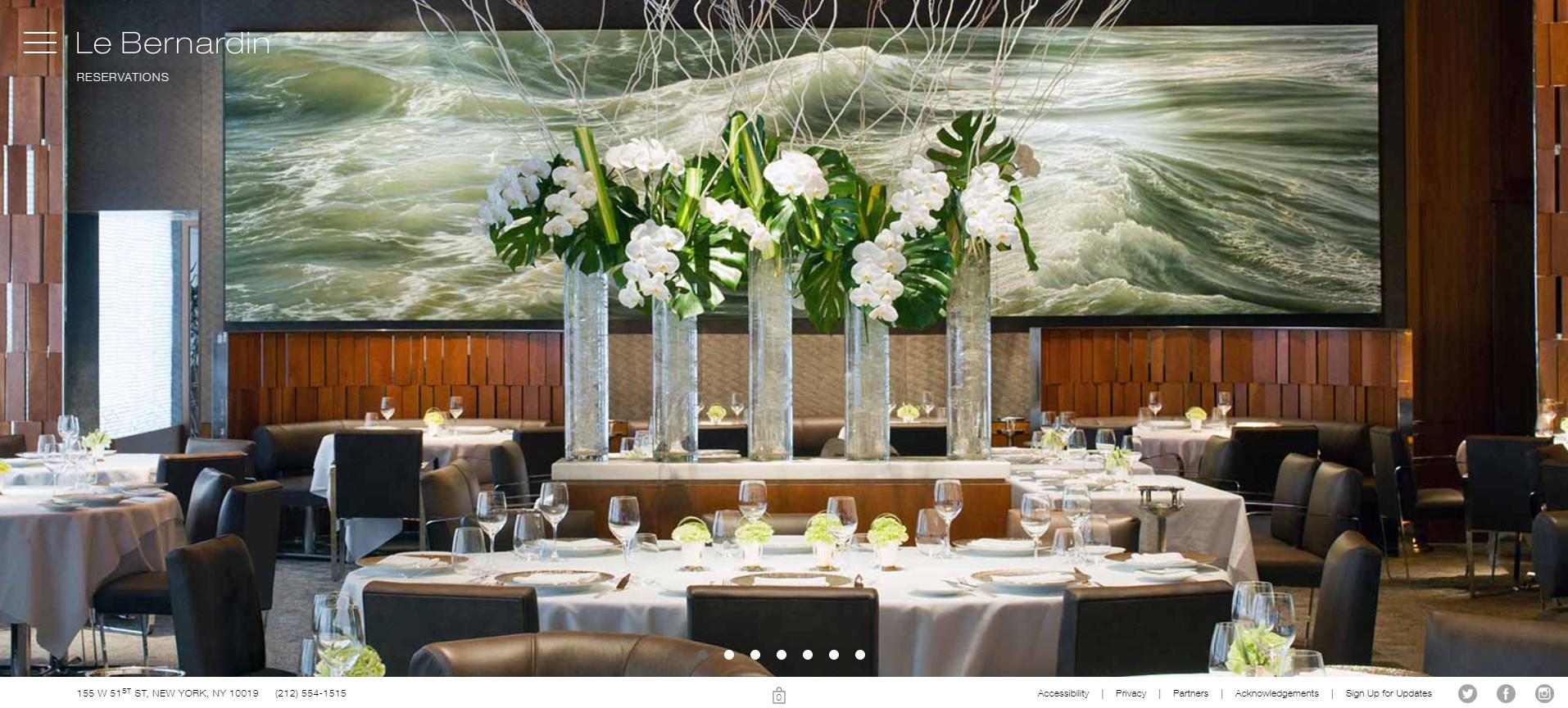 Source: Le Bernardin
Take a cue from Le Bernardin and create a website that is visually appealing and portrays your restaurant in a positive light.
But aesthetics aren't everything, and considering the search engine optimization (SEO) of your website is essential.
Le Bernardin certainly achieved impressive results by doing so.

Source: Growfusely
Optimizing for search engines is key for ranking your website higher in search engine results, making you more visible to prospective customers.
In a nutshell, a strong online presence is a tip you should take seriously.
Start Accepting Table Reservations Online
With a firmly established online presence, it's time to leverage it by enabling customers to book tables through the various platforms your restaurant is on.
By accepting online reservations, you're providing your customers with a level of ease and accessibility that they're sure to appreciate.
Essentially, you allow them to secure a table from wherever they discover your restaurant instead of having to phone or email your staff.
Consider the following example website below.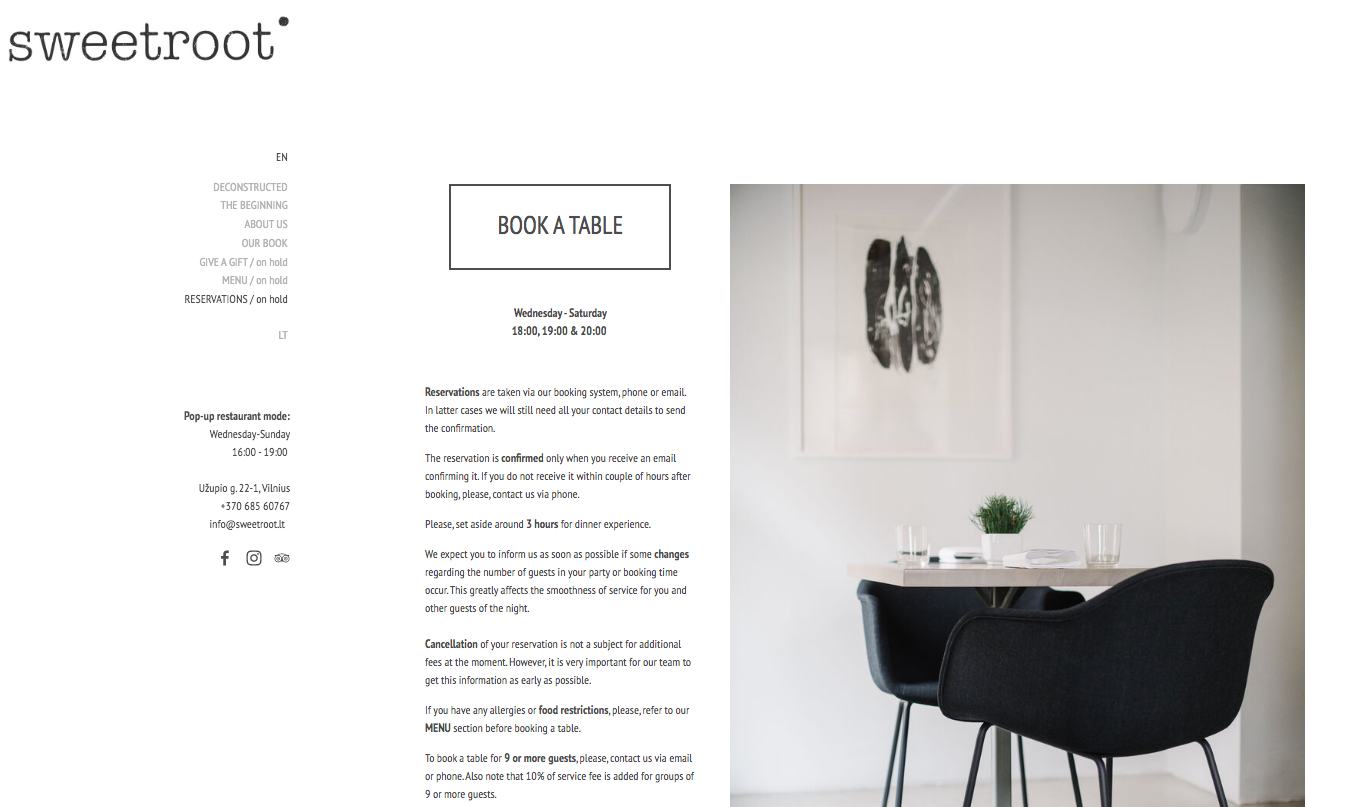 Source: Tablein
Say a customer gets intrigued by the restaurant's offerings and wishes to visit. Notice the prominently displayed "Book a Table" button in the image?
This feature is an instant invitation for customers to secure their spot right then and there without hassle.
When a customer clicks the button, they will be taken to the following screen.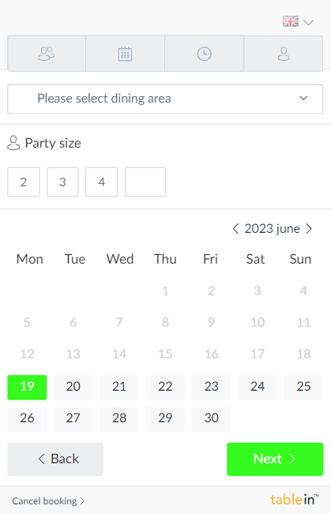 Source: Tablein
This is the booking widget of Tablein, our very own restaurant reservation system, designed with ease of use for both customers and restaurant managers in mind.
Adding a booking widget to your website is just the first step. Remember that Google Business profile we talked about earlier?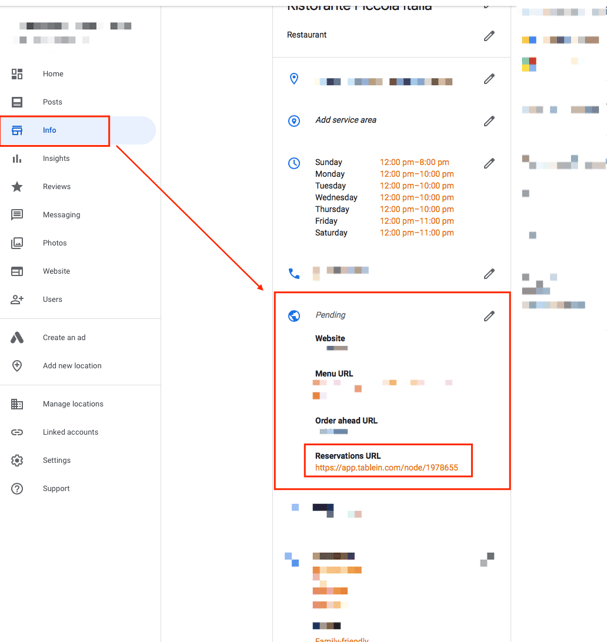 Source: Tablein
You can also integrate Tablein's widget link into your Google profile. This way, as people discover your restaurant on Google, they can effortlessly make reservations by simply clicking a link in your info section.
And, if your restaurant is on Facebook or Instagram, integrating with those platforms as well is only a couple of steps away.
Overall, utilizing a system like Tablein streamlines your reservation process and capitalizes on your online presence.
Plan to Take Full Advantage of Special Events
Another tip to consider while aiming to maximize the use of your restaurant's capacity is to plot special events to attract more diners.
Taking advantage of special events is an excellent way to ensure your restaurant is abuzz with customers.
This practice works because special events create a sense of exclusivity and promise a unique experience, making it an attractive option for diners looking for something different.
Scheduling a diverse range of special events throughout the year can help keep the momentum going.
For example, take a look at Mezzanine's event calendar shown below.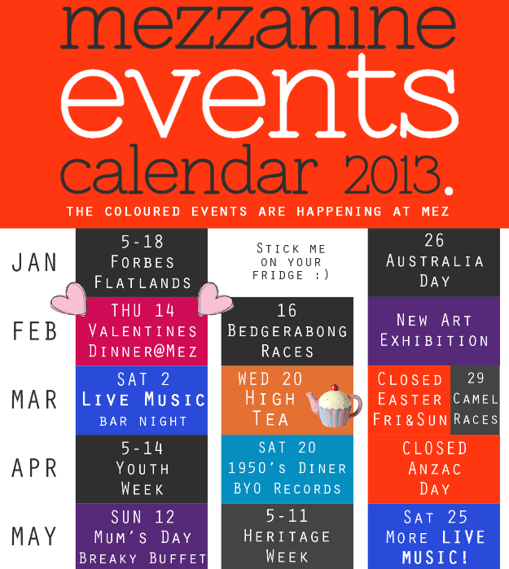 Source: Mezzanine Coffee House
They have events scheduled for every month, be it celebrating a popular holiday like Valentine's Day or occasionally hosting bar nights with live music.
While hosting various events is great, you should ensure that your events resonate with your specific customer base.
To illustrate, take a look at the following image, showing an event hosted by Dark Horse sports bar in New York.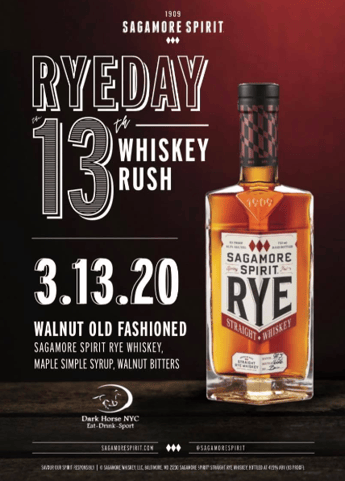 Source: Dark Horse on Facebook
A whiskey night may not be everyone's cup of tea, but it's a perfect fit for Dark Horse's clientele. You should follow their example and explore your own guests' needs, crafting your events accordingly.
To conclude, hosting special events that match your patrons' preferences can be the key to a full house.
Offer Incentives to Fill Tables During Slow Periods
You can't host extravagant events 24/7, so you should also have a strategy to handle slower periods as well.
It's a reality that your restaurant won't always be filled to capacity, especially outside of peak dining hours.
The so-called golden evenings, when your restaurant is usually packed, can only do so much, and it's a smart move to plan for the rest of the time.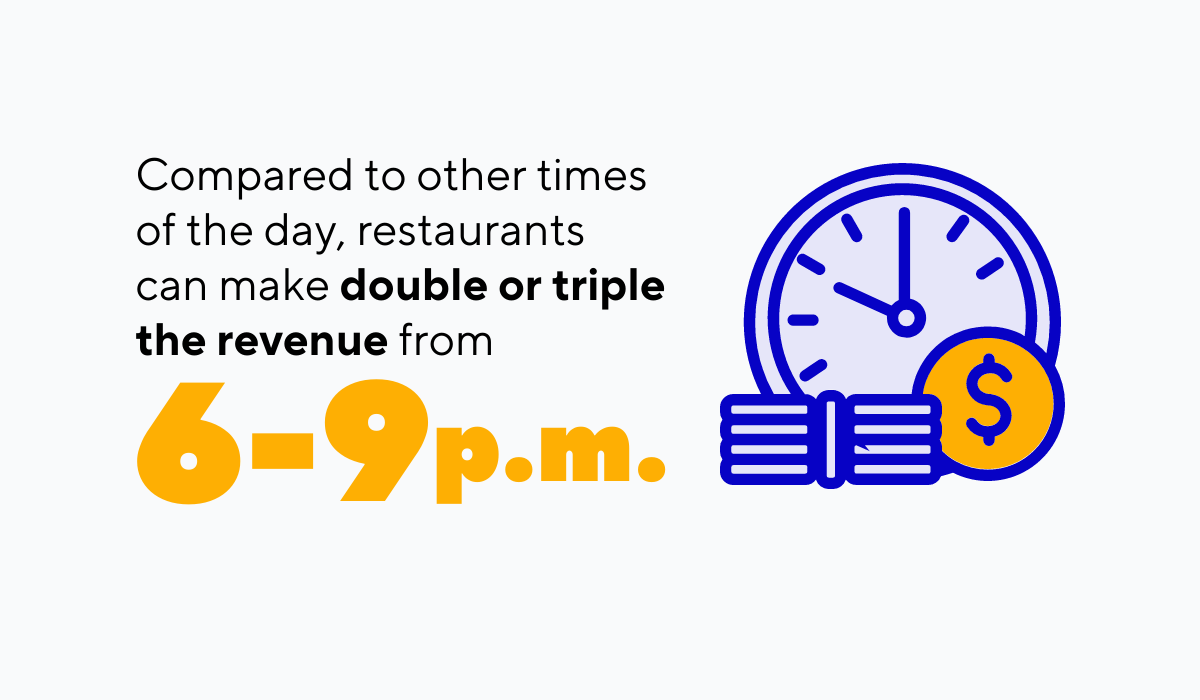 Source: MadMobile
As the image illustrates, most restaurants make the bulk of their revenue starting from 6 p.m. and lasting about 3 hours.
Although restaurants usually double or triple their revenue during this period, that's still a small window for maximizing profits!
Instead, how about doing something different to attract customers throughout the entirety of the day?
For example, take a look at one option you can utilize at your restaurant.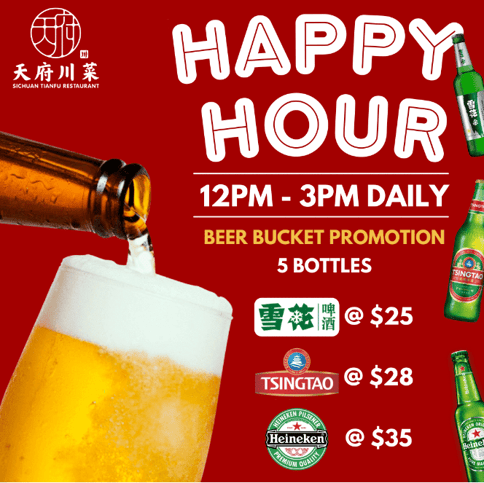 Source: Tianfu
Sichuan Tianfu Restaurant cleverly offers a happy hour from 12-3 p.m. each day, featuring beer promotions that are likely to entice patrons during those typically less busy hours.
And, after a brief pause from 3-6 p.m., they're re-energized for the evening rush.
Give it a shot and see how it can positively affect your restaurant's capacity throughout the day.
Set Time Limits on Tables to Improve Turnover
If you're gunning to fully optimize your restaurant's capacity, increasing your table turnover is essential.
Now, let's be real, diners who hang around for hours after they've eaten are a roadblock in your restaurant's highway to success.
When guests occupy your tables once their meals are done and they stop ordering, it essentially prevents that table from making you more revenue.
To circumvent this, think about setting time limits on tables. For example, check out the sections included in Zonzo's booking policy shown in the screenshot below.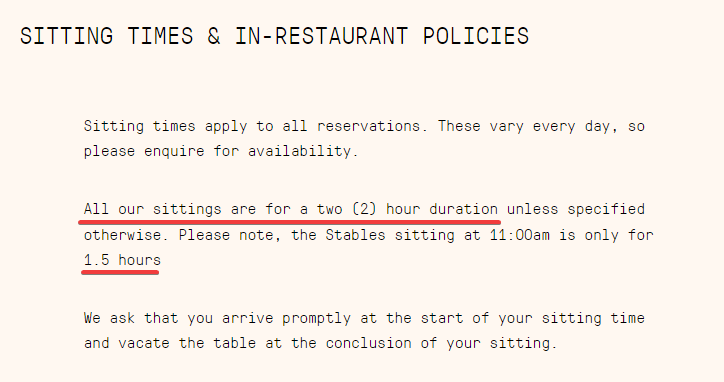 Source: Zonzo
The team at Zonzo has an upfront policy about a 2-hour table limit for all sittings and a 1.5-hour limit at their Stables dining area.
While these limits will most certainly improve your table turnover rate and bring you increased revenue, be mindful of how it might affect your relationship with your guests.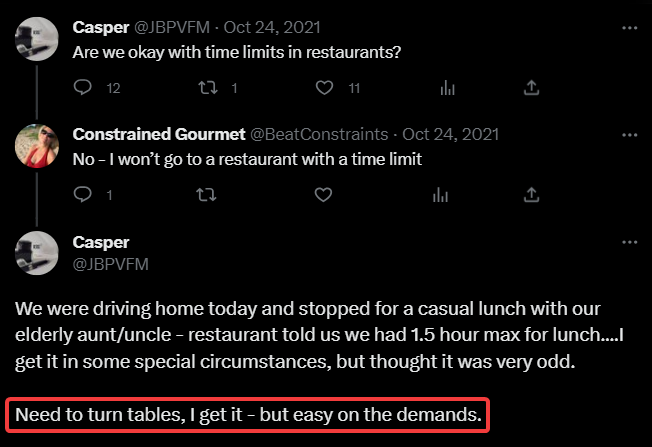 Source: Twitter
As the tweet above suggests, customers don't like to be rushed. They're here for a good time and may avoid going to restaurants with strict time limits.
To circumvent this issue, your time limits must be reasonable. Think about your restaurant concept and your customers' average dining times.
Implementing table time limits can significantly optimize your seating capacity and revenues, but it's essential to keep it customer-friendly with reasonable demands.
Reduce No-Shows With Reservation Reminders
Guests that linger on their table are one thing, but customers who end up being no-shows can wreak havoc on your restaurant's operations.
One of the main reasons behind no-shows is simple forgetfulness. So, what if there was a gentle nudge to remind guests of their reservations? Enter reminders, your secret weapon in combating missed bookings.
Imagine a scenario where a guest books a table through your reservation software. Immediately, a confirmation text message arrives on their phone.
Something short, like the SMS shown below.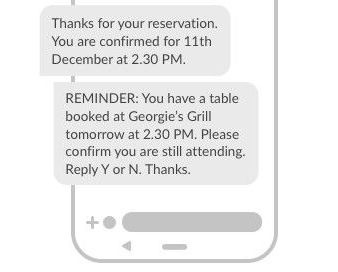 Source: Message Media
A day before the reservation, another text makes an appearance and tells the guest when and where they've made a reservation and asks them to confirm it.
These messages can keep bookings at the top of your guests' minds, ensuring they don't get missed or alert them to make timely cancellations.
Sometimes, a text can be too short for those important reservation details. That's where emails come in.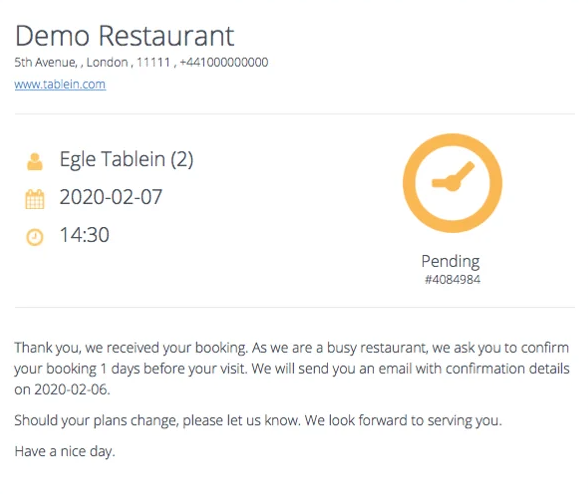 Source: Tablein
Check out the example above. The email is a comprehensive reminder with all the reservation details laid out clearly.
The email can serve as a reference for the booking, especially for those reservations that are booked months in advance.
What's more, you can set your reservation software to send these emails automatically, like clockwork.
Overall, these messages serve as a polite tap on the shoulder your guests sometimes need to ensure they honor their booking.
Manage a Waiting List to Avoid Losing Customers
Our seventh tip concerns waiting lists and how they can help you serve more guests.
Handling reservations efficiently is crucial, but balancing reservations and walk-ins is what you need to do in order to make the most of your restaurant's capacity.
And an effective waiting list can help you better organize this vital process, especially during peak hours.
Consider the traditional paper waitlist shown in the next image.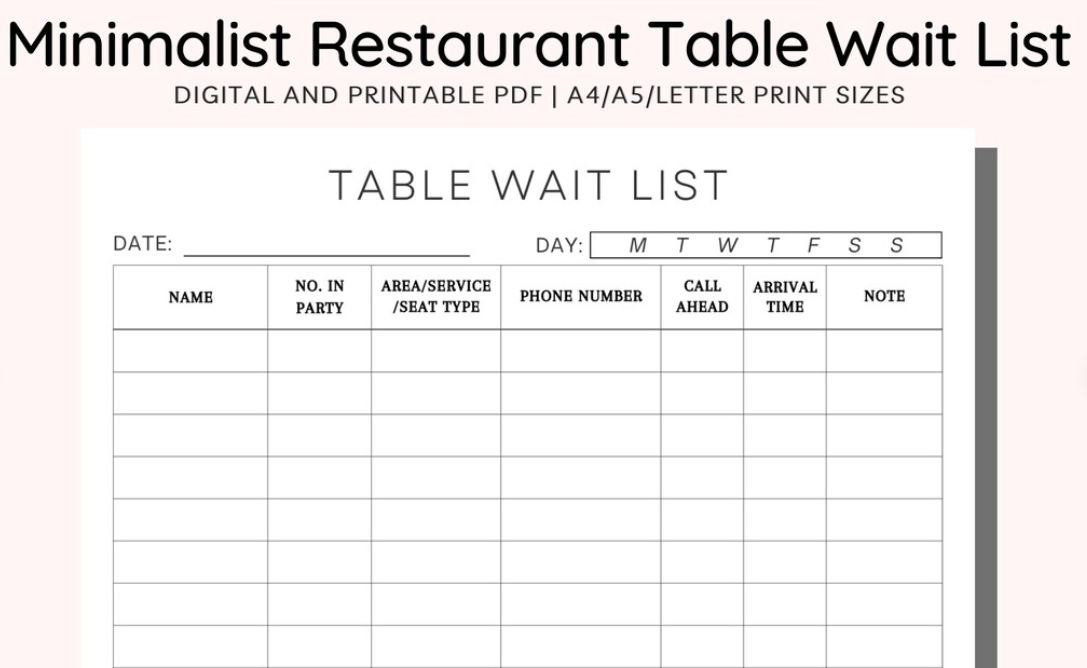 Source: Etsy
With a paper waitlist, when a group walks in, their details are taken, and as soon as a table is available, the staff searches for them in the waiting area.
It's a straightforward approach but has its downsides, being time-consuming and error-prone as staff has to write everything down by hand.
A much more efficient way to manage your waiting list is to do so digitally.

Source: Tablein
The digital waiting list, shown above, organizes the data neatly, showing reservations, occupied tables, and wait-listed guests.
It's quicker for staff to input customer information, and great reservation systems can automatically notify customers through a text message when their table is ready.
In conclusion, by implementing an efficient waiting list system, you can serve more customers and improve their experience, ensuring that your restaurant's capacity is fully utilized.
Establish Your Own Restaurant Loyalty Program
Loyalty is hard to come by, but when it comes to your restaurant's customers, it's worth its weight in gold.
Patrons who consistently come to your restaurant are essential for maxing out your restaurant's capacity day in and day out.
Excellent food and stellar service can undoubtedly go a long way in this matter, but sometimes customers need that extra nudge.
This nudge can be a well-designed loyalty program.
Source: Bubble Bliss on Facebook
The above image shows the basic stamp cards that many are familiar with. These cards usually offer a free item after a set number of purchases. It's a simple yet effective way to encourage customers to return.
But you don't have to limit yourself to just stamp cards. You can take it further by establishing a more comprehensive loyalty program.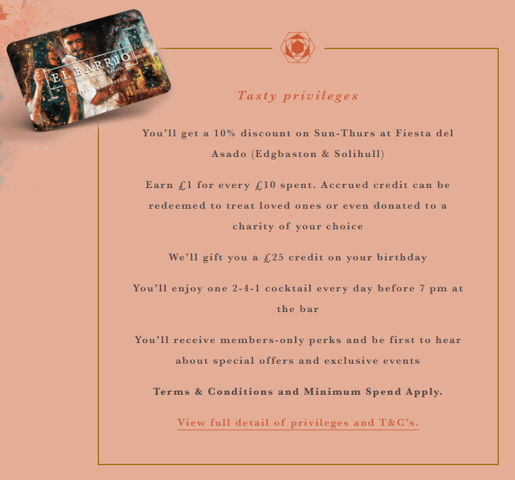 Source: Fiesta Del Asado
Take a look at Fiesta Del Asado's loyalty card, for example. It offers discounts on certain days, allows customers to earn points for spending, gives a £25 credit on birthdays, and much more.
These rewards can be very enticing for customers, giving them not just a reason to return but also to spend more.
To help you get started with your own loyalty program, check out our article with 7 loyalty program ideas for you to consider trying.
Having a varied and engaging loyalty program can turn occasional visitors into regulars. This not only increases your restaurant's revenue but also creates a community of loyal patrons.
Conclusion
In this article, we've discussed eight key tips to help you maximize your restaurant's capacity.
Our hope is that you will apply these tactics to boost your restaurant's operational efficiency, make the booking process more streamlined, and elevate customer satisfaction, which in turn, can have a positive impact on your revenue.
As you put these tips into action, you'll likely find yourself catering to a higher number of patrons and doing so way more efficiently than you ever did before.
Being proactive in identifying areas for enhancement and adjusting to your customers' preferences is vital.
Take the initiative to put some of these strategies into practice and observe as they transform your business.
How to Use Google to Boost Your Restaurant Reservations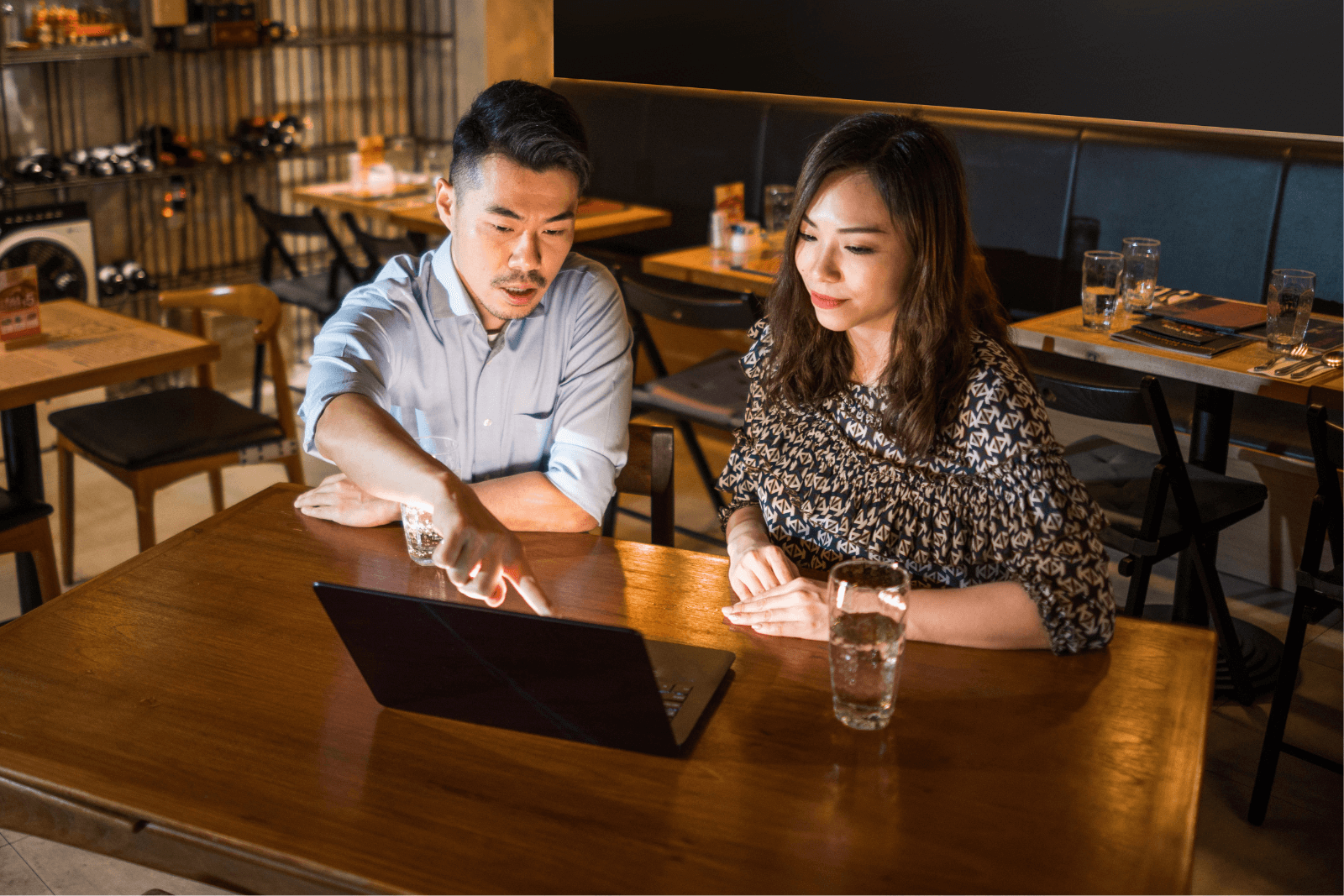 How to Use Google to Boost Your Restaurant Reservations
Aug 1, 2023 10:50:51 AM
11 min.
How Does an Online Restaurant Booking System Work?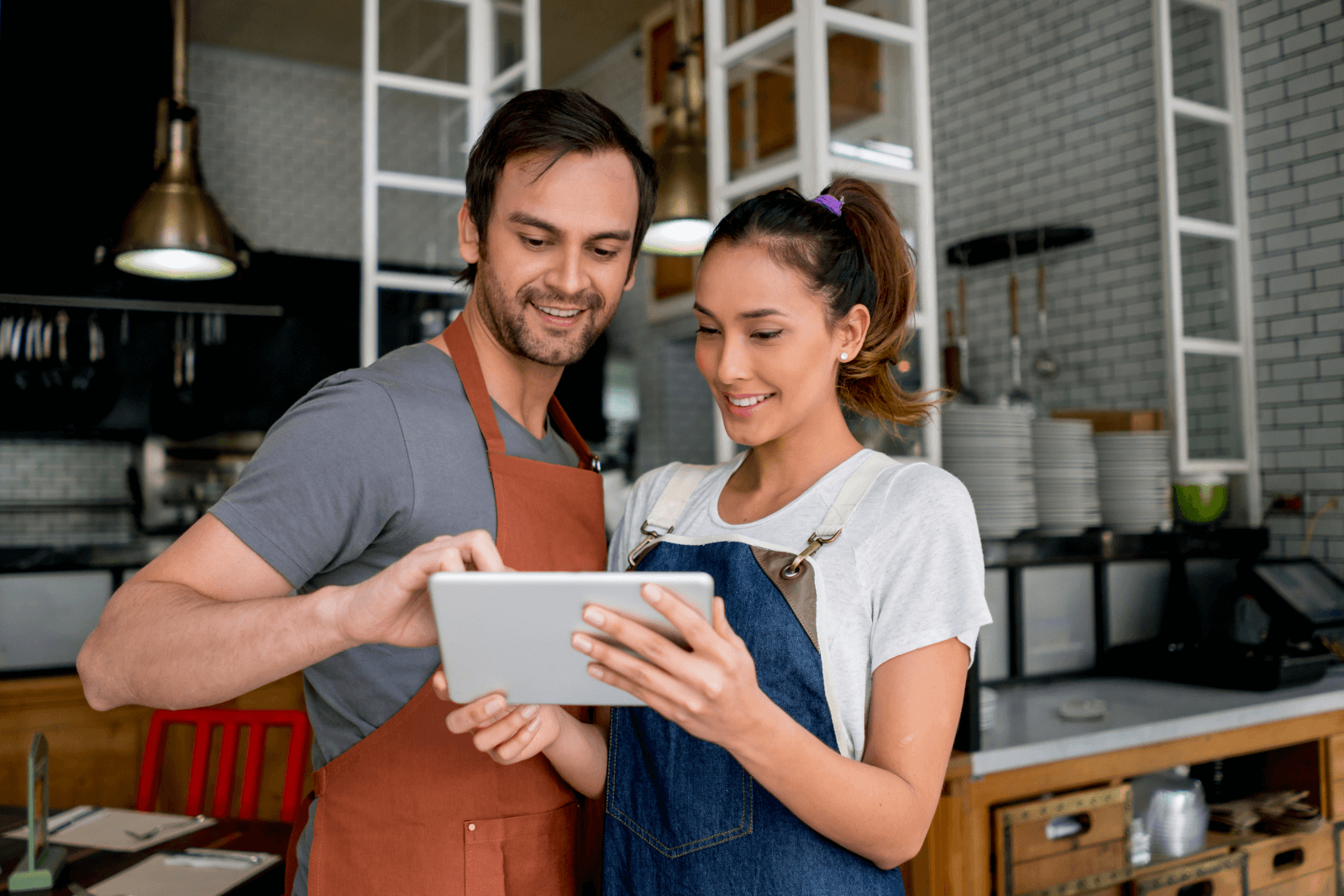 How Does an Online Restaurant Booking System Work?
May 25, 2023 12:03:01 PM
11 min.
Different Restaurant Reservations Channels You Can Use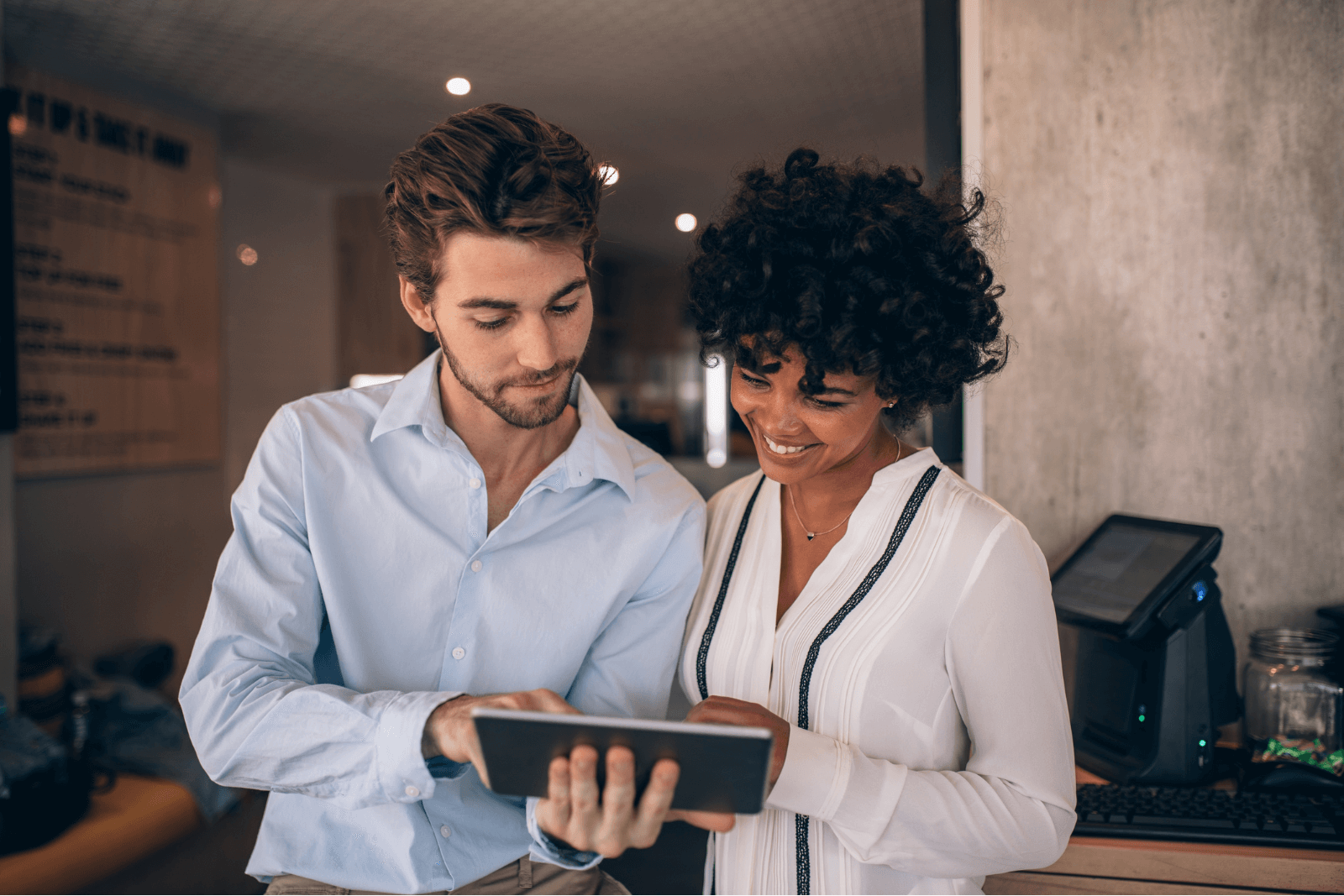 Different Restaurant Reservations Channels You Can Use
May 24, 2023 1:41:22 PM
8 min.