5 Tips That Will Keep Customers Coming Back to Your Restaurant
11 min.
Feb 24, 2023 11:04:55 AM
Building a loyal customer base is an important business goal for any restaurant owner, as this is the best way to ensure a steady income stream and favorable reviews.
To provide a dining experience customers will want to relive more than once, you will need to focus on every aspect of your offer: the service, the food, the reservation process, and the ambiance.
In this blog post, we'll show you exactly how to do that.
Let's start with the most dynamic aspect of your restaurant: your staff and level of service.
Table of contents
Offer a Great Service
Your guests' dining experience and impression of your restaurant will largely depend on your front-of-house staff because they are the ones who will be interacting with customers directly.
So what are some good practices here?
Well, it all starts with the greeting. Guests arriving at the restaurant should be received immediately by a staff member.
Top restaurants are very aware of this and put a lot of focus on this first interaction.
For example, at Noma, the Danish restaurant hailed as one of the best in the world, the staff practices something called the big hello.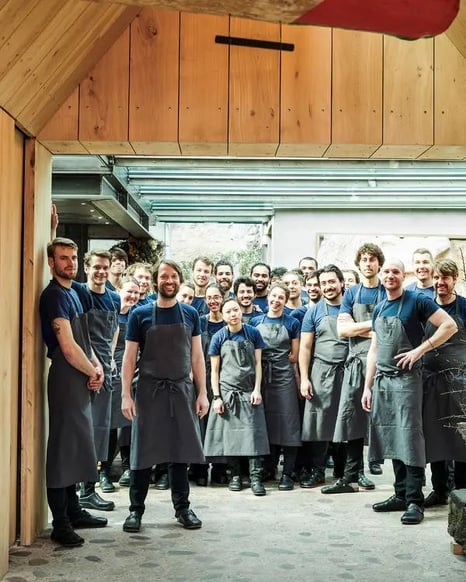 Source: New York Times
Every guest that arrives at the restaurant is greeted by as many staff members as is reasonably possible without creating a disruption in the dining hall and kitchen.
Noma's co-owner, chef René Redzepi, believes that this tradition sets the restaurant apart:
There's something profound about it. It's so important to look your guests in the eye, and tell them "welcome." We can have the best menu in the world, but what makes it special is human contact.
Noma's big hello might be a little out of the ordinary, but the takeaway here is that guests will feel welcome and appreciated if you start the evening off with a greeting.
After that, impeccable service is a game of balance between attention and privacy.
Guests should never need to wait to be attended to, but on the other hand, hovering over them will make the evening uncomfortable.
This is something most diners agree on.

Source: Reddit
Of course, in order to provide this level of service, you'll need to ensure that you're adequately staffed throughout meal service.
Experts say that, in an ideal scenario, one member of the waiting staff should serve four to five tables, on average.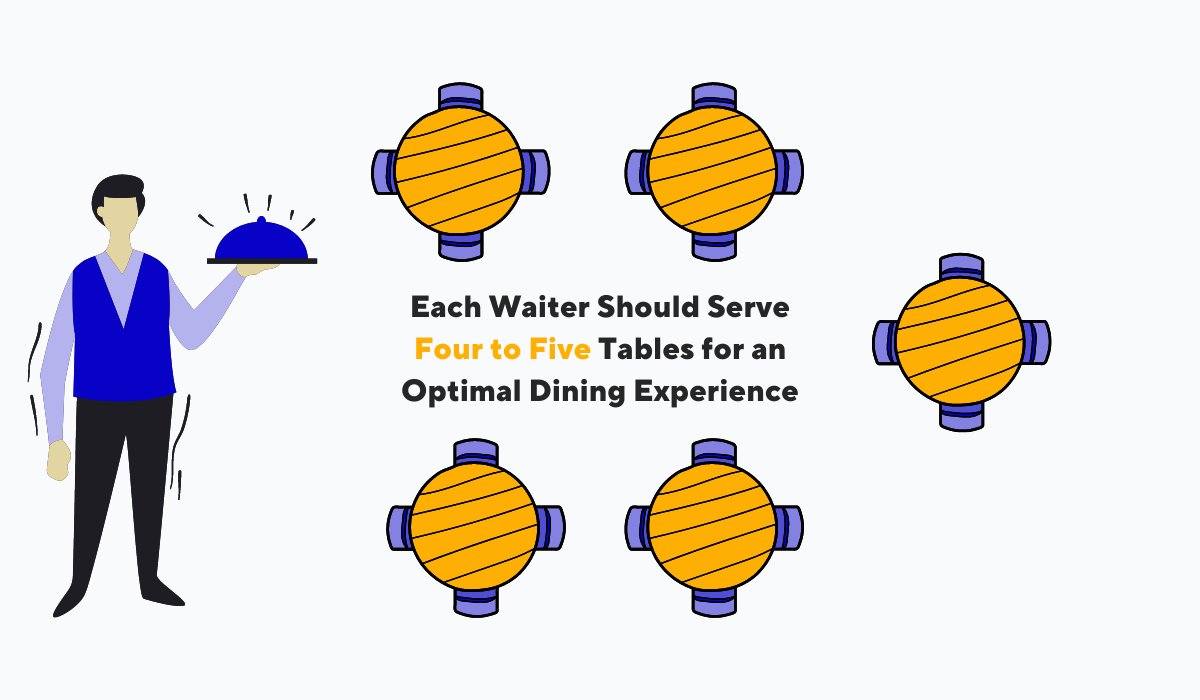 Illustration: Tablein / Data from: Qwick
That way, you're ensuring that guests never have to wait more than a minute or two for the waiter to arrive, and you're also providing enough work for the servers to be able to collect a solid amount of tips.
When your guests are well taken care of by your staff, they're much more likely to form a favorable impression of your restaurant.
As long as the food is also good and the prices fair, you should be seeing them again very soon.
Maintain Food Consistency
A good reason for a customer to come back is that they fell in love with one of your signature dishes.
So if you want returning customers, you'll have to find ways to maintain food consistency and never change the magic formula.
For example, how has the pizzeria I Masanielli from Caserta, Italy, claimed the award for the best pizza in the world multiple years in a row?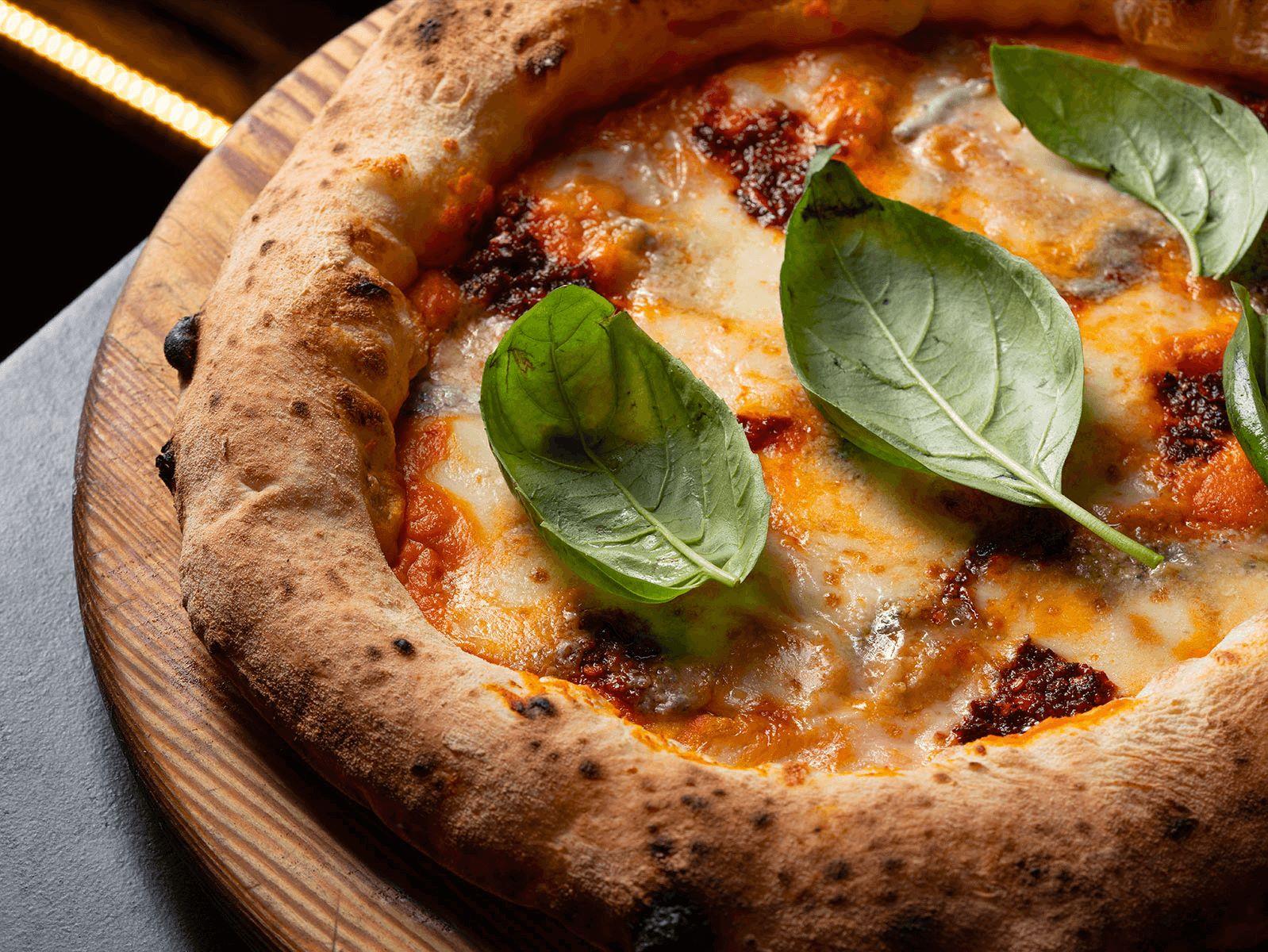 Source: Pizzeria I Masanielli
By developing the perfect recipe and then sticking to it, of course.
The owner, Francesco Martucci, explains why his pizza reigns supreme:
The difference? Our identity. Our pizza is recognizable. Rebellious, if I had to find a term, like the music of the Sixties.
To give your dishes this kind of distinct identity, you're going to need to devote a bit of time to recording your recipes down to the last detail so they can always be accurately reproduced.
Standardized recipe cards can be a great tool in this regard.
These documents carry every detail about a dish from your menu, including ingredients and their exact amounts, serving sizes, detailed instructions, even the creator's name (so a cook knows who to ask in case something is unclear).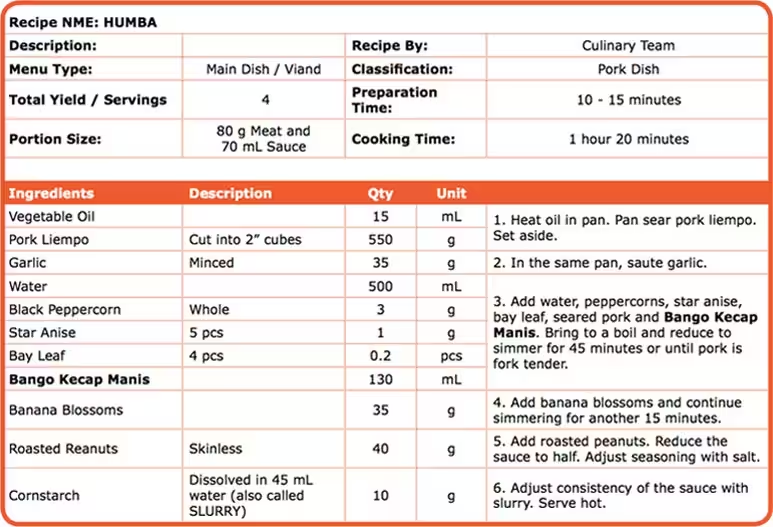 Source: Unilever Food Solutions
With complex dishes, even the smallest difference in spices or a discrepancy in ingredients can lead to the food tasting differently and the magic disappearing for the customer.
Therefore, the more exact you can be, the better.
Plating is equally important here, so it's a good idea for the creator of the dish to personally teach members of the kitchen staff who will be preparing the dish how it's done.
Otherwise, the dish might lose its appeal or become less recognizable for the guest who expects the same visual experience, as well as a culinary one.
For instance, have a look at how one dish can be plated in three different ways to produce three different impressions.
Source: Institute of Culinary Education on YouTube
If you wow a guest with one of your dishes, they'll surely want to come back and experience it again.
So keep your food consistent by sticking to your recipes and plating techniques so that guests can be impressed time and time again.
Create a Great Ambiance in Your Restaurant
The atmosphere is another important factor that makes a restaurant the go-to choice for its patrons. The way the guests feel when they visit is what makes the restaurant memorable.
Much of this ambiance comes from the interior architecture of your restaurant, so that's where you want to start creating it.
If you're looking for inspiration, you can draw it from your audience and their perception of your restaurant (do they find it romantic or lively, for instance), or you can let your cuisine paint a picture of your identity.
For example, have a look at how Mimi Kakushi, a restaurant serving Japanese classics in the UAE, which takes inspiration from Oriental Art Deco design to create an ambiance of luxury and tradition.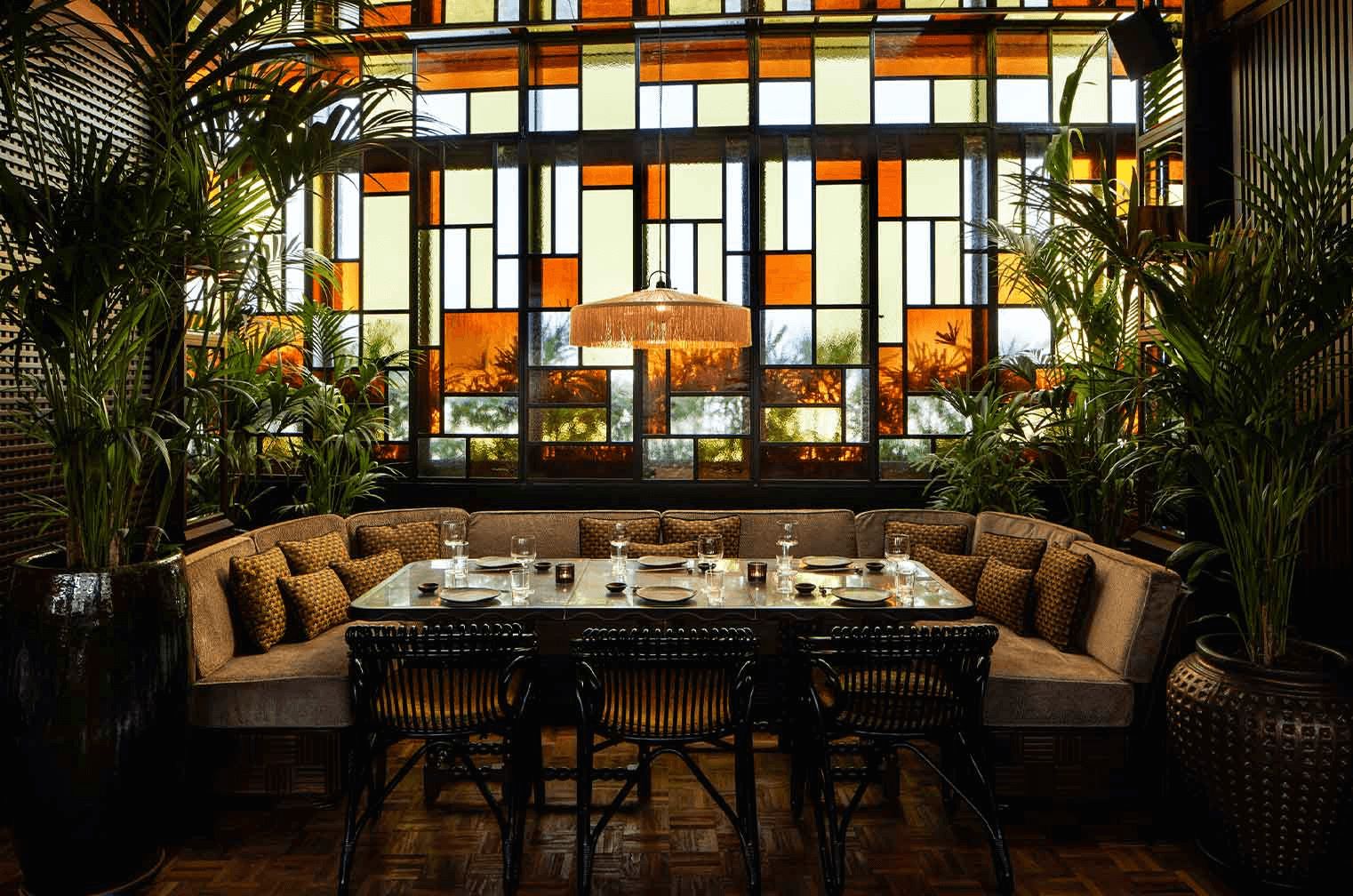 Source: Pirajean Lees
The architects responsible for the design explain that their intention was to capture a unique historical aesthetics to enhance the restaurant's elegant menu of classic Japanese dishes:
Rather than an attempt to mirror a national identity, our concept is focused on capturing a moment in time. An authentic celebration of Oriental Art Deco, the heyday of the 1920s brought to the modern day. Mimi Kakushi embodies Japan when jazz was swinging into 1920s Osaka, bringing modern art and western fashions to it.
So think about what inspires your menu and let it shine in your restaurant as a whole.
In Mimi Kakushi's example, this was a combination of fine dining and a specific moment in Japan's history.
In addition to the tastes, smells, and sights, restaurants are also places of sound.
Therefore, the music you select for your restaurant can have a profound effect on the atmosphere in your establishment, as well as your guest's experience.
We're not exaggerating here.
There are entire companies, such as Bespoke Sound from New York City, that are dedicated entirely to designing the perfect music to match your restaurant's ambiance.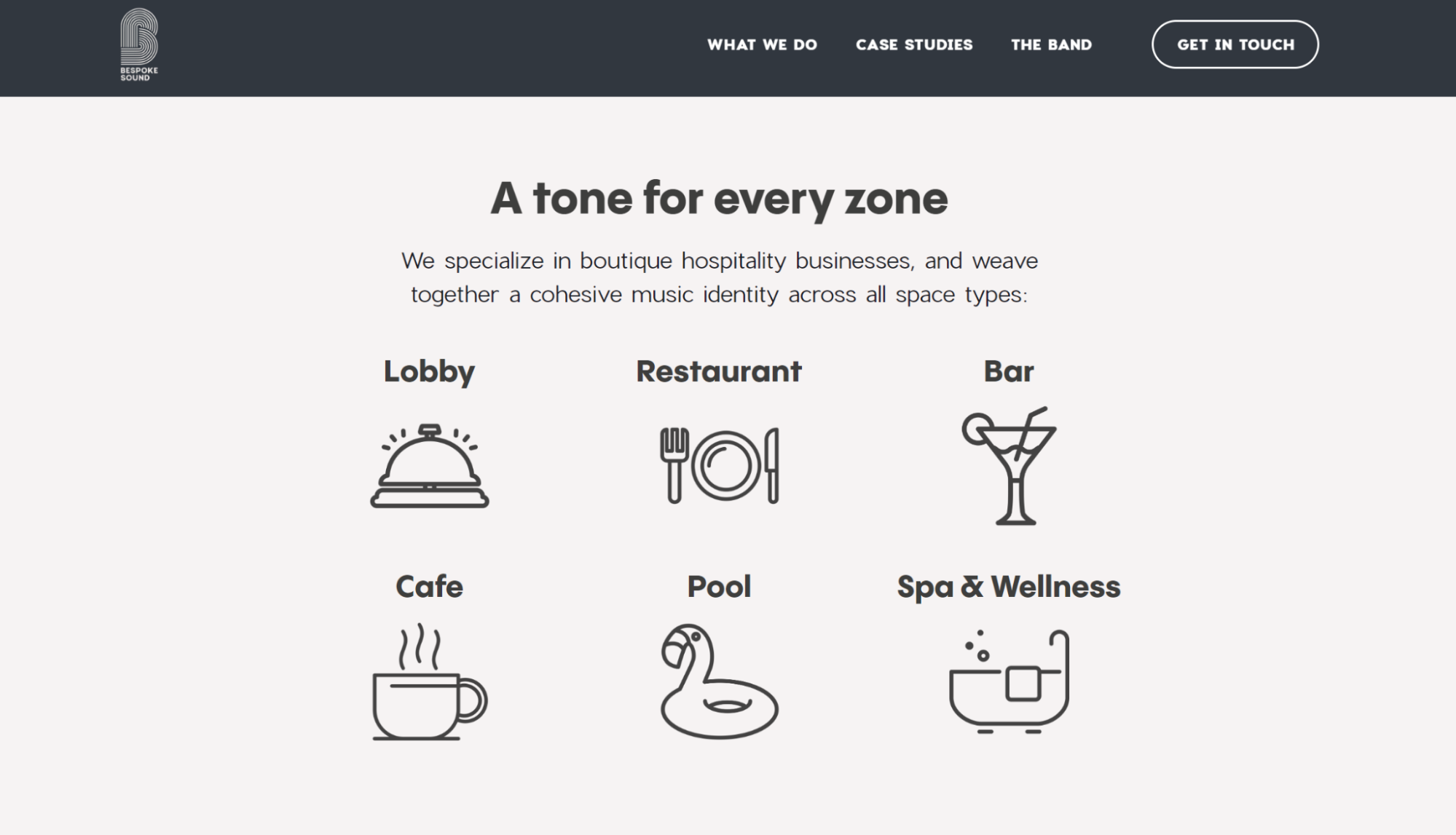 Source: Bespoke Sound
For example, when this company was hired to come up with a soundtrack for Auberge Resorts, a luxury group of hotels, they drew inspiration from the laid-back vibes and relaxed atmosphere California is famous for.
The overarching vibe is contemporary California cool, with Folk, Americana, vintage, easy Rock, Neo-Soul, and eclectic deep-cuts. The result is a truly integrated and thoughtful musical experience throughout the property.
Looking at the resort, its locality and design, it's quite clear that Bespoke Sound nailed the brief on the head.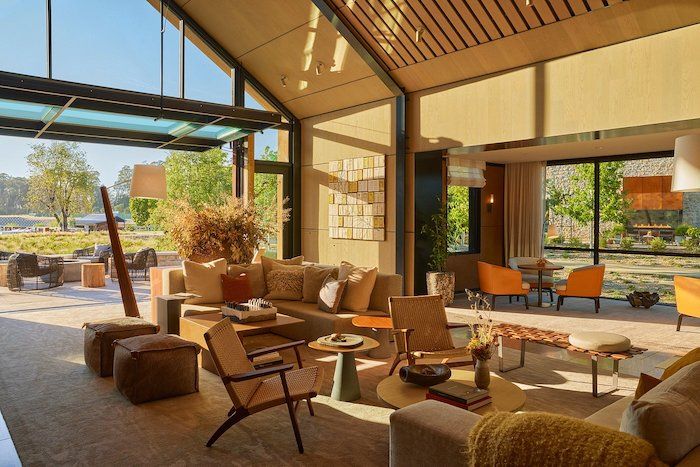 Source: Bespoke Sound
Of course, not every restaurant has the budget for bespoke sound design, but you can still devote some attention to the kind of music you play in your establishment and make sure it matches the ambiance you're trying to create.
Remember, restaurants are sensory places.
The ambiance you create with your interior design and the music you play will stick out in your guests' minds and make them want to relive their experience.
Make It Easy for Customers to Get a Table
A common reason why customers think twice about going to a restaurant, even if they had a great dining experience there, is because they're not completely sure they'll be able to get a table when they get there.
In other words, when that restaurant doesn't offer easy table booking options.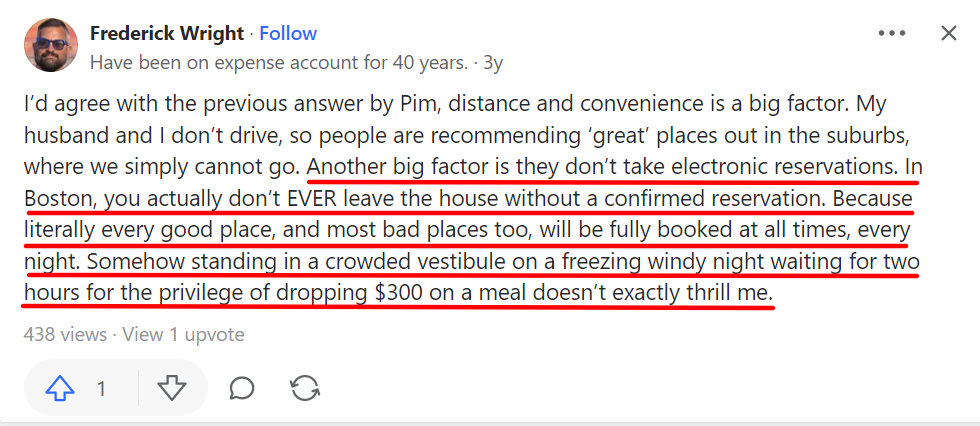 Source: Quora
When listing reasons why he wouldn't visit a restaurant, this Quora member explains that there is an inherent risk in showing up at an eatery without a reservation, as they might be turned away or made to wait out in the cold.
An online, no-fuss reservation system is just what you need to combat this concern.
Tools like Tablein enable guests to easily book a table from your website without having to call the restaurant or show up unannounced.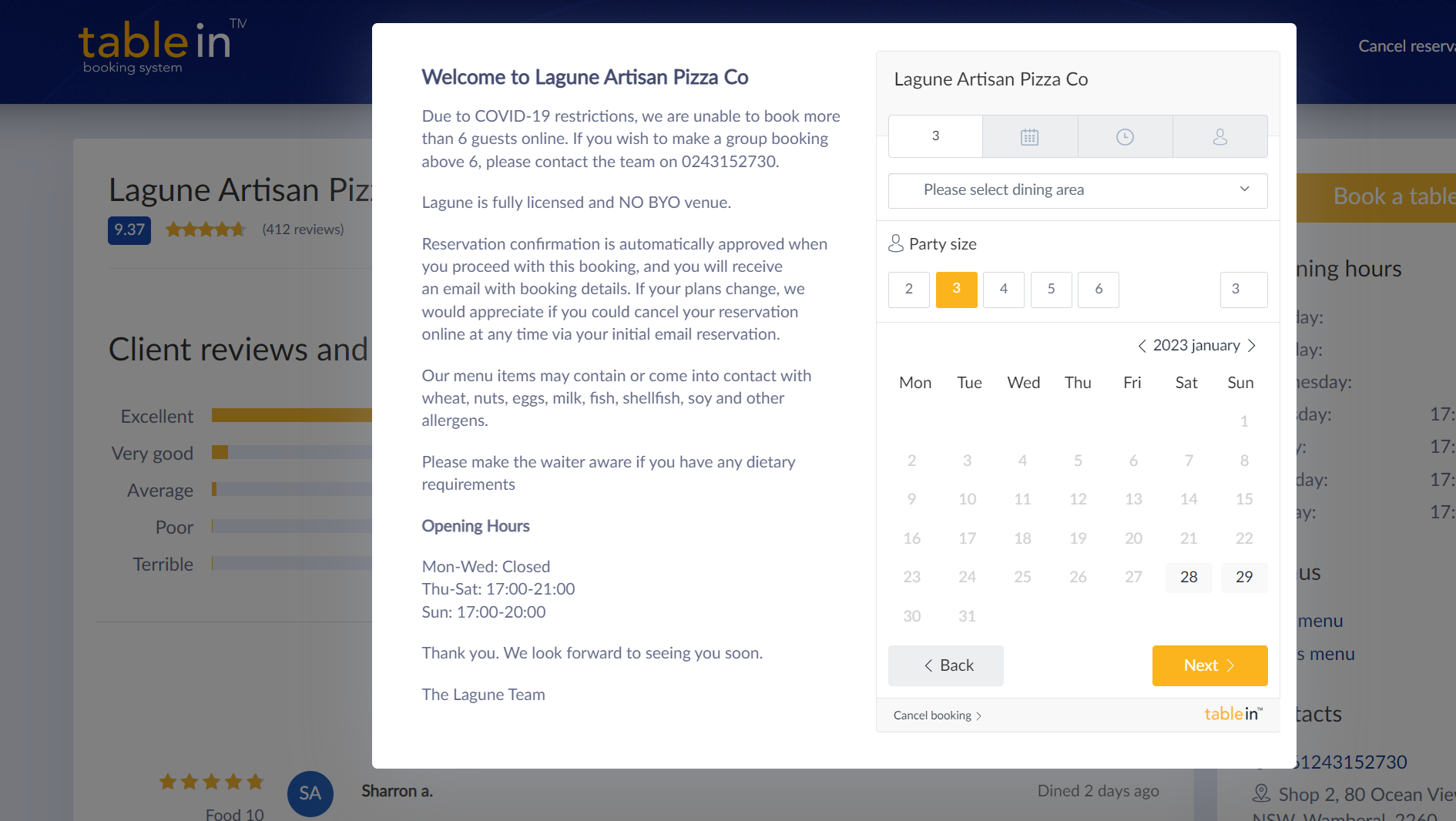 Source: Tablein
And since this system is fully automated, there's no chance of double bookings or reservations slipping through the cracks due to human error.
As a result, every guest who books a table will be seated on time.
Tablein also has a handy waitlist feature that lets you take down the guest's contact information and send out an automatic notification telling them that their table is ready.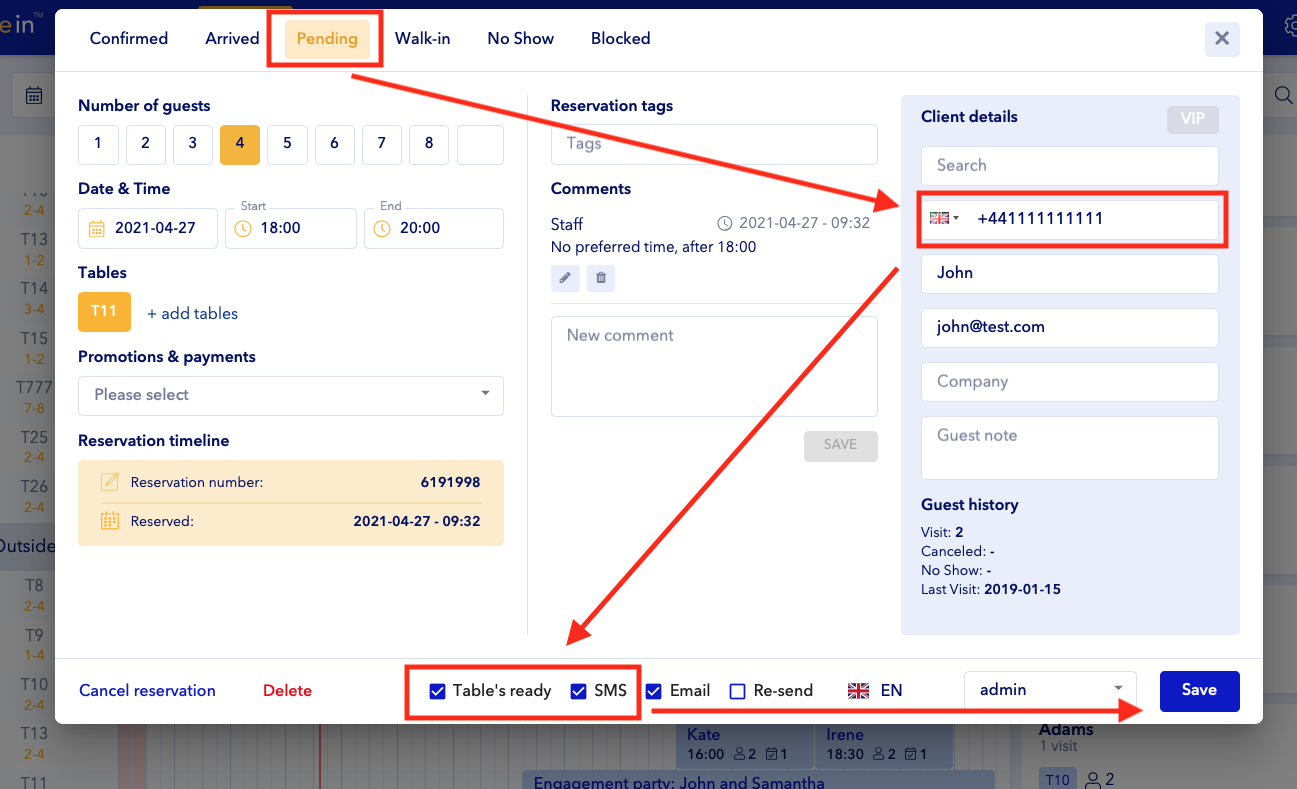 Source: Tablein
That way, if a guest shows up without a reservation, you can take their information and direct them to a nearby bar with the assurance that they will be notified as soon as their table is released.
No more waiting outside in the cold, stalking tables until someone leaves!
Long story short, even if a guest loves your restaurant and wants to come back, they might think twice about returning if there's a chance they'll be turned away at the door.
Make their decision easier by investing in an online reservation system and make it easy for them to get a table.
Create a Restaurant Loyalty Program
Having a loyalty program directly influences customer behavior and entices guests to keep coming back to your restaurant using premium service, special discounts, and attractive rewards.
It's no surprise that this method is so effective at generating return visits from your customer base.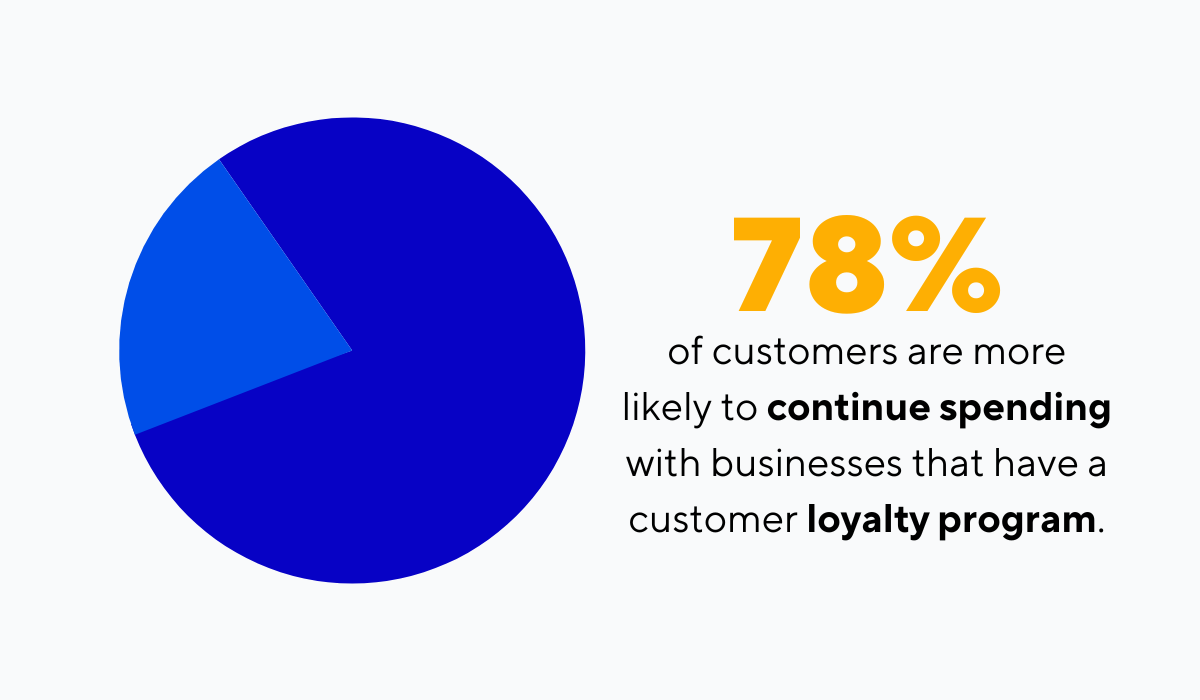 Illustration: Tablein / Data from: Bond
One way to go about this is to create a points program where customers can collect points they can later exchange for free menu items.
In other words, the customers have to keep coming back and spending to earn a reward.
This is a common practice among casual restaurants and franchises where customers can be expected to come in often and grab food on the go.
For example, Chipotle has a very successful digital loyalty program where customers can earn ten points for every dollar they spend.
When they have amassed enough points, they can exchange them for food items that have a specific point value.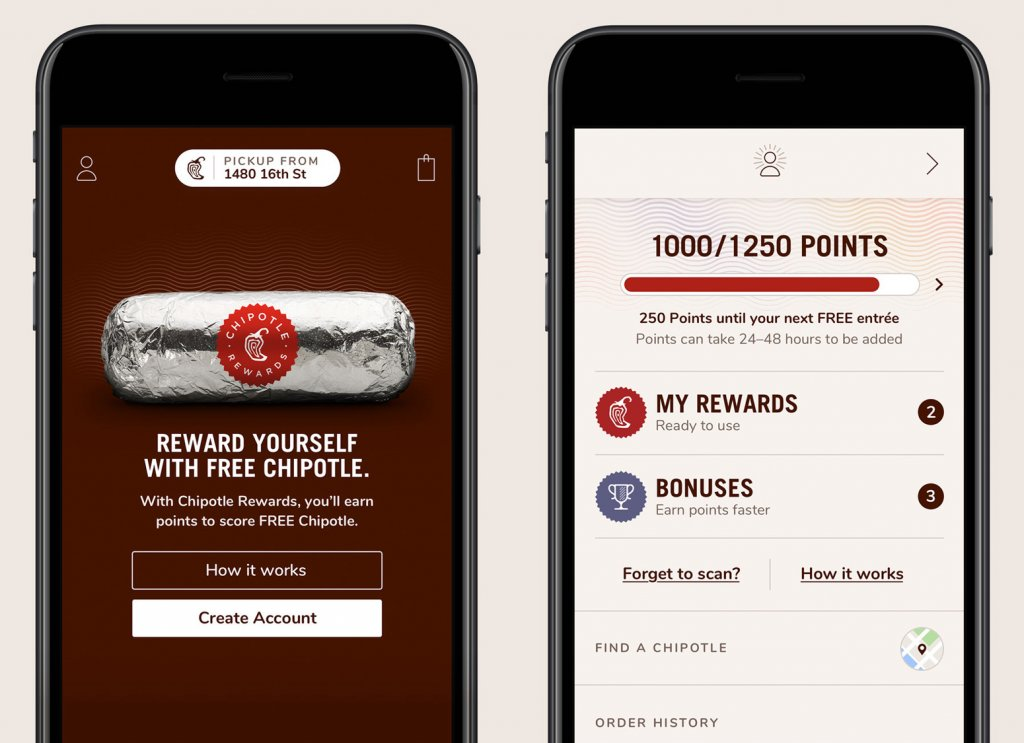 Source: Open Loyalty
According to the company, this loyalty program helped Chipotle surpass $2 billion in digital sales in the year it was launched, so you know there's merit to it.
Of course, if you run a fine dining restaurant, this kind of program might not be entirely appropriate.
For fine dining establishments, it might be a better approach not to advertise the program and simply provide a premium service for returning customers without them having to ask for it.
Your online reservation system can help you do that.
Tablein, specifically, has an integrated guest list that can tell you who your most loyal customers are so you can prepare some perks ahead of their next visit.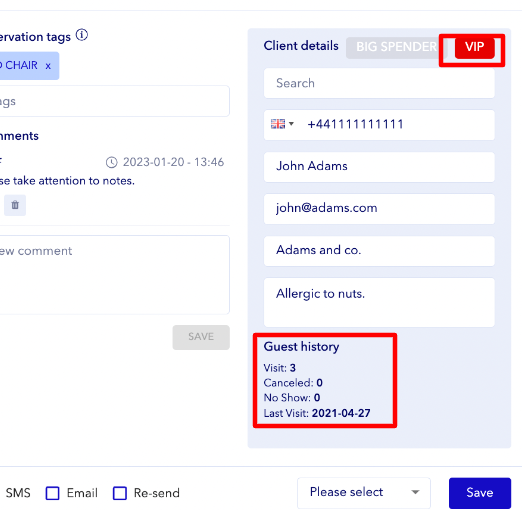 Source: Tablein
For example, you can ensure this guest is seated at their favorite table and that the staff pay special attention to their comfort, or greet them with a complimentary glass of champagne.
In conclusion, if having returning guests is a major business goal for you, you should definitely launch a loyalty program.
Just make sure it's appealing to the guest and appropriate for the type of restaurant you're running.
Conclusion
As we've seen in this article, it requires considerable effort to build a restaurant business your customers will want to visit again and again.
On top of impeccable service and consistently good food, you'll also need to invest in creating the perfect ambiance, providing easy ways to book a table, and building a reward program for your guests.
Your work is definitely cut out for you, but the pleasure and satisfaction of seeing loyal guests return every time they have a special occasion or just want a reliably good bite to eat is something you just can't put a price on.
How Restaurant Automation Can Reduce Labor Costs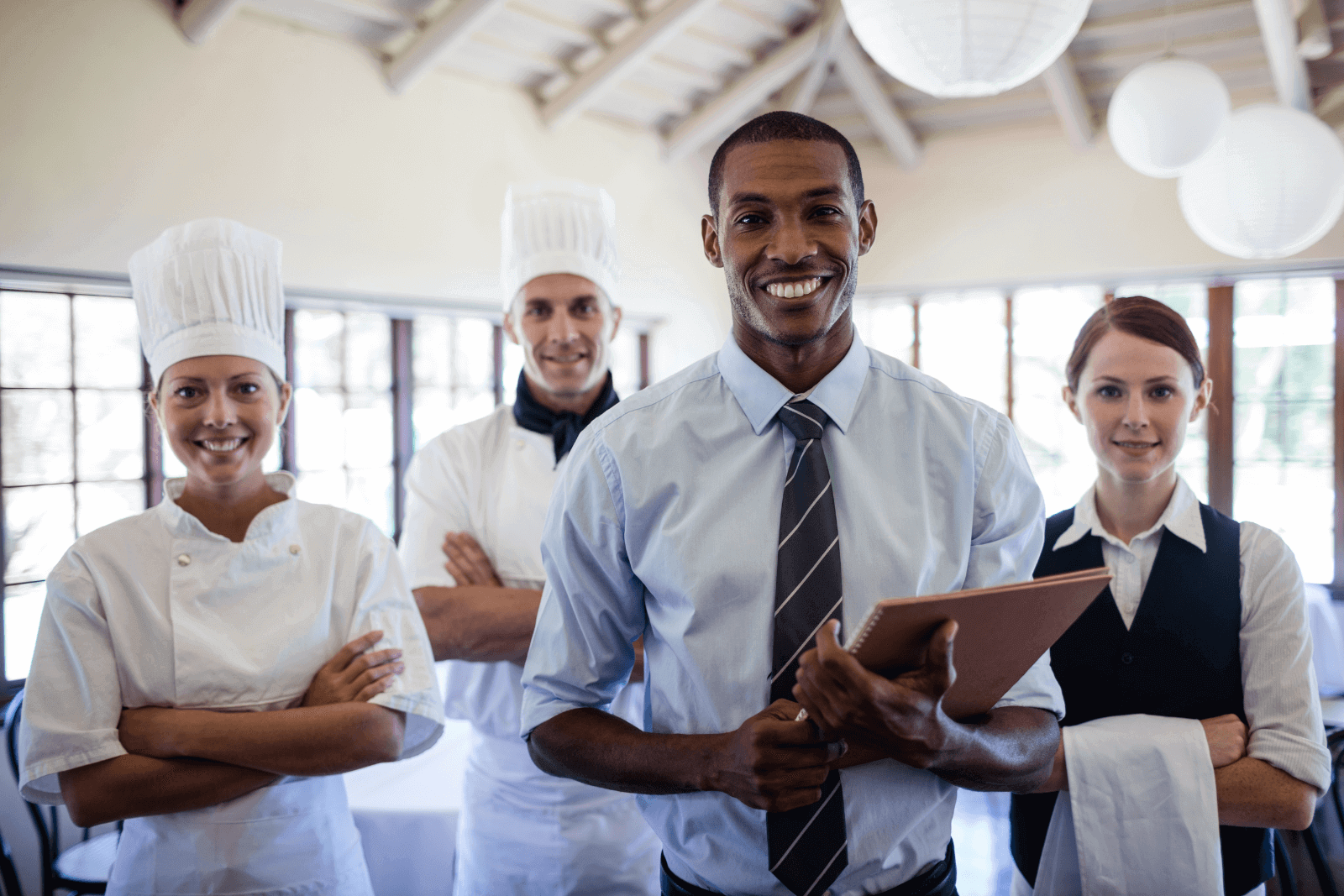 How Restaurant Automation Can Reduce Labor Costs
Nov 2, 2023 4:56:57 PM
9 min.
5 Common Reasons Why Restaurants Lose Table Reservations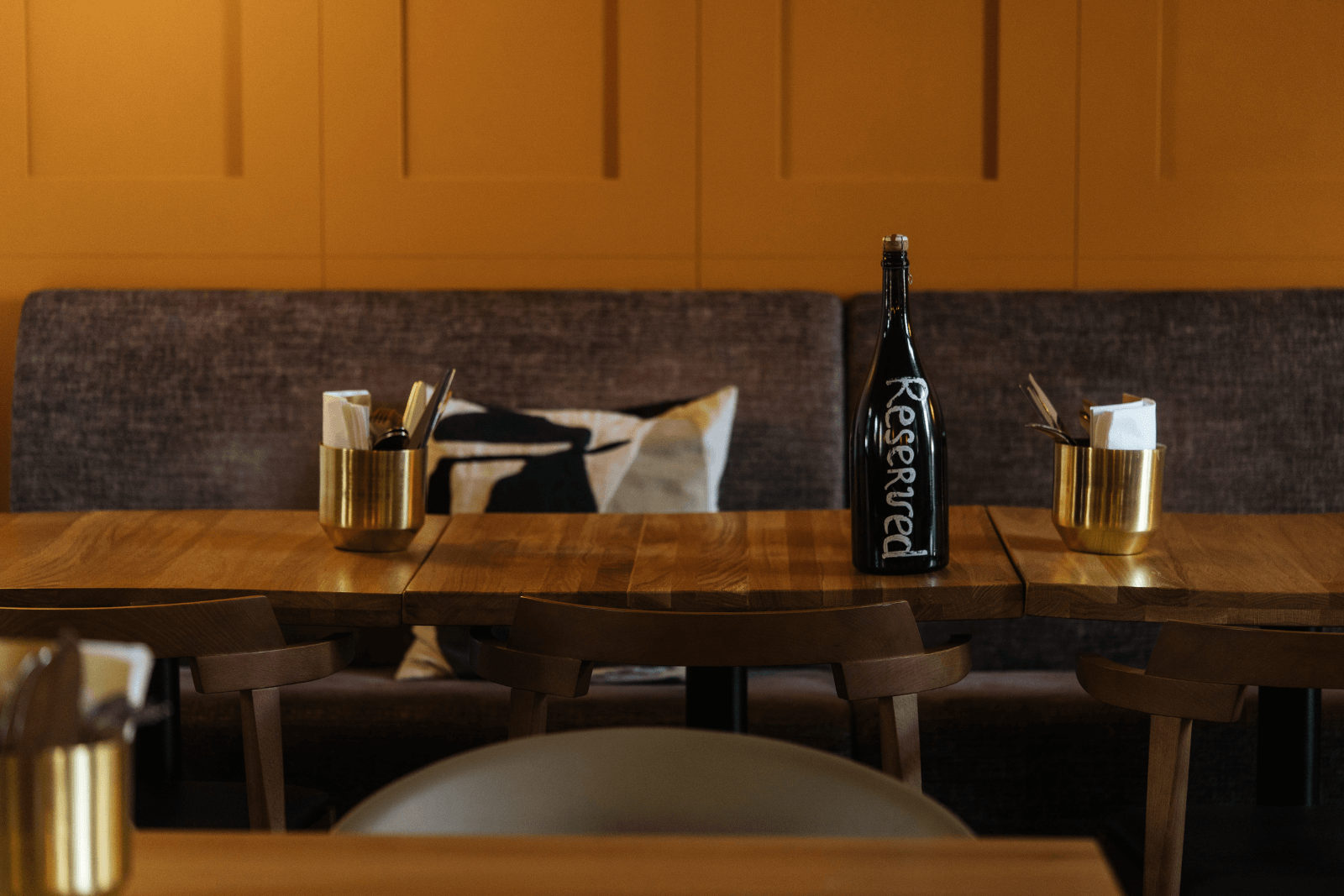 5 Common Reasons Why Restaurants Lose Table Reservations
Mar 15, 2023 1:49:47 PM
11 min.
Guide to Restaurant Waitlist Management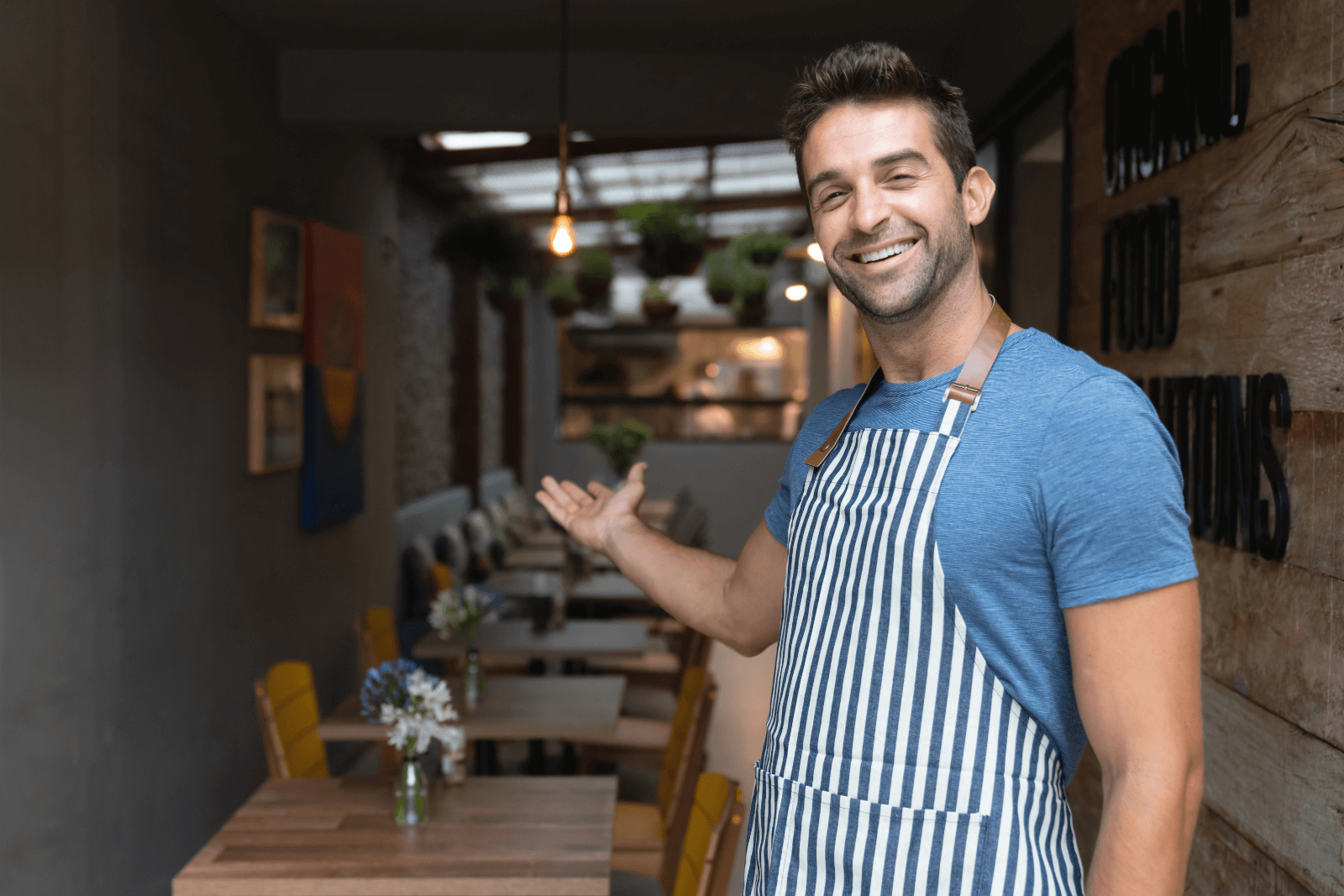 Guide to Restaurant Waitlist Management
Jan 31, 2023 4:49:20 PM
7 min.