How to Increase Restaurant Sales Without Advertising

11 min read
Feb 24, 2023 11:02:42 AM
Many restaurant owners jump straight to paid advertising whenever they need to boost sales at their restaurant.
That's because advertising really can bring you the results you need quickly—at a considerable cost, that is.
However, there are many ways you can increase restaurant sales without investing in advertising.
The added benefit is that these tips can also help you improve your business practices and optimize your processes.
In this article, we're bringing you five of those tips, so keep reading if you're interested in learning more.
Table of contents
Optimize Your Restaurant's Website for Search Engines
Your restaurant sales can be increased without spending a dime on paid ads if you create a website for your restaurant, and manage to increase the traffic it gets from search engines.
Restaurants form such a large volume of queries on Google that this search engine has given the industry more attention in recent times.
As Ryan Olohan, the head of Google's Food, Beverage and Restaurant vertical at the time, explained:
Digital demand has never been higher. In fact, there are over one billion restaurant searches on Google every month, while "food near me" continues to be one of the fastest-growing search terms.
In these favorable circumstances, it's worth the effort to optimize your restaurant's website for search engines so that more people can learn about it.
The more people know about it, the more chances there are they will want to visit your restaurant, increasing your sales.
An excellent way to do that is by ensuring your home and about pages include relevant content and keywords that define your offer and set your restaurant apart from the competition.
Here's a good example from Lirica, a Spanish restaurant in Chicago:
Source: Lirica
Notice how this description includes details about the cuisine as well as the ambiance and the layout of the restaurant.
This should be enough to entice visitors, but it also helps search engine algorithms get a clear idea of what Lirica is all about so they can match it to the right user's query.
Another resource that holds a lot of valuable information about your restaurant is your menu, so don't forget to include it on your website.
Many restaurants do this by uploading a PDF file of the menu for potential guests to download. However, this might not be the best practice for two reasons.
Firstly, HTML pages have some benefits over PDF files for SEO.
Secondly, having to download and open a PDF file to view a restaurant's menu can be something of a hassle, and most people dislike doing it, so in short, it's bad UX.
Source: Leigh Roessler on Twitter
A much better way to share your menu is to display it directly on your website so that guests and search engine algorithms can easily read it.
Source: Scarpetta Restaurants
To attract lots of visitors to your website, the key is having lots of content. Whether that comes in the form of a multi page menu, blog content, or other pages, your website's SEO will benefit.
With loads of quality, relevant content on your website, search engines will be able to learn everything there is to know about your restaurant, and they'll be much more likely to rank it high on their results pages, and you won't have to spend a dime on advertising.
Have an Active Presence on Social Media
Social media is another online channel where you can promote your business before you start spending money on advertising.
It enables you to share news, special events, and other types of content that can attract visitors to your restaurant.
Facebook, Instagram, and (more recently) TikTok have been proven to be powerful motivators, as diners themselves admit that social media posts are often enough to get them to visit a restaurant.
Source: Tablein
For instance, you can entice guests with high-quality photos of your dishes.
Good presentation can often be enough to pique a new customer's interest and inspire them to visit your restaurant.
The Palomar, a contemporary Israeli establishment in London, does this exceptionally well, as they post their most popular dishes on a weekly basis.
Source: The Palomar on Instagram
Restaurants can explode in popularity thanks to unique dishes and a penchant for social media marketing.
But this tactic is not just reserved for restaurants - every establishment serving food can benefit from this. A recent story about a bakery proves that.
The Brooklyn-based bakery L'Appartement 4F invented a peculiar breakfast item: micro croissants that can be eaten as cereal.
Source: NY Post
They posted some videos of the cereal croissants on TikTok and were met with a more than positive response from their audience.
Source: L'Appartement 4F on TikTok
After that, word got out, and soon everyone in New York wanted to try out the popular item, with TikTok comments and reviews by influencers fueling the demand.
Today, the bakery sells their micro croissants at $50 a box, and they're usually sold out before 9 AM, as lines form even before the bakery opens in the morning.
Source: NY Post
Long story short, social media can help you bring your dishes to the attention of large audiences and help you bring in the crowds whenever you need to increase sales.
And you never know when one of your dishes might become a viral sensation on TikTok, so start creating some good content and keep your accounts active.
Improve Table Turnover With Table Booking Software
Despite offering quality food and excellent service, you may still see empty tables, slow table turnovers and, therefore, lagging sales.
The culprit, in this case, might be your inefficient table reservation management.
There's more than one way your table booking methods can adversely affect your sales. A major one is taking reservations by phone and allowing guests to pick random times to arrive.
The problem with this is that it's usually going to leave you with thirty or sixty-minute time slots that are going to be impossible to fill.
The Seelenbrüder restaurant in Germany had precisely this problem. In their own words:
We often had gaps between bookings, which resulted in a loss of around 30 covers per day. Since we couldn't accept bookings for just 30 minutes or one hour, these tables were left standing empty, and revenue was lost.
Their solution was to implement the Tablein online reservation management system, which enables guests to book tables independently from a restaurant's website.
Source: Tablein
Thanks to the online system, guests could only book tables at predetermined 15 or 30-minute intervals, which eliminated those gaps and increased cover capacity by an impressive 50%:
Using the Tablein system and integrating its "time templates'' into our reservation process was not only easy and convenient, but also very profitable! We tried to schedule reservation times to get at least two to three table turns per evening and have had great success since the change.
It's clear that your sales are dependent on optimal dining room occupancy. If there are gaps in your reservation schedule that leave empty tables during the day, your sales are going to lag.
An online reservation system such as Tablein can help you bring some order into chaos by organizing your table reservation schedule into time slots, thereby eliminating gaps and boosting table turnovers.
Optimize the Layout of Your Menu
If you want to increase your sales, a good practice to follow is optimizing your menu layout and putting your best earners and guest favorites front and center.
In order to do that, you'll have to practice some menu engineering techniques.
Here's how that works.
Firstly, you'll want to take a look at the cost of making each one of your menu items and compare that to the price tag it has on your menu.
There are free online calculators that can help you with this process, like this one from FoodDocs:
Source: FoodDocs
This calculation will tell you which dishes on your menu are the most profitable, i.e., the cheapest to make yet highly-priced on your menu.
Then, you can cross-reference this intel with the ordering history at your restaurant to see which dishes get ordered more than others.
This will tell you which dishes are most popular with guests.
With this information gathered, you can run your entire menu through something called a menu engineering matrix to compile a list of your most popular dishes that also have the biggest profit margin.
Source: Tablein
Once the dishes that constitute the stars of your menu are identified, all that's left to do is to make them visually stand out on your menu to bring them to the attention of your guests and increase their chances of getting ordered.
You can do that by marking them as a chef's recommendation, like in the example below: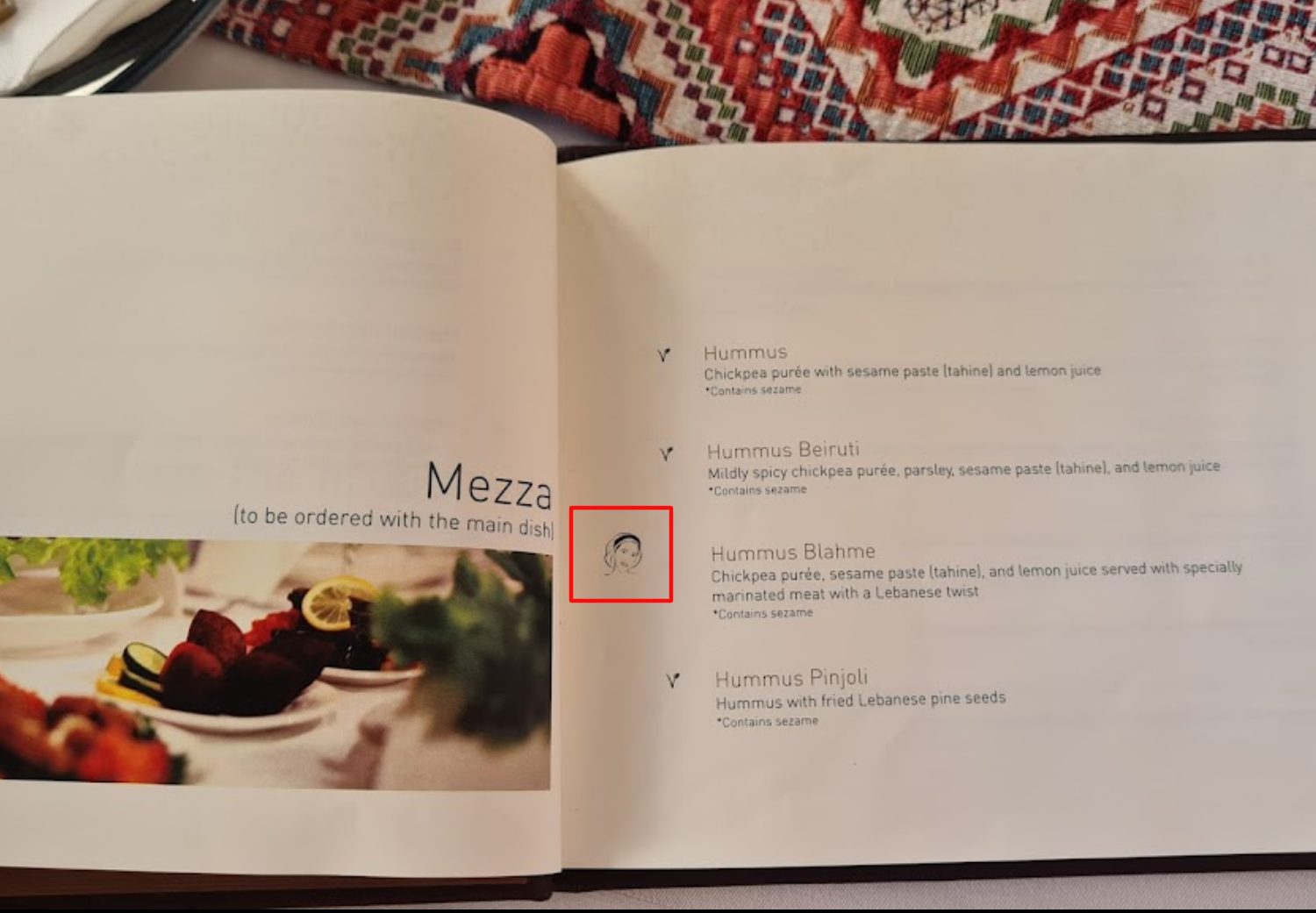 Source: Byblos Restaurant
You could even dedicate an entire section to your specialties and place it at the beginning of the menu to ensure the guests don't overlook it, like the restaurant in the example below did it:
Source: Sugarfire Smoke House
Remember, offering options is important, but you'll be benefiting your guests, as well as your sales figures, if you reserve the prime real estate on your menu for dishes that are both crowd-pleasers and money-makers.
Train Staff to Upsell and Cross-Sell Guests
Speaking of influencing your guests' ordering decisions, another thing you can do to improve the value of each table is to train your staff to upsell and cross-sell guests.
This can be a somewhat sensitive matter because you don't want your staff recommending items just because they're more expensive.
That might take away from the guest's optimal dining experience and put them off from returning to your restaurant.
Instead, it would be a good idea to teach your staff to upsell and cross-sell in a way that will elevate the dining experience and delight your guests, even if the check at the end of the night is a little steeper.
For example, a wrong way to upsell guests would be to push for the most expensive wine, regardless of what the guests are ordering.
Source: Noreetuh
Instead, a better practice would be to recommend a wine pairing with a decent markup that the staff knows is a good choice either from a tasting experience or praise from past guests.
Cross-selling differs from upselling in that the staff is not advocating for a more expensive (and higher quality) item but recommending an additional purchase.
Practical examples of this include:
Asking guests if they would like to begin with a starter or a cocktail
Suggesting a side with the main dish
Tempting the guests with desserts and coffee after the meal
Cross-selling is usually easy to do, but just like with upselling, make sure the staff suggestions come naturally and don't take away anything from the guests' experience.
The real challenge here is imparting this knowledge to your staff, the people who will actually be communicating with the guests.
So, how can you train your staff to confidently make suggestions that will delight guests and positively impact your sales?
Simple—you have them sample the items themselves.
You can block off some time outside of service hours to sit down with your staff and present your menu items or house wines.
You, as the owner, the chef, or the sommelier, can explain why these dishes and beverages are special and how they can be paired and combined for an optimal dining experience.
Restaurants do this all the time.
For example, La Cabane Wine Bistro in Hong Kong has a weekly staff tasting where new wines are sampled and reviewed so that the staff can confidently recommend the best ones.
Source: La Cabane on Instagram
Your staff can be trained to provide quality recommendations for your guests while also boosting sales, but only if they have first-hand experience with your menu items.
So make sure you find the time to educate them.
This can be done in theory, but a better way is to present your dishes and wines directly to the staff members who will be working directly with your guests.
Conclusion
Advertising is guaranteed to increase your sales.
However, it requires a significant budget and doesn't have a long-term effect, as those sales will falter as soon as you stop paying for advertisements.
That's why, in this article, we've shown you five dependable ways to boost your restaurant sales without advertising investments.
Each one of our tips improves a different aspect or process of your business, meaning you'll be seeing better sales results long after implementation is done.
And all it takes is a bit of time and some elbow grease.